Thanks to technological advances and changing times, online events are quickly becoming the norm, and virtual auctions are no exception. An online auction is a great way to engage your supporters and raise money for your organization at the same time.
There are many benefits to hosting an auction online. Hosting an auction online extends your reach beyond an in-person event. With a hybrid approach, local guests can get the in-person auction experience, while you can provide an online experience for guests who aren't located near you or wish to attend without leaving the comfort of their own homes. Online auctions that are virtual or have hybrid components have also become the preferred method to keep supporters safe during times of public health concerns.
Web-based and app-based bidding can also be far more efficient and easier to use than paper bidding. Running an auction requires a lot of attention to detail, and the last thing you need on the day of your auction is the added responsibility of keeping track of endless sheets of paper.
When you organize an online auction, your website will be the ultimate hub for your event. It's vital that your online auction website is organized, well-functioning, and easy to navigate for all your supporters. If you need a little help getting your website off the ground, here are our tips for building an engaging virtual auction website.
Online Auction Website Software
There are a lot of software providers that can help you create an auction website for your event, so it's important you take the time to research and choose the right one for your organization.
1. Qgiv – Online Auction Software
With Qgiv's silent auction and event management software, it's easy to create branded websites, collect registration and bidder information, and raise even more with an online store. Qgiv also offers web-based bidding for people who are participating from their laptops and mobile bidding for those who prefer to place bids from an app on their smartphones.
2. Bloomerang – Constituent Relationship Manager
Bloomerang is a powerful constituent relationship manager system that can help you manage your donors, volunteers, and sponsors in one place. With an interactive dashboard and plenty of features, you can collect essential data that will help you build better relationships with your donors. Bloomerang also has an integration with Qgiv that automatically captures and synchronizes your supporters' activity to your CRM.
3. DonorPerfect – Constituent Relationship Manager
DonorPerfect is a dependable CRM system that can keep track of all your donors and constituents easily, giving you a comprehensive view of donor engagements and interactions. Your nonprofit can use DonorPerfect's integration with Qgiv to seamlessly store and organize donors' gift information and bids from your auction event.
4. Neon ONE – Constituent Relationship Manager
Neon One is a capable cloud-based donor management solution that also integrates with Qgiv. After investing in Neon One, your nonprofit organization can maximize fundraising by effectively tracking donor data and using that data to build donor relationships. And with its connection to Qgiv, you can easily track and nurture your volunteer fundraisers and host a successful online auction event.
5. Double the Donation – Matching Gifts
Double the Donation's matching gift software helps organizations find money they never even knew was available to them while they're in the process of making a donation. Using their matching gifts database, donors can search their company's name to find out if they offer any corporate giving programs. If the program exists, Double the Donation provides the parameters for the corporate giving program, helping your donors maximize their impact while they're giving during your auction.
6. HEPdata – Matching Gifts
HEPdata gives donors another way to quickly find out if their employer will match their donations—right on your donation form! HEPdata's integration with Qgiv offers your donors a quick and easy way to check if their donation is eligible for a match with their comprehensive matching gifts database.
Looking for new auction management software for your organization? Request a demo.
Online Auction Site Best Practices
Building an engaging website for your auction is easy if you stick to a few essential best practices.
1. Brand your auction website
Your auction website should reflect your organization's branding for a more cohesive virtual auction experience. If your auction doesn't have a specific theme, try using the same font and color scheme as your organization's website throughout your auction website. Feature your logo prominently and make sure your auction participants understand what your mission is.
2. Make registration easy
While your auction participants are registering for your event, make the registration process as seamless as possible. For those who are excited to attend and want to register as soon as possible, open registration before your auction even begins. Give people the option to add a payment card to their account during registration that they can use throughout the auction and for your online store.
Need help planning your next auction? Download our Virtual Auction Planner to make your event a smashing success!
3. Use photos and videos
With an online auction, your participants won't be able to view the items and gift baskets they're bidding on in person, so it's vital to give them the best possible idea of what your auction offerings are. High-quality pictures and videos of your items can help your supporters better decide what they want to bid on.
Check out Hyde Leadership Charter School's auction page to see how they showcased their auction items for their 2021 Spring Social Virtual Auction!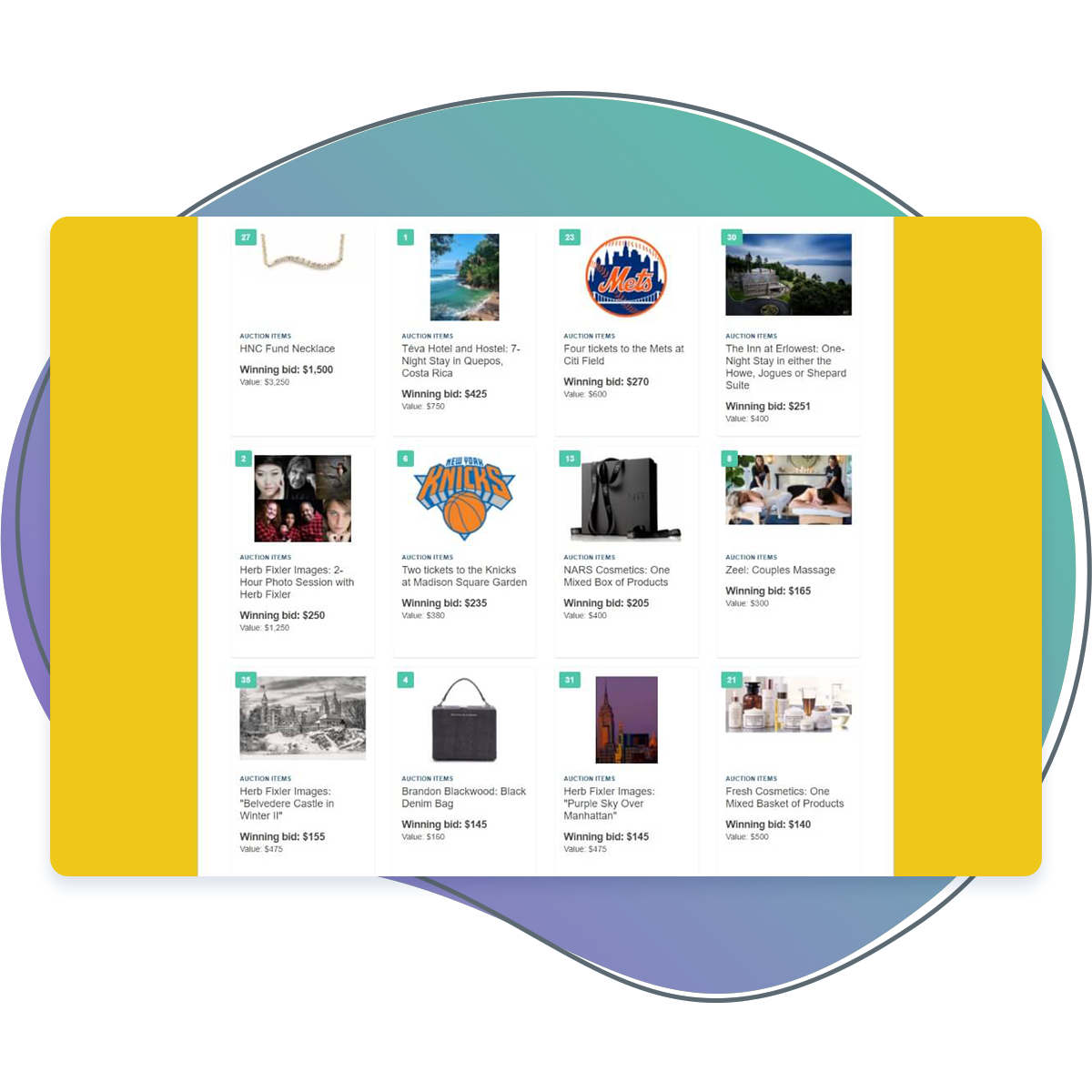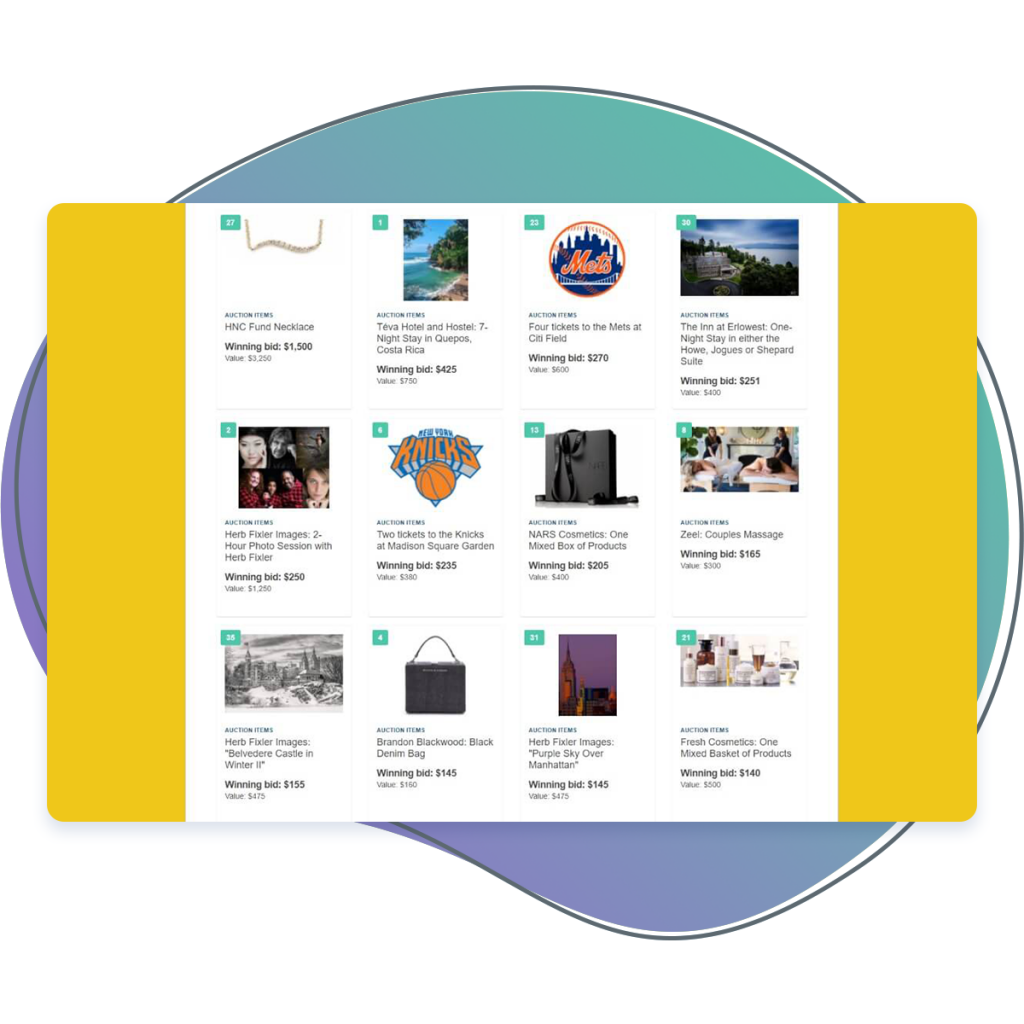 4. Keep instructions clear and concise
When it comes to an online auction, your participants will probably have many questions. How does virtual bidding work? How will they receive the items they win? Will they have to pay shipping, or will your organization cover the cost?
When you're creating your auction website, make sure you have a section dedicated to answering these frequently asked questions. Feature it on your website in a prominent place so everyone can find it and make sure to keep all rules and instructions clear and concise to minimize misunderstandings.
5. Make your website mobile-friendly
You'll probably be designing your auction website as a desktop site, but don't overlook the mobile design of your website. For bidders who will be attending your auction via smartphone, it's important that they get the best user experience you can offer. Make sure your site can easily rearrange into a vertical alignment, or simply avoid designing your website exclusively with horizontal elements.
6. Include multiple bidding options
Whether your supporters prefer to use their smartphone or their laptops to participate in your auction, make it convenient for everyone to bid on the device of their choice.
7. Make bidding competitive
Keep your bidding competitive by utilizing notifications throughout your auction. Set up push notifications for your mobile bidders so they can easily keep on top of when they've been outbid on an item they've been bidding on.
8. Offer donation options
For people who would prefer to directly support your organization without participating in the auction, offer other donation options on your website. The simplest option is to add a page to your site where you can embed a basic donation form. Alternatively, you can raise money more creatively by creating an online shop where people can "buy" items, essentially donating a predetermined amount of money to specific projects or services your nonprofit offers.
9. Keep checkout simple
As your auction winds down, you'll want to keep checkout simple for all of your bidders. If your bidders have already provided a payment method, be transparent about whether they've been automatically charged or will need to pay for their items. Keep post-auction instructions very clear for how winners can receive their items, whether you have a designated pick-up day for local participants or are planning to ship or drop off items to everyone's homes.
10. Test your website
Before the big event, it's vital to take your online auction website for a spin to make sure everything is in order and working perfectly. Place a few bids and test out your push and email notifications.
11. Sell auction event items online
For added convenience during your auction, try selling some event items in your online store. From raffle and drink tickets to t-shirts and swag, offering a way to purchase items from your online store is far easier than manually organizing purchases throughout your event.
Online Auction Website Ideas
1. Add more fundraising methods
Double your fundraising efforts by combining your auction with another fundraising method. Turn your auction into a larger event by making it a gala or benefit concert, or incorporate smaller fundraising activities into your night like raffles and wine pulls. At their 23rd annual holiday auction, the Boys & Girls Club of Greater Lowell added a peer-to-peer element to their auction event to raise even more money for their organization. They even featured a page on their auction website where people could track how much money their team had raised and where they ranked compared to other teams.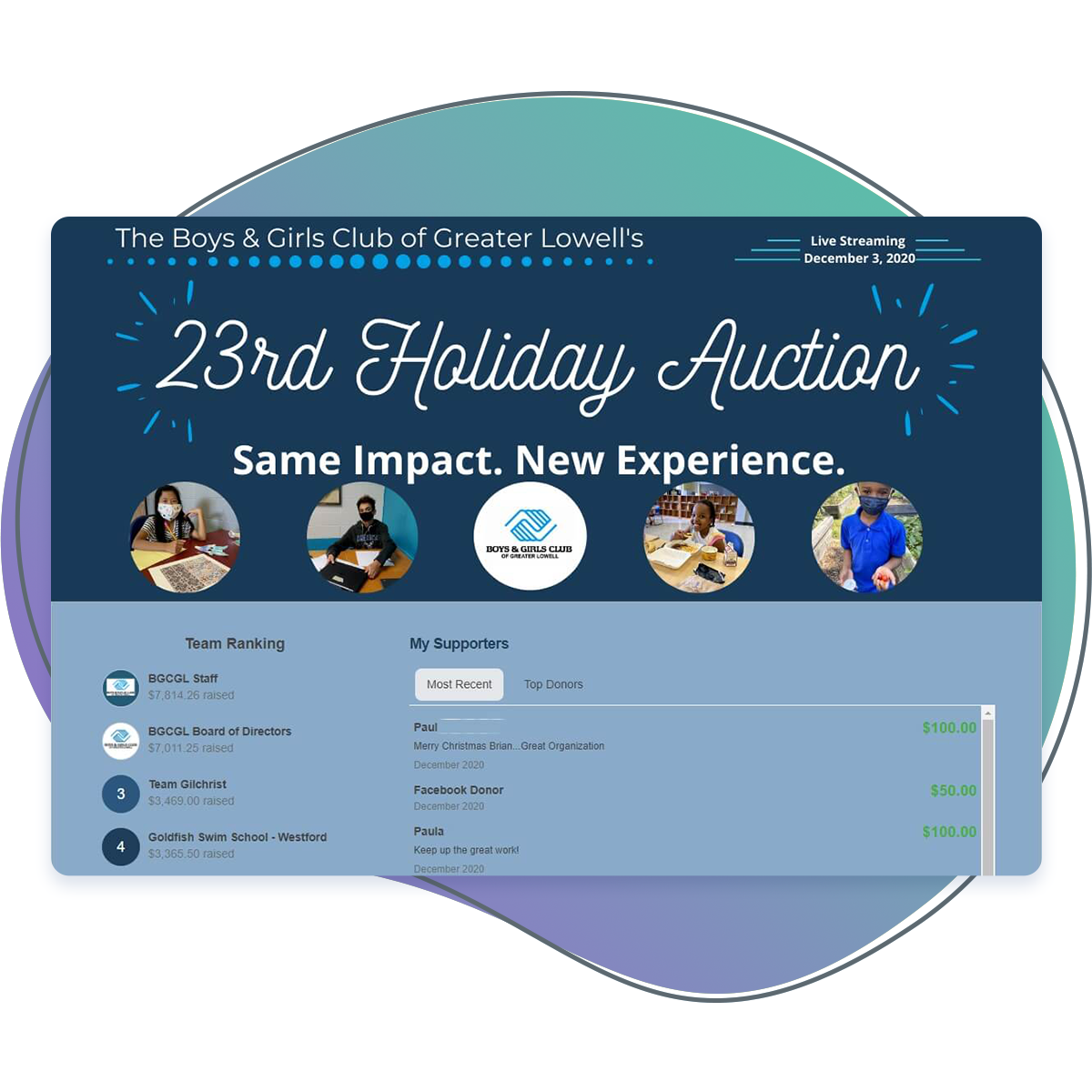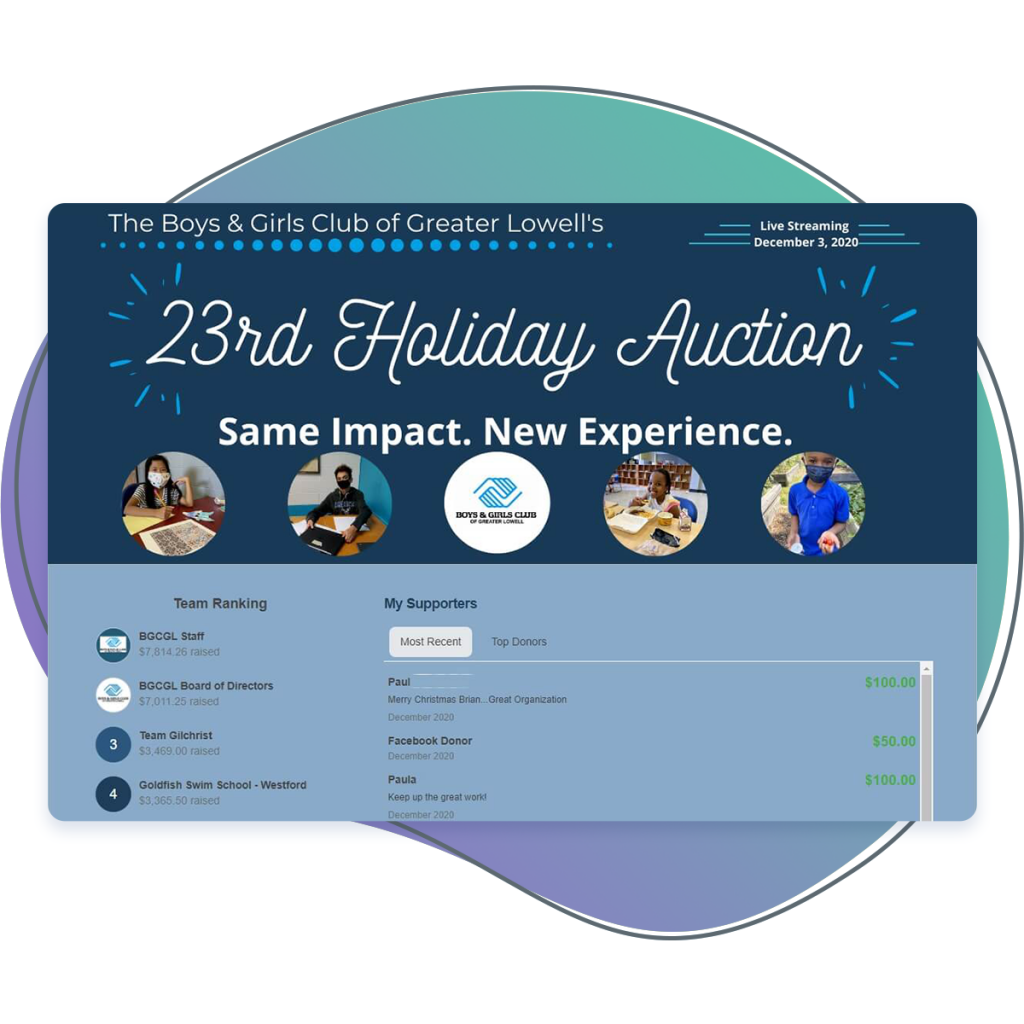 2. Set up a livestream
Make your online auction feel just as engaging as an in-person event with a livestream on your website. Announce auction winners in real-time or provide some entertainment for your at-home attendees through their screens. At the Volunteers in Service to the Elderly's 2021 VISTEBall, the organization put together a live, interactive game show experience with virtual versions of The Price is Right, Family Feud and Who Wants to be a Millionaire to go along with their virtual auction.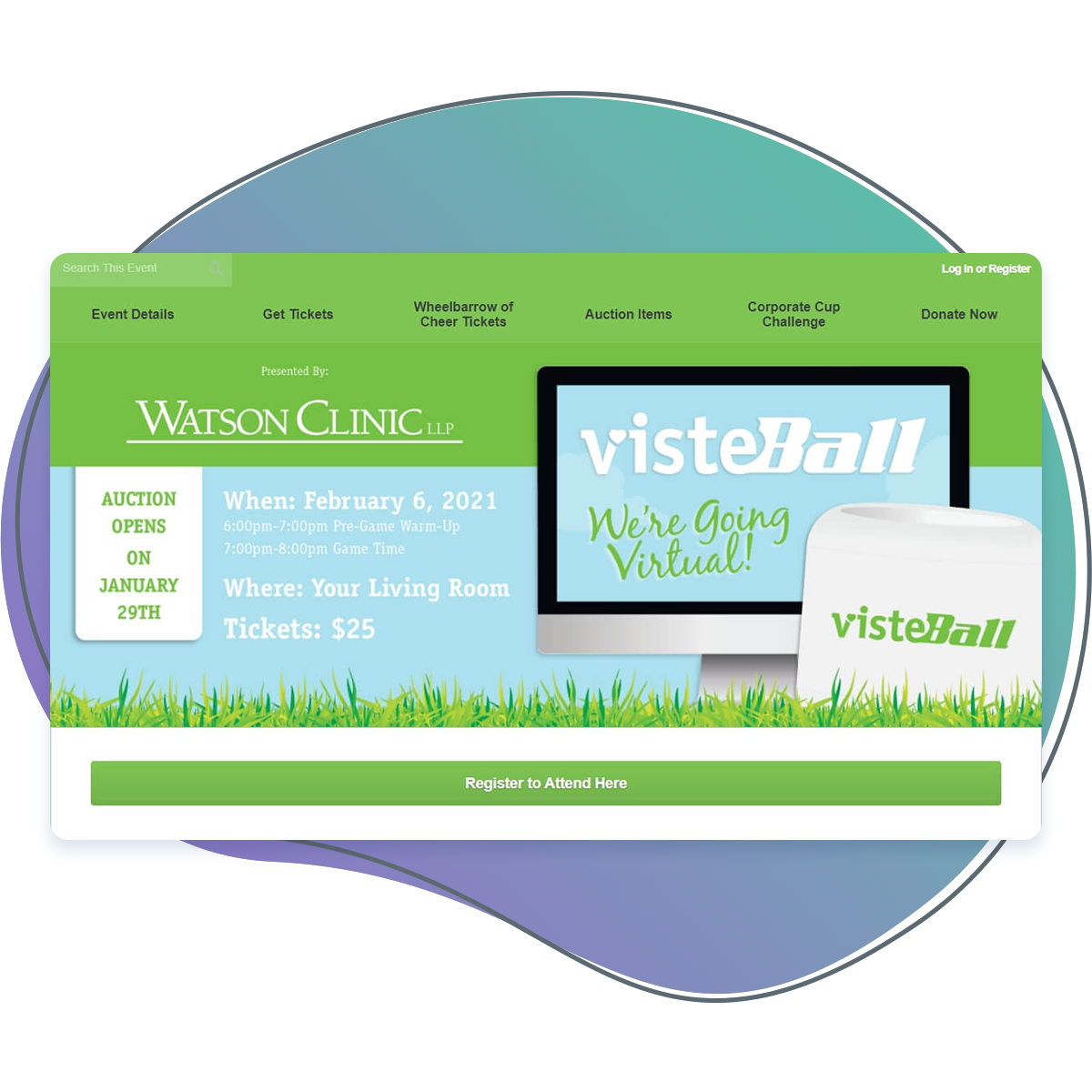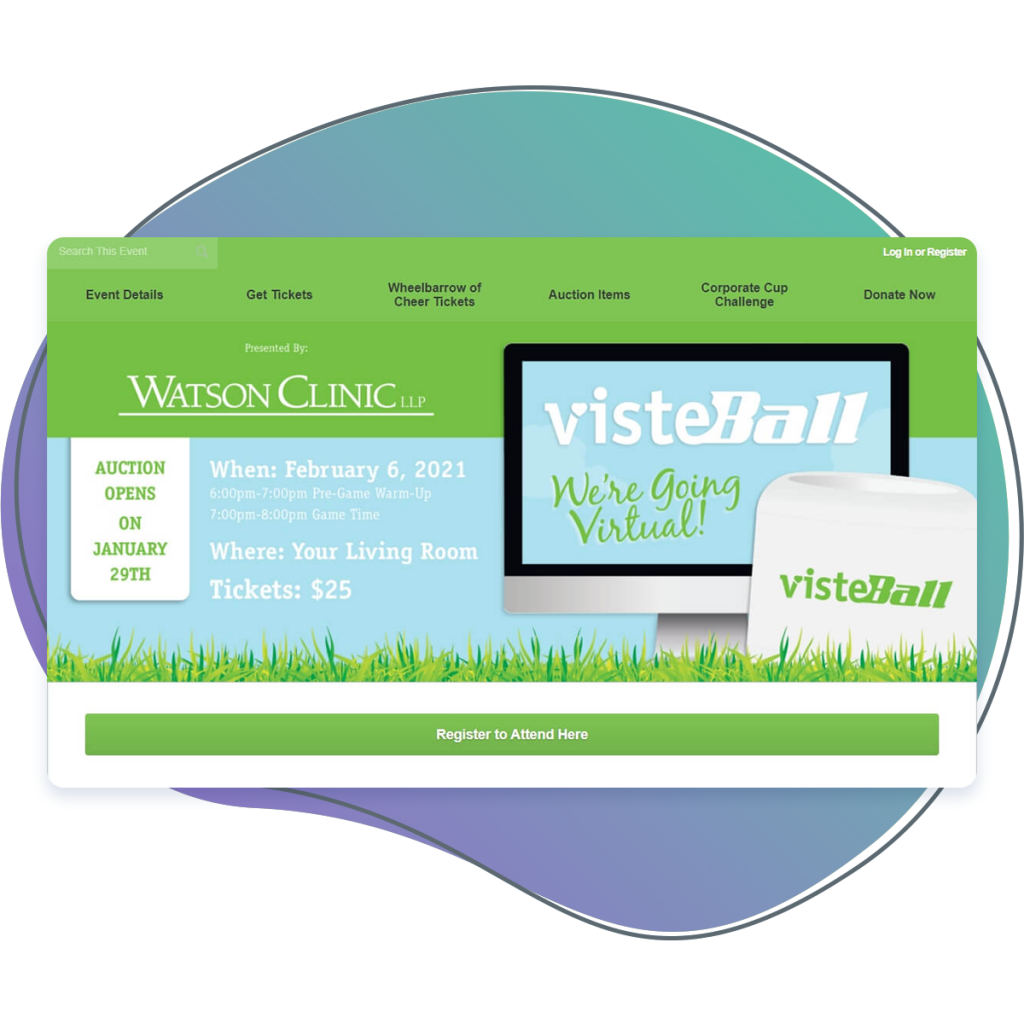 3. Theme your auction
Pull together your auction with a cohesive theme. Whether you want to celebrate in style with a basic theme that adds some spice to your auction or if you want to take things a step further and theme the items you're auctioning off as well, a solid theme idea can help your auction stand out from the crowd. Once you've picked a theme, you can enhance your online auction website design with colors and elements that reflect your theme.
For inspiration, check out St. Jude Children's Research Hospital's "Joy of Life" Ball. The hospital chose a Mardi Gras theme, using black and gold in their website design to create a festive virtual home for their auction.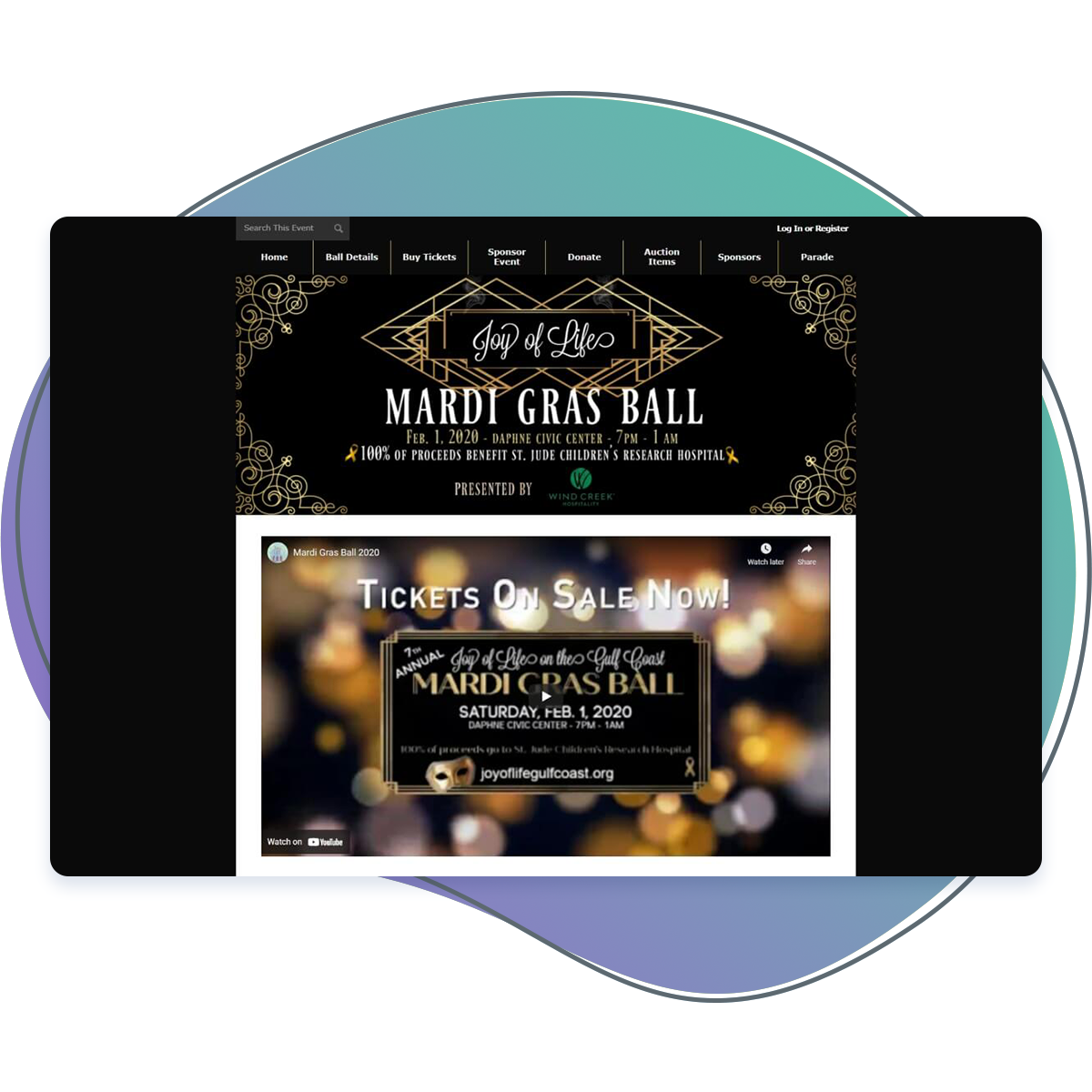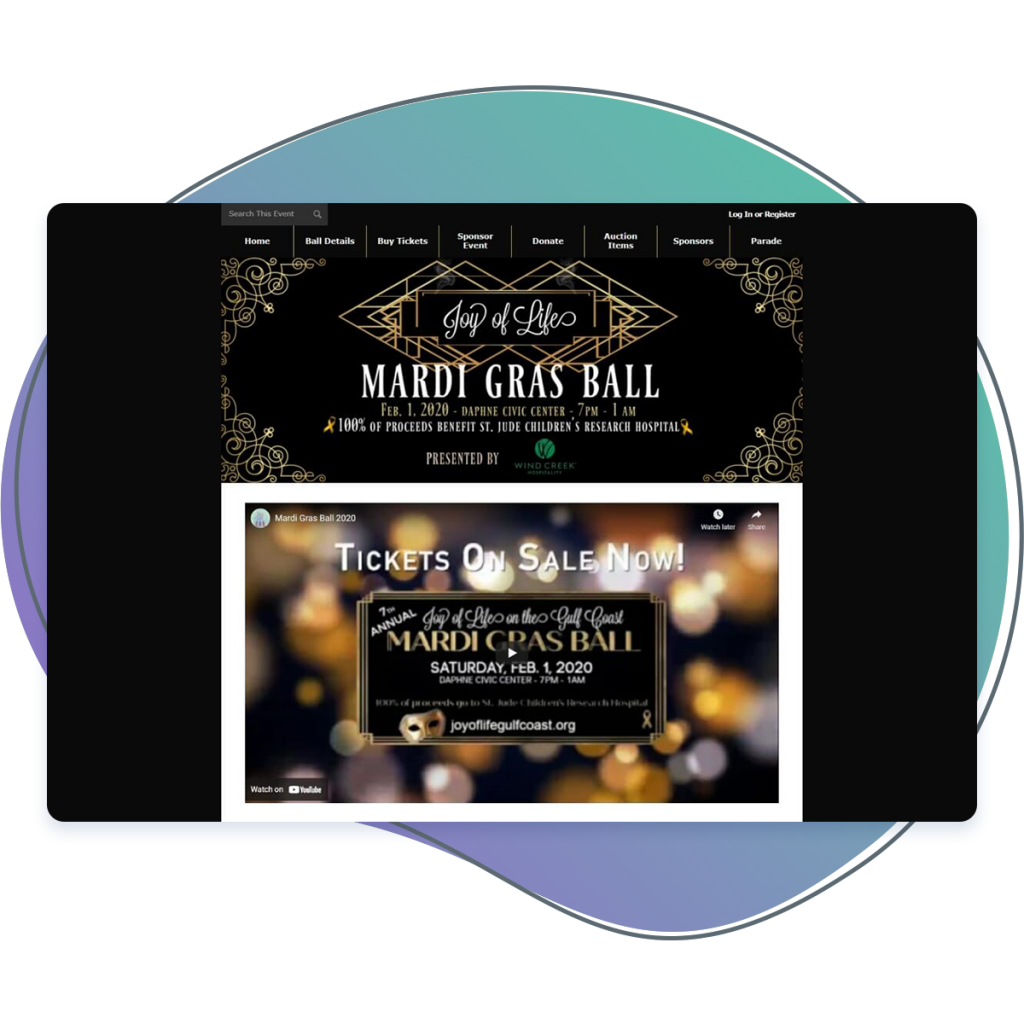 4. Make your auction a hybrid event
There's no need to choose between a virtual and in-person event when you can host a hybrid auction. Expand your reach beyond your local supporters and give those that live farther away the opportunity to still participate in your event with both in-person activities and a livestream on your website. 
Final thoughts
When you're hosting a virtual auction, your auction website will be the home for everything your auction has to offer. Offer your bidders an online experience that rivals an in-person auction with a dynamic and exciting website. If you need help organizing a virtual auction for your nonprofit, check out these resources.