As you begin planning your silent auction, you may think you have everything you need: you've procured great items, set up a simple bidding system, and printed invitations to send out for your event. However, in order to maximize your event's success, it's important to take additional steps to streamline your planning process and event execution.
However, to implement these additional steps, you'll need to have access to the best silent auction software. With the right suite of tools, your nonprofit can make your next silent auction a success.
First, you'll need to start with a great auction management software. Then, you can start building out your software stack with other tools like prospect research software, marketing software, and more. These additional tools expand your marketing threshold, provide data about donor prospects, and add exciting activities to your classic silent auction event.
That's why we've put together this buyer's guide to help you determine the tools and software you may benefit from adding to your list. These solutions include:
Read with us from the top or jump to the categories you're most interested in or need help with. Let's get started!

Qgiv | Best silent auction software for nonprofits
Overview of Qgiv's silent auction software
We're a little biased, but we're pretty proud of our auctions software! We put a ton of research and work into our platform.
Qgiv's silent auction software offers a simplified and engaging auction experience. Get rid of messy paper bids and long checkout lines by simplifying your event with Qgiv's online auction platform.
Qgiv's auction software includes top features, such as:
Easy event setup and guest registration
An in-app or web-based check-in and checkout process
Real-time bidding
Outbid notifications
Maximum bid settings
Fully integrated event management, with multi-guest ticketing
Easy item setup
On- and off-site bidding
Raise more money with a streamlined auction planning process and eliminate long lines so that you don't deter bidders. When everyone has an easier and convenient experience, they'll be more likely to give their support.
Why Qgiv's charity auction software stands out
With Qgiv, you not only have access to a robust suite of auction tools, but you also have an entire fundraising platform at your fingertips. Create customizable donation forms and boost your silent auction revenue with additional donations.
Qgiv will help your auctions become a seamless part of your big-picture fundraising and engagement efforts. Take advantage of their fundraising platform to drive the donations you need for your organization to thrive.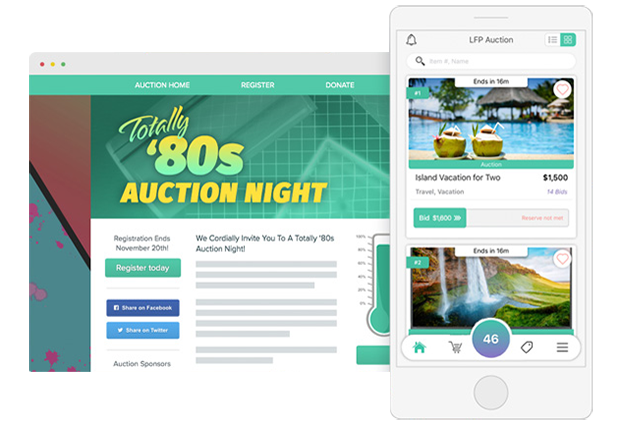 DonorSearch | Silent auction software
Overview of DonorSearch's silent auction software for prospect research
DonorSearch is a prospect research company that can provide important donor data to leverage during your silent auction. DonorSearch provides accurate, comprehensive, and actionable data to help your nonprofit make the right fundraising asks during the event.
Some of the top ways DonorSearch can help you include:
Searching and analyzing both wealth and philanthropy databases
Manually reviewing key information for your staff before you receive it
Predicting both a donor's capacity and propensity to give to determine an invite list or to predict the fundraising outcome of your silent auction
Use DonorSearch as a way to help identify income levels for item procurement during your planning process, as well as identify the most important individuals attending your auction event.
Why DonorSearch's charity auction software stands out
DonorSearch starts with past donor philanthropic involvement in order to provide the best data for nonprofits, as their research shows that past giving to nonprofits is a much better indicator of future giving than wealth alone. They are the only company that has in-house prospect researchers to manually verify their top prospects, ensuring that their screening results are as accurate as possible.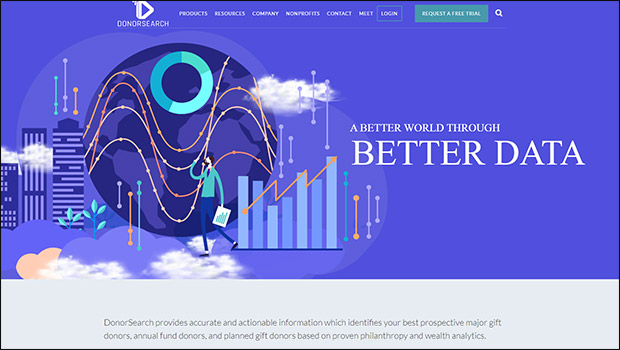 DonorPerfect | Silent auction software
Overview of DonorPerfect's silent auction software for donor management
DonorPerfect is a donor management solution that can help you grow your database of donors, increase giving, and retain donors each year. Their donor database offers fundraising management and development, contact management, personalized communication tools, and more. Use their tools to keep track of your auction guests' information.
In addition to their donor database, DonorPerfect also offers:
Integrated online forms
Reporting and analytics
Donation processing
Integrate your donation software with DonorPerfect for in-depth donor information and for following up with your auction attendees. This will help ensure you stay in touch and show your appreciation to your guests, which can help you retain your supporters in the future.
Why DonorPerfect's charity auction software stands out
DonorPerfect offers a social media integration that lets you know what your donors are saying about you on social media. Search for donors' profiles on Facebook, LinkedIn, and X, and store them in DonorPerfect's database. This will allow you to stay up-to-date on your constituents' recent activity and keep in touch with them personally. Maybe they'll even post about your silent auction if you provide the proper hashtag!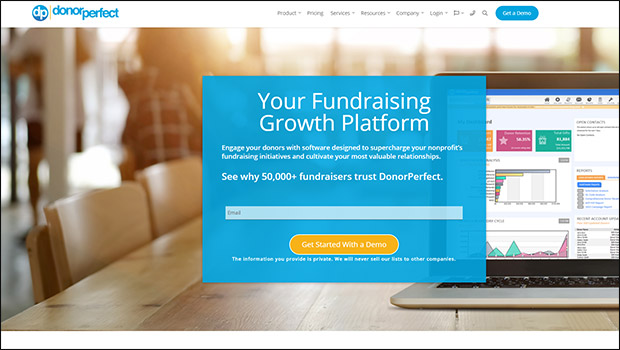 Kindful | Silent auction software
Overview of Kindful's silent auction software for donor management
Kindful is an online fundraising and donor management solution that can help you manage your silent auction attendees. Easily track all of your data in one place, including your fundraising efforts, communications, and other activities.
Some top features of Kindful's silent auction software include:
Donor and contact records
Donation tracking
Wealth insights
Why Kindful's charity auction software stands out
Using Kindful's platform, you can allow your donors to log in and view their giving history, update their payment information, download tax receipts, and more. Establish trust with those who donate during your silent auction by allowing them to access their information at any time.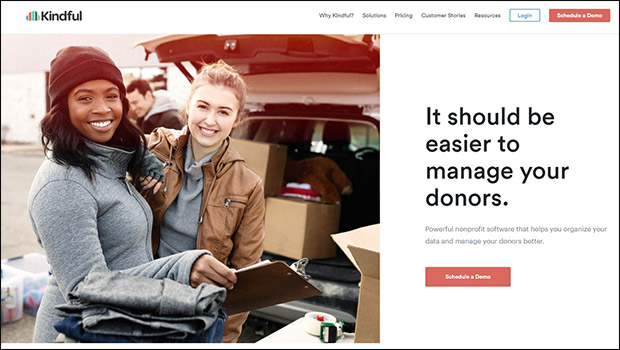 Bloomerang | Silent auction software
Overview of Bloomerang's silent auction software for donor management
Bloomerang is a donor management software solution that allows you to manage your entire constituent ecosystem, including donors, volunteers, sponsors, grantees, and more. Keep your information organized and take advantage of these features:
A nonprofit CRM
Email marketing
Integrations
Engagement meters
Generosity scores
Smart reports
Why Bloomerang's charity auction software stands out
Bloomerang's giving summaries give you an at-a-glance view of auction guests' past giving to your organization, as well as their current engagement level and generosity score. Their engagement is based on their past interactions with your organization, and their generosity score is based on publicly available philanthropic screening data. Even more, you can see all of the events donors are involved with on comprehensive donor timelines.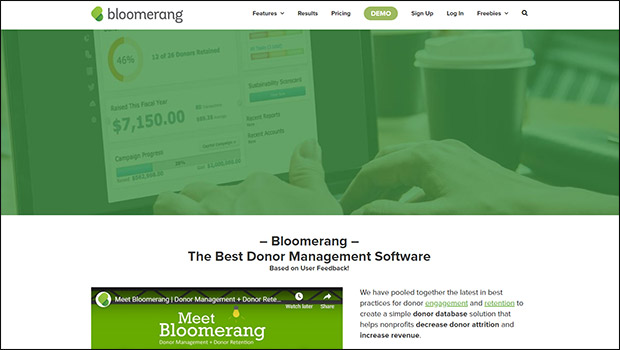 Double the Donation | Silent auction software
Overview of Double the Donation's silent auction software for corporate giving
Double the Donation is a leading provider of matching gift and volunteer grant solutions. Their comprehensive database lists thousands of companies, and donors can use a company name search tool to determine whether their employer offers a matching gift program.
With Double the Donation's matching gift solution, your donors can:
Search for their company using the company name search tool.
View the guidelines for submitting a match request (if their company offers a matching gift program).
Easily submit their match request and see it through to completion.
By incorporating a matching gift tool into your auction, guests who make additional donations during your event can submit their donations for a match through their companies. Double your donations during your auction and increase your revenue without extra solicitation.
Why Double the Donation's charity auction software stands out
It's easy to overlook matching gifts while planning your auction event. Double the Donation's database makes it easy for donors to look up their companies and submit their match requests. Simply embed the matching gift search tool into your organization's website and direct your auction guests to the appropriate page so they can look up their company.
CyberGrants | Silent auction software
Overview of CyberGrants' silent auction software for corporate giving
CyberGrants is a nonprofit software solution used by corporations that handles the management of corporate giving programs. Corporations can use matching gifts to further amplify employee engagement and promote the specific causes that matter most to their employees.
Some of the corporate giving programs Cybergrants' software helps with include:
Matching gifts
Payroll deductions
Charitable spending accounts
Product/in-kind giving
Tuition reimbursement
Wellness programs
Because CyberGrants manages matching gift programs for corporations, auction guests who are employees of those corporations will be able to easily match their donations made during the auction.
Why CyberGrants' charity auction software stands out
CyberGrants streamlines the entire matching gift process for your team and the nonprofits your corporation supports. Give your team the option to give anytime, anywhere, maximizing your impact in the process with role-based access and one interface for employees.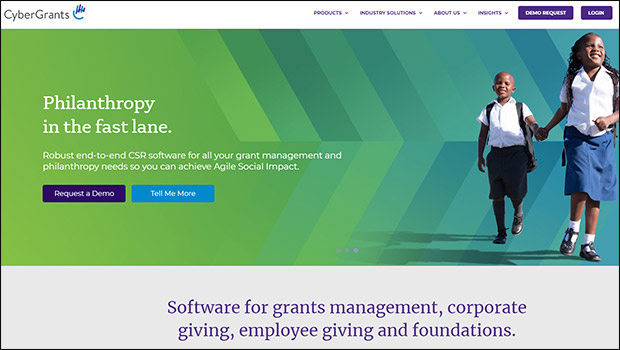 MailChimp | Silent auction software
Overview of MailChimp's silent auction software for email marketing
MailChimp is an all-in-one marketing platform that can help you build your nonprofit's brand and find your supporters. Turn audience insights into personalized marketing with a platform that grows with you.
MailChimp helps you:
Gather all of your audience data into one place so you can create the content they'll enjoy most.
Keep all of your assets in one place so you can show off your business in the best light across different channels.
Created integrated campaigns across all channels, with guided targeting so you can ensure you're sending the right message to the right recipients at the right time.
Analyze your audience engagement so you can market better with each campaign.
Target supporters who would be most likely to show interest in your auction event and make sure they receive all the information they need. With MailChimp's marketing platform, you can ensure your event will be effectively promoted to the right people.
Why MailChimp's charity auction software stands out
MailChimp helps you collect data about your contacts and turn those insights into action. Learn what your audience likes and create a conversation with them from an all-in-one platform. Promote your auction across email, social media, landing pages, postcards, and more.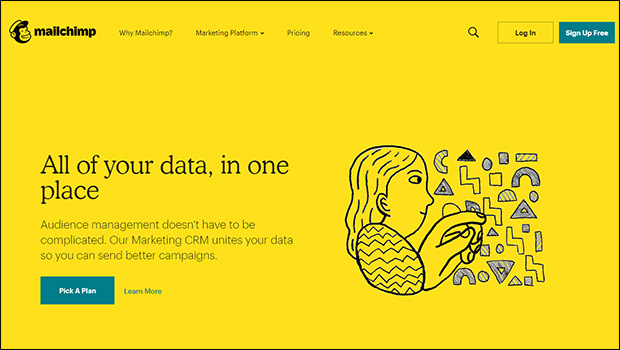 Constant Contact | Silent auction software
Overview of Constant Contact's silent auction software for email marketing
Constant Contact is an email marketing solution that offers 100+ mobile-optimized, customizable email templates that can help build your brand and stand out from the crowd. Collect email addresses from your website, Facebook, through mobile, and more so you can reach more people.
Constant Contact's top features include:
Email marketing
Email templates
Marketing automation
eCommerce
Google ads
Facebook and Instagram ads
Help boost your silent auction event by marketing across channels and reaching exactly the people you intend to. Stand out from the sea of emails and build your brand using this charity auction software.
Why Constant Contact's charity auction software stands out
Constant Contact offers more than 100 beautifully designed email templates for your nonprofit to use. You can easily edit and customize each one and use it for whatever you want, whenever you want. Each template is mobile responsive and offers the flexibility you need as you create your content.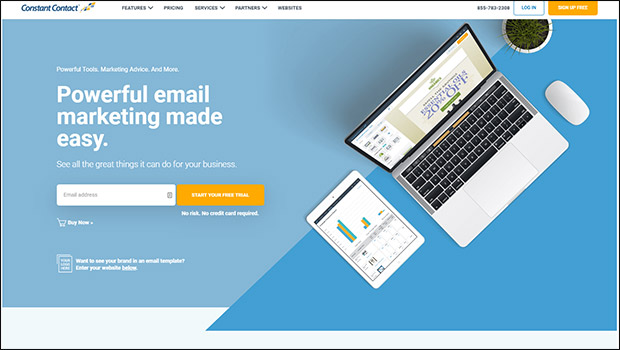 Campaign Monitor | Silent auction software
Overview of Campaign Monitor's silent auction software for email marketing
Campaign Monitor is an email marketing tool that allows you to build customizable emails to match your brand and effectively market your silent auction. Their drag-and-drop email builder makes it easy to design a unique email without any prior coding experience needed.
Campaign Monitor's top features include:
Drag-and-drop tools
Professionally designed templates
Marketing automation
Detailed lists and smart segments
Signup forms
Analytics
Drive more supporters to your auction by segmenting your email lists and ensuring your content reaches the right people. Email marketing helps keep people coming to your events, so be sure to take advantage of the features available so you can create the best email outreach possible. Segment supporters by past event attendees, new attendees, those who have already registered for your auction, or those who you want to sign up.
Why Campaign Monitor's charity auction software stands out
Campaign Monitor's drag-and-drop feature helps you put your email together within moments. Customize every part of your content so you can create a branded email campaign that looks great on any type of device.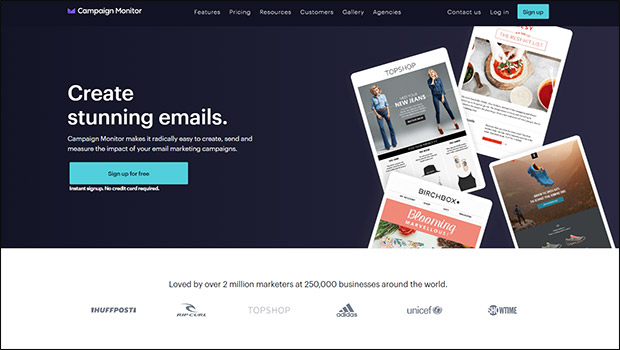 Zoho Social | Silent auction software
Overview of Zoho Social's silent auction software for social media management
Zoho Social is a social media management platform that allows you to manage multiple social channels, schedule posts, monitor keywords, and communicate with your team, all from one single dashboard. You can use this software solution to track how your silent auction is being talked about on social media.
Some of the top features of Zoho Social include:
Flexible scheduling for when your audience is most active
Content calendars that help you organize your posts the way you prefer
A monitoring dashboard that allows you to listen and respond to your audience in real-time
Social analytics that help you understand your audience and how they engage with you on social media
Interact with your supporters on social media and further promote your auction event. You can even use live streams or post live updates from your auction. Then, get feedback on your event both during and after the fact with listening tools that notify you when supporters are talking about you.
Why Zoho Social's charity auction software stands out
Zoho Social's SmartQ predictions help you publish your content when your audience is most active. Get the most engagement out of your posts by relying on these predictions and boost your social media presence as a result.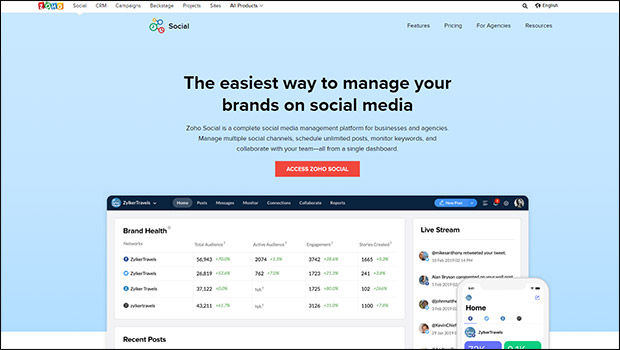 Buffer | Silent auction software
Overview of Buffer's silent auction software for social media management
Buffer is a social media management system that allows you to draft your posts, coordinate with your team, and plan your social media marketing campaigns, all within one platform. You can use this software solution to further market your silent auction event.
With Buffer, you can:
Easily plan your content using scheduling tools, tailored posts to each social network, and a calendar.
Collaborate with your team, draft posts, trade feedback, stay in sync with a preset publishing schedule, and manage access to each social account.
Build your brand on Instagram, using direct scheduling and driving conversions.
Help boost your auction event by driving traffic to your event registration from your social media pages. You can even measure and analyze the performance of your content to see where you can improve and grow your engagement levels.
Why Buffer's charity auction software stands out
Buffer's platform is highly collaborative. Draft posts and share feedback, which will allow you to refine content as a team. Review posts to ensure they are of the highest quality and adhere to your brand standards before publishing and share each post within your preset schedule. This can help you make sure you're posting live from your event to keep your at-home supporters up to date!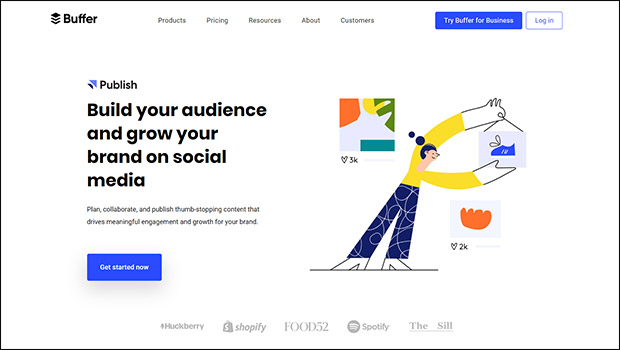 Bonfire | Silent auction software
Overview of Bonfire's silent auction software for t-shirt fundraising
Bonfire is a t-shirt fundraising platform that allows you to design high-quality merchandise and raise money for your cause. Create a campaign to go along with your auction event and sell online with no inventory, or order custom shirts in bulk to sell at your event.
With Bonfire, you can create custom:
T-shirts
Long sleeve shirts
Sweatshirts
Tank tops
Tote bags
And more!
Promote your auction and raise more revenue by selling merchandise at your event. Bonfire makes it easy to sell online leading up to the event or purchase what you need for the day of.
Why Bonfire's charity auction software stands out
With Bonfire's library of design templates, you can design your shirt like a pro. Create attractive designs within minutes and print your merchandise on high-quality material that your supporters will love.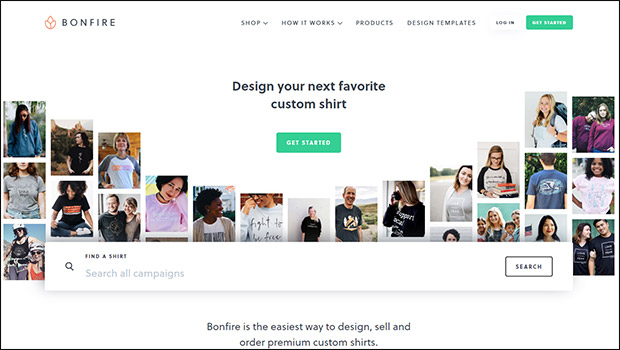 Investing in the right suite of software for your silent auction can boost your revenue, increase guest engagement, and create a positive experience for everyone involved. Take a look at your organization's needs and decide what solutions would work best for you!
Additional silent auction software resources