Every nonprofit fundraiser wants to build a stream of reliable income, and one of the best ways to do that is to bring in recurring donations. Recurring donors are also called sustaining donors, and for good reason! Their gifts come in reliably, month after month, which makes planning and budgeting easier—and, if we've learned anything from the COVID-19 pandemic, it's how important reliable revenue can be. They're also much more likely to give year after year than their one-time counterparts!
So how can you start building (or improving) your relationship with your recurring donors?
We're glad you asked!
How to Ask for (and Maintain) Recurring Donations
There's more to building a base of recurring donors than just asking for recurring gifts. That's part of it, of course, but you still need some supporting processes in place.
First, make a compelling appeal.
When you ask for a one-time gift, you should ask yourself two questions: Why should someone give? And why should they give now instead of later?
When you ask for a recurring gift, you need to add an extra question. Why should donors give? Why should they give now instead of later? And why should they make a recurring gift instead of a one-time gift?
There are lots of compelling reasons to give on a recurring basis. When you're writing your appeal, you need to include at least one! Tell donors how recurring giving will help meet consistent needs or talk about how their recurring gift helps make a bigger impact.
You could also attract sustaining donors by creating an exclusive group for recurring donors and tying a cool incentive to it. A great example of this tactic comes from the World Wildlife Fund; recurring donors are considered "WWF Heroes" and get access to a quarterly magazine, an annual calendar, and exclusive emails. People who give $100 or more per month become a "Partner in Conservation," which includes even more benefits.
After you've made your compelling appeal, make sure you…
Make it easy to give you a recurring gift
Donors won't opt to make monthly donations to charity if it's hard to set up a recurring gift. Make it easy to support you!
If you're sending an appeal that's focused specifically on asking for recurring donations, you may want to consider using your donate button (you ARE including a donate button, right?) to take donors to a form where recurring options are already pre-selected. Here's why.
When you're setting up your standard donation form—the one your donors land on when they click the big "donate" button on your home page— it's never a good idea to make a recurring donation the default option. Doing that can make donors feel like you're trying to trick them into making a recurring gift. But, when you're sending an appeal specifically for recurring donations, making a recurring gift the default is just fine. It makes it easier for donors to give, requires them to make fewer choices, and helps you keep them engaged in the donation process.
That doesn't mean you should neglect your standard donation form, though. Encourage recurring donations by including language on your form that touches on the importance of those gifts. If you're using Qgiv, you have a couple handy options for encouraging sustaining gifts. The first is a recurring nudge, which is an option within your donation form for donors to change a one-time gift to a recurring gift. Here's what that looks like: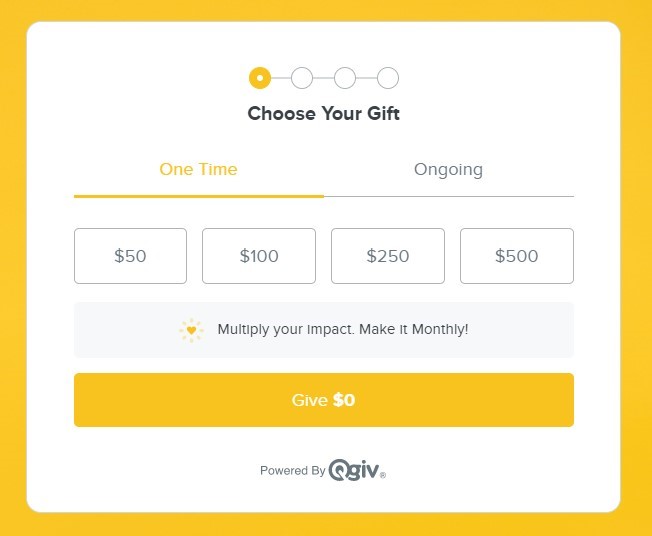 See that little bit of text that asks you to make your gift monthly? That's a recurring nudge!
The other Qgiv tool you can use is our recurring modal. It's a pop-up message asking donors to upgrade their gift to a recurring one. This is what your donors will see!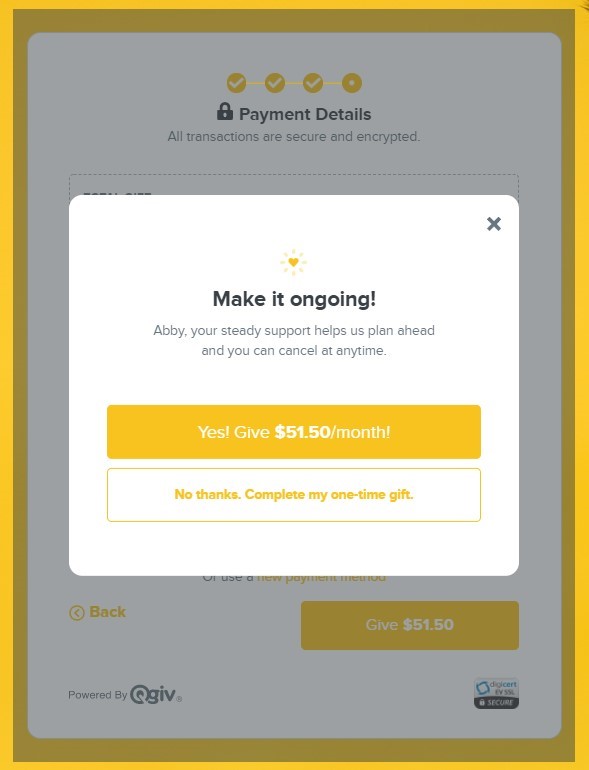 This is a Qgiv upgrade modal! It's an effective way to get donors' attention and invite them to make a bigger impact.
You can also use Qgiv's "Giving Plan" tool. Donors can put together a giving plan to make a larger gift in smaller increments, which is especially helpful now during a period of economic uncertainty. Visualize it this way: I want to donate $500 toward your capital campaign, but I don't have $500 handy right now. Instead of giving you one lump sum, I can set up a donation wherein I give you $50/month for 10 months.
These tools were added to Qgiv's award-winning online donation forms during our recent redesign to help nonprofits grow their fundraising with recurring gifts.
So, to recap: make it easy to make a recurring donation. If you're sending an appeal specifically asking for recurring donations, link donors to a form that automatically defaults to recurring billing. Then, use a combination of recurring language, giving plans, and upgrade prompts to encourage recurring gifts on your primary donation form.
After a donor sets up a recurring gift, it's time to start building the relationship with your new supporter. The first step is to…
Follow up promptly
The person who just set up a recurring donation just did an amazing thing. They're giving YOU their support and their money! They just chose to do that over and over again! They're giving you a reliable, sustainable source of income! They are choosing to invest in your mission, not once, but over and over again.
Honor that gift by acknowledging that gift quickly and sincerely!
First, make sure you've built an automated receipt that will go to donors right after they make a gift. To make the most of your receipt, be sure you include:
A good subject line
A personalized salutation
A sincere thank-you message that contains
An impact statement
Your donors already feel great because they've just made a gift to charity (donating is actually scientifically proven to make us feel good). A good receipt will make them feel even greater.
Reinforce your receipt with a follow-up communication later on. Focus just on thanking them—don't make another appeal! Tell them what their gift will achieve, tell them how much you appreciate them, and tell them how wonderful they are.
You can do this a few ways. You can send these thank-yous by email, which can be an effective way to contact lots of donors at the same time. If you go this route, try using Qgiv's email integrations to quickly export recurring donors' information to your email service. You could thank them on a social channel, either by DMing them or giving them a shoutout on your channels. If you choose to thank them publicly, make sure they're okay with it first! Or you could do my personal favorite, which is thanking them with a handwritten card. This is your best bet if you really want to knock their socks off!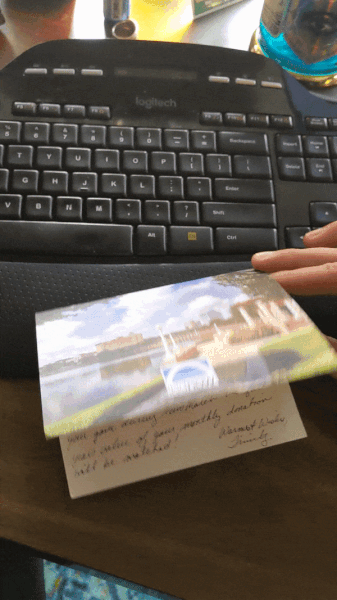 Caption: This is a thank-you card I got from a local nonprofit after I set up a recurring gift. My socks were knocked all the way off.
Donors who set up recurring gifts have the highest donor retention rates of any other cohort of donors. Celebrate that fact, but don't let it make you complacent! Having a solid follow-up process in place will help you build relationships with your donors that will make them even more excited about supporting you long term. Update recurring donors regularly
Segment updates and appeals that go to recurring donors
Your sustaining donors have committed to supporting you long-term. That doesn't mean you should stop sending them updates or appeals! It just means you need to handle those communications a little differently than you handle communications to prospective or one-time donors.
When you send updates to your sustaining donors, be sure you include:
An acknowledgement of their ongoing support
A message thanking them for that support
An impact statement (preferably accompanied with a story!) that tells them what they've achieved with their donation
Keeping those donors updated on how you're using their money is an important part of retaining those donors. If donors don't know what their support is achieving, they're more likely to let their gift lapse or, worse, cancel it outright.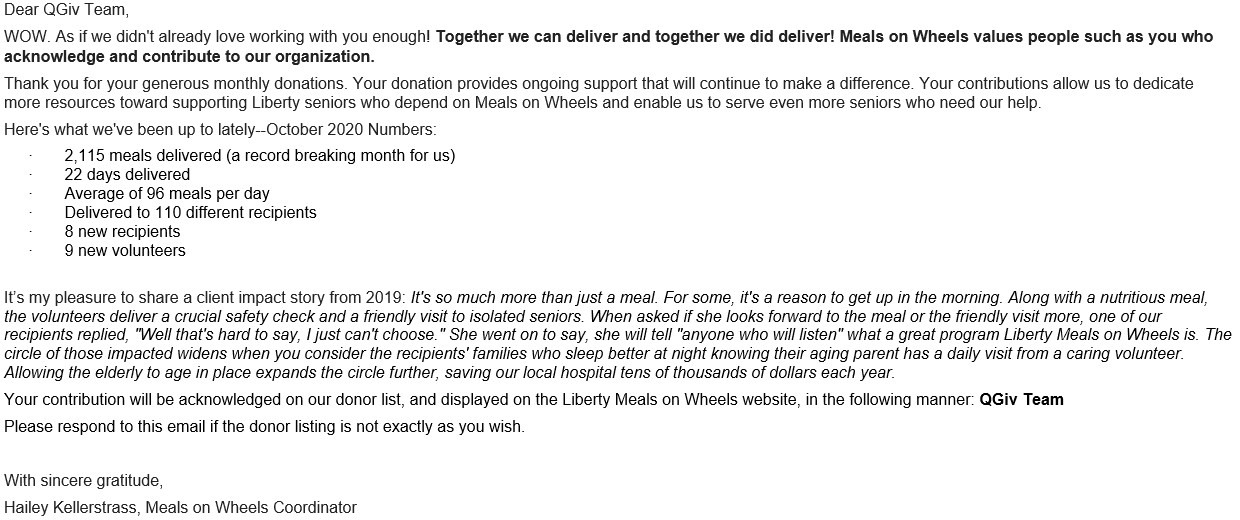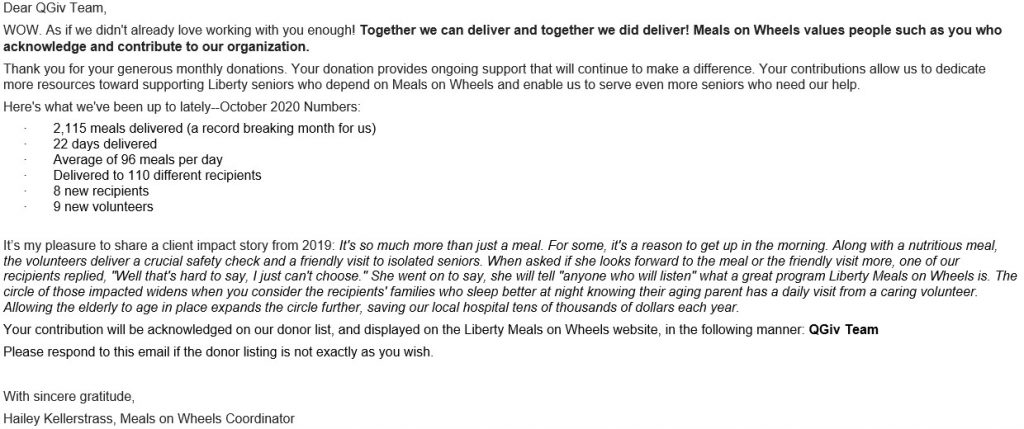 There are opportunities to ask your sustaining donors for additional support—you can ask them either to give a one-time gift in addition to their regular gift or you can ask them to upgrade their existing gift by upping their monthly donation amount.
When you ask your recurring donors to give again—either by making an additional one-time gift or by updating their recurring gift amount—you need to include a few key elements in your appeal:
An acknowledgement on their ongoing support
A message thanking them for that support
An impact statement reiterating what they've achieved so far
A summary of why you need their additional help
A final call to action
The relationship you have with your sustaining donors is like a long-term relationship: there's a level of commitment involved, but the relationship still requires work and effort if you want the other party to stick around. Your recurring donors have committed to supporting you long term, but you still need to put effort into maintaining that relationship!
Closing
Everyone wants recurring donations. Being able to depend on a reliable amount of money coming in every month makes planning and budgeting easier to do. If you want to build a base of recurring donors, you'll need to put in some extra planning and extra work to acquire (and retain!) those supporters. The payoff is worth the effort!
When you're trying to recruit sustaining donors, focus on writing a great appeal that answers three questions: Why should they give? Why should they give now? And why should their gift be recurring? Make it easy for those donors to set up a recurring gift, then make sure you have a solid follow-up plan in place. Finally, be sure you communicate with your sustaining donors on an ongoing basis and segment your appeals so you can ask for additional support in a way that makes them feel seen and appreciated.
What's Next?
We've got a ton of tools that can help you attract and retain recurring donors; you can include recurring prompts on your donation form, set up automated receipts, and use CRM and email integrations to send segmented communications and appeals to your most loyal supporters. We'd love to show you how we can help you. Let's talk!