Looking for a way to convert your one-time donors to recurring givers? Even better… do you want a way to do that during the donation process? Qgiv's recurring upgrade prompts can help!
When donors start a one-time gift, you can enable two types of prompts asking them to continue their support with a recurring donation instead.
1) A recurring nudge

2) A recurring upgrade modal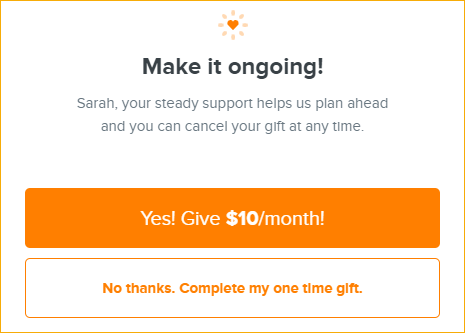 Growing the number of recurring gifts your nonprofit receives can be extremely beneficial. Read on to learn more about the benefits of recurring upgrade prompts and how this new feature can inspire donors to give more.
Benefits of recurring gifts
Recurring giving raises more money for your mission
One obvious benefit of a recurring gift is that you raise more money! A donor who gives $25 each month gives $200 more a year than a donor who made a one-time $100 gift. Imagine how great it would be if you could convert that one-time gift of $100 into a monthly contribution!
The average annual value of a recurring gift is also exponentially larger than the value of the average one-time gift. According to our platform data, the average amount of a one-time gift in 2019 was $167.59. However, the annual value of a recurring gift was $1,740 on average. That's 10.3 times higher than the value of the average one-time gift! Thus, your recurring donors have the potential to give 10x more over the course of a single year!
Improved donor retention
Recurring gifts inspire donors to give longer. The average length of a recurring gift made in Qgiv is 313 days with 11.7 fulfilled installments on average. Donors who make more than one gift are far more likely to stick around and continue supporting your mission.
In fact, Steven Shattuck, Bloomerang's Chief Engagement Officer, discovered a huge difference in donor retention rates between one-time and recurring donors. One-time donors had an average retention rate of only 46%. This means nonprofits lose new one-time donors more than half the time! By contrast, donors giving monthly had a retention rate of 90%. It's clear that by making more than one gift, donors are inspired to stick around longer and grow their value as a donor. Want more information on why the second gift is the most important when it comes to donor retention? Check out this on-demand webinar where Steven explains his findings.
How recurring upgrade prompts help
Recurring upgrade prompts create a built-in ask
Based on the numbers, there's clear value in recruiting more recurring donors. Before you launch a recurring gift campaign (which is also an awesome idea), look at your donation form. Does it include recurring gift options? Are you asking donors who select a one-time gift to upgrade? If not, you're missing an opportunity to upgrade donors without a time-consuming fundraising campaign! The simplest way to get donors to upgrade from a one-time gift to a recurring gift is to ask them to! Donors land on your donation page because they want to make a difference. A recurring gift prompt asks them to upgrade their gift to make a bigger difference. Many will be more than happy to upgrade if presented with a compelling reason.
Currently, nonprofits aren't asking one-time donors to upgrade enough. That means many nonprofits are leaving money on the table. Building an ask into the one-time gift section of your donation form makes it easier to convert one-time donations into recurring gifts.
NextAfter found that "only 7% of nonprofits [in a study] had a value proposition for why you should become a recurring donor." Additionally, they found that only 10% prompted their one-time donors to upgrade to a recurring gift on their donation form.
These findings are what prompted us to include recurring upgrade prompts on our award-winning donation forms.
Prompts make it harder to miss recurring gift options
Your donors have a singular focus when filling out your donation form: making a difference. While it's great that they're focused on giving, speeding through the donation form makes it easy to miss all the giving options available to your donors. Qgiv's recurring giving prompts are designed to be noticed and give donors a chance to consider upgrading a one-time gift to a recurring contribution.
There are two options available to Qgiv users for recurring gift prompts. These are optional prompts that can be toggled on or off at any time!
1) The recurring nudge is like a friendly tap on the shoulder to upgrade a one-time gift. It appears on the form and doesn't interrupt the donor's progress. The language used encourages donors to convert to recurring giving to make a bigger impact.
Here's an example of a nudge on a multistep Qgiv donation form: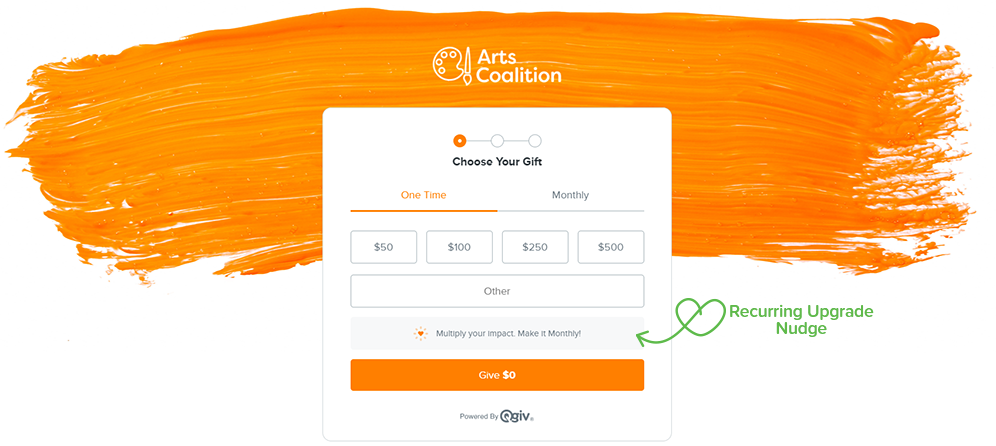 2) The second option, the recurring modal, asks donors to pause for the cause. It asks donors to upgrade in a more direct way. Before donors complete the last step and make their one-time gift, a modal will appear asking one last time for donors to upgrade their gift.
Donors take notice of the modal because it pops up over the donation form. They're presented the choice to upgrade or decline before clicking the button to complete their donation. This lets donors know recurring giving is an option because it's impossible to miss!
Before you write this option off as being too aggressive, know this: a similar recurring gift upgrade prompt on a donation form increased recurring donations 64%, according to this article by NextAfter. This strategy grows revenue!
Here's an example of the recurring giving prompt in action on a multistep donation form: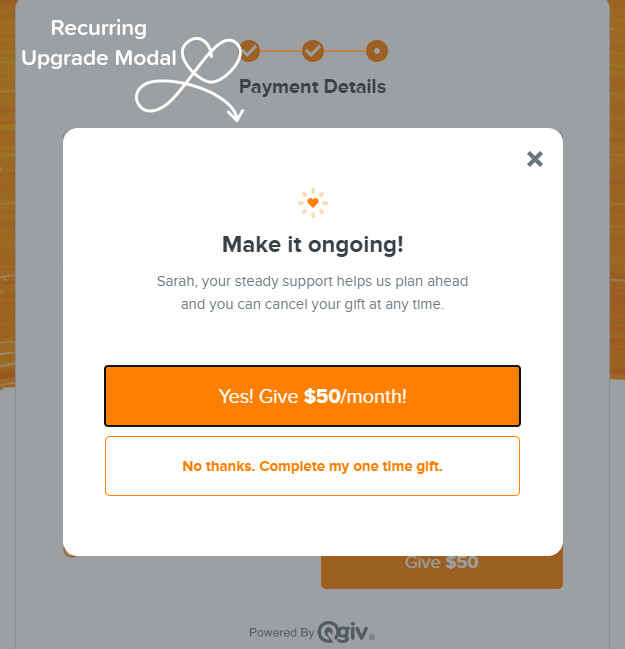 These nudges can communicate the importance of recurring gifts
The recurring upgrade modal and nudge are customizable. You can change the language to communicate the importance of recurring gifts by adding language about your organization's specific mission and impact. Explaining the importance and value of recurring gifts can inspire donors to upgrade.
NextAfter's Nonprofit Recurring Giving Benchmark Study states the importance of communicating about recurring giving to your donors in their study. They found, "If you don't directly ask for a recurring donation, your donors may not even know that is even an option. Even if they do, they may not fully understand its value. Use prompts to directly ask donors on the donation page to upgrade their one-time gift to a recurring donation."
Spelling out the benefits of recurring giving for donors makes the choice to multiply their impact an easy one!
Conclusion
Recurring gifts are more valuable than one-time donations, but too few donation forms ask one-time donors to upgrade their gifts. Using recurring upgrade prompts like the nudge and modal options available on Qgiv's donation forms can increase recurring gift conversions significantly. Those recurring donations grow donors' lifetime value, help you raise more annually, and significantly boost donor retention rates! For more information on Qgiv's forms, check out our forms page or request a demo to see everything Qgiv's forms have to offer.