When you're hosting a peer-to-peer fundraiser, inspiring your fundraisers is the key to a successful campaign and event. Effective communication is one of the best ways to do that, but how do you stay in touch with your peer-to-peer participants? With our peer-to-peer fundraising email templates and tips, keeping your supporters motivated is simple!
Why are peer-to-peer fundraiser emails important?
There's a reason why email is one of the go-to channels of communications for nonprofits everywhere. Not only is it easy and efficient, but email also has the highest return on investment compared to any other marketing channel with a 40 dollar return for every one dollar spent.
You can use emails to keep in touch with your supporters at any stage of your peer-to-peer campaign. Use emails to promote your event and spread the word to encourage participation. As your campaign progresses, keep your supporters updated on their individual fundraising progress, as well as the peer-to-peer campaign's overall progress. Send motivating messages and provide your fresh-faced fundraisers with tips and tricks for raising money from their network.
If you're seeking out sponsorships for your campaign, email is also a great way to get in touch with potential partners so you can build a mutually beneficial relationship. Tell your sponsors about the work your organization does and how they can benefit from partnering with you. If you have any long-term ideas, outline them for your sponsors to see if this partnership can go beyond this single campaign.
Not sure how to connect with potential sponsors and build long-lasting partnerships? Download our Sponsorship Cheat Sheet and Templates to make reaching out to potential partners a breeze!
What emails should I send during a peer-to-peer fundraiser?
1. Event Promotion
At every stage of your peer-to-peer campaign, you should keep an open line of communication with your fundraisers. In the weeks leading up to your peer-to-peer event, make sure you're promoting it in every email and providing vital information about how to participate and what to know beforehand.
2. Motivate to Fundraise
As a supplement to your promotional emails for your event, give your supporters reasons and incentives to fundraise for your organization in the weeks leading up to the big day. Impact statements, small prizes for reaching fundraising goals, and gamification elements can motivate your supporters to sign up to fundraise during your peer-to-peer campaign.
3. Fundraising Tips & Tricks
Fundraisers may need a little help and guidance if they've never tried to fundraise before. Get together resources for your supporters that you can send over via email. From email templates to drafts of social media copy, your fundraisers will appreciate all the help you can provide so they can reach out to their networks with confidence and raise money for your mission.
4. Fundraising Progress Updates
It can also motivate fundraisers to know when they've achieved personal fundraising goals or when your organization has passed fundraising milestones throughout your campaign. Send congratulatory messages to your fundraisers when they've reached a goal they've set for themselves and include calls to action when you're close to reaching your organization-wide campaign goal.
5. Post-event Update
After your peer-to-peer event is over and you've finalized fundraising numbers, send out a sincere "thank you" email to everyone who helped you reach your goal. Include impact statements so your fundraisers know how they've made a difference to your organization and the communities that you serve.
Best Practices for Peer-to-Peer Emails
If you want to plan the best peer-to-peer email campaign for maximum impact, there are a few best practices you should keep in mind.
1. Create a communications calendar
Once you've drafted up your emails, don't go clicking that "send" button with wild abandon. Flooding your supporters' inboxes with email after email can leave them feeling irritated or frustrated. And if you're going the opposite route and sending out emails sparingly, your supporters might feel left out of the loop and unsure if their fundraising efforts are making an impact.
Creating a communications calendar ensures your emails are being sent in a timely and consistent manner without overwhelming your supporters with too much information. Send out emails when participants have met their fundraising goals or when you have an important progress report. If you've got the right peer-to-peer fundraising software, you'll even be able to set up emails to send to your fundraisers automatically when they reach their fundraising milestones.
Use analytics software to determine what days and times you have higher open and click-through rates. Note trends in the kinds of email content you're sending and how each of your email messages' successes compares with other emails you send. By collecting that data, you can figure out how to best engage with your donors at times they're more willing to engage.
2. Make it easy to subscribe
When you have supporters that are looking to get into the loop, don't make it difficult for them to opt into receiving emails from your organization. Make the button and form your supporters use to indicate their interest in receiving emails from your organization easy to find and quick to fill out. Feature it prominently on your website, and if your supporters are forwarding emails they receive to others they think might be interested, make sure the subscribe option is easy to find in your emails.
3. Use the same email address
If you're sending emails from different email addresses every time, more likely than not, your supporters aren't getting all of them. Whether their junk email is filtering a few emails out of inboxes or if your supporters are manually getting rid of emails from addresses they don't recognize, it's always best to use the same "from" email address for all of your peer-to-peer communications during your campaign.
4. Monitor your email inbox
Communication surrounding a peer-to-peer event is a two-way street. Maybe one of your supporters has a question about your event or perhaps they need a little extra guidance for fundraising. Either way, make sure your email inbox is open for business and that you're checking it regularly. Replying to your supporters promptly can help you build trust and better relationships with them.
5. Test marketing strategies
Email marketing is ever-evolving, so keeping up with the trends means that you can't get complacent about your email marketing strategies. Test new strategies every so often and don't always continue using the same strategy just because it's proven to work well for now. Testing and retesting is essential to making sure your emails are making the greatest impact possible.
Planning a peer-to-peer fundraiser takes a lot of serious work. Boost your peer-to-peer participation with our eBook: Marketing Your Peer-to-Peer Fundraising Event!
How to Write a Good Peer-to-Peer Email
Write an attention-grabbing subject line
First impressions are everything, and when it comes to an email, your subject line is that first impression. Your email is probably one of dozens your donors will receive every day, so you need to grab their attention. When your donors are scrolling through their unopened emails, they're likely to pass over your email if your subject line doesn't stand out. Try placing a personalization token in your subject line. If donors see their name pop up, it'll grab their attention and they'll be more likely to open up your email.
Personalize your emails
Receiving an email that opens with "Hey" feels very impersonal. Instead, when you're sending emails, step up your game with personalization tokens. With personalization tokens, all of your emails will feel directly addressed to the recipient with a message typed just for them.
Segmenting your donors using donor data is another great way to make your emails feel far more personalized. To use donor data most effectively, you'll need to periodically go through your database and records and clean them up. Misspelling a supporter's name or addressing them incorrectly can quickly turn someone off to your organization. And when you receive an email with information that isn't pertinent to you, you're probably much more likely to unsubscribe. Instead, by sending out your emails and targeting specific subsections of your donor base, emails will feel far more specific and personalized.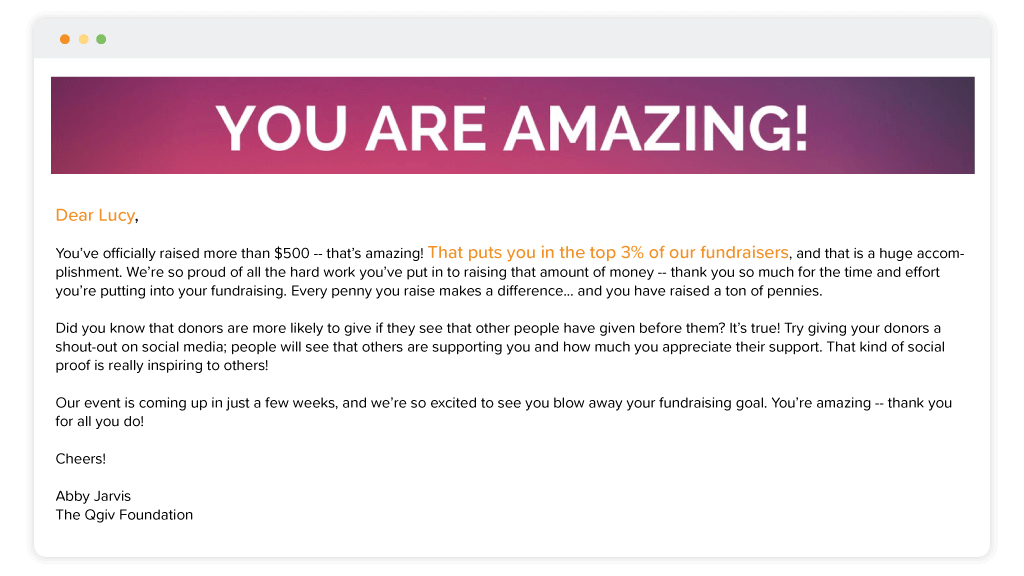 Use impactful images or graphics
Your donors likely have many messages to sift through in their email inboxes every day. If they're opening your email and facing a wall of text, it can be difficult to keep their attention and get them to read the information you've sent over. Break up large blocks of text with visual elements and formatting such as bullet points to highlight important information and keep things interesting. Use images of your nonprofit's volunteers in action or place some nice graphics to enhance your email's message.
Keep your emails consistent
If your donors have read your email and they're still unsure of who sent it, you might have a problem. It's important to keep your email style consistent across your emails. Brand your emails and place your logo at the very top so that the second your supporters read your email, they immediately know who it's from.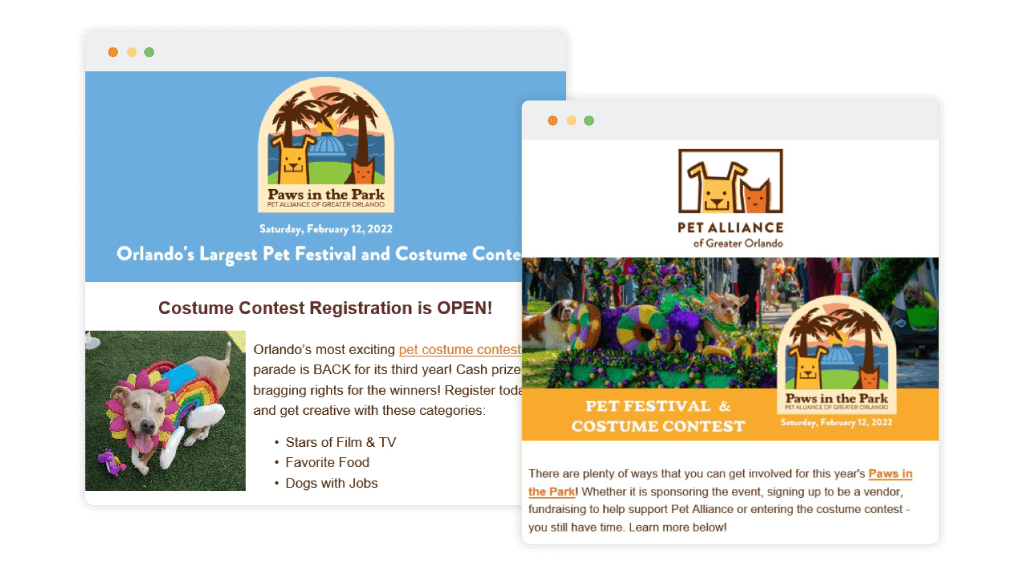 Feature your CTA
Every email you send should have a strong call to action, and it shouldn't be hidden under piles of text or images. Feature your CTA prominently in your emails with a big button that stands out, and make sure your supporters don't have to scroll too far to find it. If they lose interest halfway through your email but your CTA button is at the bottom, you won't get too many people who click through and complete the objective of your email.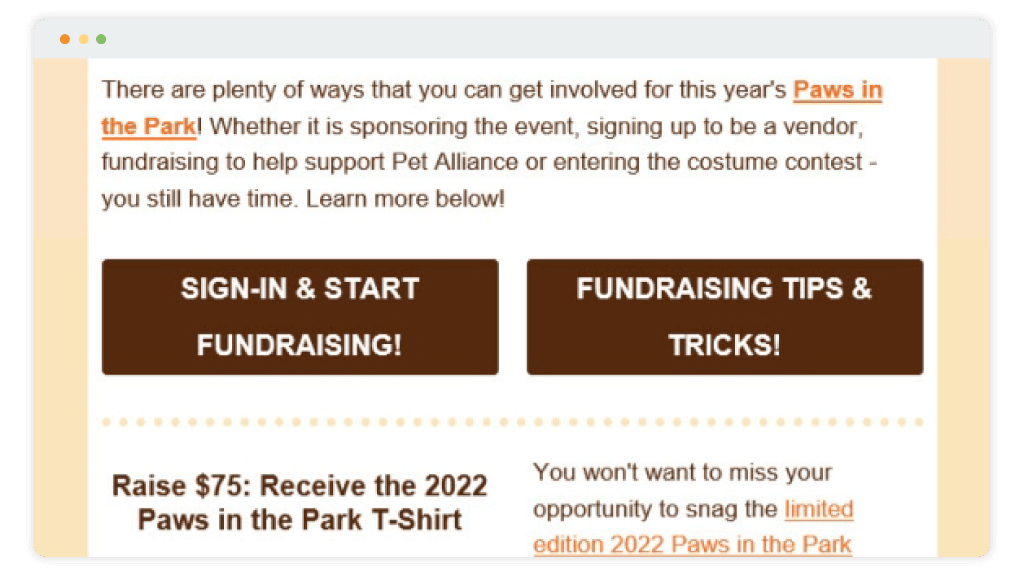 Encourage social sharing
For a peer-to-peer campaign, social sharing is key. Make sure you're using emails to encourage connections with your supporters in other channels as well. Use social buttons in your emails so donors can get directly to your social media pages to stay connected. If there's a message in your email that fundraisers can use to appeal to their networks, make sure it's easy for them to share with a single click in your email.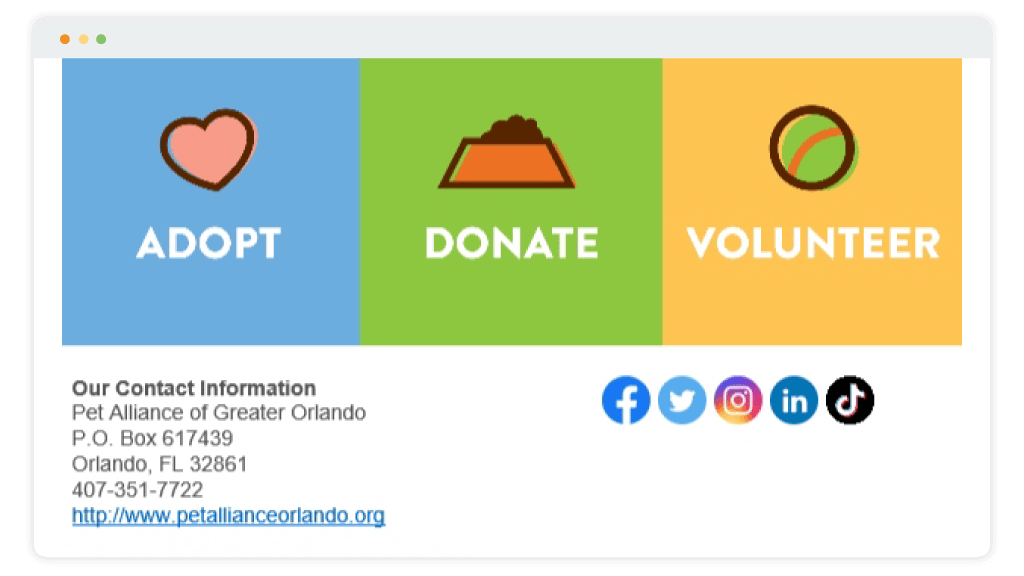 Peer-to-Peer Fundraising Email Templates
Event Promotion Email
Hi [Name],
Did you know that here at [Organization Name], we've been serving the [Community Name] area for over [Number] years? [Add statistics about your organization's work in the community.]
Through it all, you have been a vital part of our mission. With our [Peer-to-Peer Fundraiser] on [Dates], we hope to take our mission to new heights, and we want you to be a part of it!
From [Date] to [Date], we'll be working hard to spread the word and collect donations to reach our goal of [Fundraising Goal] so we can [Impact Goal: provide X number of scholarships, provide X gallons of clean water, etc.]. When you start your own fundraising team, you can make a major difference in the lives of [residents/students/animals, etc.] in [Community Name].
Then, on [Date], we'll gather to celebrate all we accomplished with a [Peer-to-Peer Event Name: 5K, bowl-a-thon, bake sale, etc.]. Sign up now to become an official fundraiser for [Organization Name] and start setting up your fundraising page!
Let's get started! [Sign-up button]
If you're not able to fundraise, we'd still love for you to be a part of the fun! Share our fundraiser on your social media pages and use the hashtag [Fundraiser Hashtag] to spread the word!
[Sign-off],
[Organizer Name]
Sign-up Email
Welcome to the team, [Name]!
Thank you for committing to help [Impact Goal]. With your help, we can make a difference in the lives of [residents/students/animals, etc.] in [Community Name].
To get started, don't forget to complete your fundraising page, and remember, fundraising is always better with friends! Start building your fundraising team and go head-to-head with other teams to see who can raise the most. At our [Peer-to-Peer Event Name] the top fundraising teams will receive [Prizes] as a thank you for all your hard work.
Once your fundraising page is all ready to go, kick things off by making a donation to your personal fundraising page and then share your story of why you support [Organization Name] with all your friends and family. A personal text message, email, or phone call can go a long way, and sharing your fundraising progress on social media can get even more people involved.
First-time fundraiser? There's nothing to fear! Check out our list of fundraising resources on our [Peer-to-Peer Fundraiser] website for templates and social media graphics you can use to kick off your fundraising journey!
Happy fundraising!
[Organizer Name]
Resources & Tips for Fundraising Email
Hi [Name],
We know fundraising can be hard sometimes. That's why we've compiled this list of resources to help you along your fundraising journey:
[Campaign overview with statistics, impact statements, etc.]
[Branding Guide with graphics, logo color codes, etc.]
[Templates for social media sharing, emails, text messages, phone call script, etc.]
[Storytelling Guide]
[Thank You Guide for recognizing donors]
[More fundraising resources]
And here are a few tips and tricks for more effective fundraising:
Use stories. Create a personal connection with your network by sharing your reason for fundraising. An emotional appeal can help you raise even more money and help people understand why this cause is so close to your heart.
Provide updates on your progress. When you're close to reaching a fundraising goal or when you've reached a fundraising goal, share that with your network. People who have already donated to your campaign will love to see how they've helped make a difference, and a message asking for support to reach your goals will motivate people to donate.
Always share your gratitude. A heartfelt "thank you" is a must for anyone who has donated to your fundraiser. Acknowledge your donors and express how much their support means to you. Share with them how they've positively impacted [Community Name].
Remember to always link to your personal fundraising page so any money you raise counts toward your goal!
Happy fundraising!
[Organizer Name]
Fundraiser Motivation Email
Hey [Name],
Wow! You've reached your [Dollar Amount or Percentage] fundraising milestone! You're incredible!
We can't believe you've raised so much already, and now it's time to take things to the next level! Keep reaching out to your friends and family and let them know about the impact you're making in [Community Name] with some facts!
[Statistic about organization mission]
With the money you've helped me raise, we've [Impact Goal Statistic].
Keep up the great work!
[Organizer Name]
Fundraising Progress Update Email
Hi [Name],
In [Time] we've raised [Dollar Amount], and now we're [Percentage] away from reaching our fundraising goal of [Dollar Amount]! Thank you so much for all you've done to help us reach this point—we couldn't have done it without you!
With the money we've raised, we've provided [Impact Goal Statistic 1] and [Impact Goal Statistic 2].
You've been such an integral part of our work, so we want to thank you for your hard work fundraising to help [Community Name]. We're so close to reaching our [Dollar Amount] fundraising goal and the giving isn't over yet! Help us get there by sharing our campaign with your friends and family on social media one more time!
Check out our [Facebook/Instagram/X, etc.] [add links] for posts you can share, and keep sharing your personal reasons for fundraising!
Thanks for your support, and happy fundraising!
[Organizer Name]
Final thoughts
Reaching your fundraising goals during a peer-to-peer campaign means keeping your fundraisers engaged and excited about your mission and fundraising. If you're using email to stay connected throughout your campaign, sticking to these best practices will ensure that your peer-to-peer participants are excited to raise money for your organization.
Looking for more resources for your next peer-to-peer campaign? Check out these links to help you up your fundraising game.