Peer-to-peer fundraising is a way to empower your supporters to reach out to their networks and raise funds on behalf of your organization. According to Qgiv data, nonprofits recruit 300 new donors on average through peer-to-peer fundraisers, making it one of the most effective online fundraising strategies to grow your donor base. 
Peer-to-peer fundraising is more than just a physical event, and there are many campaign ideas your organization can test out, including:   
Contests
Challenges
Crowdfunding
DIY fundraising
A-thon events
Network fundraising
Virtual storefronts
Giving days
And more!
For those getting started, you may want to consider a lower cost option, like DIY or network fundraising, before diving into a live event like a bowl-a-thon.
Big Brothers Big Sisters
As an organization dedicated to mentoring children, Big Brothers Big Sisters (BBBS) exemplifies how successful peer-to-peer campaigns can be for fundraising. There are many examples of BBBS agencies using peer-to-peer fundraisers to recruit new donors and raise awareness for their cause. 
Big Brothers Big Sisters of Vermont raised 111% of their goal with their For Kids' Sake Virtual Fun Run.  
2. Big Brothers Big Sisters Mountain Region's 2022 Bowl For Kids' Sake raised 106% of their goal with the tried and true BBBS bowl-a-thon.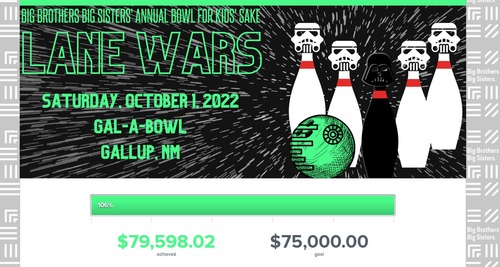 3. Big Brothers Big Sisters of Colorado hosted a Topgolf event and raised over $150,000 to help kids!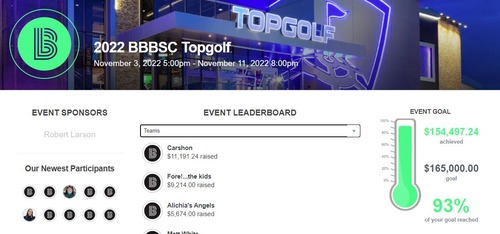 To host a peer-to-peer fundraiser, all you need is a peer-to-peer fundraising platform to host your campaign and fundraising participants to share your fundraiser with their social networks. Pick the best engagement strategies for your campaign and you're off to the races! 
To get you started, here are some peer-to-peer campaign ideas:
Sports peer-to-peer ideas
Athletic events are a great place to start looking for Big Brothers Big Sisters peer-to-peer campaign ideas. With the popularity of Bowl For Kids' Sake and other athletic fundraisers, sports are perfect for engaging your organization's donors.
Basketball hoop off
If you have access to a hoop or a court, basketball is an easy sport to use for peer-to-peer fundraisers. Host a competition where teams or individuals show off their basketball skills. Supporters can pledge to donate per basket made or provide a one-time donation to the participant of their choice. You can combine this challenge with another event, similar to Big Brothers Big Sisters of the Midlands' Big Basketball Bash.
Dodgeball team tournament
Dodgeball is another sport that's perfect for peer-to-peer fundraising. All you need is a ball and a place to play, and your peer-to-peer teams are set to battle it out in a tournament. Incentivize team fundraising by offering extra lives or other perks for the money each team raises. Sell tickets to watch the tournament for an extra way to raise money using this peer-to-peer idea. Other team sports, like volleyball, are also great for peer-to-peer tournaments.
Skiing/snowboarding
For BBBS agencies in colder climates, winter sports are an exciting option for fundraising. Partner with a local business or resort and set a date when participants can ski or snowboard the day away as part of an endurance challenge. One example of this is the BBBS of Colorado's Million Vertical Feet, where each participant racks up over 100,000 vertical feet in a twelve-hour period to raise money for the organization.
Sports contests
One simple peer-to-peer campaign idea is a fitness contest, which is when participants keep track of how many goals they score or how many miles they run during a game. Participants can encourage their friends and family to donate for more play time or pledge money based on the participants' achievements. Fitness contests are great because they can be hosted either in-person or virtually!
Virtual peer-to-peer ideas
With the rise of online fundraising, virtual BBBS peer-to-peer campaign ideas are a convenient and often cheaper option for raising money. Big Brothers Big Sisters agencies can use virtual fundraising in addition to their usual annual campaigns.
Virtual game night
Game nights are an engaging type of fundraiser that helps build community bonds with playful competitiveness. Whether it's trivia, tabletop, or other games, participants can raise money for extra advantages during the game or by streaming a game playthrough for donations. Showing a leadership board of top fundraisers on a livestream further encourages donations to participant teams.
Fitness challenge
Fitness challenges, like Big Brothers Big Sisters of Northeast Wisconsin's Miles for Matches, work great for virtual peer-to-peer campaigns. Participants sign up to complete as many reps as possible of some form of repetitive exercise for a designated period of time. Whether it's the number of steps walked in a month or number of jumps over a rope in an hour, your supporters can raise money through pledges and donations.
Network fundraisers
A simple peer-to-peer campaign idea proven to work for BBBS agencies is network fundraisers. The Big Give is one example of how easy network fundraising is for both the participants and your organization. All the participants have to do is register and set up their fundraising page to share with their friends and family on social media. Network fundraisers can also be gamified with small challenges, such as the 10 for $10, where participants find 10 donors to donate just $10, making a big change with a small ask.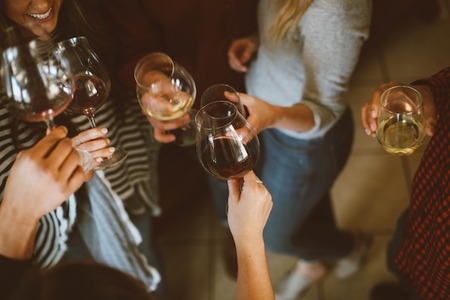 Social media challenges
Hosting challenges on social media for your peer-to-peer fundraiser is perfect for raising awareness for your organization while raising money. Taking advantage of social media can dramatically increase word of mouth about your organization. Try creating your own hashtag or giving day for your participants to share on their own social media profiles.
Virtual storefront
Many peer-to-peer campaign ideas have participants raise money by selling a product which can be accomplished with a virtual storefront. Participant pages link to your organization's online storefront to sell shirts or other merchandise with your logo or design on it. Participants then compete to see who can sell the most in a set period of time.  
Peer-to-peer event ideas
Events are a great place to look for exciting BBBS peer-to-peer campaign ideas. Hosting fun events invigorates your peer-to-peer participants' fundraising efforts. Bringing your community together encourages more people to join your event and raise money for your cause.
Exciting local challenges and dares
Whether people register to complete a dare if they meet a fundraising goal or raise money to participate in a challenge, challenges and dares often energize participants leading up to the big event which translates to increased fundraising for you. Use a challenge local to your area to excite your community. Host a rooftop adventure like Big Brothers Big Sisters of the Capitol Region's Over the Edge. Or for colder climates, dip into the water with a Polar Plunge. Fun challenges also help increase awareness for your organization as the excitement around the event spreads through your community.
Candy-grams
If you have an upcoming event, consider adding a peer-to-peer aspect to it. Candy-grams are a great addition to any event you host, and participants register and pick up boxes of candy to sell leading up to or during the event. If candy doesn't suit the theme of your event, there are many other options for what your participants can sell. From songs to snacks, your participants sell and deliver the goods or services to those who've purchased them.
Scavenger hunt
Scavenger hunts are a stimulating and adventurous way for your participants to raise money. Their friends and family can support their team's quest to find all the clues and finish the scavenger hunt. Hunts are a great way for your supporters to explore and learn more about the area. Take inspiration from BBBS of Island County's Whidbey Island Scavenger Hunt and use a digital tool for participants to find and submit clues on.
DIY fundraiser
DIY fundraisers empower your supporters to host events of their own to raise money for your cause. If a participant has a special occasion coming up, like a wedding or a birthday, they can ask their attendees to donate to their peer-to-peer page in place of or in addition to a regular present. Big Brothers Big Sisters of Cumberland and Salem Counties' Defend Potential encourages participants to celebrate with BBBS for any event.
"Athon" peer-to-peer ideas
"Athons," such as walkathons, bikeathons, and other marathon types of events are perfect for BBBS peer-to-peer campaigns because of how long the pre-event fundraising period lasts. Participants are given a prolonged period of time to raise more money, which can translate to more donations for your cause.
Dance marathon
One fun marathon fundraiser is a dance marathon. Dance marathons, where participants dance it out for as long as possible, can last anywhere from a few hours to a full day! Supporters can pledge to donate to participants for the number of hours participants stay active during the marathon. Give your dance marathon a unique twist by turning it into a silent disco.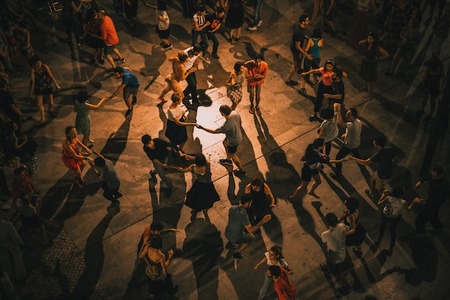 Volunteer-a-thon
Use your peer-to-peer campaign as a way to give back to your community. BBBS agencies can set up a volunteer-a-thon where participants raise money from their supporters by committing to a certain number of community service hours. Not only does this raise money for your organization, but it also actively benefits your community.
Give it up challenge
A Give It Up Challenge encourages your community to give up bad habits that often cost the participants money for an established period of time. Your participants use the money they save from giving up their habits to donate to your organization, and their friends and family donate even more to participants to keep their habit-breaking streak going.
Read-a-thon
Because BBBS is dedicated to helping children, a read-a-thon is the perfect peer-to-peer fundraiser as it encourages your community to increase the number of books they read. Read-a-thon participants gather pledges for reaching their specified reading goal. Your organization can choose to reward the team or the individual who reads the most with a party, gift certificate, or other prize.
Lock-in
Lock-ins help foster connections within your community by "locking" your registered participants inside of a location for a set amount of time—anywhere from 3 hours to overnight. You can set up fun activities and games for your participants to take part in for the duration of the event and even offer special privileges and/or prizes to participants who met or surpassed their pre-determined fundraising goals.
Supply drive
If your BBBS agency needs extra supplies or in-kind donations, consider hosting a peer-to-peer supply drive. Each participant collects supplies and donations on your behalf, giving you the provisions you need to successfully run your organization.
Final thoughts
Peer-to-peer fundraising is one of the best ways for organizations to acquire new donors, and your organization is no different. Big Brothers Big Sisters' experience in peer-to-peer has often had prosperous results, and using these BBBS peer-to-peer campaign ideas could help you expand your fundraising efforts.
Happy peer-to-peer fundraising, BBBS!