In these trying times, many development departments may be feeling stretched thin trying to make up lost ground from cancelled events and rescheduled donor visits. The coronavirus outbreak has not been kind to fundraisers. However, the virus doesn't change your supporters' feelings about your organization.
Empower your supporters to fundraise on your behalf with DIY fundraising.
Your supporters are likely more than willing to help you fundraise even if it's not at an in-person event. DIY fundraising gives your supporters the creative freedom to raise funds their way on behalf of your organization. All you need to do is offer them advice, resources, and support (from a distance, of course!). Use these tips to empower your supporters to start their own DIY fundraising campaigns.
Invite supporters to take part
To get your donors, volunteers, board, and staff fundraising for your organization, you must first invite them to take part. Start by sending out an email to volunteers and staff, make calls to your board members, and reach out to donors who have taken part in peer-to-peer fundraisers with you in the past. These will be the groups most likely to help.
However you communicate with your supporters, your goal should be to invite them to participate and show them how to get started. Provide instructions on how supporters can set up Facebook fundraisers and assign your nonprofit as the beneficiary. For instance, you can also offer to create personalized online donation forms for supporters who want to fundraise for you (Qgiv's peer-to-peer tools give donors the power to design their own personal fundraising pages). This way, their network can give to a specific form and have their gifts apply to your supporters' fundraising goals.
Offer DIY fundraising resources
Resources for fundraisers
Qgiv's peer-to-peer tools make it easy to give each donor their own unique fundraising page. First, create a peer-to-peer event and offer free registration for fundraisers. You don't need to host an event or add start and end dates. After registrants sign up, they set up their fundraising page. Once complete, supporters can set up their own email and social campaigns within Qgiv. If you need more information on what's possible with Qgiv's fundraising tools, take a look at our peer-to-peer product page.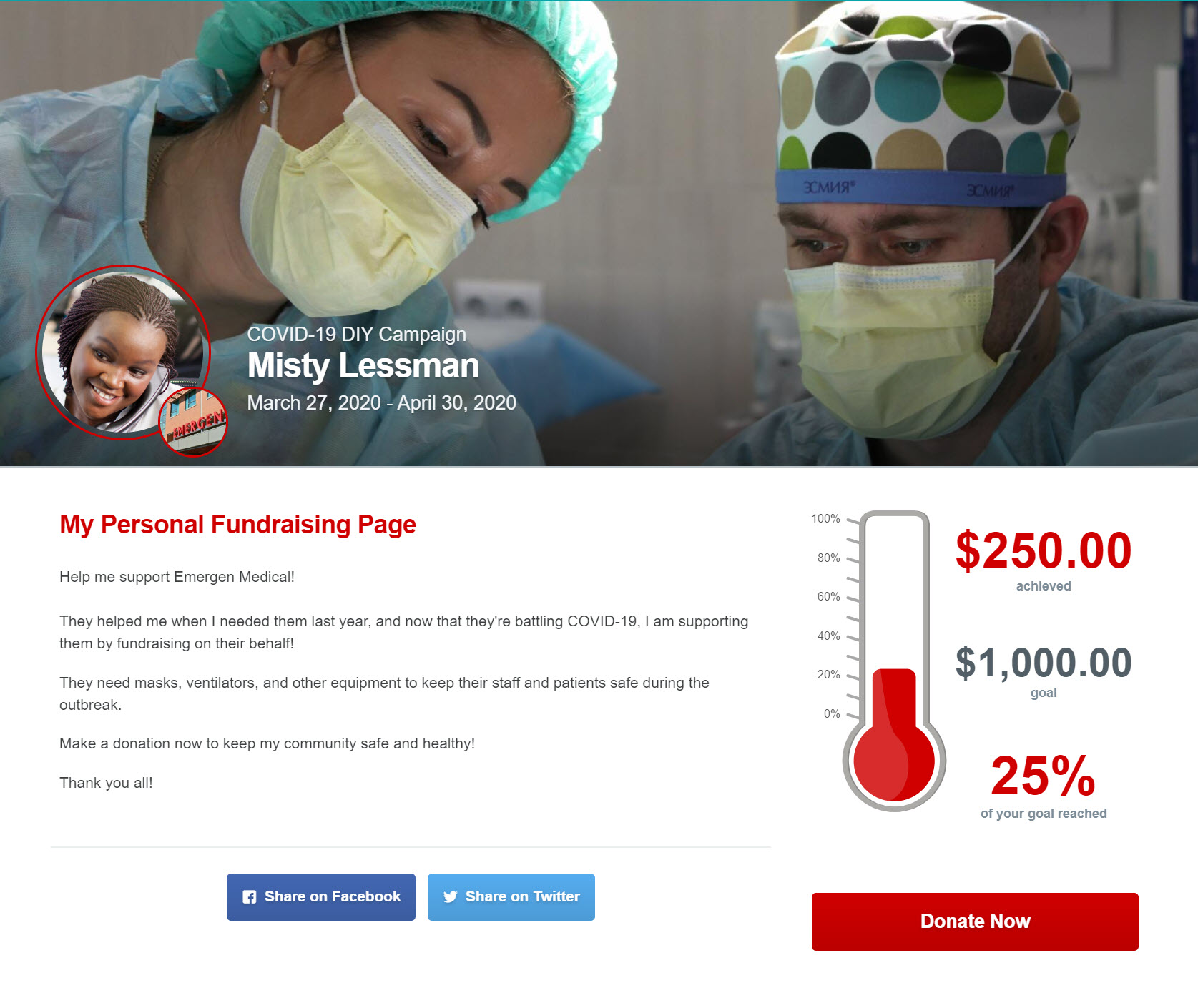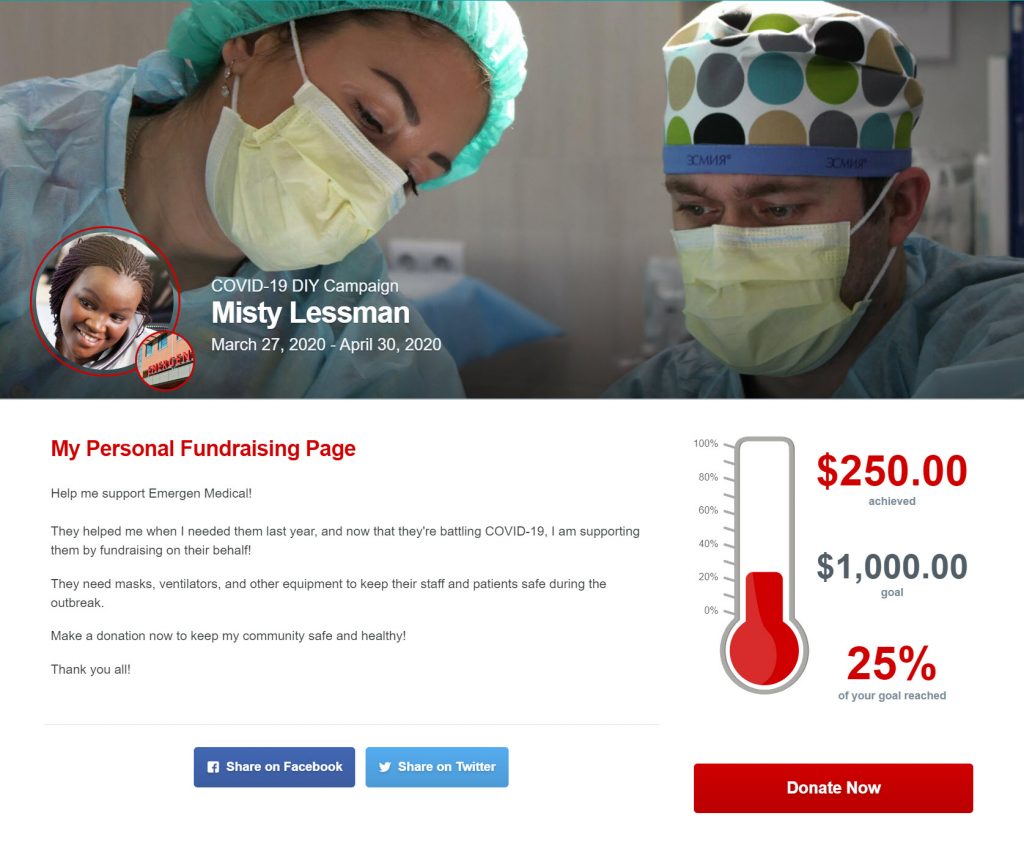 Encourage your supporters to set up a Facebook fundraiser in conjunction with their Qgiv Personal Fundraising Page. A Facebook fundraiser is easily shareable and easy to donate to making it low hanging fruit for your supporters.
When your supporters set up a Facebook fundraiser or online giving form, empower them to maximize their fundraising potential. Try sending your supporters fundraising resources that teach them to fundraise more effectively! If you don't have resources already developed, now is a good time to have your development staff discuss fundraising best practices and develop resources that will help them and your supporters when executing fundraising campaigns.
Because in-person events and face-to-face fundraising are risky right now, discourage that style of fundraising. Instead, share ideas on how your supporters can give digitally! For instance, your supporters can post regularly with links to their Facebook fundraiser or post a link to their custom donation form on their social media accounts. In addition, live streaming to ask for support, celebrate milestones, or perform skits/activities to solicit donations online are helpful ways to get noticed.
Resources for crafters and artists
If your supporters are crafters or artists, now is a great time for them to showcase their talents. The outbreak is causing more people to spend time at home. This means a lot of potential time to make crafts or pieces of art, for instance. These items can be sold via social media (like Facebook marketplace) and then set aside with a promise to ship when it's safe to do so. Because digital art can be sent via email right away, artists creating via their computers can send their purchased art right away.
If your supporters are using Qgiv's peer-to-peer tools for DIY fundraising, they can use widgets to display their art with suggested donation amounts for each piece.
Support your supporters
Your supporters will engage in a DIY fundraising campaign because they care about your organization and its mission. Support their fundraising campaign by being available to them. Create an email for support questions and advice. Be a sounding board your supporters can bounce ideas off. Remember, you're the fundraising pros. Your supporters likely won't have the know-how that you do, and they'll probably have questions.
Part of supporting your supporters is taking time to monitor their fundraisers. If a DIY campaign starts to stagnate or isn't making much progress from the start, reach out, talk it over, and figure out how they can overcome any challenges they're facing. Work with the DIY fundraiser and let them know you're there to back up their efforts. Advise them on steps they can take to maximize their potential.
Take note of whether your supporters are posting regularly about your fundraiser on social media. Do they share their story? Is that story compelling? Are they using authentic images or stock photos? How are they communicating about their fundraiser and about your organization? These are all factors that can create barriers to giving.
Give supporters' DIY fundraisers some love
It doesn't hurt to promote your supporters' DIY fundraisers in your own channels. Supporting your DIY fundraisers costs nothing and can have several benefits. Not only could sharing an impressive DIY fundraiser on your social channels get that campaign more donations, it could also inspire others to start their own. Sharing a DIY campaign on your channels also shows your appreciation of their efforts and can endear your organization to the donor campaigning on your behalf.
Conclusion
The coronavirus is taking many fundraising events off the table. As a result, development staff members are stretched thin switching gears to make up for cancelled events. You can expand your development staff during this difficult time by encouraging your supporters to fundraise on your behalf. By letting your donors, volunteers, and staff create DIY fundraisers, you're empowering them to make a difference on behalf of your organization. You're creating opportunities to generate additional revenue while also building relationships with those who help your organization fundraise.
Encourage digital fundraising rather than in-person campaign efforts. Your supporters can live stream, host Facebook fundraisers, make crafts/art and more to fundraise for you. The only limits placed on your supporters' campaigns are determined by their ability to stay safe and be creative with their fundraising.
Need DIY fundraising resources or other fundraising ideas in order to continue fundraising during the coronavirus outbreak? Check out these articles for inspiration.
Your fundraising needs are changing, and we're here to support you during this difficult time. Many organizations are shifting their in-person events to virtual formats and utilizing mobile giving and text messaging to engage their donors. If you'd like to learn more about how Qgiv's tools can help you continue to raise vital funds while keeping you and your donors safe, please contact us—we're here to help.