Once upon a time, peer-to-peer fundraising was used almost exclusively for activity-based events. Charity marathons, 5ks, bicycle races, and walk-a-thons dominated the peer-to-peer space. Today, peer-to-peer fundraising is popular with nonprofits that run all kinds of campaigns.
As peer-to-peer fundraising events become more creative and diverse, fundraisers are exploring how adding new elements to their events can help them meet their fundraising goals.
One of those elements involves asking for recurring donations.
Back in the day, peer-to-peer fundraisers used to take place over a short period of time so donors rarely made recurring donations. There just wasn't time! But peer-to-peer fundraising is used for a much wider variety of campaigns these days, and many of those campaigns can benefit from allowing recurring gifts.
Have you ever considered allowing recurring gifts in your peer-to-peer event? After all, 28.4% of donors set up new recurring donations in 2020, building a more sustainable revenue stream for organizations that support recurring giving!
If your organization is ready to jump on board with recurring giving, here are some great types of events that would benefit from some recurring giving options!
DIY fundraising
DIY fundraising has been a trendy topic in the nonprofit world for a couple of years now, and for good reason! More and more nonprofit donors are choosing to raise money for their favorite organizations. Donors will often "dedicate" their birthday, marriage, or other life milestone to a nonprofit and ask for donations instead of gifts. Others will opt to raise money for a more extended period of time or even on an ongoing basis!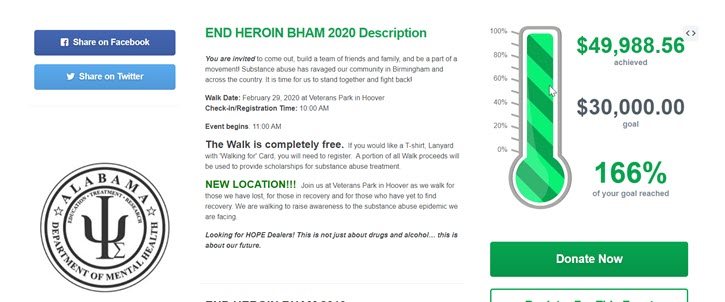 If your organization runs DIY fundraisers, consider adding recurring options to your DIY fundraising pages. Some friends and family members may want to give their loved ones a significant gift to observe an important milestone, and many may prefer to spread out their donation over time. It's also a valuable option for fundraisers who are running long-term peer-to-peer campaigns.
Qgiv Tip: One of the easiest ways to encourage regular gifts is by offering the option. After all, if your donors don't know it's an option, they can't choose it! Giving your donors the option to set up their donations as they prefer leads to not only more donations, but happier donors.
Board fundraising
Ah yes, the age-old struggle. Nonprofits want—and often expect—board members to participate in the fundraising process. But board members often find fundraising intimidating, which prevents them from getting involved.
Peer-to-peer fundraising is a useful engagement tool for reluctant board members. Asking for donations face to face can be scary. But asking for donations on an online page is already a part of our everyday lives!
Your board members are already used to seeing GoFundMe campaigns, Kickstarter appeals, and Facebook fundraisers; sharing a personalized fundraising page isn't scary when they see other people doing something similar.

Consider setting up a peer-to-peer fundraising page for your board members and enabling recurring donations. Board members can easily tell their friends and family about why they're passionate about your cause, then invite others to get involved.
Recurring options let their networks give to them (and you!) long term. Even after board members reach their term limits, you may be able to retain many of those donors after they've had long-term exposure to your mission and your impact.
Qgiv tip: If your board members raise money for you in this way, encourage them to update their pages, receipts, and thank-you messaging on a regular basis (and that's a great pro-tip for your organization as well!). Getting the same thank-you note over and over again can make the note seem insincere, especially if it appears to come from someone you know and care about in real life.
Capital Campaigns
Capital campaigns can run for months or years, which makes them ideal candidates for recurring options. While peer-to-peer fundraising isn't typically the go-to method for capital campaigns, they can be a fun, engaging way to inspire your community to help you raise a significant amount of money.
Staff, volunteers, and influential donors are all ideal participants for this kind of campaign. They're already deeply engaged with your organization and are powerful advocates for your cause. Their experiences with your organization make them great ambassadors for your capital campaign, but it's important to give them the tools they'll need to help you reach your campaign goal.
One of those tools is recurring options. Capital campaigns typically have high fundraising goals, which means you'll need to attract a large number of smaller donations. Recurring gifts will help you reach that volume with fewer donors!
Qgiv tip: According to our friends at NextAfter, recurring donors give, on average, about 42% more than one-time donors. Encouraging small recurring gifts rather than larger one-time gifts may help you reach your capital campaign's goal more quickly!
Explore Recurring Peer-to-Peer Donations with Qgiv
Are you already using Qgiv's peer-to-peer platform? Enabling recurring donations is easy—just toggle on that option in your event settings!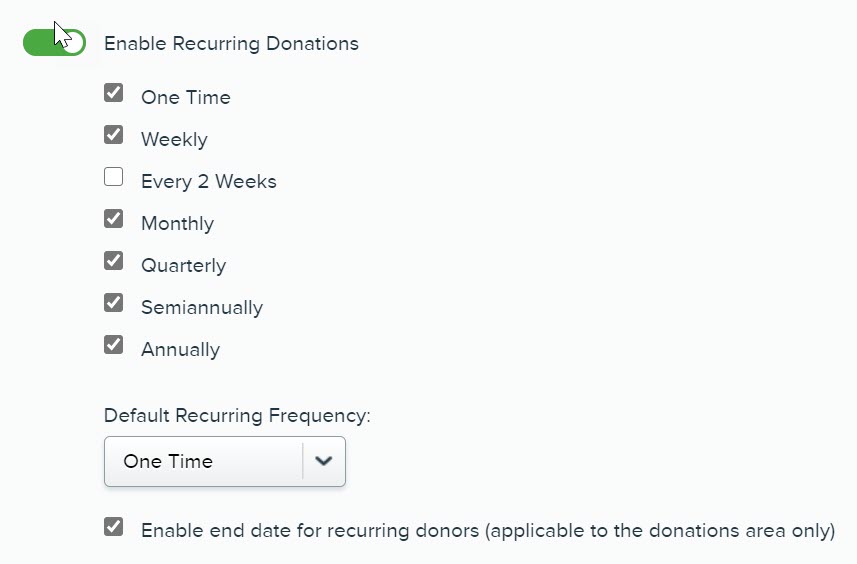 If you're not using Qgiv's peer-to-peer platform and are interested in how it can help you reach your fundraising goals, we're here to help! Learn more about our peer-to-peer platform online or contact us for a demo and learn about how our tools (including recurring peer-to-peer donations!) can help you raise more money.