You've planned an awesome peer-to-peer fundraising event. But how do you get event participants to take part? Sometimes, you've got to convince your event participants to fundraise on behalf of your organization. Luckily, there are countless strategies to encourage participants to fundraise. Here are four creative fundraising appeal examples from Qgiv clients your organization can use to convince your peer-to-peer participants to fundraise solo or join a fundraising team.
Make giving a game
Your peer-to-peer event participants likely signed up for your event because they want to take part in your activity. Why? Your event looked fun, of course! By comparison, asking friends and family for money to support your cause doesn't sound as fun. But it can be! Making a game out of encouraging participants to fundraise is a strategy that appeals to a wide audience, and this creative fundraising appeal is particularly attractive to more competitive event participants.
A phenomenal example is the game board developed by Crossroads School for their Crossroads 5K and Family Fun Day event.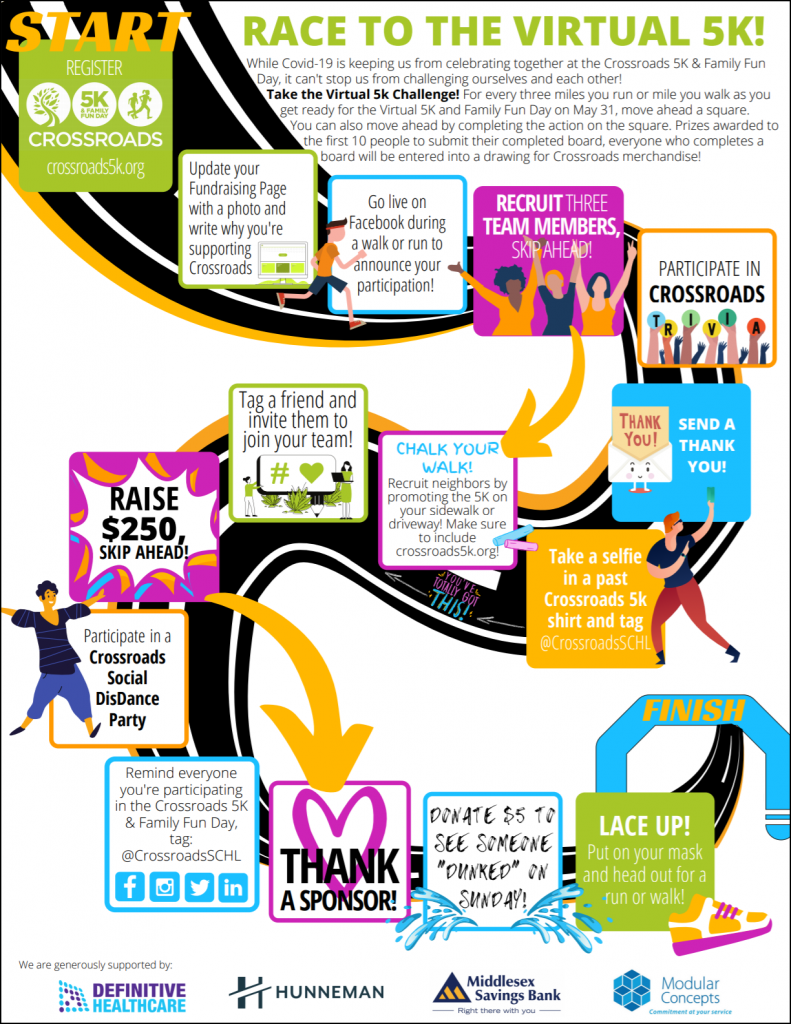 The game board tasks event participants with taking part in fundraising and non-fundraising activities taking place before the main event. Building in a separate fundraising activity keeps the hype over the event going. The fundraising activities also provide opportunities for participants to take part in fundraising and find success. Their game board pushes reluctant fundraisers out of their comfort zone by making it a fun game instead of a chore. This type of fundraising appeal puts the FUN in fundraising!
Your gamification strategy doesn't have to be as elaborate as the game board developed by Crossroads School. Your participant fundraising game could be something as simple as a BINGO card full of fundraising activities. Check out our fundraising BINGO card template for inspiration for your next peer-to-peer event!
Encourage fundraising as a team
Fundraising as a single person can be intimidating. However, having a whole fundraising team makes it significantly easier. Encourage participants to join a team for their fundraising. Teams work well because each team member has unique talents and strengths they bring to the table. Not only that, but teams can put together impressive DIY fundraising events in support of your larger event. Forming a team can be a condition of participation or an optional way for multiple participants to combine their efforts. Encourage the formation of fundraising teams by incentivizing team fundraising with special prizes and recognition.
B.I.G. Love Cancer Care put together a creative fundraising appeal targeted at peer-to-peer fundraising teams. Inspired by the national change shortage resulting from the pandemic, they came up with the "Be the change challenge" appeal. Fundraising teams were given creative freedom for their fundraising efforts. They incentivized participation by awarding the top three fundraising teams with recognition on social media and in press releases. The members of the top three fundraising teams also won exclusive swag for their fundraising success.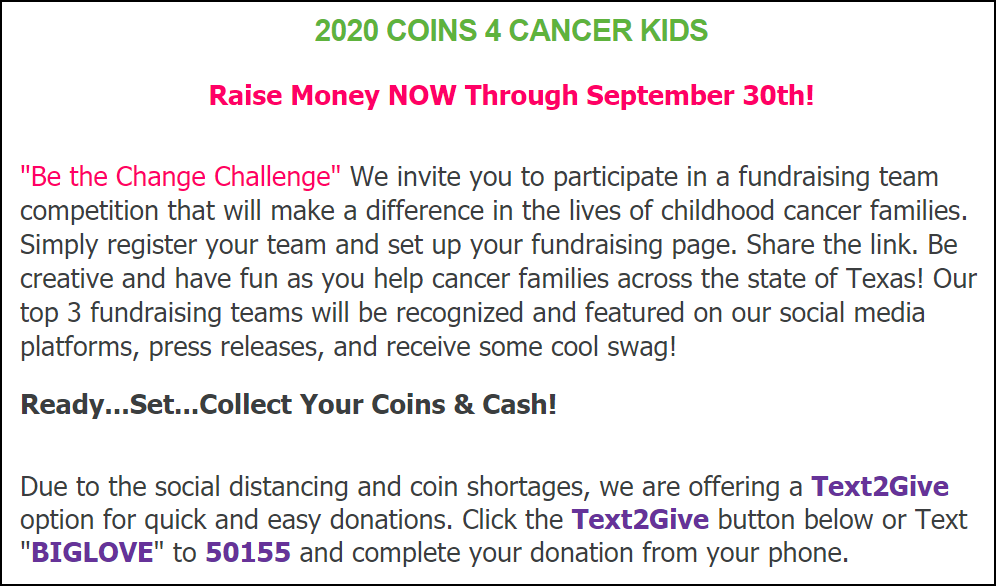 Ask participants to use their talents
Sometimes, the easiest way to encourage participants to fundraise is by encouraging them to use their talents to solicit donations. Talent show fundraisers have been around a long time and are a fundraiser you can host for under $500.
Typically, the act that raises the most money wins. Event participants fundraise by asking their friends and family to "vote" for their act by donating to it. The best part about this creative fundraising appeal is peer-to-peer participants know what they're getting into when they sign up. Reluctance doesn't play a factor with this type of fundraising. However, you must attract talented participants to take part. Otherwise, the event won't be successful, so offer prizes for top performers.
The Carousel Center recently launched a virtual talent show fundraiser. Their Mic Drop Nite event awards the top two acts in each category with a coveted spot during the Facebook Live event stream. Performers also compete for trophies and other prizes. To level the playing field, The Carousel Center separated acts into professional, amateur, and kids' categories. The acts donated to most during the event are the winners in each category.

Build a movement around your event
The next creative fundraising appeal to encourage event participants to fundraise is to make the event a movement. Your nonprofit's efforts make the world a better place, and that inspires supporters to give. A low-pressure way to encourage participants to give is asking them to join a movement committed to your mission.
This strategy is especially attractive to Millennials and Gen Z event participants who are passionate about philanthropy and positively impacting the world. While Millennials and Gen Z don't have as much disposable income as other generations, they love to help causes that speak to them. Your event gives these generations the opportunity to take part in an event that brings awareness to your cause. In addition, asking them to join a movement makes these generations more likely to ask others to support your cause.
It's important to be authentic about the movement you ask event participants to join. Recognize that you're asking supporters to commit to helping you achieve your mission. That support can be monetary, but don't exclude passionate supporters who can't pay. Instead, encourage their participation to bring awareness to your cause.
A perfect example of this is the Addiction Prevention Coalition's End Heroin Birmingham Walk event.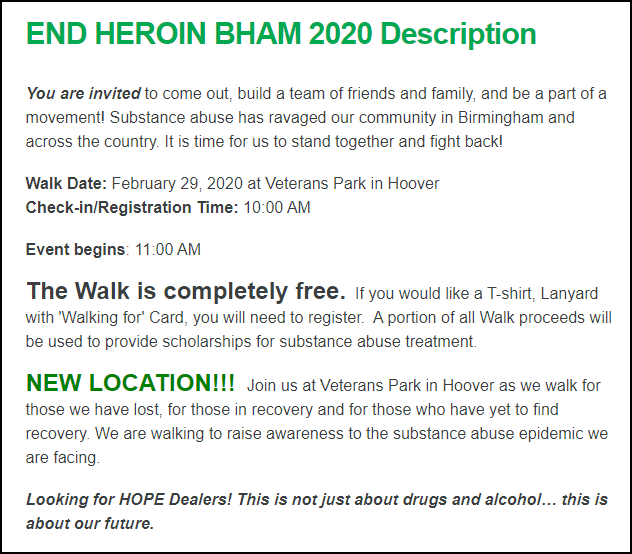 The coalition encouraged participants to sign up for the walk and fundraise for the cause, but they also offered free participation. They authentically promoted the event as a movement rather than a fundraiser. Their walk's focus was to spread awareness about the drug epidemic and show solidarity for those struggling with addiction. A secondary goal was having participants fundraise in honor of someone they knew who battled addiction. By framing their fundraiser as a movement, Addiction Prevention Coalition inspired participants to fundraise. Their 2020 event reached 166% of its $30,000 fundraising goal without a high-effort fundraising appeal!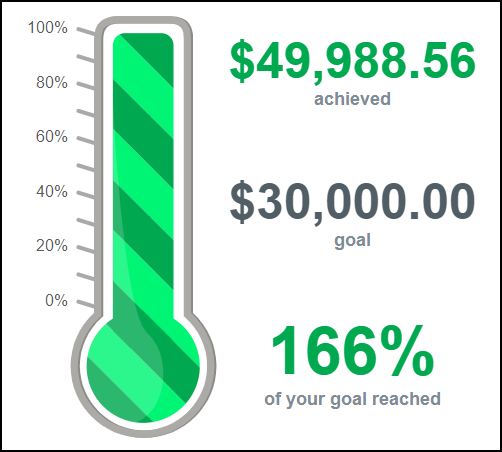 Conclusion
Encouraging peer-to-peer event attendees to fundraise can be a challenge. A creative fundraising appeal can make a huge difference in getting your participants on board with fundraising. The possibilities for these appeals are endless. We hope these four examples inspire you to come up with your own creative peer-to-peer fundraising appeal ideas. Need advice on hosting a successful peer-to-peer event? Check out our peer-to-peer guide for best practices and tips to elevate your event.