Texting your supporters is a great way to recruit and motivate your peer-to-peer event participants. According to Campaign Monitor, texts have an open rate as high as 98%. Outbound texts are a powerful tool to get your message in front of your supporters!
The response rate to texts is also very compelling. The same Campaign Monitor report cites an average text message response time of only 90 seconds. This means sending outbound texts is a strategy that can yield fast, effective results.
How can you use texting to recruit event participants and raise more money? Use these 5 types of text messages to reach and motivate your supporters.
Event announcement texts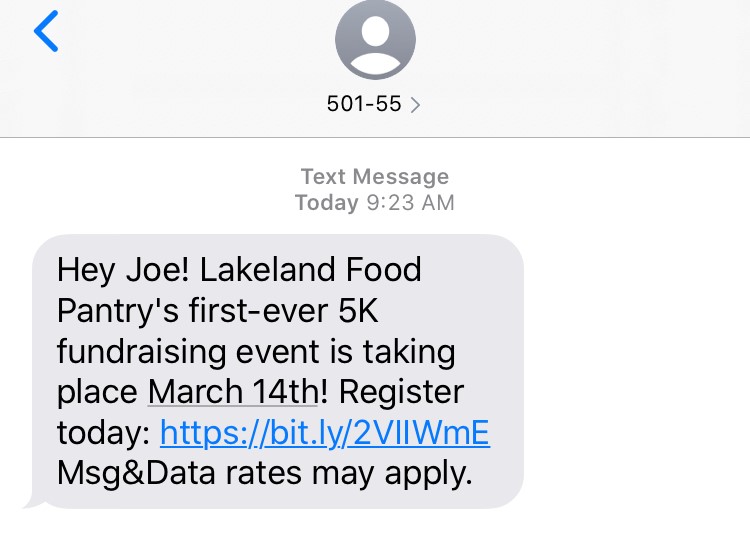 One great way to earn early registrants to your peer-to-peer event is to announce the event via text to supporters who opted into receiving messages from you. When you announce your event, be sure to include a shortened link to your event registration form. Users with smartphones will be able to register directly from their phones upon receiving your text. The best part? If you encourage them to invite family and friends, they can quickly share your text with a simple copy and paste. This can lead to your registration numbers growing by leaps and bounds in a very short time.
As a bonus, you're able to grow your donor database by capturing the information of those who sign up for your event after receiving a text invite from your existing supporters!
Send outbound texts with discount codes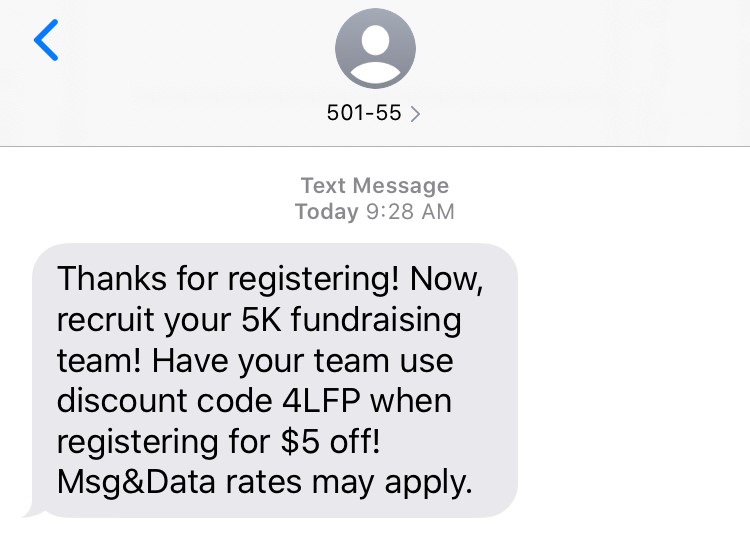 Need your participants to recruit a team of fundraisers for your peer-to-peer event? Send team captains a discount code their team members can use to sign up at a reduced rate. You can even create unique signup keywords for each team so you can easily determine which team captains did the best job recruiting team members using the discount.
If you're offering early bird pricing, outbound texts can be used to quickly apply discounts or accept registrations at reduced rates. Text all the supporters who've opted into receiving text alerts with a keyword or link to a registration form with your special early bird pricing.
If you want to offer a discount or even free admission to certain participants (like monthly donors, giving society members, volunteers, etc.) text these contact lists a link to a private package they can use to sign up with free.
Text participants fundraising resource links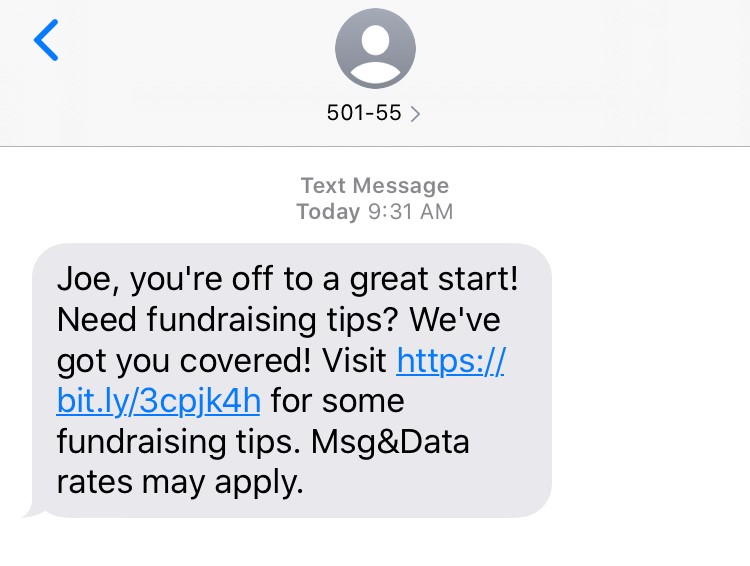 Once you've used outbound texts to recruit event attendees, get your fundraisers to raise more by texting links to your fundraising resources. If you've got peer-to-peer fundraising tips to share, you can easily disseminate this information to your fundraising participants by texting out a link.
Some people are wary of phishing scams or potential viruses from opening emailed attachments. Texting a link to participants eliminates the need to send an email with attachments. They can follow the link from your text to access your fundraising resources and get to work implementing your suggestions from their smart phones.
Want to avoid links, too? No problem! Text your teams fundraising tips as part of a series. You can create a daily or weekly text series sharing one fundraising tip per message. This gives your participants time to try out your tips with no need to click a link! Need to motivate a team that's struggling to fundraise? You can text the team motivational messages and unique fundraising tips your other teams may not need.
Send your fundraising updates via text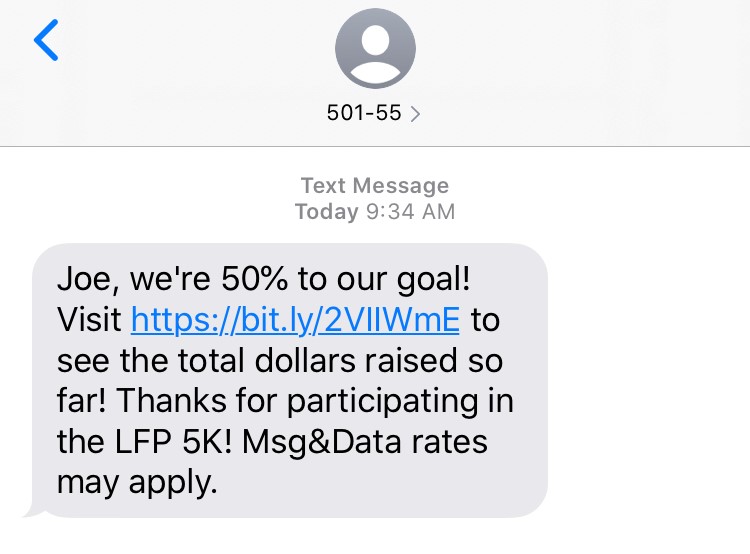 Your participants want to help you reach your fundraising goal, and they want to keep track of their progress. You can instantly give your fundraisers updates on your fundraising progress via text. When your fundraising thermometer hits certain milestones like the 25% or 50% mark, let your supporters know the donations they're bringing in from their social circles is making a big impact on your overall fundraising goal.
You can use these texts to congratulate and motivate supporters or let your fundraising teams know if they've earned certain incentives associated with fundraising milestones. You can send fundraising updates as teams reach milestones in their team fundraising as well. Your fundraising teams will appreciate you taking the time to notice their progress toward personal fundraising goals. If you want to include a visual, link to an event page that shows the fundraising thermometer for the overall or team fundraising goal you're referencing via text.
Use texts to spark friendly competition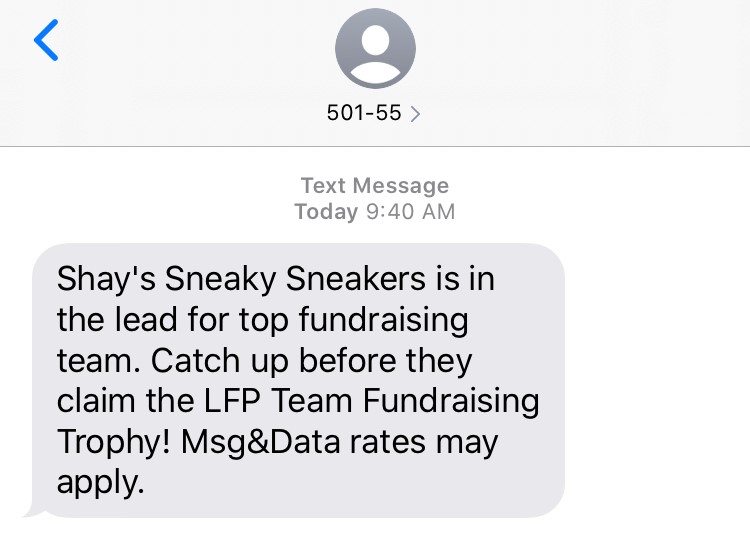 If your peer-to-peer fundraiser includes awards for top fundraising individuals and teams, you can easily spark friendly competition by sending texts identifying top fundraisers and encouraging other teams to catch up to these early frontrunners. You can help teams kick their fundraising into a higher gear by letting them know that the top fundraising award is slated to go to someone else unless they catch up.
If there are other incentives or mini competitions for recruiting team members or soliciting donations, texting gets these mini fundraising competitions noticed and acted upon faster than other means of communication. Firing off outbound text announcements to determine who can raise the most money over a weekend can be an effective way to get teams to go even further to fundraise on behalf of your organization.
Bonus Use: Text event details and reminders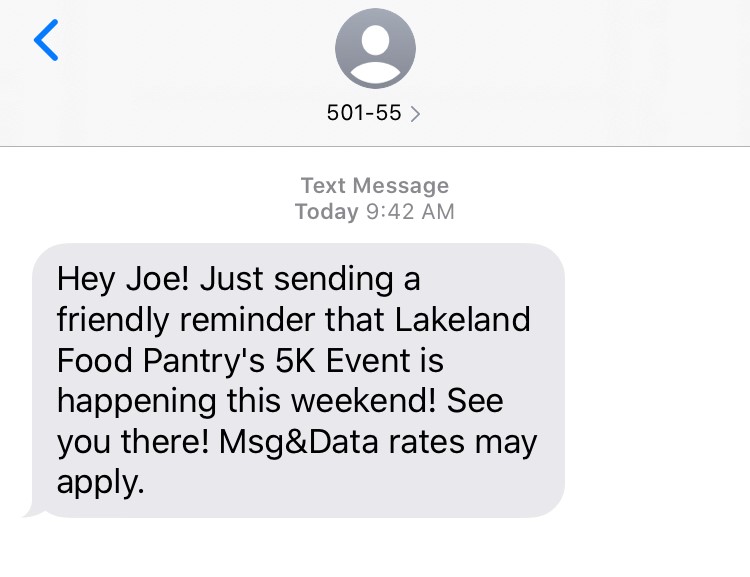 Want a quick and easy way to disseminate information about your event? Text links to event information pages, FAQ pages, and event reminder announcements to your participants. Keep attendance high and confusion low the day of your event by texting your participants everything they need to know about your event.
Make sure your participants know where to park, what to wear, and more via a simple text message.
Conclusion
Sending texts to your event attendees can make a huge difference in event attendance and fundraising participation. With a 98% open rate and an average response time under two minutes, texting your participants event details, fundraising tips, and other useful information is a no-brainer! Need an outbound text messaging tool? Check out Qgiv's Mobile Suite.