Byte Back is a nonprofit computer skills and career training center located in Washington, D.C. Glenn Stein, a community organizer who wound up as "the guy in charge of computers" before founding Byte Back, started the organization in collaboration with his friend Barbara Altman.
Byte Back was named "One of the Best" nonprofits by the Catalogue for Philanthropy in 2019, 2014, 2018, and 2019.
Background
Glenn Stein became became the go-to guy for computer setup and issues while he was working as a community organizer. He realized that IT professionals didn't need a degree to get a great job. They simply had to prove they could fix a computer. Glenn taught himself the skills needed to maintain and repair computers. He realized that if he could do it, anyone could.
In the mid-1990s, Glenn met with his friend Barbara Altman to share his idea of opening a computer and career training center in Honduras. Barbara's response was the catalyst for the founding of Byte Back:
"We have to do this. DC needs you and this."
While tech was thriving in the mid-90s, people in Washington, D.C. were struggling. Welfare and affirmative action were being threatened and eliminated, and there was a crack epidemic.
Barbara and Glenn felt they couldn't just sit back and watch. Glenn founded Byte Back in 1997 and served as director for three years. The name Byte Back came from the phrase "fight back."
Mission
Byte Back's mission is to close the digital divide by providing historically excluded communities an equitable pathway into the digital economy. They achieve this through transformative digital advocacy, digital literacy, and tech certification training.
They focus on three areas to provide digital equity and to increase diversity in the tech sector:
| | |
| --- | --- |
| | Byte Back is working toward equal access to digital skills training, broadband, and digital devices for people of all ages. |
| | Byte Back believes the tech sector should look more like its users. They emphasize thinking broadly about diverse pipelines to build an inclusive tech sector. |
| | Byte Back works to fight low wages and ensure STAR (Skilled Through Alternative Routes) workers get the paychecks they deserve. |
Byte Back's current headquarters in the NoMa neighborhood provides students access to cutting-edge technology in a clean, safe, and highly accessible environment. They expanded classes to Baltimore in 2019 after winning CAD $1 million in the TD Ready Challenge.
Programs and Impact
Since 1997, Byte Back has served thousands of adults for free, helping them acquire marketable skills and obtain meaningful employment. In 2020 alone:
47 grads were hired
Hired graduates started earning $20,260 more per year on average
384 learners took a class in D.C. or Baltimore
67% of learners were women and 96% were People of Color, proof of the inclusive opportunities Byte Back provides for groups traditionally left out of the tech sector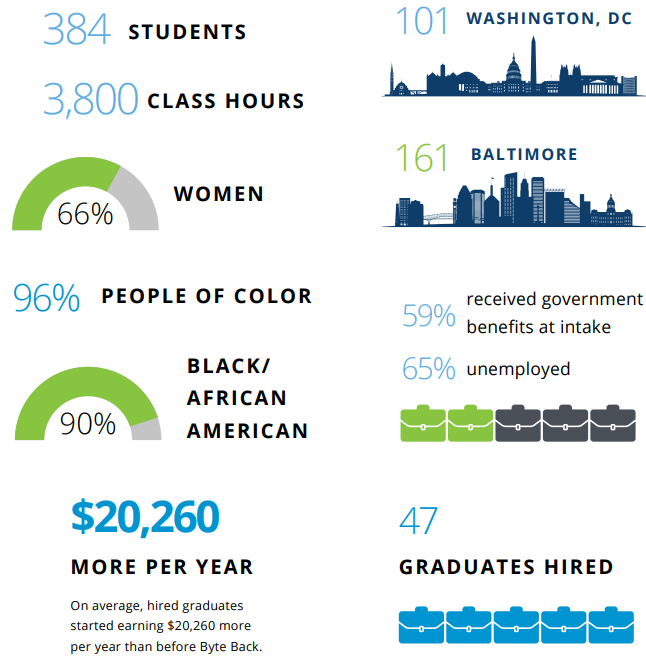 Byte Back offers three main tracks for their learners:
Computer Foundations: A beginner track that teachers learners their way around the digital age with must-have computer skills. Students build a solid foundation to learn more in a professional track.
IT Professional Track: In this track, learners build on their foundations, earn their CompTIA A+, and can get hired as an IT help desk technician or computer support specialist.
Administrative Professional Track: Learners in this track earn their Microsoft Office Specialist certifications and prepare for computer-based tasks required by office careers.
Get Involved
Byte Back offers numerous ways folks can get involved with the organization. You can volunteer as a career assistant, workshop presenter, tutor, a success coach/mentor, or a Board member. There are short-term, mid-term, and long-term volunteer roles available to fit a variety of schedules.
In addition, Byte Back works with (and is always looking for more!) community partners. Community partners can host classes at their computer labs, collaborate on events or fundraisers, teach workshops, and share or develop resources.
If you're in the D.C. area and interested in applying for classes at Byte Back, head to their site to begin the application process.
You can learn more about Byte Back or support their mission through donating or volunteering by visiting their website.