Who they are

The mission of the Pulmonary Fibrosis Foundation is to accelerate the development of new treatments and ultimately, find a cure for pulmonary fibrosis. Until this goal is achieved, the Pulmonary Fibrosis Foundation is committed to advancing improved care of patients with Pulmonary Fibrosis and providing unequaled support and education resources for patients, caregivers, family members, and health care providers.
The Pulmonary Fibrosis Foundation (PFF) is a 501(c)(3) nonprofit organization founded by brothers Albert Rose and Michael Rosenzweig, PhD. Their goal was to build an organization dedicated to identifying effective treatments and providing support for those living with the disease. This vision shaped the Pulmonary Fibrosis Foundation to become what it is today – the leading patient advocacy organization for the PF community. They continue to be the foremost resource for the community by raising awareness, providing disease education, and driving research to find a cure.
What they did
The Pulmonary Fibrosis Foundation utilized its longstanding connection with Broadway to support a gala event featuring performances by several Broadway celebrities, many of whom were Tony award winners and nominees.
Attendees enjoyed a Broadway variety show while honoring those who support the Pulmonary Fibrosis Foundation with awards during the event.
To raise funds during the event, the Pulmonary Fibrosis Foundation encouraged attendees to make donations using Qgiv's text-to-donate tools. Attendees texted BB2022 to 50155 to donate. They could also go straight to a Qgiv donation form by scanning a QR code on the back page of their event program.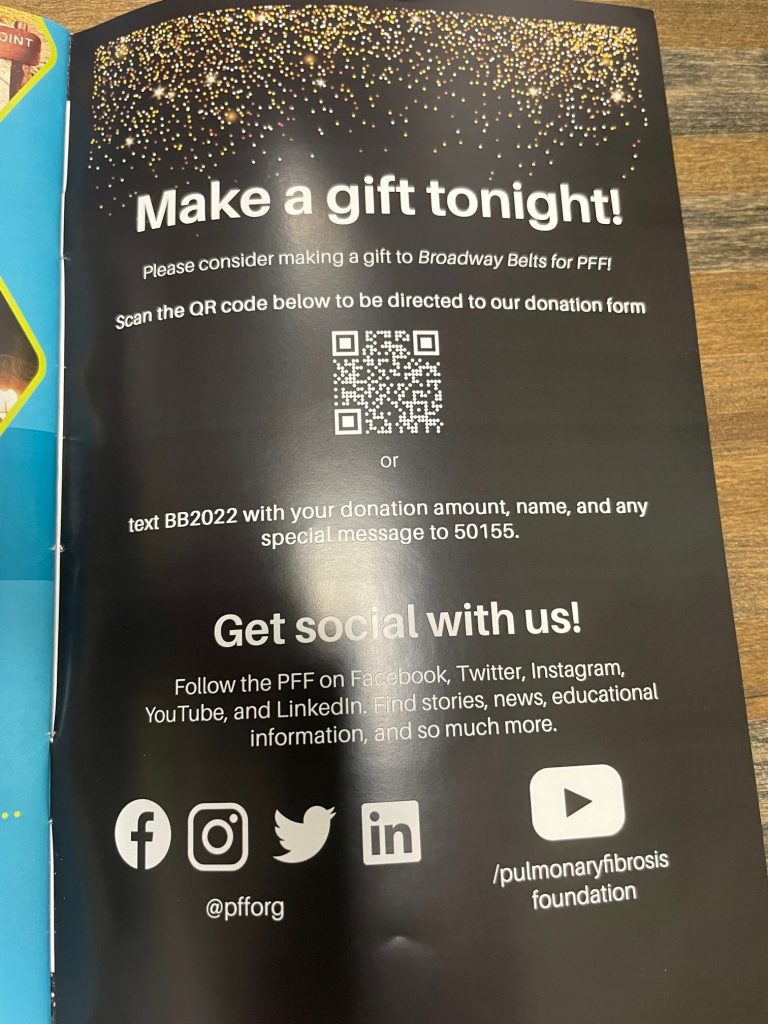 Not only was the event excellent, so was their program. They created an event program that looks like a Broadway playbill.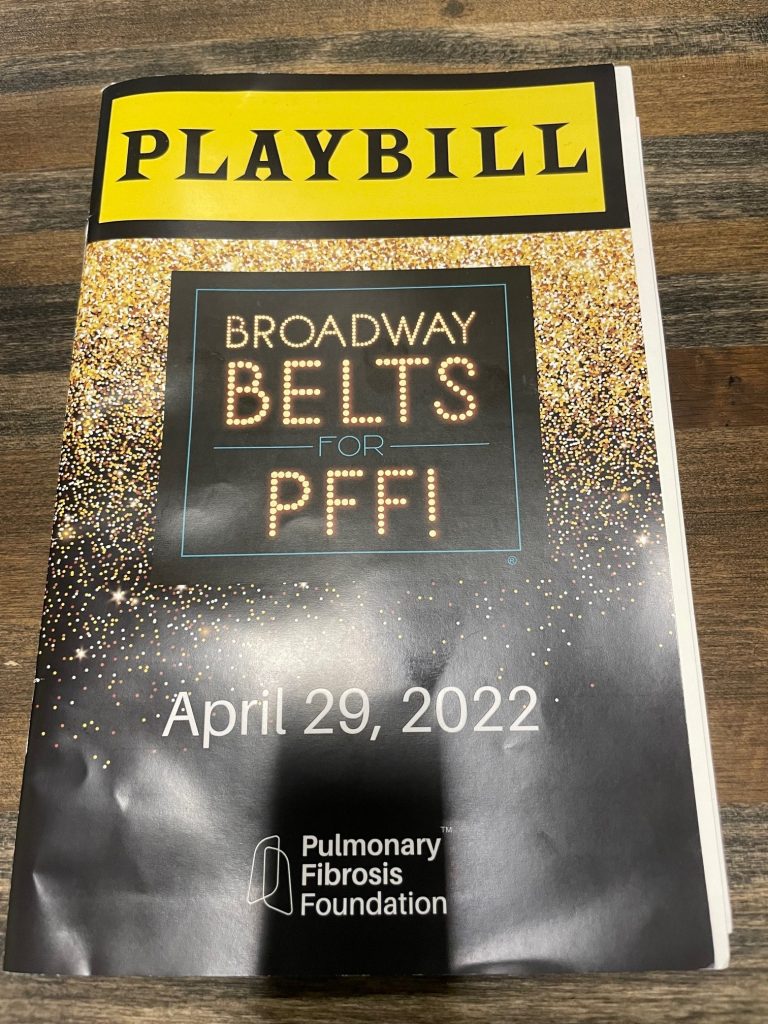 Inside, event attendees could find everything they needed to stay in the know about the event. The playbill opens with a letter from the President and CEO of the Pulmonary Fibrosis Foundation. It then transitions to thanking sponsors for their support of the evening's events. For those new to the cause, they even shared a brief introduction to what Pulmonary Fibrosis is. Later in the program, they introduce the Ralph Howard Legacy Award and its recipient, Tom Viola.
The beautifully designed program acted as an informational guide and a place for PFF and its supporters to express their gratitude for all those who support finding a cure for Pulmonary Fibrosis.
What you can do
We know not every nonprofit has access to a star-studded lineup of performers to put together events like Broadway Belts for Pulmonary Fibrosis Foundation, but every nonprofit can put together a winning event program that makes supporters feel good about taking part in their event.
Take special care when building your event program. It shouldn't be all about the event itself. Instead, use a few pages to thank sponsors, honor your top fundraisers, and even share more about your cause for those who are new to supporting your organization. There are certainly unique ways that you can use your event program to increase awareness and positively impact your nonprofit. Be sure to include a way for supporters to give during your event. Your program is the perfect place to provide instructions, and even a simple QR code, to make it easy for your supporters to give.