November 10th is the start of Hunger and Homelessness Awareness Week. Hundreds of organizations participate on social media throughout the week to educate, encourage donations, and hold local events to aid the hungry and homeless.
The fight to end hunger and homelessness is hard work. Volunteering and working to serve the homeless requires serious dedication and passion. We want to thank ALL the volunteers and organizations who tirelessly work to give back to those less fortunate every day.
Check out some of our clients and the incredible impact they're making in the lives of others. If you live nearby some of the organizations listed, reach out to them if you'd like to lend a hand!
If you're on X, we strongly encourage you to follow Invisible People. Founded by Mark Horvath in 2008, Invisible People strives to give a voice and story to those often ignored and forgotten. Mark, who was once homeless, shares powerful, unfiltered stories by videoing the homeless everywhere in the nation and then sharing their stories on social media.
Based in Champaign, Illinois, C-U at Home is a faith-based homelessness ministry founded in 2011 by Melany Jackson. They offer a range of services from transitional housing to street outreach. Their annual peer-to-peer event, One Winter Night, is a unique approach to raise awareness about what it's like to be homeless for 12 hours. Check it out here.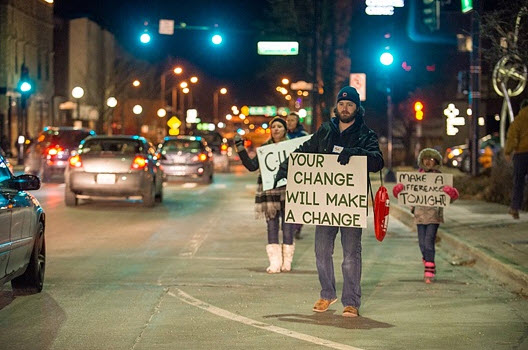 Launched in 1972, Second Story was formerly known as "Juvenile Assistance of McLean" and "Alternative House." They serve children and teens who find themselves homeless, in need of counseling, and young mothers in Virginia. Since their recent name change, they've expanded their reach to adults and offer after-school programs and a plethora of resources.
Neighborhood Alliance has been serving their community in Northeast Ohio for a long time. Since 1927! Their programs include child enrichment, senior enrichment, family support, and shelter and emergency services. They help thousands of people each year by providing services ranging from a hot meal to rent/mortgage assistance.
Angel Resource Connection is an organization that provides clothing, food and housing to those in need in the state of Washington.  They set up street pop-ups and hand out food and clothing, run food kitchens, and hold a winter clothes campaign. Donors may bring blankets, sleeping bags, and coats so that they can be handed out during the harsh winter season.