Without your donors, you wouldn't be around. Don't wait for a full moon to celebrate your donors—howl their praises regularly! Here are a few things you can dooo-ooo-oooo!
Social Shout-Outs
Social media is perfect for thanking donors. Here are a few options ranging from simple to more in-depth, planned-out campaigns.
Snap a photo of staff members holding a thank-you sign, write some sincere copy showing your appreciation, and tag some donors (if they've opted to not be anonymous, of course)
Start a weekly or monthly donor spotlight campaign featuring a donor profile and photo
Use the native video capabilities of social platforms to film quick, informal thank-you videos–Instagram stories are great for this!
Unique Thank-Yous
Send a personalized card. This one comes from a card one of our staff members received from a nonprofit we work with. He personalized the text on the front and included a hand-written note to Ashley on the inside! Build out a template and keep it on hand for quick updates and printing.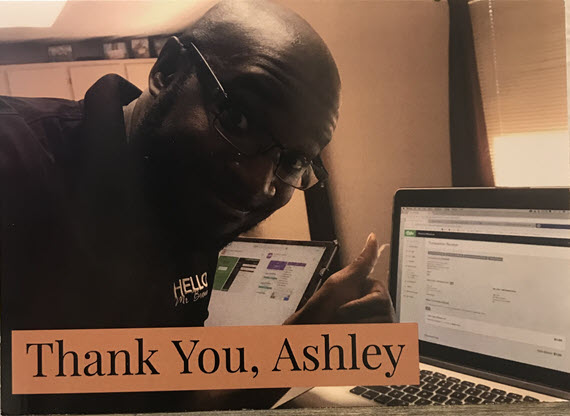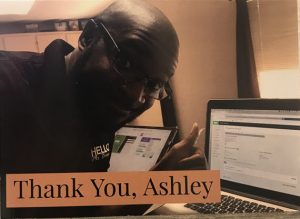 Videos
Outside of using the built-in video capabilities of your social platforms, there are plenty of creative ways to shine a little (moon)light on your donors via video.
Include a thank-you video in your newsletter.
Have a group of donors whose gifts helped a particular person or set of people? See if they'd be willing to be interviewed for a personalized video that can be sent to that specific group of donors. The impact of being directly thanked by someone you helped is immeasurable!
Feeling extra creative (and maybe a little silly)? Write a song of appreciation for your donors and share it on social, in email, or on your website.
Get Face-to-Face
Interacting over the phone and on the web isn't enough. Get some face time with your donors! This doesn't have to be a fancy dinner—laid-back events and small gatherings work just as well to show you're as loyal to your donors as they are to you!
Host a donut and coffee drop-in event. Host this in the morning so donors can stop by on their way to work for a pick-me-up and a thank-you!
Put on a community event at a place like a ball park featuring local celebrities and activities for donors and their families to enjoy.
Call up some of your donors and see if they'd like a personal tour of your facilities.
Letting your donors know you see and appreciate the work they're doing is important! Try a few of the tactics above and see how your relationship with them transforms!