Offering new ways for donors to give is important when it comes to staying ahead of the curve. Many nonprofits have taken the leap to accepting donations via Venmo as a result. But what is Venmo? Is it worth it to implement this technology? What benefits do nonprofits receive when signing up? And, most importantly, how does it work? Keep reading to learn more about how to donate via Venmo.
What is Venmo? Why does Venmo matter?
Venmo is a social payment method many people use to send friends money for a variety of reasons and as a payment method when shopping. Venmo is owned by PayPal and has expanded to accept nonprofit profiles on its platform. Verified nonprofits on Venmo get a blue checkmark to indicate they've been vetted for the platform, which makes it a trusted way for your nonprofit to raise money. Plus, with low processing fees of 1.95% plus $.10 per transaction, your nonprofit organization can save on processing fees while receiving crucial funds for your nonprofit organization from supporters all over the globe.
Is Venmo worth it?
Venmo is worth it because of the low processing fees and the speed at which funds are received. Nonprofits with verified charity profiles on the platform also gain a verified checkmark that can inspire donors to give more because the charity has been vetted.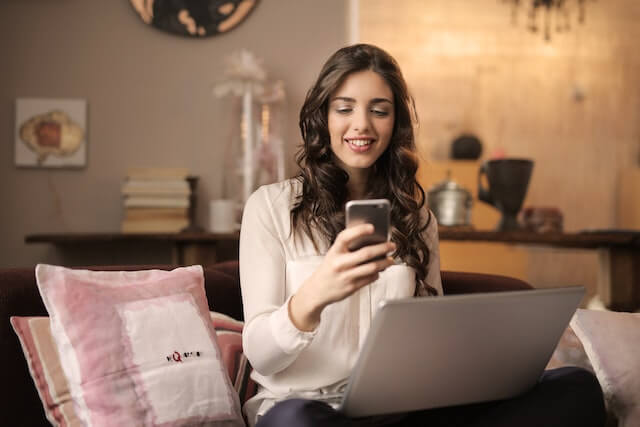 How to donate via Venmo
Qgiv supports donations via Venmo on its online donation forms. In fact, the option is available to all U.S.-based nonprofit organizations. When supporters reach your online donation form, if you have Venmo enabled, they'll see this option when making one-time donations to your cause. To set up Venmo as a payment option on your donation forms, perform the following steps:
Create your PayPal account

The ability to pay with Venmo is a service offered by PayPal. To use this service, you must have a merchant/business account with PayPal. We recommend you set up your PayPal account before adding PayPal/Venmo to your organization in Qgiv. Once you add PayPal to your organization, Venmo will be available during checkout.


Connect your PayPal account to Qgiv


On your organization-level dashboard, look for the manage PayPal link under settings.


On the manage PayPal screen, click enable PayPal and log in with your PayPal credentials. You need to set up a new PayPal account, you can create one from this screen.
Once you've authorized Qgiv to use your PayPal account, you will see your merchant ID, as well as verification that your email is confirmed, payments are receivable, and permissions have been granted.
If you see a "No" for any of the three verifications:
Has Confirmed Email: Locate the email sent to you by PayPal and confirm your email address.
Are Payments Receivable: Contact PayPal support for more information.
Have Permissions Granted: Re-do permissions by pressing the button located at the top of the screen.
And that's it! PayPal and Venmo will now be available to donors on your public-facing forms.
What donors see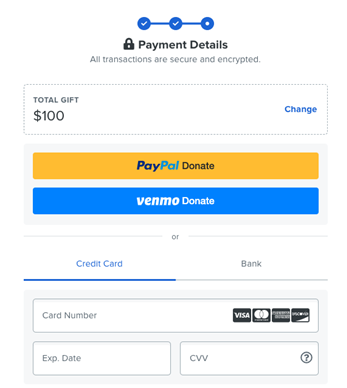 When a donation or registration is made, PayPal and Venmo will appear as payment options on your form during checkout. Please note that the Venmo donate button only appears under these specific conditions:
Venmo is only visible when a donor is making a one-time donation or registration. Venmo won't appear as an option for recurring donations.
In order to see the Venmo button on a mobile device, donors must have the Venmo app installed. Plus, Apple users must use Safari as their browser and Android users must use Chrome as their browser.
Venmo is only available for donors located in the U.S. for U.S.-based nonprofits.
When a donor clicks the Venmo donate button on a desktop device, a QR code will appear for the donor to scan with the Venmo app on a mobile device.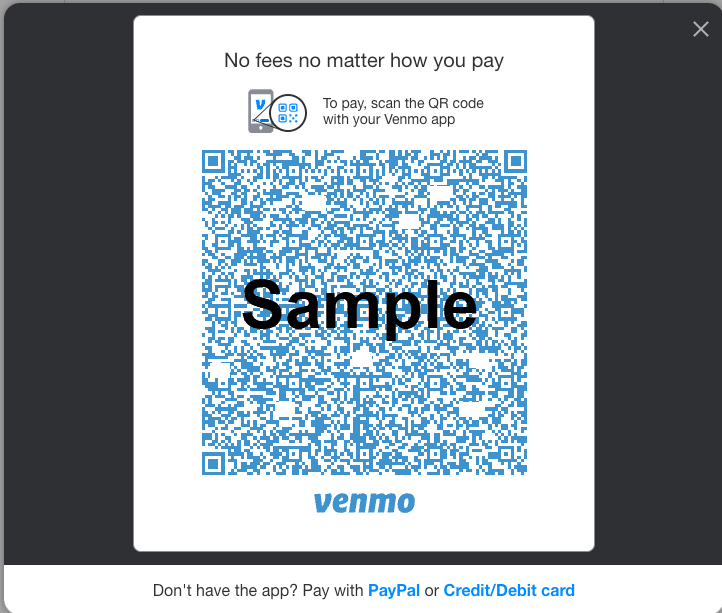 If the donor is on a mobile device, they'll select Venmo as a payment option and the Venmo app will launch on their phone. To complete the transaction they'll tap Continue in the Venmo app and will be routed back to the donation form.


Conclusion
There you have it! Now you know what Venmo is, what the benefits are to nonprofits, and how it works. Is Venmo right for your nonprofit organization? That's something that you'll need to decide for yourself. But it's a great resource for many nonprofits to use to raise money quickly with low transaction fees.