According to the Open Data Project, 87% of nonprofits worldwide use social media. But is social media worth the time and money that it takes? And how do you ensure that your strategy stands the test of time?
Creating a vibrant, effective, and workable social media strategy can be daunting for many nonprofits, especially small and grassroots organizations with little to no staff capacity or tech knowledge. But it doesn't have to be.
One simple question should guide all of your social media efforts and will provide the backbone of your strategy. To begin, take out a piece of paper or your phone and write down an answer to this question: "What do our supporters want to hear from us?"
While there are very few one-size-fits-all social media strategies, there is data that supports exactly what donors and supporters want to hear from the nonprofits they support.
Supporters, budgets, capacity, and organizational goals may vary, but there are four simple guidelines to consider when building your future-proof social media strategy.
Consider What We Know About Donors
Donors and stakeholders want to understand two main things as they decide to support (or continue to support) you and your work:
What do you do with the funds that you raised, specifically my donation?
Are you creating change and moving the needle in terms of the issue that I really care about?
If you can provide your supporters with answers to these two important questions, you will succeed in getting more donors to give again and donor churn will decrease.
When crafting your social media content, aim to answer one or both of these questions in the majority of your posts.
Consider What We Know About Social Media
People are still using it (and it's not slowing down). 4.48 billion people currently use social media worldwide, up more than double the amount from 2.07 billion in 2015. The average social media user engages with an average of 6.6 various social media platforms, and they spent 147 minutes (two hours and 27 minutes!) on social media each day.
Trust in social media channels is declining. A new Edelman study argues that trust in media has eroded in countries worldwide and sheds light on some of the dilemmas faced by Facebook and other social media platforms.
To fight the decline in use and erosion of trust, nonprofits must take what they know works on social channels and bake it into every single aspect of their social media strategy.
Facebook itself has told us what works, and it's nothing new or shocking. At the F8 developer conference, Mark Zuckerberg said that Facebook is going to emphasize posts from Pages and accounts that are, in his exact words:
Trusted
Local
Informative
Inspiring conversation
Work on getting all of the social media content that you share to fall into one of those four categories, and you can future-proof your content in line with the Facebook/Instagram algorithm.
Consider What We Know About Communications
Software Advice surveyed a random sample of 2,833 U.S. donors, to find out what kind of communications they want to receive from the nonprofits they give to.
The findings are pretty much what you would expect: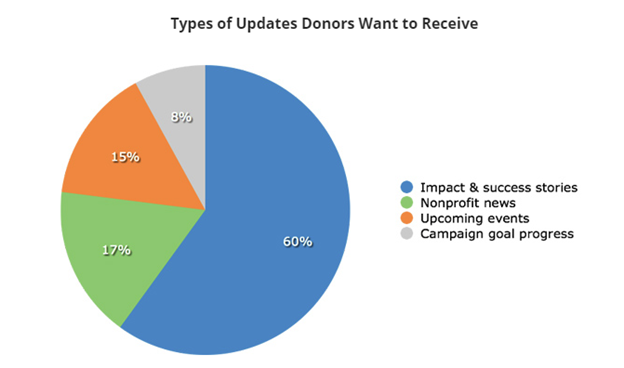 Take a look at this pie chart and you have your social media content strategy for the year:
60% of updates should be focused on impact and success stories
17% on nonprofit news and announcements
15% on upcoming events
8% on updating supporters on campaign progress
Put It All Together
Too often we approach communications like the left-hand side of this pie chart: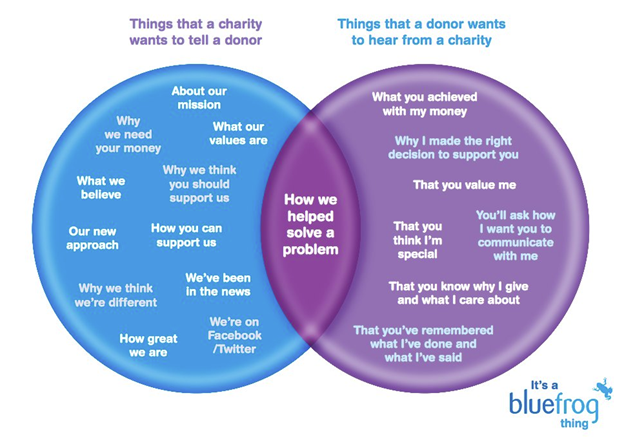 Supporters have told us time and again that they want to hear impact stories and to see the human side of the nonprofit brand.
Facebook itself has said that the posts that work best on the platform are those that inspire conversation (stories) and enhance trust (valuable info).
Find out what stories resonate in the most emotional and impactful way with your donors. Become a trusted, invaluable, go-to resource around the cause and the issue that you are working on. Social media users are hit with so much information from all sides and it's hard to know who to listen to and who to trust.
Your supporters are with you for a reason – they care about the cause and they want to know more about what they can do to make the world a better place.
Communicate with them in a strategic way and you will create deeper relationships and build more dynamic communities for your organization.
Other Resources
To learn more about how to build your social media strategy, check out Julia's eBook on How to Create a Future-Proof Nonprofit Social Media Strategy. For more social media insight, check out the other resources listed below.

About the Author, Julia Campbell
Recently named one of the 25 most influential nonprofit thought leaders and one of the seven nonprofit thought leaders to follow on X during the coronavirus crisis, Julia Campbell is on a mission to make the digital world a better place. She is the author of two books, a mom of two kids, and a Returned Peace Corps Volunteer. Her passion is to get organizations and changemakers to stop spinning their wheels and start getting real results using digital tools. You can check out her thoughts and ideas at www.jcsocialmarketing.com/blog.