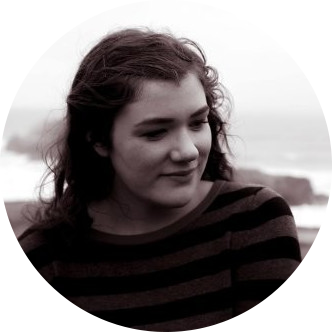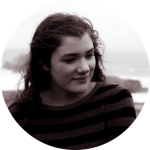 This is a guest post from Kaitlin Westbrook, a Nashville-based content writer at Campaign Monitor. She covers business, email marketing, and creative content. You can find her on X @kaitwarren.
If you're part of a nonprofit, you know how important donors and volunteers are to your organization's cause. These contributors are vital, especially as your nonprofit attempts to reach its goals.
Unfortunately, it can be difficult to keep those members coming back, especially if you're not varying your means of communication. When people fail to come back, retention suffers, and donors stop giving, which puts your organization in a bind.
So how do you both improve your organization's donor retention and re-engage lapsed donors?
While there's no way to keep every donor coming back, you can improve your odds with the consistent, trustworthy communication offered through email. Email can be the retention-friendly resource your organization has been missing.
Read on to learn how you can increase your nonprofit's chances of success when it comes to donor retention (plus, you'll get a glimpse at some of our original nonprofit research).
5 ways you can use email to improve donor retention and re-engage lapsed donors
Email provides a complex variety of options when it comes to nonprofit retention and re-engagement. But, before you start sending campaigns, it's important to make your donors feel like they're in control.
1. Provide a preference center.
What's the best way to give your donors a feeling of being in control? Providing a preference center. In addition to providing clear unsubscribe options, emails should provide a preference center that allows subscribers to choose email type, frequency, and more.
You may feel wary about giving subscribers the power to receive fewer emails, but, in fact, it could keep them subscribed for longer. For instance, did you know the most common reason people unsubscribe is related to receiving too many emails?
By giving donors the power to decide how often they hear from you and what they want to hear from you, your organization can provide a sense of control that isn't available with ads or social media.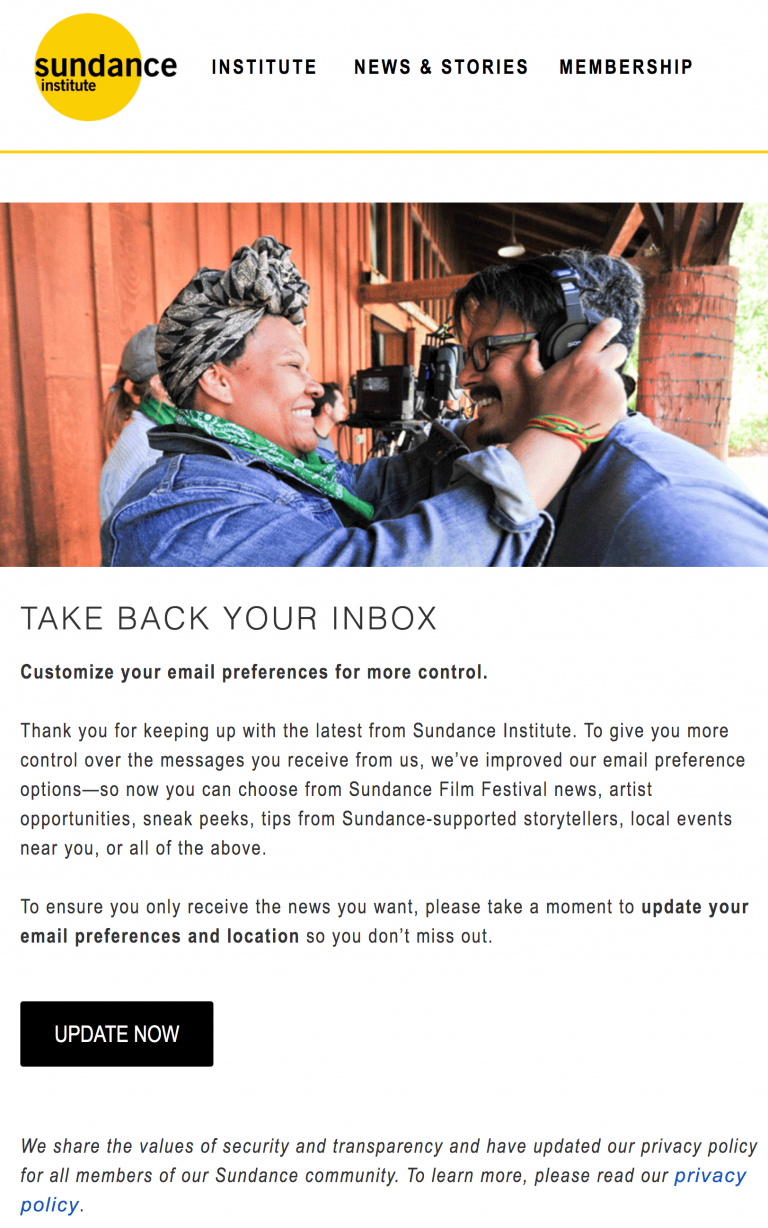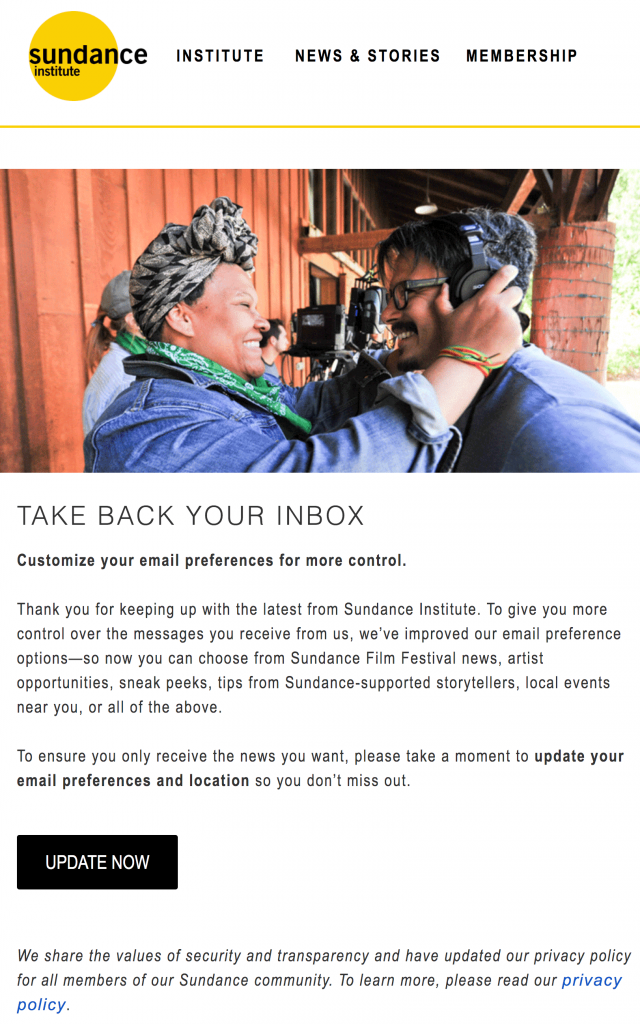 The Sundance Institute does a wonderful job of directing subscribers to the preference center by creating an email all about it. Even the CTA is centered around getting subscribers into their preferences for more specific campaigns.
2.  Keep donors in the know with a newsletter.
Campaign Monitor recently conducted a study comparing nonprofit and donor perceptions: what nonprofits think about donor communication vs. what donors think. When donors were surveyed, we found that email is their top preferred channel when it comes to hearing from nonprofits.
This means donors not only want to know what's happening with their nonprofit of choice, but they want to receive this information through email. How better to send consistent information than through a nonprofit newsletter?
What should your nonprofit newsletter include? First, you can easily improve your newsletter with simple tricks like clever subject lines, video additions, and more. But your content is the true star of the show, so make sure your newsletter includes updates your donors care about.
This newsletter from Habitat for Humanity is a perfect example of how an organization can update subscribers about news, partnerships, and more.


But what if your organization doesn't have global news or partnerships to share? According to our original research, here are some of the top pieces of information donors are looking for:
Stories of real change caused by the nonprofit
Progress reports (e.g. money raised)
How nonprofits are spending individual donations
Updates on specific goals
Use this information to craft your nonprofit newsletters going forward. And, as an additional tip, try sending from an individual who works at the nonprofit to provide a personalized touch, as nearly 60% of our surveyed donors prefer to hear from an individual versus your generic org.
3. Meet donors where they are by providing flexible donation options.
Nonprofits and donors alike know the biggest reason people stop giving to a nonprofit is because of finances. Our study found that, when flexible income changes, donors often stop giving to nonprofits.
There's nothing you can do about donors' financial situations, but you can meet them where they are financially. Provide options for low-cost donation options or a "choose your own" donation cost. This offers a flexible way to encourage donations while still engaging with your subscribers' personal situations.
You can see how United We Dream does this in their email below: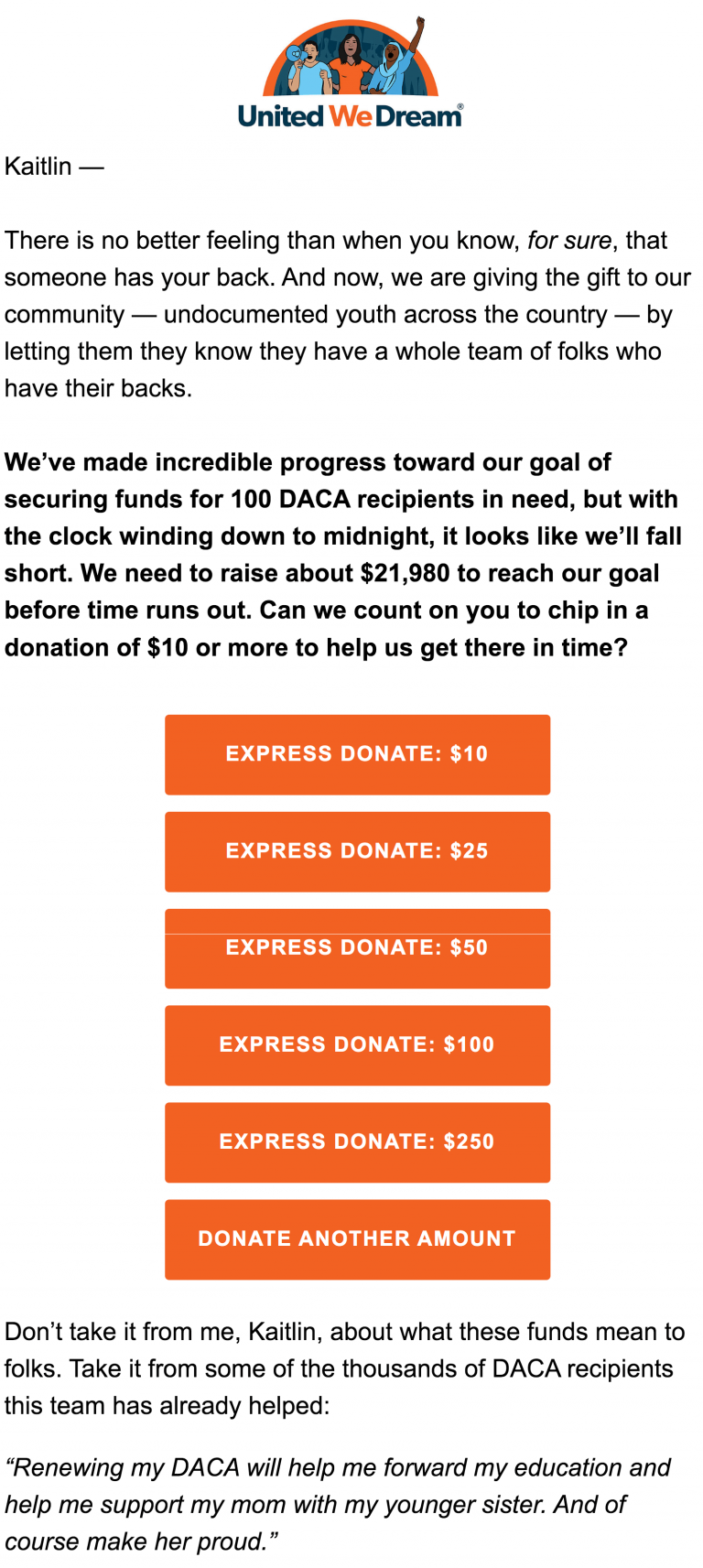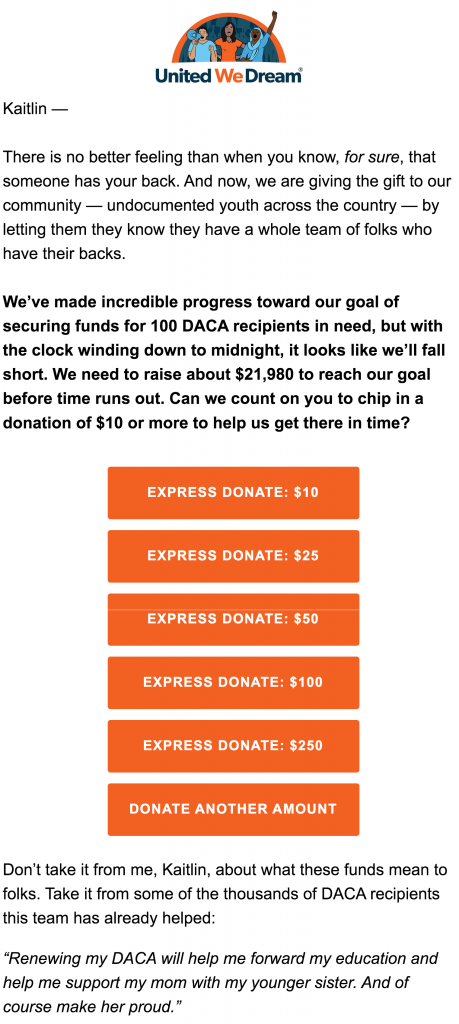 You might even offer the option of volunteer work, depending on your organization.
4. Send re-engagement campaigns to lapsed donors.
Churn is normal with every list, and it's likely some subscribers will stop donating to your nonprofit and even stop opening your emails. Before you remove those subscribers from your list, however, it's important to try and engage them once more.
In order to do this, consider sending a re-engagement campaign. This campaign will go out to your cold subscribers over a period of a few weeks, encouraging them to get active with your cause once more. Hopefully, they'll also begin donating again.
You can see an example in the image below. This email makes donating simple, and it also highlights the important work St. Jude is doing.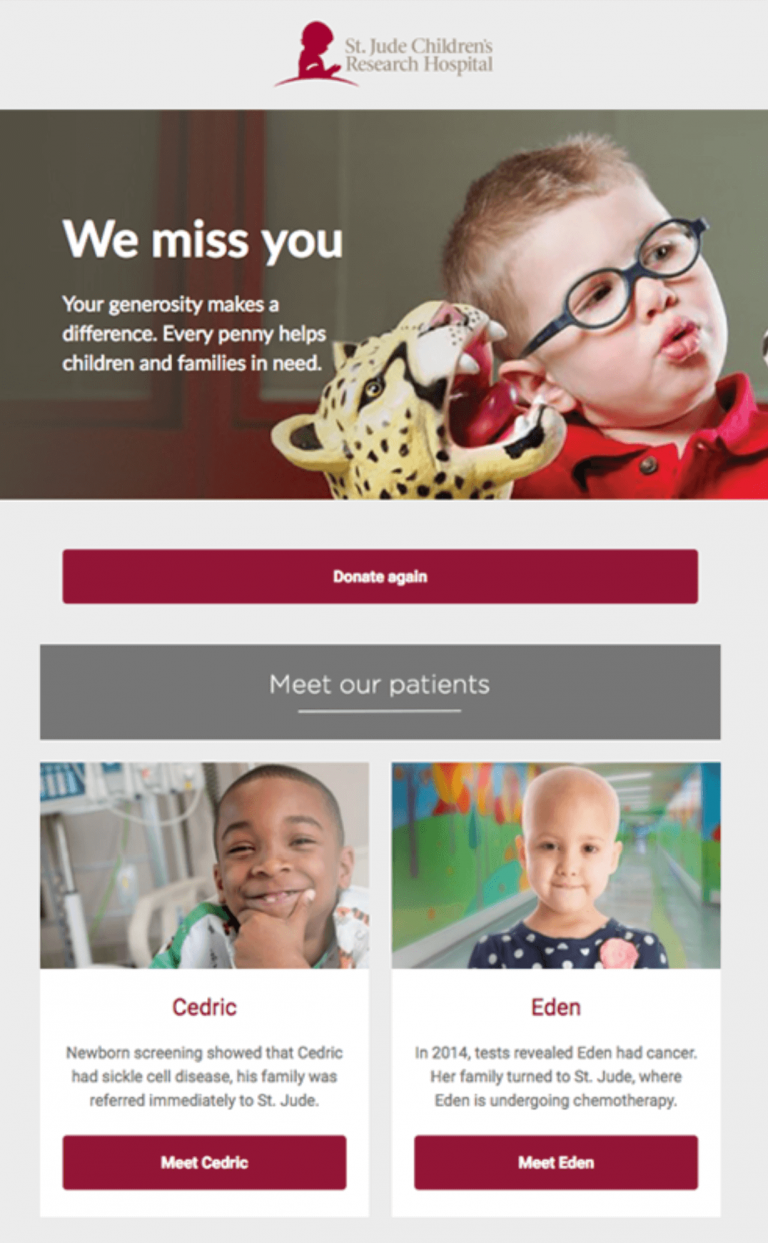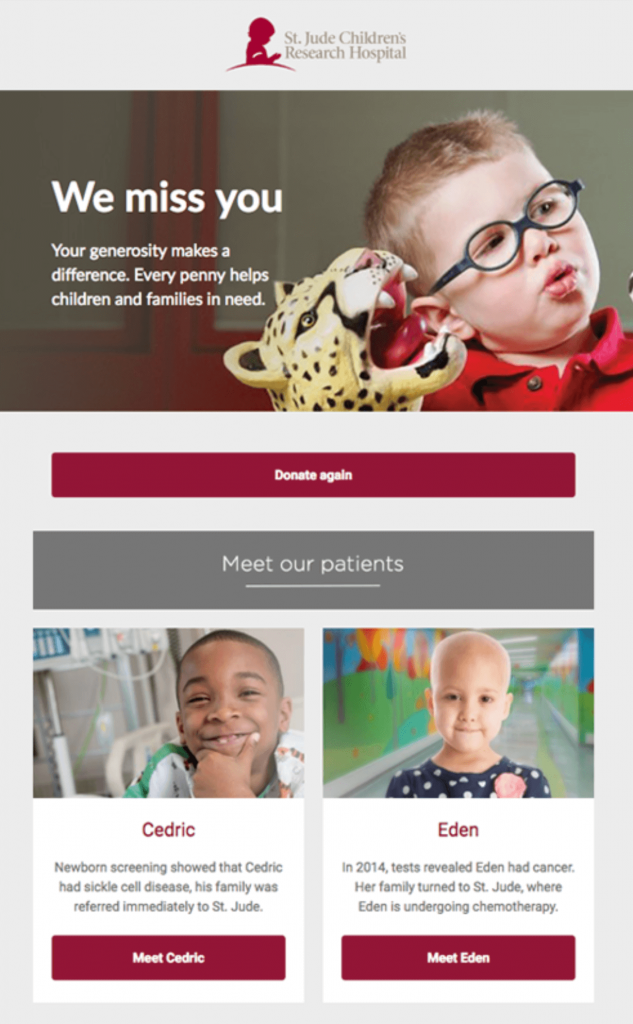 5. Provide updates on how donations are spent.
Over 65% of donors surveyed want to know how their money is spent within organizations. This makes sense, especially since these contributors are vital to your organization. Donors want your appreciation, rather than just a constant influx of financial requests.
Keep detailed records on how your organization spends the money provided by charitable efforts, as well as how much donors are giving.
You can use this information to create automated experiences for your subscribers. You might send an end-of-the-year review or a graphic illustrating how a subscriber's donation was utilized by different parts of the organization.
But these automated experiences can go beyond donations of money. You can also track volunteer hours or, as this email from American Red Cross shows, physical donations.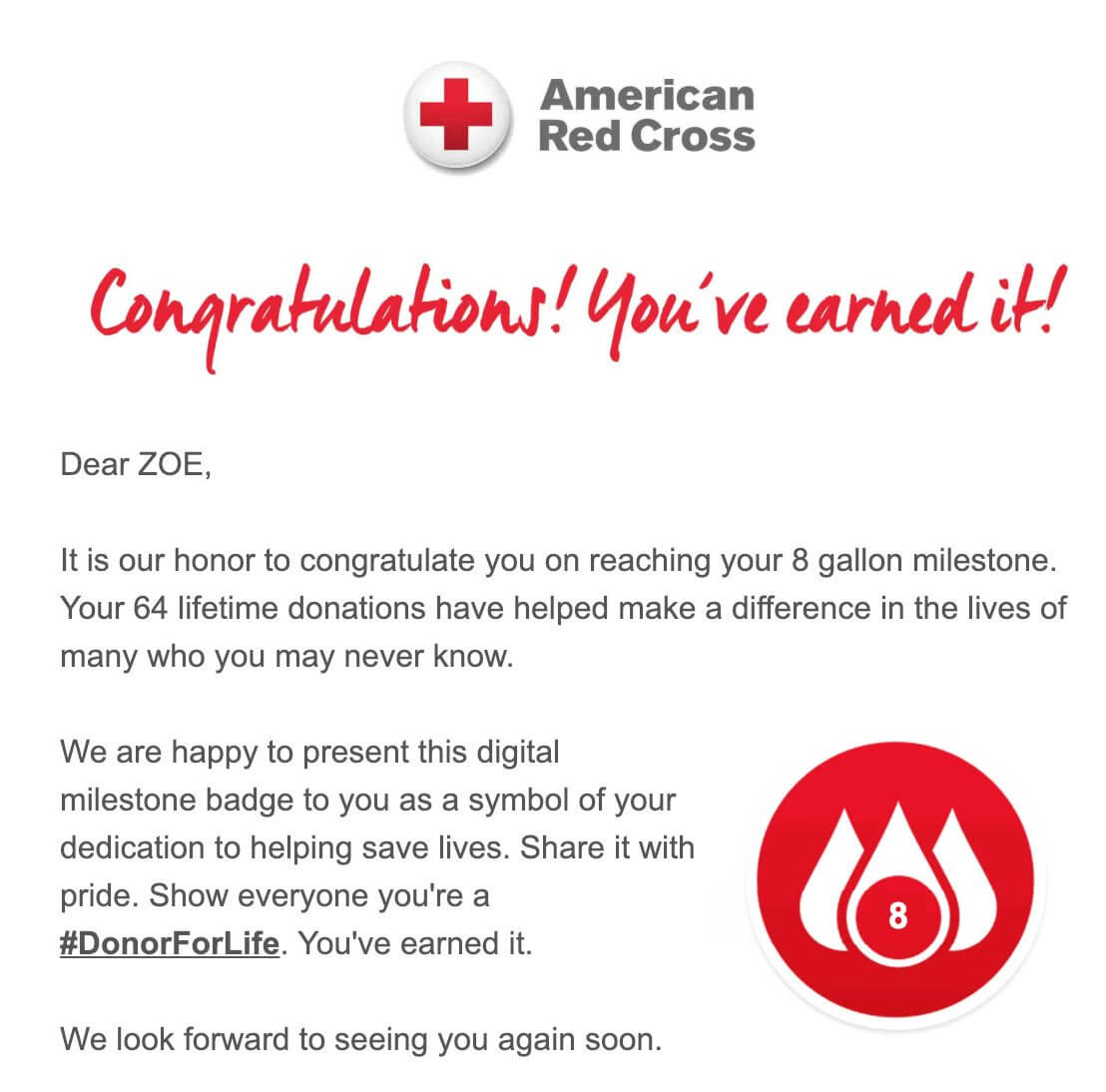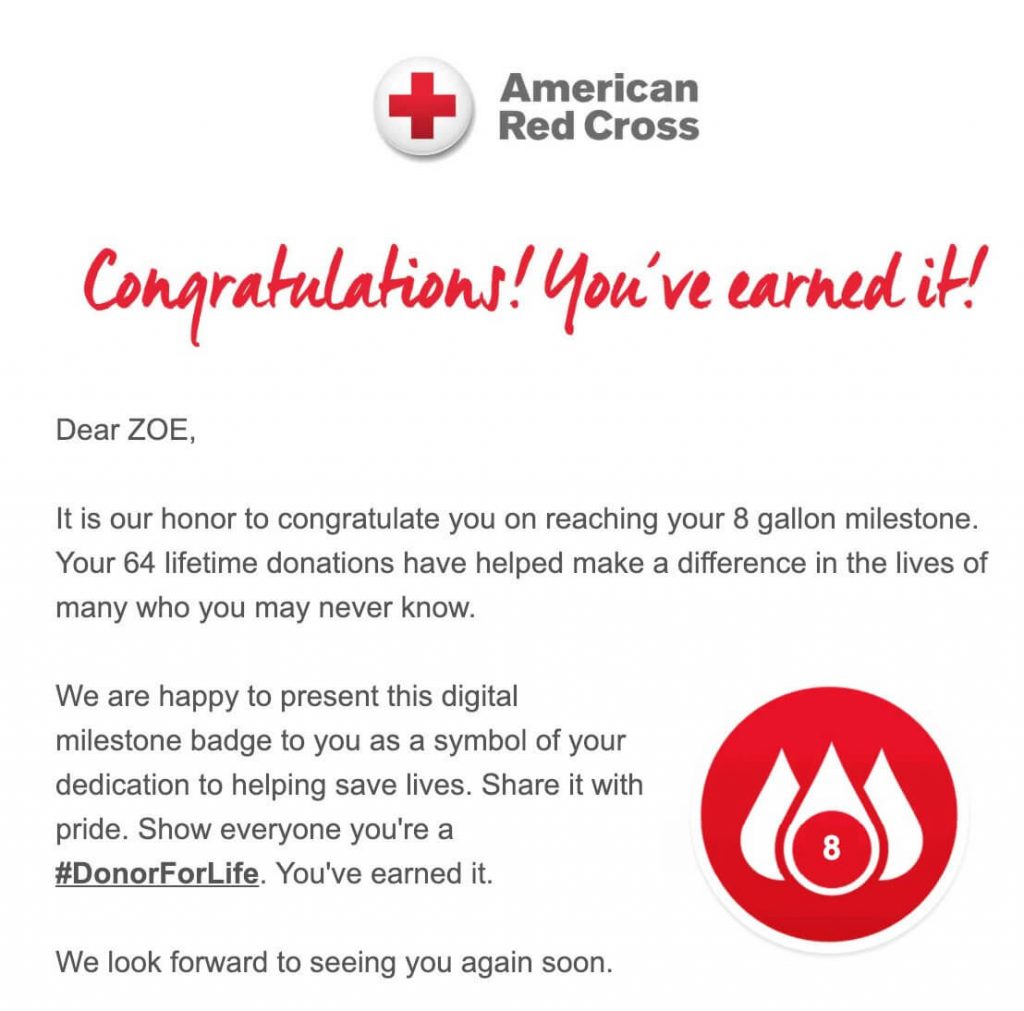 By offering consistent updates on your subscribers' donations, you'll provide a more personalized experience for each of your subscribers, giving them a reason to continue giving to your cause.
Wrap up
Communication is the best way to keep your donors interested and, ultimately, charitable. Email is an important (and highly preferred) way to keep those lines of communication open.
Just make sure you're giving your donors power over their preferences, as well as timely updates that matter to them. This includes newsletters and personalized updates impacted by their individual donations.