Nonprofits can't survive if they can't acquire new donors. But once you've got them, what do you do with them? How can you make them stay?
Donor retention rates, on average, are pretty abysmal. According to the Association of Fundraising Professionals' 2018 Fundraising Effectiveness Survey Report, the industry has a donor retention rate of only 45.5%. That means that most nonprofits won't retain even half of their newly acquired donors over the course of the year.
Don't be a statistic—use the following tips to retain more of your new donors and maximize their giving potential for your organization! Want to learn more about Donor Retention? Check out "Donor Retention: The Essential Guide!"
Give them a hero's welcome!
Once you've taken stock of your newly acquired donors, it's important to start the stewardship process right away if you want to retain them. The best way to get started is to communicate with them. For those who provided an email address, add them to a new donor welcome series of emails.
This email series should make supporters feel good about associating with your nonprofit. To endear your organization to them, craft an email thanking them for donating and explain what they're accomplishing with their contribution.
A good impact email doesn't have to be long-winded. For instance, here's a great example of an impact email from CityTeam San Jose which uses an embedded video testimonial from an actual beneficiary of their services.
Click the image below to watch the video testimonial, too. This can give you an idea of the kinds of narratives that show the impact of donations and the benefits of supporting your nonprofit.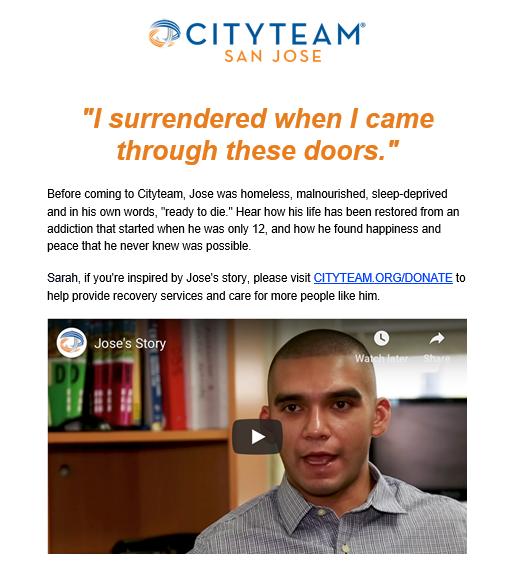 Next, give your donors an idea of what they can expect from you. Send another email to give supporters a chance to choose what communications they receive from you. You can easily accomplish this by asking them to complete a short survey. Be sure to make note of their communication preferences in your CRM and stick with it. If they've given you permission to reach out via different communication methods, be sure to use those methods for future communications.
Other emails in your welcome series can include a calendar of your organization's fundraising and social events, back issues of digital newsletters showing what donations made possible, invitations to giving societies, or any other information you find it important to communicate to your donors.
Dig a little deeper
It's unlikely that you're going to know your donors' giving capacity based solely on their first gift. However, you'd be surprised how easy it is to conduct more in-depth research into your donors' giving capacity. There are services that make it easy for nonprofits to determine who will make great recurring gift candidates or major gift prospects.
Wealth screening tends to require a paid subscription, but, with the ability to specifically target individuals and households for major gift stewardship, it's possible for those efforts to pay for the subscription cost and still provide a healthy return on investment.
Services like WealthEngine and these other recommended nonprofit wealth screening services let nonprofits determine the giving capacity of donors, can point to the donor's relatives and coworkers, and even will let you know if your donor owns their own business. This makes it possible to target donors' businesses for sponsorship requests for your fundraising events as well.
Give donors regular updates
The warm and fuzzy feeling people get when they give to your organization doesn't last forever. Rather than letting that feeling fade, keep your new donors engaged by sending them regular updates. Engaging your supporters doesn't mean bombarding them with asks. Instead, create opportunities to share information regarding what donations are making possible. Donors who care about your mission will also want to hear about new developments at your organization.
If you do have a funding need, ask for support. Only do this after you've properly thanked them and showed the impact of their first gift first, though!
Invite your donors to help in other ways
Asking donors to get more involved by taking on a volunteer role or sharing your organization's social media pages with their contacts is a great way to engage your supporters and give them a chance to help ensure your future success.
Take note of new donors who take advantage of your offer to get more involved. They are passionate about your mission. With proper stewardship, they may continue to give their money and time for years to come.
Conclusion
Build a relationship with your new donors, let them see and feel the impact they've made, and keep them engaged. Here are the 4 tips we described above:
Start a welcome email series. Include emails that thank them for their support, showcase the impact of their donation, inform them of your calendar of events, and keep them in the know about your plans. Don't over communicate! Once a week will suffice.
Use screening tools to find potential major donors.
Provide regular updates about your organization. Try not to bombard them with asks. Build a relationship then communicate that you need funds when you need them.
Ask them to get involved in other ways such as volunteering or sharing your organization's social media pages.
Donor retention is integral to ensuring your organization continues to receive the funding it needs to achieve its mission. With these four tips you should be able to retain more of your newly acquired donors.