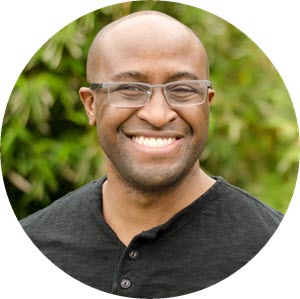 About De'Yonté Wilkinson: De'Yonté is the Director of Site Builds at Cornershop Creative. De'Yonté is a late-80s baby who found his passion for web design and development during MySpace's heyday, when he helped his friends create awesome profiles. He's spent the last three years specializing in WordPress and conversion optimization, and is an active proponent of coding guidelines. In his off time he enjoys cooking, rugby, and hanging out with his wife.
Building a robust online presence is crucial for any type of company these days, from the latest skincare line to a tutoring service to — you guessed it — your nonprofit. You might think that building a website to meet your online fundraising needs or to raise awareness about your cause would require a fancy degree in computer science, but this isn't the case! In fact, there are all kinds of tools out there that can help all levels of users build beautiful websites.
Web builders, such as WordPress or Squarespace, are online tools that your nonprofit can use to build your own website. These platforms have a wide range of tools, including visual themes, blog features, and customizable forms, that can deliver a fantastic experience for your audience.
Of course, your needs as a nonprofit are different from what other companies or organizations might need, so what should you look for in a web builder? Whether you have a consultant on your side or you're navigating it on your own, this guide will help you determine which features you should be sure to include:
Online donation features
Blogging and social media tools
Event management capabilities
User-friendliness and scalability
Navigating the web design world might feel intimidating, but as long as you know what tools you'll need to create a successful website, you'll be able to better identify which web builder is right for you. Let's get started!
1. Online Donation Features
If you're like most nonprofit organizers, fundraising should be one of your top priorities. That's why it's crucial that you choose a web builder that can support your online donation form with consistent branding. Depending on the size of your nonprofit, you might need more or fewer tools to fit your donation form needs.
An effective donation page is crucial for online fundraising. You need a platform that can support several donation interactions at one time and that allows you to customize your form so that it's branded uniquely to your organization. When searching for a website builder, be sure that you can easily add a donation page that fits your nonprofit's needs.
Look for a web builder that offers layouts and templates specifically for nonprofits. This way, you can be sure that your website is especially navigable for your donors. The last thing you want is for a donor to go to your website with the intention of donating, only to be confused about where to submit their donation!
2. Blogging and Social Media Tools
Driving traffic to your new nonprofit website isn't something that just magically happens — you need to put effort into marketing across different channels to invite new visitors to your website. One of the most effective ways to generate traffic for your website is to update content regularly and share your content on social media. For this reason, you should look for a website builder with strong blogging tools and options for integrating with social media.
Blogging is particularly helpful for connecting you with site visitors who aren't already familiar with your work. That's because your blog content can help you optimize your website for search engines like Google. With a well-developed blog, potential supporters can search for something related to your nonprofit (such as "environmental organizations near me") and will be more likely to find your website in search results.
However, developing your blog so that it ranks highly on search engines requires you to follow the process of search engine optimization, or SEO. Not sure where to begin? Here are some top SEO tips according to Cornershop Creative's guide to SEO for nonprofits:
Create an interesting blog: While it's important to write blog posts about content that your visitors are searching for, be sure that this content is compelling. Write in a friendly and engaging manner so that visitors can easily skim your content while still learning something meaningful.
Prioritize user experience: When designing your website, put yourself in the shoes of a new visitor to your site. Ensure that every aspect of your website is easy to navigate and fun to engage with. Don't forget to follow accessibility guidelines, such as adding image alt text and creating a high contrast between your text and background, so that every visitor can engage with your site.
Include social media sharing options: Encourage your supporters to share your content across their social media channels. Not only will this allow your supporters to engage with your work, but it will also share your content with more people!
Blogging and social media tools are integral to a nonprofit's online success, so when you're searching for a website builder, be sure that your top pick can support your amazing content!
3. Event Management Capabilities
Events often require managing a lot of logistics, so your website needs to be able to keep up! For example, let's say that you're hosting your first annual walk-a-thon fundraiser. To manage the event, you need a website that's easy to update related to your event (adding hero images, links, event-related content) and you'll need a way to deliver their tickets and send updates leading up to the event. And of course, you'll also need to be able to advertise the walk-a-thon on your website and social platforms.
Before digging into all of your different web builder options, sit down and make a list of all of the activities that your team needs to be able to effectively manage your event. Then, when you're researching event options, you'll know exactly what features you should look for. Some options that might be on your list include:
Registration
Ticketing
RSVP collection
Invitations
Event pages
Email reminders
Guest list management
Your website will be the first place your supporters go to learn more about your upcoming events and, with the right tools, you can ensure future guests have everything they need.
4. User-Friendliness and Scalability
Lastly, when searching for a web builder, you should evaluate its user-friendliness and scalability. It would be a massive pain to get all set up on one website builder, only to find that you can't use the features very effectively or that you can't easily add content or sections of your site when your organization grows or changes. Remember these two terms:
User-friendliness refers to how easily you can navigate the behind-the-scenes aspects of your website. Does your top pick have an intuitive design? It should be easy for you to navigate every aspect of your content from creating an event page to publishing a new blog post.
Scalability describes the ability of your website builder to grow and expand alongside your nonprofit's growth. Choosing a scalable web builder ensures that your site will still reflect your brand and create an impact over time and as your nonprofit evolves.
Remember, when it comes down to it, you will be the one using your website the most, so pick the web builder that works best for you and your team. Updating your website should not be a dreaded chore! The best web builder for you should support you in communicating your brand, connecting with your audience, and growing your nonprofit.
---
If your website is a beautiful home, think of your web builder as the frame holding it all together. For this reason, it's crucial that you choose the foundation that will support your vision to make the most of your organization's website. With the right builder, you'll have your website up and running in no time.
If you're feeling lost in the website builder search, consider partnering with a consulting firm that specializes in nonprofit website design. In the meantime, explore the following additional resources: