We're happy to announce a new integration with Candid (formerly GuideStar) that automates the Apple Pay approval process! Through this integration, nonprofits using Qgiv that also have Candid's Bronze Seal of Transparency or higher automatically qualify for Apple Pay—making it possible for their supporters to pay or make a donation with a tap of a finger.
By enabling Apple Pay on your donation or event forms, your organization can make online transactions incredibly easy for your supporters! There's no need for your supporters to type in their information, such as their name or address, as Apple Pay autofills the necessary details. This reduces the steps in the donation process! And as we know, the fewer steps it takes to make a donation, the more likely your supporters are to give.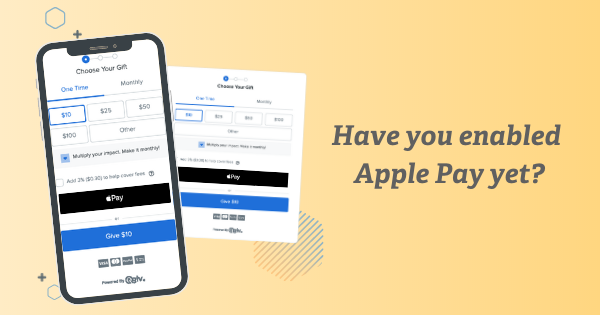 "Donors expect online interactions to be easy and fast. If a donor isn't sure what step to take next on a donation form or doesn't see their payment method of choice, fundraisers risk losing their donation,"  said Todd Baylis, CEO of Qgiv.
"This integration with Candid will help nonprofits raise more by offering their donors a leading digital wallet solution and removing the barriers of a previously complex Apple Pay approval process."
By partnering with Candid and adopting Venmo payments, Qgiv clients have access to a wide variety of payment options, including credit card, ACH, PayPal, Apple Pay, and offline gift options.
Ready to add Apple Pay to your forms?
If you're a Qgiv client and you want to learn how you can add Apple Pay as a payment option on your forms, please read this Help Desk article (you must be logged into your Qgiv account to access the Help Desk).