When you go camping, what do you take? A tarp and poncho, just in case it rains. Spare batteries for your flashlight. You want to be prepared for the unexpected. Nothing drove home the importance of preparing for the unexpected quite like 2020!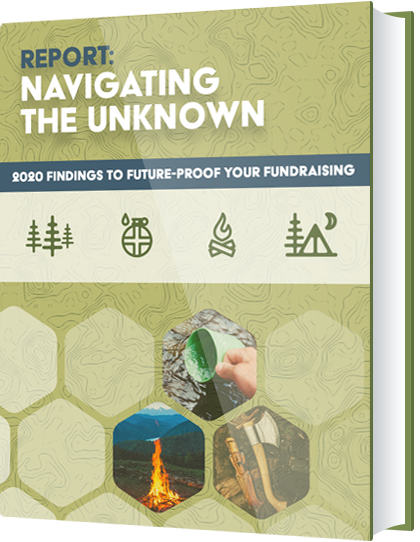 Today Qgiv released Navigating the Unknown: 2020 Findings to Future-Proof Your Fundraising. This fundraising report shares the impact of COVID-19 on the nonprofit sector and analyzes responses from a nationwide survey of donors and nonprofits to determine how nonprofits can best prepare for the future.
"Understanding what nonprofits have learned from the pandemic so far can help them better prepare for what the future might hold and make it easier to retain critical funding streams, even in a time of economic downturn," said Abby Jarvis, Qgiv Nonprofit Education Manager.
The information and action items presented in this fundraising report will help nonprofits quickly address crises as they pop up and remain connected to their supporters—even in a fully virtual environment.
Some of the fundraising report's findings include:
The majority of nonprofits plan to continue virtual or hybrid fundraising events in 2021. Only 3.5% of nonprofits reported that they'll be shifting back to in-person events.
Social media has grown even more important as a storytelling and fundraising tool. Donors ranked social media as the number one motivator for their charitable gifts in 2020—over direct mail and even email appeals.
45% of nonprofit respondents reported growth in their donor bases. Despite the odds, nonprofits proved their resiliency with a substantial number attracting new donors to their organizations. Adversely, less than a quarter of nonprofit respondents indicated that their donor bases shrank during 2020.
To learn how your nonprofit can effectively plan for unforeseen obstacles and funding challenges, download Navigating the Unknown: 2020 Findings to Future-Proof Your Fundraising below!