Here at Qgiv, we know being a fundraiser is not always an easy job. With rising costs, the Great Resignation shaking up nonprofit teams, and individual donor numbers declining, fundraisers face increased pressure to raise more money with even fewer resources. To provide a data-backed guide for sustainable growth and address the common challenges fundraisers are facing, Qgiv has released a new research report—the Sustainable Giving Report.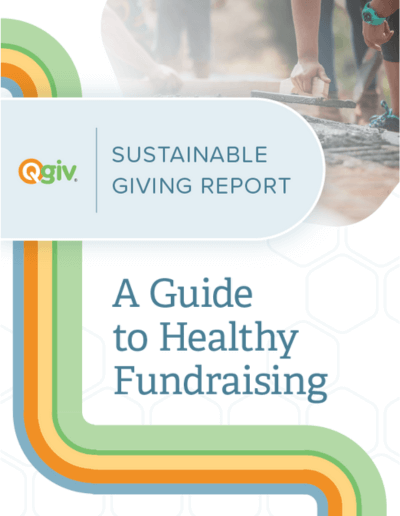 The Sustainable Giving Report shares the impact inflation and unsustainable fundraising practices have had on the nonprofit sector by analyzing responses from a nationwide survey of donors and nonprofits.
"Declining fundraising results aren't the consequence of an increasingly unphilanthropic culture—it's a result of professional burnout and unsustainable fundraising practices. Donors are dedicated to the causes they support, and even in the face of rising costs, prioritize charitable giving above other spending," said Todd Baylis, Qgiv CEO.
The information and action items presented in this report will help nonprofits implement sustainable fundraising strategies so they can raise more, retain donors, and reduce burnout.
Key findings
Some of the fundraising report's findings include:
The majority of donors will cut discretionary spending in other areas before modifying their charitable giving. Entertainment, dining out, and clothing are the first areas donors will make spending cuts. Cuts to charitable giving were ranked as the first area of spending someone would cut among only 7% of surveyed donors.
When asked to describe their workload, over 45% of fundraising professionals answered that they felt overwhelmed.
44% of nonprofit teams have noticed a decrease in fundraising revenue over the last three years; in-person events and direct mail appeals have taken the hardest hit. The biggest change fundraisers made to their strategy is seeking additional grant funding and corporate support—donor outreach has remained largely unchanged.
The impact a fundraiser believes they are making and their organization's mission are the top factors for job satisfaction. Pay and other career aspirations are the top reasons a fundraiser would leave their job.
Most fundraising professionals would like to spend more time on donor retention and stewardship strategies. Over 50% of fundraisers that responded said that they spend 0-25% of their work time on donor retention.
Get your copy of the report
To learn how your organization can increase employee tenure and create sustainable fundraising plans, download the Sustainable Giving Report below!