It's here! It's here! After we acquired Connect2Give last year, our team of developers has been building their text fundraising tools into our platform. Now, those tools are ready for Qgiv clients to explore!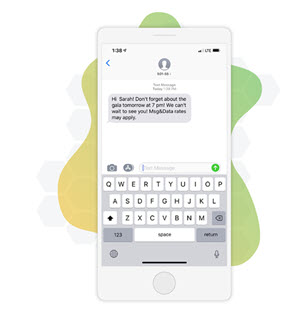 Check out the press release here!
This super-exciting update expands Qgiv's text fundraising tools to include features like:
Text-to-donate functions
If you've been using Qgiv's text fundraising tools, you know this one! During a text-to-donate transaction, a donor texts a keyword to a shortened phone number. They're asked to indicate how much they want to give, and they receive a link to a simplified donation form where they complete their gift. Now, the text-to-donate tool you know and love has a cool new feature — reminder texts! If a donor initiates a gift but doesn't complete it, you can send them a message to remind them to finish it.
Outbound text messaging
Have you ever wished you could talk directly to your supporters at any moment? Now, with our new Mobile Suite, you can! It's easy: you set up a keyword supporters can text, which opts them into receiving future messages. Then, you can select the group of people you want to text, create a message, and either send it immediately or schedule it for later. It's a great way to keep supporters up to date on news, organize volunteers, share updates, or make appeals.
FundHub Live
Build excitement at your next fundraising event with FundHub Live! This new tool makes it easy to create a page that tracks incoming donations from multiple sources and shows real-time progress toward your fundraising goal. Text donations are displayed, too, including donors' names, gift amounts, and messages.
This is a great tool for goal-driven events. Donors love meeting goals, and they love seeing progress made toward those goals. This is a fun way to help them envision how much you want to raise, get them excited about donating, and show them a little love when they give.
Text-to-give (bill-to-carrier) functions
Bill-to-carrier text fundraising has been popular since the Red Cross used it after Hurricane Katrina. In Qgiv's new bill-to-carrier option, donors can simply text a keyword to a shortened phone number. Then, their donation is added to their cell phone bill. Simple! Once the donor has paid their bill, that money is credited to your nonprofit. The process takes longer than form-based gifts, but it's one of the simplest ways to give. Our new text-to-give feature lets you set keywords for different donation amounts, and it even accommodates recurring gifts.
Learn more about our new tools
The news about our new tools hit the wire this morning, and you can check out the press release for more details. You can read about the new text fundraising tools on our website, too. If you're interested in learning more about how these tools will work for your specific organization, contact us for a personalized tour of Qgiv's fundraising tools.