I admit, stock photos are inexpensive, and can be useful for organizations that don't have their own. However, stock photos don't always come across as authentic. For your collateral to make the best impression, you should seriously consider using your own photos to inject authenticity into your marketing. Give your community a real look at the work your nonprofit does. Here are two reasons to cut back on your use of stock images and replace them with your own.
Everyone knows you're using stock photos
Your authenticity suffers when you use stock images in marketing and your website. Stock images typically look too posed and perfect to be real. This creates a disconnect between your organization and the real people who visit your website. Stock photos should be used sparingly, if at all. They should never be a permanent solution to your organization's lack of images. Using images that are unique to your organization helps your audience see the work you do as well as the faces of those you help.

This is a perfect example of a cheesy stock photo. We've all seen variations on this stock photo before. Pictures of men staring off into the distance are a dime a dozen. Stock photos like these don't do your nonprofit any favors.
Only your photos can tell your story
Every photo you use on your website and collateral tells a story. Stock photos, however, don't tell your nonprofit's story. Stock photos are too staged to truly illustrate the work your organization does. Use your own photos to highlight the problem your organization addresses, how you do it, and who you help. Despite your images looking less polished, you're giving supporters an authentic view of your nonprofit.
Take photos of your fundraising events and supporters. Provide the social proof prospective donors look for when deciding to give. With strong donor communities being so important in fundraising today, images of your supporters and events introduce this sense of community to your website and marketing materials.
Not sure what makes a compelling photo?
If you've decided now's the time to stop using stock images, that's great! But, you may be wondering what makes a compelling image. Here are a few tips:
Pictures of smiling, happy-looking people outperform images of sad or sick people and animals.
It's best to include individuals or small groups of people who are making eye contact with the camera.
Don't include buildings as the main focus of a photo.
Here are a few examples of great photos from Qgiv customers.
Both of the images above are from Volunteers in Service to the Elderly.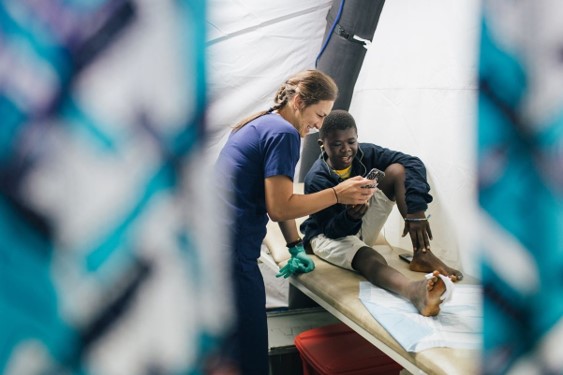 The two photos above are a bit of an exception to the rules. No one is making eye contact, but they are still powerful photographs full of emotion! If a photo makes you feel something, use it!
Conclusion
Stock photos are pretty, but don't tell your story. Your nonprofit is in control of the story you tell, and your photos are a powerful tool in your arsenal. Use photos from your fundraising events to highlight your donor community. Being authentic in your outreach is the best way to convince others to support your cause. Your organization's photos show who you help and how you're changing the world. Want help cleaning up your photos so they look more professional? Check out these helpful resources so you can edit photos like a pro!