Qgiv's Personal Fundraising Center is Your Secret Weapon for Peer-to-Peer Engagement
Peer-to-peer engagement is the #1 thing you should consider when designing your event. Getting your peer-to-peer participants engaged is the biggest part of a successful fundraiser!
When people register for your event, do you take the time to introduce them to the tools right at their fingertips? If you put in effort to educate your participants, the payoff can be huge! Let's take a look at some of the features your peer-to-peer participants can use to get their fundraising underway. These tools will teach them to raise money and spread the word about your event.
Boost Peer-to-Peer Engagement with a Welcome Quest
The Welcome Quest introduces your participants to various areas of their fundraising dashboard. It's just a primer to get them started! The Welcome Quest guides users through uploading an avatar and adding content to their personal fundraising page. Then, it walks them through sending a fundraising email, raising a first donation, and sharing the event on Facebook and/or X. If they're on a team, it also shows them how to recruit more team members.
You can toggle six steps on or off, or you can choose to omit the quest altogether if you have more in-depth training planned. When a participant completes the quest, they'll earn a badge for completing their profile! It's a great way to start an event off on the right foot!

Encourage Peer-to-Peer Engagement through Emails and Social Posts
Make sure your participants know they can create and send fundraising appeals and thank-you emails! Under the Share Event tab, they can use templates (the content is all editable) or compose their own content to send emails to their donors, potential donors, and/or team members.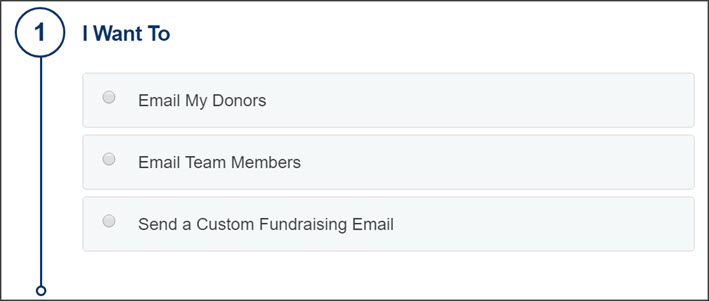 They can also schedule Facebook and X posts here. There are several different options! They include manual posts, of course, plus the ability to build automatic posts. Automatic posts allow posts to go live when a participant reaches a certain percentage of their fundraising goal.
To provide extra help, you can set up templates for social posts in your form-level control panel. This is really helpful! Most of your participants aren't seasoned fundraisers. Providing social templates to help get them started is really useful. Having goal-based templates is a particularly great idea. Your participants can connect their Facebook and/or X accounts, schedule the posts to trigger when they reach fundraising milestones, and watch as friends and family donate in response to their appeals!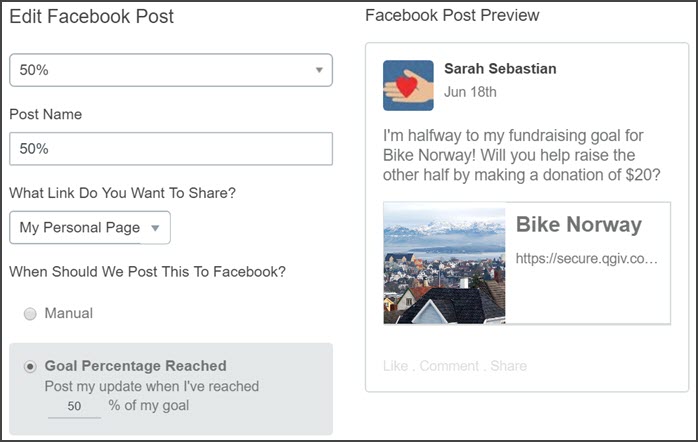 Having social and email templates ready to go makes fundraising easier for your participants. Giving them time-saving tools makes it much more likely that they'll stay engaged!
Resources will Help Keep Participants Engaged in Fundraising
Providing your fundraisers with resources is a great way to get them engaged. Fundraising can be intimidating, so we created a "Resources" section in the Fundraising Center. Anything you upload in the "Resources" area in your control panel is available to your participants to download. You can include items like a fundraising tip sheet, promotional materials for your event, and even fundraising ideas (check out this editable fundraising Bingo card!).

Text Giving is a Fantastic Peer-to-Peer Engagement Tool
Yep, that's right… peer-to-peer text giving! Your participants can create their own personal (and team) text giving keywords right in their fundraising center. This makes it easy for them to solicit donations on the go. Hanging out with friends or family? All they have to do to make a donation is text the participant's keyword to 50155!

Keep Participants Engaged with Fun Badges 
People are hardwired to seek rewards… including digital rewards! Badges are a digital reward that help keep participants involved in fundraising.
Your participants can track their badges in their fundraising center. You can also place the "My Badges" widget on the participant fundraising page in Event Builder! That way, the badges each participant has earned are available for the world to see.
Badges are a great way to add a little friendly competition to your event. You can create custom badges and host contests to really get your participants going. For example, you could set up a custom badge to be awarded when someone collects the most donations in a set time period. This kind of gamification is proven to keep participants engaged. Check out this article for more info on how it works!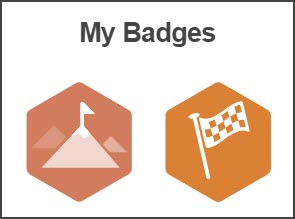 Donor engagement starts with you, so be sure you let your participants know they have these tools at their disposal. Once they know how to use them, they'll be unstoppable!
Pro tip: An easy way to communicate with your participants is by using the Email Campaigns* feature found in your form-level control panel.
Bonus: We created a walk-through of the Fundraising Center just for your participants! You can find it in in our help desk here.*
* You have to be logged in to your Qgiv account to view articles.
Want to Learn More about Peer-to-Peer Engagement?
We can help! Check out these articles:
Tips From a Pro: Emulating NuPath, Inc.'s Peer-to-Peer Success: See a real-life example of what amazing peer-to-peer engagement looks like. NuPath, Inc shares insights into how they keep their participants inspired and how it affects their fundraising.
Matching Gifts and Peer-to-Peer: Why (and How!) to Do It: Participants stay engaged because they know they're making a difference. Matching gifts help them DOUBLE the difference they make! This article breaks it all down.
Why (and How) to Segment Emails to Peer-to-Peer Participants: Email is the most effective way to keep in touch with your participants. But what if your participants don't read your emails in the first place? Read this article to learn about peer-to-peer email segmenting.
Make Peer-to-Peer Team Captains Your Fundraising Secret Weapons: Want to keep your participants engaged? If you're running a team-based event, your Team Captains are gonna be your best friends. Here's why.