Small nonprofits face a lot of unique challenges. Your donor pool may not be as big as a large organization's, you may not have a huge budget for large fundraising campaigns, and you might lack a huge staff to help you execute your fundraising. But your nonprofit has several advantages over larger organizations! You have a dedicated pool of donors and staff who are passionate about your mission. You've also learned to earn big wins with small budgets. A valuable tool you can use to boost your fundraising performance is text fundraising software. The ability to launch text fundraising campaigns based on an org-specific keyword and communicate with donors via text message can make your next fundraiser mobile-friendly, easy to implement, and cheap to share. Read on for tips on how to incorporate text fundraising and outbound text messaging into your small nonprofit's fundraising campaigns.
Text fundraising campaign setup
If this is your first text fundraising campaign, use these setup instructions to increase the performance of your text fundraising.
Start with a contact list
The first step in launching your campaign is to build a list of loyal donors' cell phone numbers. Be sure they've had the opportunity to opt in to receive messages from you. While it's not illegal to send a text to your donors without permission, you want to be careful not to damage your relationship with them. Instead, ask them to sign up to receive your texts. You can incentivize membership on a text message contact list by offering valuable resources and organization updates in this format.
As your fundraising grows, you may want to build multiple contact lists for different purposes. You can build lists based on different funding needs or create dedicated keywords for event reminders, organization updates, and use cases specific to your organization like a call to restock a food pantry, announcing a sale at your nonprofit's thrift shop, or recruiting Meals on Wheels delivery drivers during busier times of the year.
Choose a keyword
You'll need to choose a campaign keyword that's relevant to your organization, easy to remember, and easy to type. Use these best practices to choose an effective keyword:
Keep it short and simple! The shorter your text fundraising keyword is the easier it is to type without making a mistake!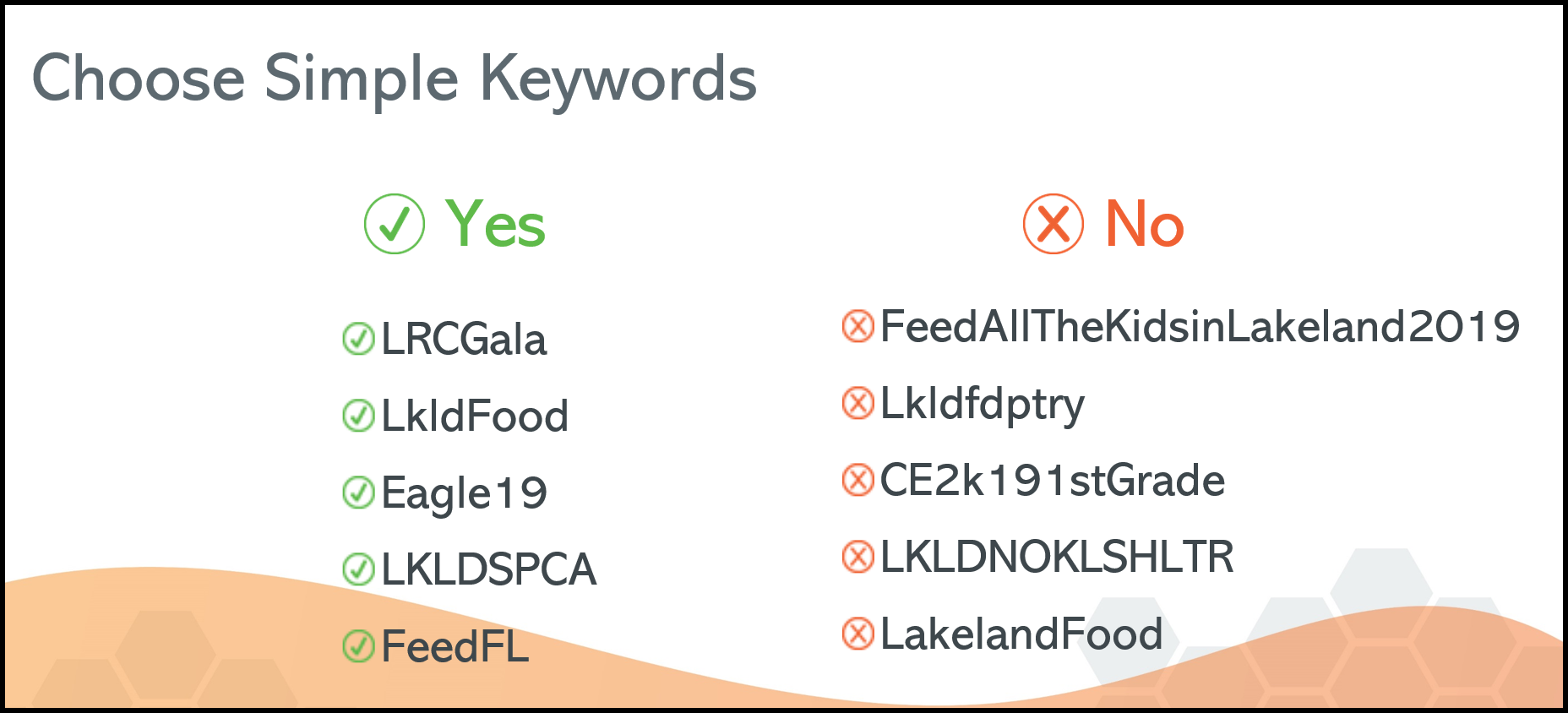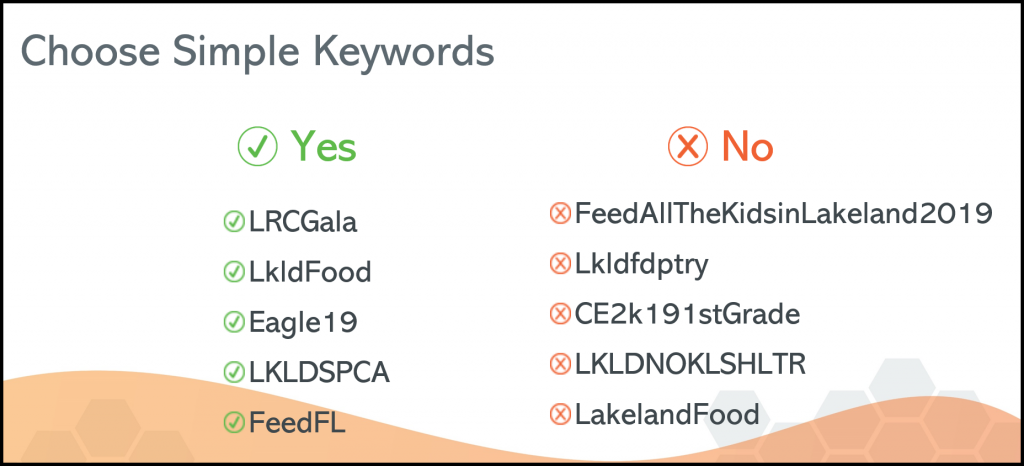 Test your keywords! Check your keyword against the autocorrect function on your phone. If your phone corrects your keyword, opt for a simpler one to ensure mistakes don't happen when donors try to give.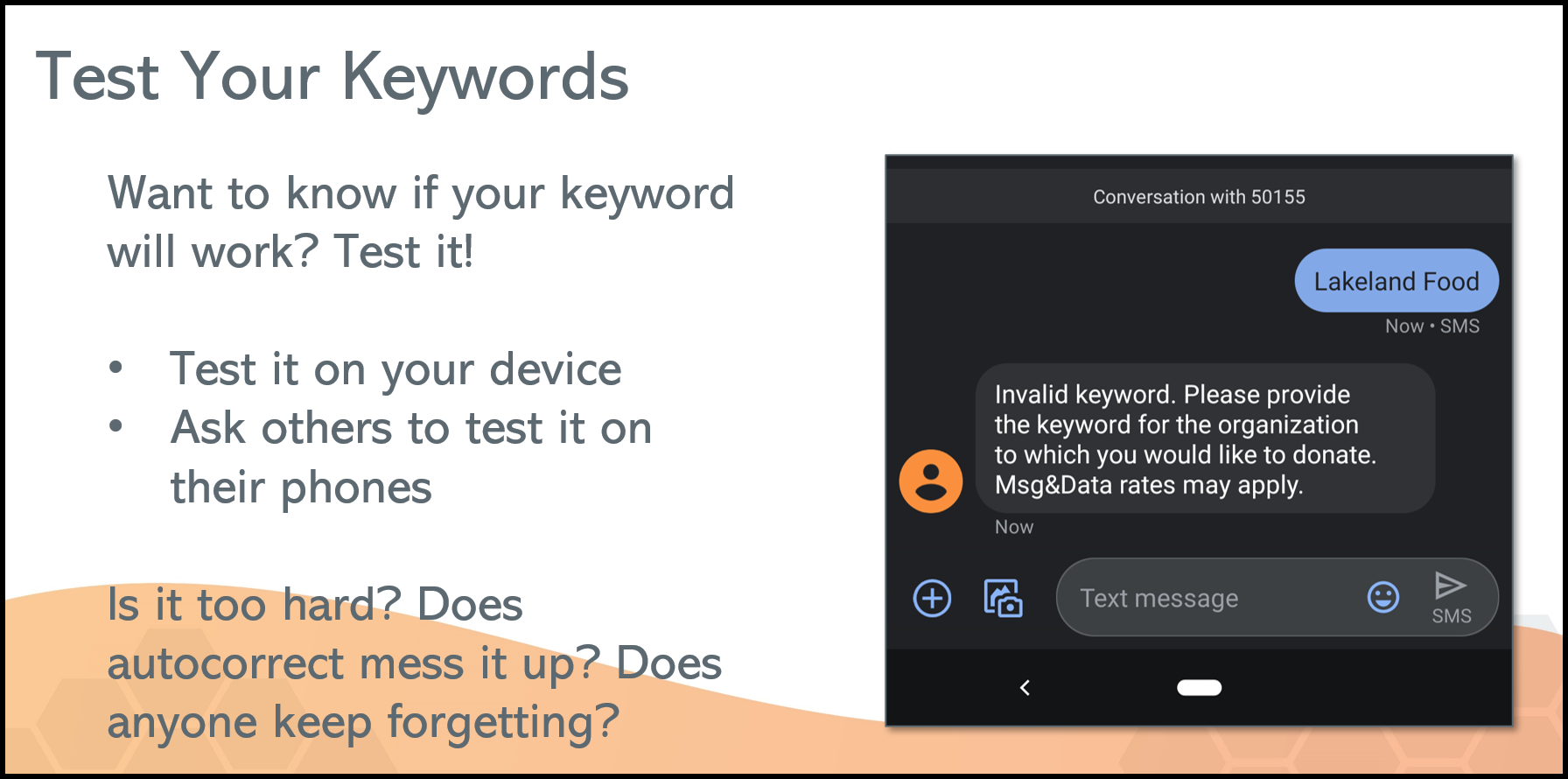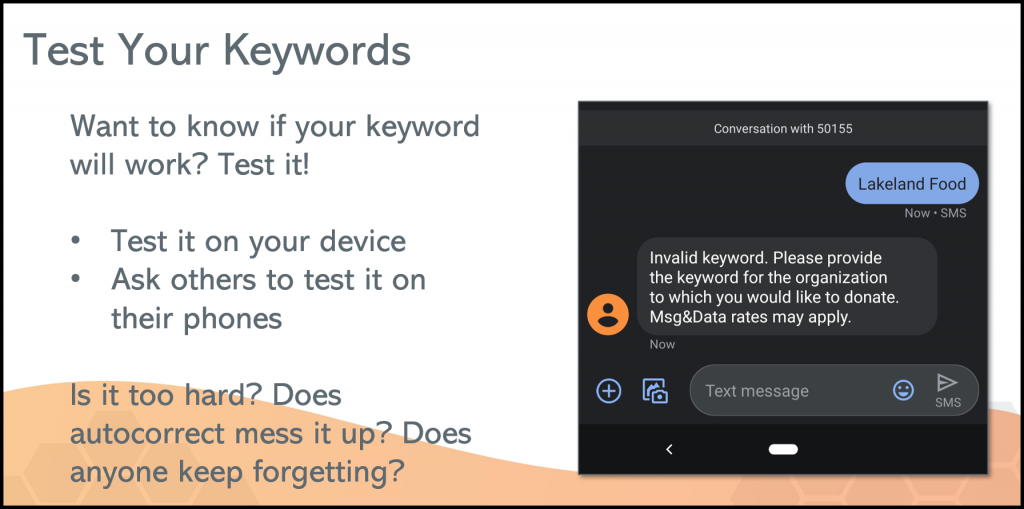 Once you've settled on your top keyword choices, ensure those keywords are available and assign your best keyword to your nonprofit.
Display your text fundraising keywords everywhere! The visual will help donors spell it out when texting to make a gift!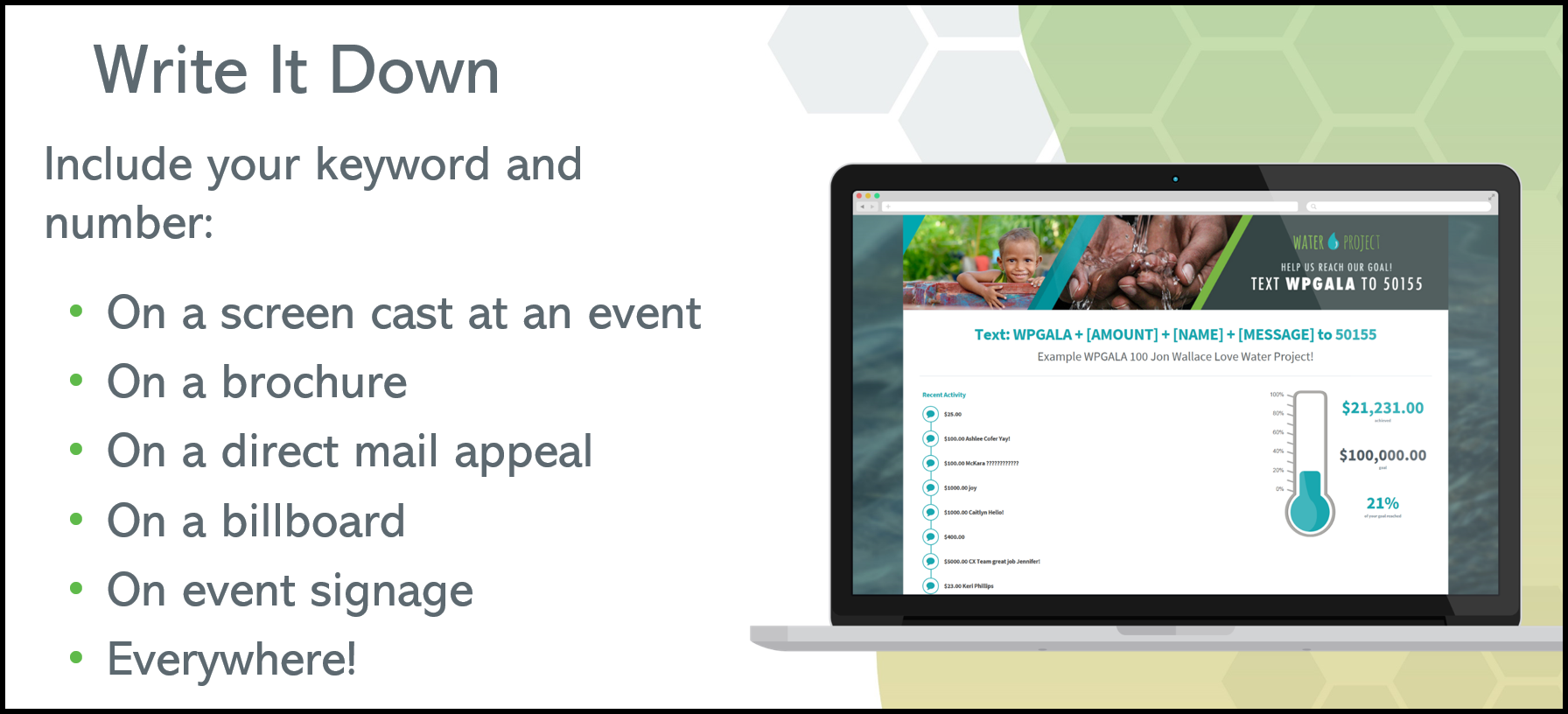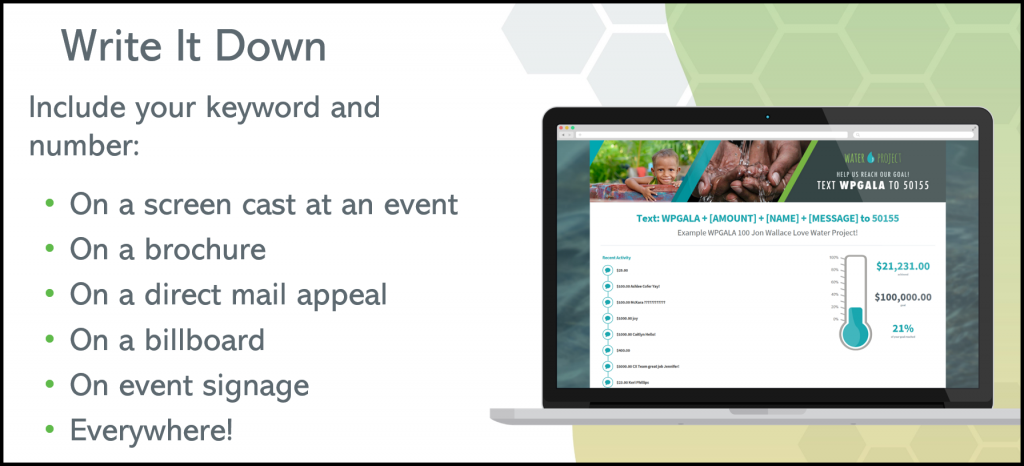 Then you can send an outbound message to your contact lists asking them to text your keyword to donate to your organization. With Qgiv's Mobile Suite, 2,000 outbound messages per month are included in your package at no extra cost. You can also track donations as they come in and even see which lists received your messages.
How text fundraising tools give small nonprofits an edge
Small nonprofits can benefit from text fundraising tools because of how portable your messaging becomes. If you've got an engaged list of contacts that includes donors, staff, and volunteers, your messages can spread far and wide at little to no cost to you. Here's how to accomplish this.
1. Encourage forwarding your text fundraising messages
When you initially reach out to your contacts and ask for their support, include a note asking them to forward your message to a friend after donating. Encouraging forwarding text messages opens your campaign up to increased donations as your message gets shared with others. As those individuals donate, they're also encouraged by your message to pass that text on. As your messaging passes through your supporters' contact lists, you reach new donors and acquire more donations. Using Qgiv's text-to-donate platform for a campaign like this is especially helpful because you're able to capture a donor's information when they fill out the simple mobile donation form. You can then steward those new donors to increase donor retention and grow your donor pool. For most people, forwarding a text message is simple and costs nothing!
Prepare your staff and volunteers for what you've planned for this type of campaign. Let them know you'd like them to forward your messaging on to their friends and family. That heads-up can increase participation—especially if you incentivize forwarding your text messages.
2. Cross post your campaign keyword on social media and encourage sharing
Another avenue available to small nonprofits is to share your text fundraising messaging and keyword on your nonprofit's social media page. Make the post public and shareable. Then, encourage your staff, donors, and volunteers to spread your campaign messaging. While people scroll through social media on their phones, seeing a post from a trusted friend or family member about your campaign can inspire more people to give to your cause. The best part is, they can make their gift from their phone and share the campaign on their own timeline. Your message is spread for free, and that increased organic reach can make a huge difference for your fundraising results!
3. Send text fundraising follow-ups
Small nonprofits also have increased ability to send follow-up messages to their contact list. Provide campaign updates via outbound text messages to your lists—especially to those who already gave. Let them know how close you are to reaching your goal and encourage them to share your messages. If you've incentivized text message forwarding and social sharing, remind them what they're earning when they share your campaign with others.
For donors making their first gift because of your text fundraising campaign, send them a compelling, forwardable message and share any incentive messaging with them too. Getting new donors engaged with your campaign and asking them to share it can further increase your reach with only minimal stewardship during the fundraising campaign.
After a campaign, send thank-you texts and provide updates. Let donors know if you've met your goal. They want to know how their donations helped. Throughout the year, send texts that aren't asking for money. Instead, use this platform to spread awareness. You can share facts and figures related to your mission and even include bit.ly links to blog posts with more information.
Conclusion
Small nonprofits can overcome many of their obstacles by using a text fundraising campaign strategy. Not only are these campaigns inexpensive to launch, they're easy to spread by tapping into the networks of your supporters. Give yourself an edge with your fundraising and save on hosting costly events and direct mail appeals with a strong text fundraising campaign. Curious about how Qgiv's tools can help your small nonprofit launch a successful text fundraising campaign? Request a demo to see Mobile Suite in action!