Your donors can give anywhere at any time with Qgiv's text fundraising tools. This makes text fundraising a great way to accept donations and pledges from donors during a fundraising event. There are several benefits to employing Qgiv's text fundraising solution as an avenue for giving during a fundraiser. Donors can make pledges and save their cash for food and auction item purchases. Your donors can give even if they forgot their wallets. Plus, you can use keywords to direct gifts from text fundraisers to specific restrictions. Here are our tips to get the most out of text fundraising at your next fundraising event.
Make your text fundraising keyword(s) visible
If you want text fundraising to be an integral part of your event fundraising strategy, make sure your donors know your keyword and what to expect once they text it. It helps to print the keyword with instructions and post these instructions throughout your venue. If your event revolves around a projector screen, you can also project the instructions during the event's downtime. This cuts down on the need to print instructions. Instead, they're large enough for all to see, and you're able to project the instructions to your entire captive audience.
If your event is using multiple text fundraising keywords for giving to different restrictions or because different participants/teams will fundraise with different forms, make sure that you make the keywords simple to differentiate. This is one area where digital signage is better. Set up a PowerPoint presentation to cycle through the different keywords with directions shown before the keywords are shared.
FundHub Live, a tool that allows you to broadcast an event's fundraising progress from different sources, can help you raise more through text fundraising at your event. FundHub Live lets your attendees see how their gifts affected your fundraising goal during your event. Displaying your fundraising thermometer to your guests alongside available keywords provides social proof to your attendees that you're worth supporting. An added benefit of FundHub Live is that guests can include a personalized message that is displayed alongside their donation in the activity feed.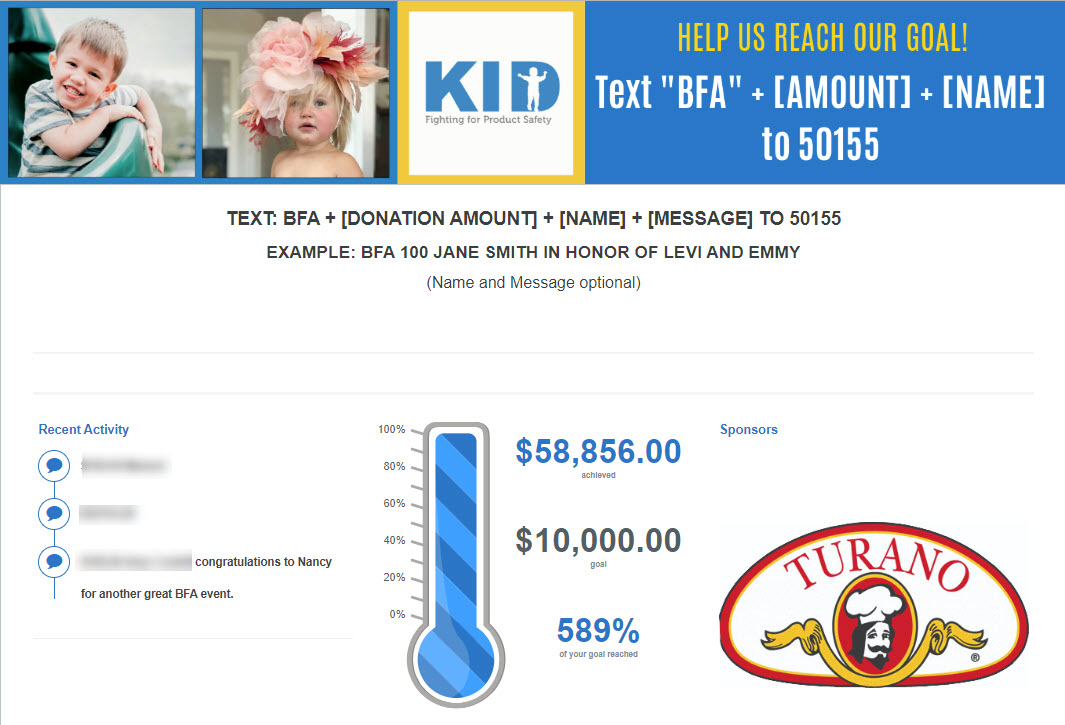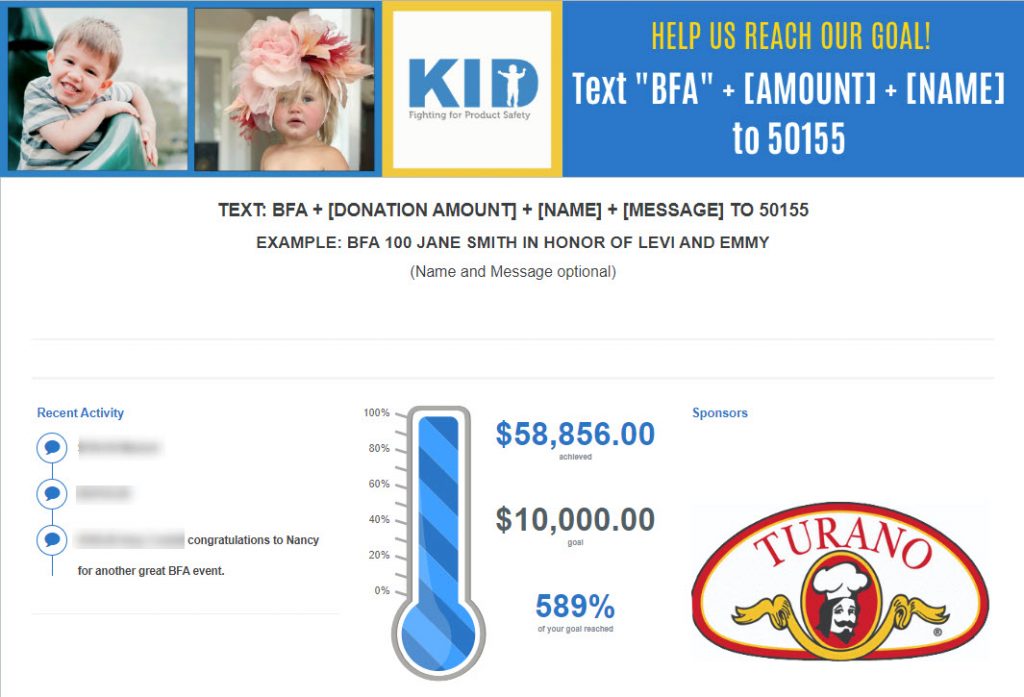 Pro Tip: When sharing the instructions, it's better to show rather than tell. Keep explanations of steps to a sentence or two and complement those written directions with screenshots of each step.
Quickly create a marketing list with mass opt-in at events
Qgiv's text fundraising tools can be used for more than just accepting one-time donations. Make sure that any forms you link keywords to include a checkbox inviting donors to opt in for more communications from you.
During your live event, ask your supporters to text a keyword to opt in to communications with your organization. It's easy to build a marketing list based on who opts in via that keyword. Then, set up an outgoing text message to capture and input additional donor information. Now you've formed a list of supporters who want to receive updates, donation requests, and event invites from your organization. Plus, because you can track what keyword was texted, you know what campaigns effectively grew your marketing list.
Text vendor promos and event announcements to attendees
Text messages allow for near-instantaneous communication with a wide audience of people. If you ask attendees to opt in before your event, during your event you can text out event announcements such as silent auction bidding times, when registration opens, when certain parts of your event begin, etc. For events like a virtual 5K where attendees participate from their location and report their progress online, text messages are a good resource for letting them know when the virtual 5K starts and when it's going to end.
If you're at an event with food trucks or vendors selling products, use outbound texting to highlight your vendors—especially if they're offering promotions during your event for your guests.

Send a post-event survey via text
One additional use of text fundraising that can be helpful to event planners is to send a link to your organization's post-event survey to attendees who texted an opt-in keyword during your event. Quickly request feedback on your event toward the end of the fundraiser with a post-event survey.
Conclusion
Qgiv's text fundraising tools makes it easy to integrate text fundraising into fundraising events. Supplement cash and check donations by offering text fundraising during your fundraising event. Create keywords for different restrictions, fundraising teams, or fundraising individuals and track the overall progress with Fundhub Live during the event. Publicly displaying keywords, instructions, and the fundraising thermometer can help inspire guests to give to see you reach your goals. In addition to accepting donations via text fundraising, use keywords to opt guests into your text marketing list during your event.
If you opt guests into receiving texts when they register for the event, use outbound texting for event communications. Quickly tell your guests about vendor promotions and event announcements. Outbound texts are quick and easy to send and can be great for kickstarting different activities during an event or to keep offsite participants in the loop. Lastly, you can use outbound messages to event attendees when your event wraps up to send a survey link and ask for feedback. Take advantage of all Qgiv has to offer to boost the success of your next fundraising event.
Want to learn more? Visit our text fundraising page for more information.