The beauty of peer-to-peer fundraising is that you give people from outside your organization the power to raise money for you. They can share their own stories, advocate for your organization, and spread the word about your work, all while raising money from their friends and family.
One of the best parts of peer-to-peer fundraising is watching your supporters get creative with how they raise those funds. Many participants opt to host their own fundraising events; they're a great way to have fun while raising money! They come up with an idea and host a fundraising event. They turn in their donations, and you credit the money they raised to their overall fundraising total.
Peer-to-peer sub-events are a valuable way to raise money, connect with supporters, and have a blast with your most engaged participants. Read on to learn about different types of fundraising events and how to support your fundraising participants.
Company-Wide Peer-to-Peer Sub-Events
If you're running a large event with multiple corporate sponsors, consider working with them to host company-wide sub-events. Employees participating in your event can compete against each other to raise money, or work together and split the amount they raised among themselves.
In this kind of event, participating employees can engage their coworkers by hosting an internal fundraising event. One neat company-wide peer-to-peer sub-event we've seen was a fundraising carnival; different teams set up carnival games (ring toss, dunk tank, etc.) and charged a few dollars to play. The money each team collected during the carnival was credited toward their overall fundraising goal.
Another fun example was a pie-in-the-face fundraiser put on by a company who was raising money for a Junior Achievement Bowl-a-Thon. Different departments were already competing against each other to raise the most money, which gave management an idea. Employees could donate to the person they most wanted to get a pie in the face, and the top three earners got the pie.
These company-wide sub-events are great for your organization, but they're also great for company morale. If your peer-to-peer campaign can accommodate this type of sub-event, it could be a fun addition to your fundraising strategy!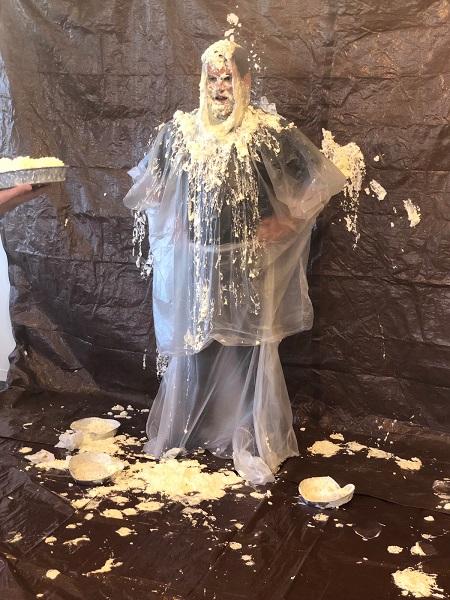 Individual and Team-Based Peer-to-Peer Sub-Events
Sub-events can be done on smaller scales, too! Teams and individuals have lots of room to get creative, especially since they don't have to deal with large departments (or HR departments, cough). They probably won't raise as much money as a large corporate event, but they're still fun opportunities to raise money (and visibility!) for your organization.
Encourage your participants to flex their creative muscles when planning these sub-events. At Qgiv, we've seen so many fascinating, hilarious, and fun examples of peer-to-peer sub-events. Some of our favorites include:
Bar-crawls or happy hours with a portion of the proceeds donated to the organization
"Supper Clubs" put on by fundraisers; diners buy access to an exclusive dinner that benefits the fundraising organization
Restaurant partnerships where a portion of sales are donated to the nonprofit
Personal "stunts," including everything from head-shaving to a "jail and bail" involving team members being "jailed" until they raise enough money to be "bailed" and freed.
The only real limit here is your participants' creativity! Give them the freedom to come up with fun ideas and watch what they come up with.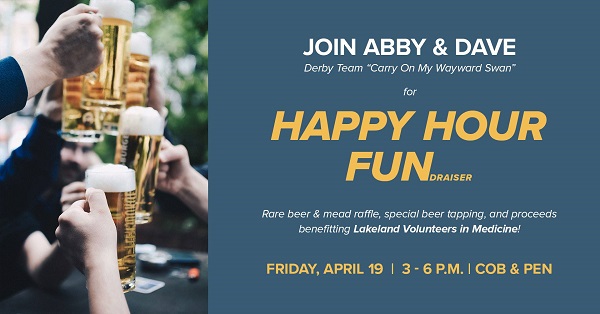 How to Encourage Peer-to-Peer Sub-Events
Your participants are the ones who will plan and run their sub-events, but you're not totally off the hook! Like your larger peer-to-peer fundraising event, sub-events do require your involvement.
If you want your participants to host sub-events, let them know it's an option! Consider including blurbs about sub-events in your recruitment materials and mention them in your onboarding packets. You could try adding notes about sub-events to fundraising participant toolkits, too!
Give your participants' sub-events a boost by interacting with their posts on social media. Ask participants to tag your organization in their social posts, then make a point of liking and sharing their content. Staying engaged with participants on social media shows them you care, and it can also help their posts gain more visibility on their networks' feeds.
Perhaps the most important way to support your participants' sub-events is to attend them (unless it's impossible to go) and to make yourself available to them. Show up early to help them set up, if necessary. Ask them if you can bring pamphlets or brochures in case attendees want them. Have a drink (or a Sprite, if you can't drink). Being present at sub-events shows participants you value them, and it shows sub-event attendees that your organization actively engages with the people who support you.
Conclusion
Peer-to-peer sub-events are small fundraising events put on by peer-to-peer fundraising participants. The money they raise is credited to their fundraising total. Encouraging your peer-to-peer participants to try their hand at sub-events is a fun way to raise more money, reach more potential donors, and build relationships with your supporters. Sub-events come in many forms, from big corporate fundraising events to small private dinners and happy hours. Plus, participants love the opportunity to get creative with how they raise money for your cause. Give your fundraising participants the tools and support they need, then watch their creative sub-events take off!