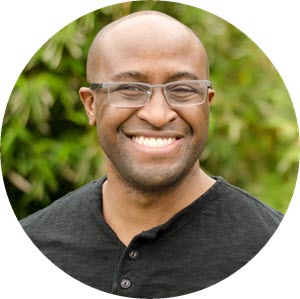 About De'Yonté Wilkinson: De'Yonté is the Director of Site Builds at Cornershop Creative. De'Yonté's a late-80s baby who found his passion for web design and development during MySpace's heyday, when he helped his friends create awesome profiles. He's spent the last three years specializing in WordPress and conversion optimization, and is an active proponent of coding guidelines. In his off time he enjoys cooking, rugby, and hanging out with his wife.
As you know, your organization's website is the heart of your online fundraising strategy. From the moment donors land on your homepage to when they click that submit button on your donation form, your website's design, navigation, and content influence how they will connect with your organization and your mission. Still, sometimes encouraging potential donors to contribute can be a little tricky without the right nonprofit website builder backing you up. 
Enter WordPress.
WordPress is the most popular website builder on the internet, and for good reason. Used by a wide range of businesses stretching all the way from The New Yorker's official site to Disney's official "Star Wars" blog, WordPress is able to support such a large number of organizations due to its high customizability.
This means that your nonprofit, no matter how big or small, can cash in on the same perks as these massive corporations—if you know how to use the platform. To help your nonprofit make the most of WordPress, your nonprofit should:
Invest in a custom design.
Research and add plugins.
Make the most of analytics and sharing tools.
Use WordPress's extensive community to find resources.
Keep in mind that while WordPress is brimming with possibilities, all of that potential is only potential until it's actually put to use. But don't let this intimidate you! Even if you aren't a coding master or tech wiz, your nonprofit can still design a website full of personality and passion.
1. Invest in a custom design, created by someone who understands nonprofits
Picture this: you're about to start designing the website for your nonprofit. You've created a WordPress account, registered a domain name, and are browsing all of the different themes that WordPress has to offer. The themes are sparkly and clean — and you think you've found the perfect one. But, hold on a minute, is this really the best choice?
WordPress is used for nearly every kind of organization under the sun, which means that most pre-built WordPress themes were created with a more generic, for-profit organization in mind. It might be tempting to squish your content into the constraints of a really pretty WordPress theme, twisting and molding your text here and there until everything is shoved into place.
Maybe you even try hiring the flashiest marketing firm in town to get everything to fit, but then they could miss the mark by focusing more on looks than the substance and more on the sale than the donation. The end result could mean a snazzy looking website, but not necessarily one that drives meaningful engagement nor donations. 
This is why investing in a custom theme built just for your nonprofit matters. WordPress has a large range of personalization and design options, so there's no reason to limit yourself to a few generic options, especially if you're taking a do-it-yourself approach. In fact, here are just a few things investing in a custom, nonprofit-focused theme can help you do:
Focus on user intent. Think about your website not just as a place to host your nonprofit's content, but as a place that potential supporters visit to get things done. This perspective puts you in your donors' shoes, which helps you figure out how to guide them to your donation page. 
Showcase your unique brand voice. Let's say you download a highly recommended pre-built theme and start uploading your content. You add backgrounds, text, and when you go to add your logo to the header, you discover that it doesn't quite fit. With a custom theme, you won't need to compromise on your brand image or redesign core assets like your logo around what your pre-built theme can handle.
Consideration of software integrations. Your CRM, donation page, and other fundraising software all need to work with your website. When you partner with a nonprofit web consultant to help build your website, you can ensure all of your core software integrations will have a home on your site.
If you have web design and coding knowledge, you can play around with some aspects of your theme yourself to add personal touches to your website. However, if you're looking for a complete overhaul and truly custom design, consider partnering with a nonprofit web consultant who has experience in building unique websites in WordPress.
When finding the right consultant, be sure to look for someone who understands nonprofits. Otherwise, you might team up with someone who doesn't put your mission or fundraising at the center of your site, exactly where they need to be.
2. Research and add WordPress plugins
WordPress plugins are the engines that drive the features or functionality on your website: add-on features like events calendars, comment forms, and timeline graphics. If your WordPress theme is a house, a plugin is the fancy new flat-screen TV or a new washing machine. When used right, plugins can increase engagement, website session times, and even donations. 
Finding the right plugins for your website requires taking inventory of your website's needs, and knowing how to pick a high quality plugin before you download and install it. Cornershop Creative's guide to the best WordPress plugins has some suggestions, including:
Be selective. When you first start browsing plugins, they might all seem new and exciting, but don't get too excited and download way more than you need. In some cases, plugins have more cons than pros, such as increased load times, potential security vulnerabilities, and unnecessary expense, so do your research and pick carefully!
Consider both front- and backend plugins. Interactive plugins that catch your visitors' eye and persuade them to make a donation are worth every penny (like this WP Popup plugin), but less visible backend plugins can be just as valuable for keeping your website and media organized and user-friendly for your staff members.
Avoid getting scammed. Some plugins may sound like they're too good to be true, and they really might be! Before downloading a plugin, double check whether the developer is active and makes regular updates, what reviews say, and how many reviews there are. Plugins with lots of reviews that offer insightful feedback from a users' perspective are the ones to trust.
Don't let this scare you away from plugins altogether. The right combination of plugins can make your website unique and create a more interactive, memorable experience for your supporters. Just make sure you go into plugin shopping with the right mindset, ready to consider all your options.
3. Make the most of analytics and sharing tools
Your website is many things: a way for supporters to learn about your cause, a place to host your content, and, most importantly, a marketing tool to attract attention and earn donations. Your nonprofit likely already has a marketing strategy, and your WordPress site comes with a few tools to give you a boost. 
Plugins and analytics tools can provide an overview of how visitors are interacting with your website. Some valuable features include:
Reporting. You can learn a lot from how visitors interact with your website right in your WordPress dashboard, but you need the right analytics tools to provide insight into how your visitors are finding your website, what pages they are spending time on, and how they navigate your site. The most popular Analytics tool is Google Analytics, which has many ways to integrate with WordPress, but others, such as HotJar, Piwik, and Leadfeeder, can also provide information about how people are interacting with your website.  
SEO features. On the surface, search engine optimization might seem needlessly complex and not worth the hassle. But SEO optimization can seriously increase your nonprofit's visibility on the web. Fortunately, WordPress SEO plugins, such as Yoast SEO, can help you assess your page's readability and search engine performance.
Social media sharing options. Investing in the most expensive website won't attract visitors unless you promote it. But you can tap into social sharing services and easily share your posts across the internet with optimized social media features that help adapt your content for each platform you share it on.
Most nonprofits find that their website is worth the investment, but if you're strapped for resources, you can take a DIY approach to SEO marketing, implementing SEO best practices yourself with a little research and dedication, so you can devote funds to other must-have features.
4. Use WordPress's extensive community to find resources
The WordPress world is a huge community, full of supportive designers, developers, coders, and quirky website enthusiasts. With WordPress's extensive network, chances are that with a little research, you should be able to find what you need to make your website truly shine, such as:
Technical assistance and troubleshooting. WordPress's lively community contains tech FAQs, troubleshooting forums, and technical support experts who are eager to help. Plus, if you partner with a nonprofit website developer, you'll have a reliable tech expert who's already familiar with your website.
Nonprofit website designers. Web design is a lovely cocktail of art, science, and technical expertise. Most nonprofits interested in creating a professional looking website can find what they are looking for by reaching out to a nonprofit website design consultant. Assess each consultant's portfolio of clients and see if you can imagine your own website among the ranks of their top designs. If you can, it might just be a match!
Custom software developers. If you find yourself feeling like something's missing when browsing plugins and software integrations, you might want to look into custom software development. Custom software developers work with your ideas to create plugins and applications made exclusively for your website.
WordPress is also constantly updating, which means its community is evolving and growing right along with it. Finding resources you can rely on and forming long-term relationships with reliable experts can help you navigate changes, tech errors, and almost anything else that might pop up.
Final Thoughts
WordPress is a great tool, and like any tool, it requires a bit of knowledge on how to reach its greatest potential. Whatever theme, plugins, analytics, or additional resources you use, it's most important that your website is true to your nonprofit's brand and mission.
Sometimes putting together and updating your website can feel like just one more thing on your to-do list, but with a little dedication and the right resources, you can build a website that reflects the passion you put into every other part of your nonprofit organization.
Need more resources to help you improve your nonprofit's website? Check out these additional articles: