Earlier this year, we teamed up with the folks over at Campaign Monitor to take a look at communication between nonprofits and their donors. During the study, we asked ourselves two questions: What do donors want to hear from nonprofits? And what are nonprofits telling their donors?
What we discovered was a disconnect between what nonprofits thought donors wanted and what donors actually want. Donors aren't really concerned with relationship managers, holiday campaigns, and letters—what they really want is real stories about real people. You can learn more by watching the webinar here!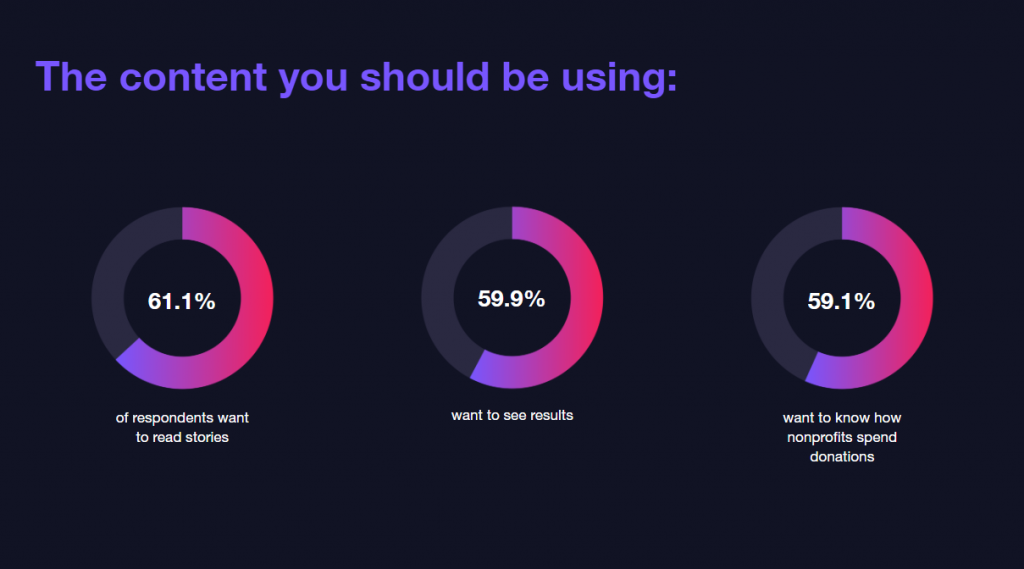 Here are 5 key takeaways that build upon that finding.
1. Donors want to hear real stories about real people who benefit from a nonprofit's programs.
Donors want to know about the people that benefit from your programs. Notice that I didn't say they wanted to hear about your programs! It's a fine line, but it's an important one.
When donors give, they want to know that their gift will help real people. So, if you want donors to support your organization, show them the people that will benefit from their gift! Remember: people give to people, not organizations. Show them the people they help!
Example
Weak: "By donating to our holiday campaign, you'll help support our work in our county's schools."
Better: "By donating this season, you'll help get students like Caroline the tutoring and after-school care they need."
2. Donors prefer to hear from real people at your organization


Your donors are inundated with emails and social posts from brands, companies, and nonprofits. Use my personal inbox as an example: today alone, I've gotten emails from more than 40 brands and at least three nonprofit organizations. Do you know how many emails from real people I've gotten? One.
We hear from companies and businesses all day, and we become numb to seeing different brands pop up in our inboxes, on our social channels, and in our mailboxes. If you want to stand out, speak to your donors as a real person.
Try this: next time you send a newsletter or appeal letter, change the name of the sender from your organization's name to the name of a real person. Or, instead of writing an appeal that refers to your organization as a collective "we," have a single individual write your appeal and sign it. This personal touch will make your communications stand out from the crowd and will help your donors connect to your mission on a personal level.
Example
Weak: "At our organization, we provide supplemental in-home health care to pediatric patients."
Better: "Every day, I go to work and see kids healing and growing where they're most comfortable—their homes."
3. Donors want specifics before they decide to give
When donors decide to give, they'll base a large portion of their decision on the story you've told. But they're not totally committed to giving yet; to get there, donors need to know some of the specifics about their gift. What will it accomplish? Who will it support? How are you going to use it?
In your donor communications, make sure donors understand the details by:
Including an impact statement for each suggested donation amount
Using images to show donors the kind of people they will help with their gift
Adding "trust indicators" to your donation form (think Guidestar badges and testimonials)
Showing donors how others have benefitted from your services
There's a pattern here! Donors want to know who their gift helps, how their gift helps, and proof that their gift will make an impact.
Example
Weak: "Please donate to our holiday campaign!"
Better: "By donating this December, you'll provide more than hot meals for hungry members of our community—you'll provide peace of mind."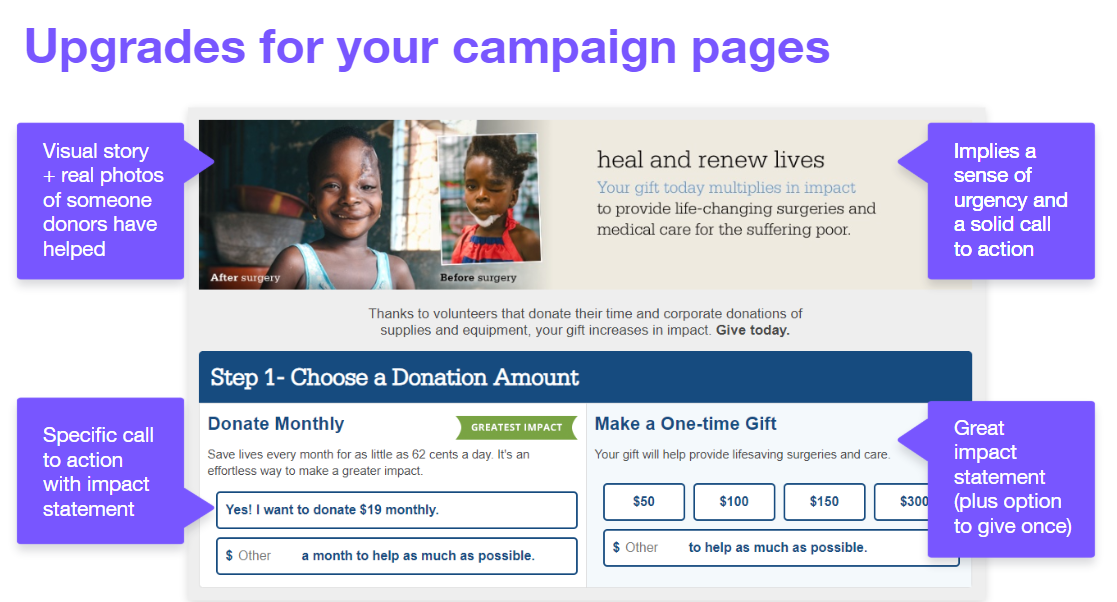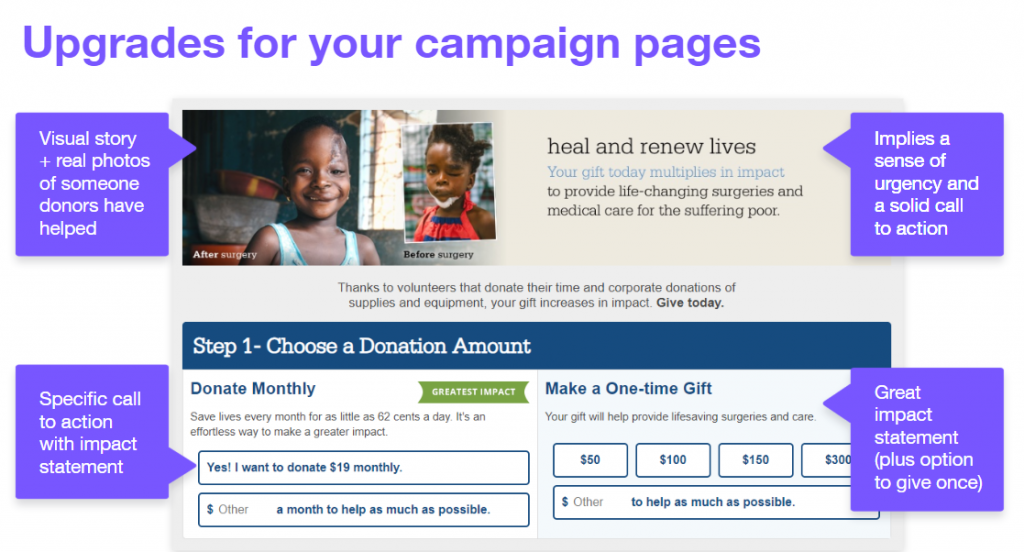 4. Building multiple donation forms keeps your content relevant
You probably have several different campaigns, programs, or initiatives running at the same time. When you're sending donor communications about your different programs, resist sending all your donors to the same donation page! Instead, build different donation forms for different programs and for different segments of donors.
Here's why.
Pretend you're an animal rescue foundation raising money for a badly injured puppy that needs medical care. You've built a dynamite appeal letter and sent it to your donor base. A donor is smitten with the puppy and wants to donate to cover her medical bills. They click on the donate button and land on the same donation page they used to make their last gift. After a quick scan of your available restrictions, they choose "where the need is greatest" and wonder if the money will end up in the right place.
Alternatively, pretend the same donor clicked on a donation form that includes an image of the puppy and a note about how their gift will help her recover more quickly. They don't have to choose from a list of restrictions; the intro content already explains how their gift will help the dog.
In which scenario is the donor more likely to complete their gift?
Building unique campaign donation forms can help you create a better donor experience for your supporters. It also lets you target your donation forms' messaging to different donor segments (think one-time vs. recurring donors, high-capacity donors vs. the general public, etc.). It can even make attribution easier!
Example
Weak: "Please choose which program you'd like to support with your gift."
Better: "Your donation will go directly to this program!"
5. Peer-to-peer fundraising can be a valuable donor acquisition tool
Campaign Monitor's study revealed a disconnect between the way donors and nonprofits approach events. Nonprofits tended to perceive events as a valuable way to find new donors. Donors, though, said they didn't prefer to find new nonprofits by attending events.
Peer-to-peer fundraising bridges the gap between donor preferences and nonprofits' expectations. This particular fundraising style involves recruiting existing donors, volunteers, and other supporters to raise money on your behalf. They'll build their own fundraising pages, tell their friends and family why they're passionate about your cause, and ask them to donate, which:
Helps raise your visibility and get your message in front of people who you may never reach otherwise;
Creates tons of opportunities to expand your donor base when others support your fundraising participants (be sure to have a strong donor retention system in place!);
Strengthens your relationship with participants; and
Gives you opportunities to identify more real stories from real people that you can tell in future campaigns.
Remember, donors want to hear real stories from real people. What better way to share those stories than to let others tell your stories for you?
Want to Know More?
At Qgiv, we're donation form nerds. If you want to know how to tailor your donation forms to match your donors' communication preferences, we can show you! Take a look at our donation form check-up checklist, then ask us for more information (or see a demo!) about how you can use Qgiv's tools to create a great donor experience.