Are you working on your Giving Tuesday campaign? Do you wish you could take a peek at what other nonprofits are doing before the big day? Well, good news—we did a roundup of some of our clients' coolest Giving Tuesday campaigns and found lots of examples to delight and inspire you.
How can you work these ideas into your own campaign this year?
1. Set (and share) a goal for your Giving Tuesday campaign
Donating to a charity is proven to make people feel good about themselves. You know what else makes people feel good about themselves? Working with others to reach a goal. That's why setting a fundraising goal this Giving Tuesday is important! Anything you can do to give donors a set, tangible goal—preferably one that's tied to a tangible impact or outcome—will inspire donations.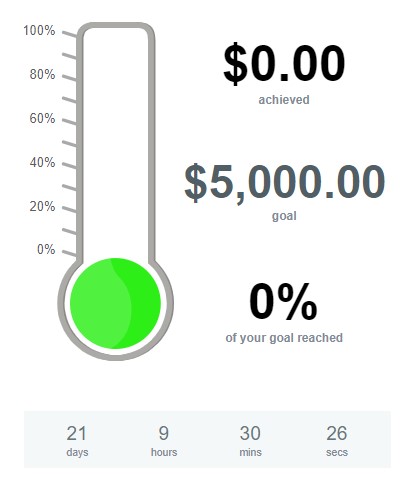 If you decide to go this route, try using this next strategy:
2. Prime the proverbial pump
When I worked in a restaurant, we had a tip jar by the cash register. And, every morning, we put a few dollars in the jar to encourage people to tip. It's a weird psychological trick, but it works! People are more likely to tip if they think others have tipped. The same concept applies to fundraising—people are more likely to give to a campaign if they know others have already done so.
That's why it's a good idea to reach out to a few donors and ask them to give to your campaign before its big launch. People are more likely to tip if there's a few dollars in the jar, and people are more likely to give to a campaign if there's already a few dollars on the board.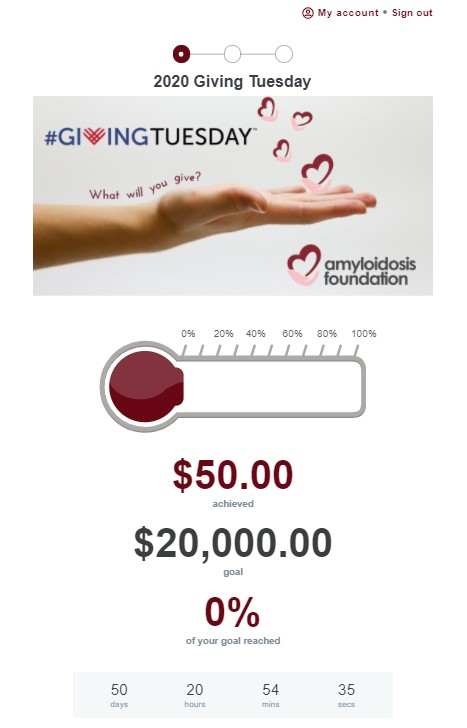 3. Focus on showing impact
Your donors want to know that their gift will make an impact. That's true year round, but it's an especially important point to remember on Giving Tuesday. Think about it: Giving Tuesday falls right smack in the middle of one of the biggest shopping weeks of the year, right after Black Friday and Cyber Monday. Donors are already in the mindset of exchanging money for tangible items, whether it's a television they got after standing in line or a sweet new InstantPot they snagged on Cyber Monday. Help donors understand their impact by tapping into that mindset. Show them what their money will "buy!"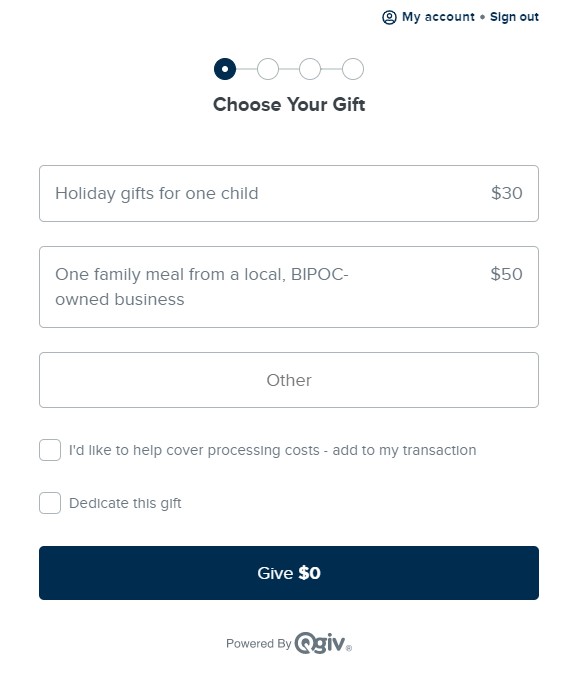 4. Prioritize donor-centric language
Sometimes the simplest concepts are the hardest to remember. When you're a nonprofit fundraiser, you want donors to support your organization: you need them to help you keep the lights on, keep your programs running, and keep you moving forward as you work in your community. But remember: donors give to causes, not to organizations. If you want people to donate to your cause, take yourself out of the equation! Instead of talking about what YOU'LL accomplish when they give, talk about what THEY'LL accomplish when they give.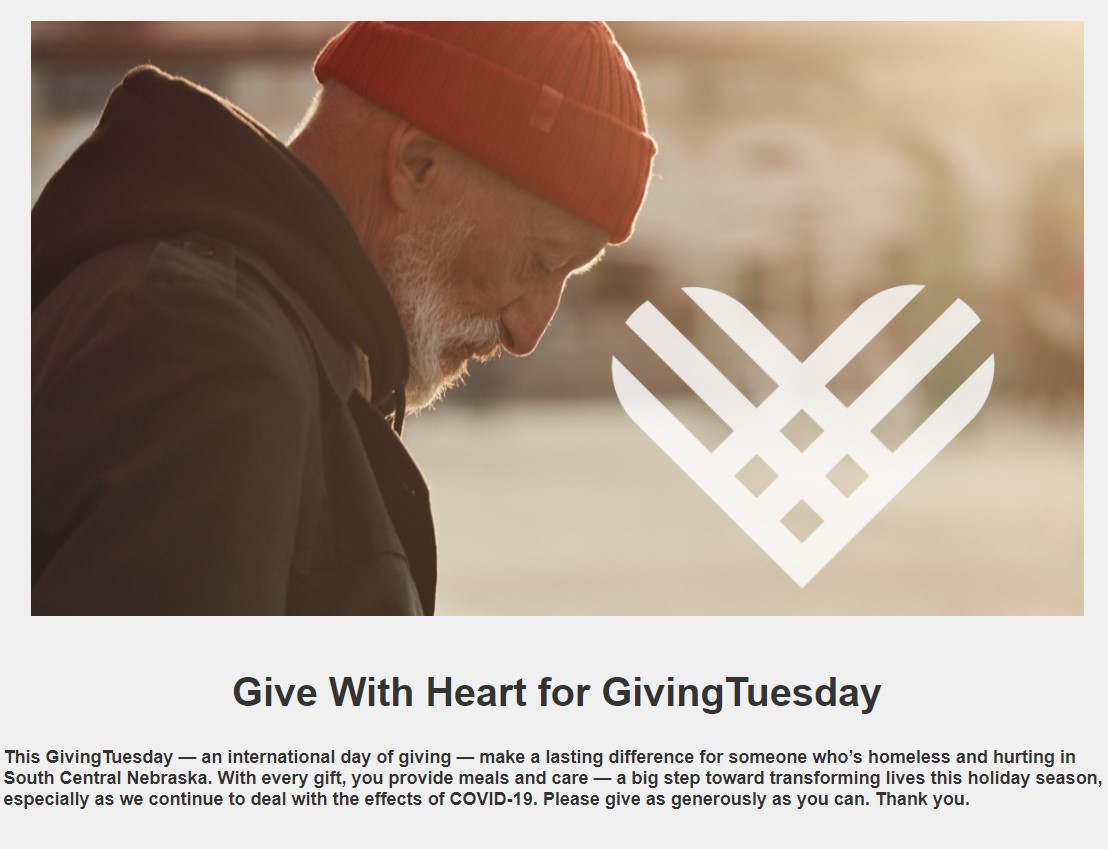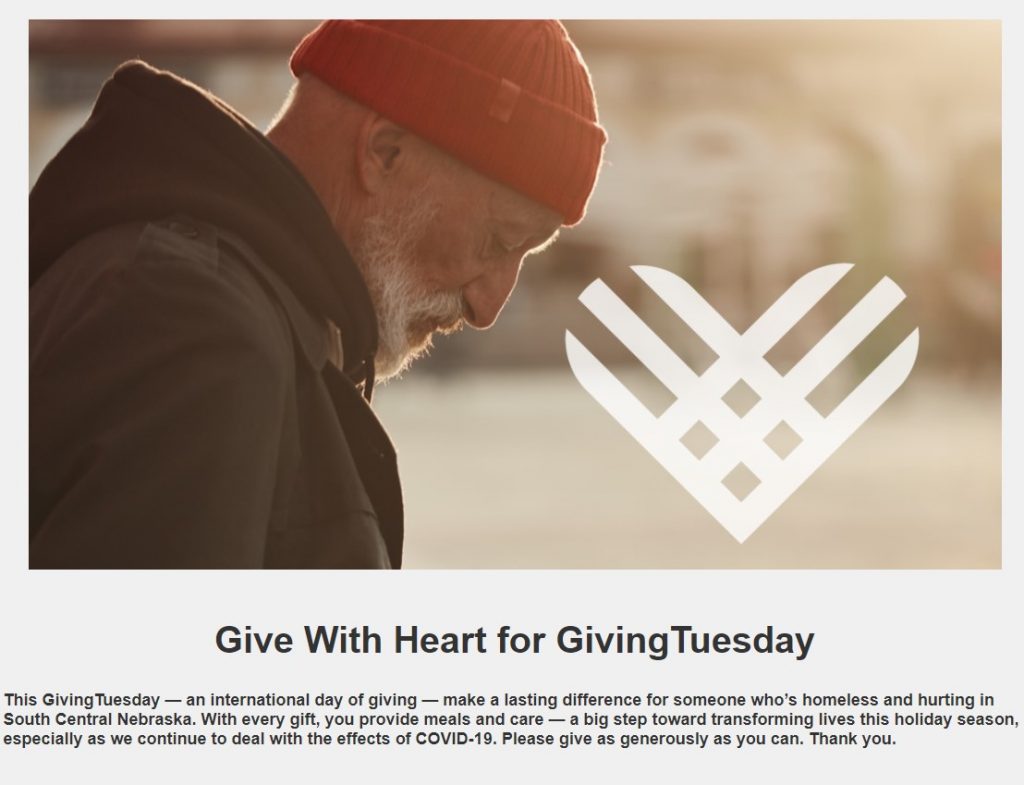 5. Reiterate recurring donations
One of the biggest fundraising challenges associated with Giving Tuesday is keeping new donors engaged with you after the holidays. It's absolutely critical that you build a retention plan for Giving Tuesday donors (if you want to read more about this, check out this article over here!). In addition to putting a good donor retention strategy in place, you may want to consider increasing donor retention rates by encouraging recurring gifts.
Recurring donors are invaluable! They give more over time than one-time donors and they stay engaged with your nonprofits for much longer periods of time. Recurring gifts also represent a reliable revenue stream, which is important when budgeting and planning projects. Building a base of recurring donors is an important part of creating a sustainable fundraising program.
One way to do this is to use design elements on your donation form or website to draw attention to your recurring gift options. Whether you use fancy custom design or something simpler, make sure you let donors know they can make a bigger impact by making their gift on a regular basis.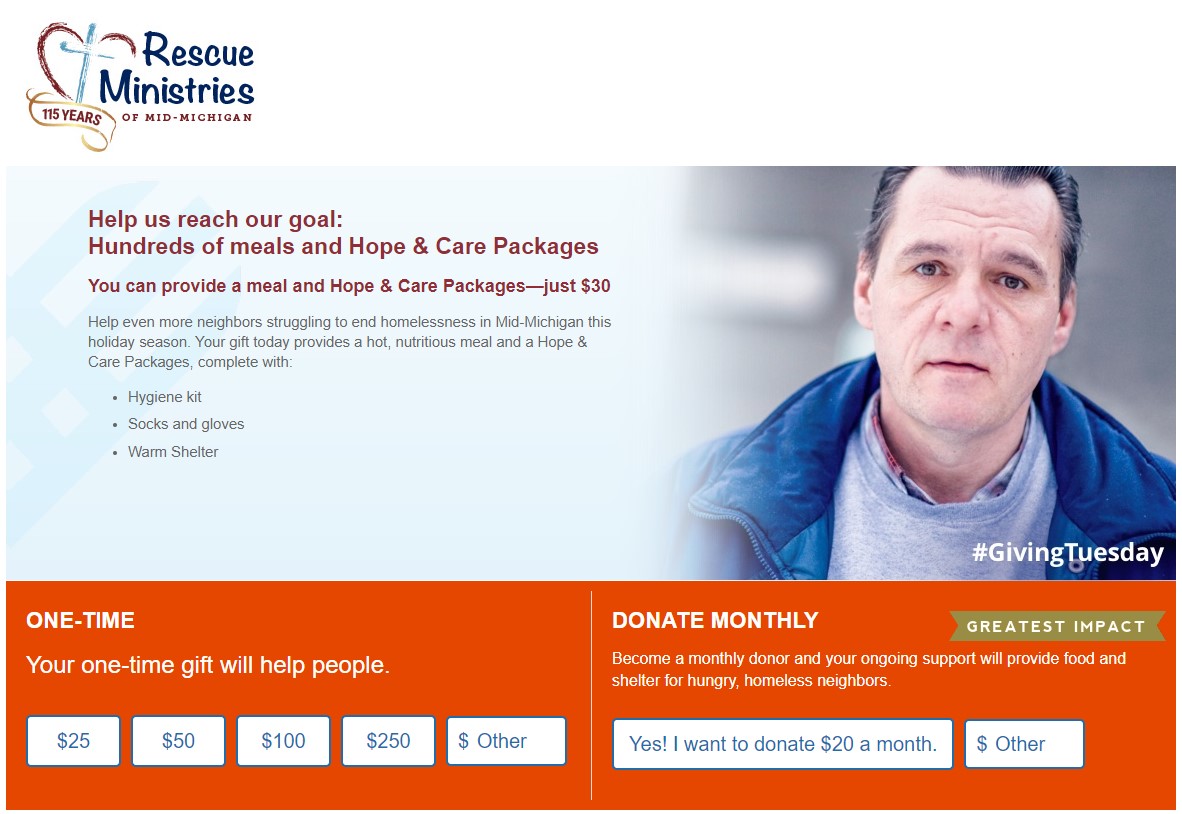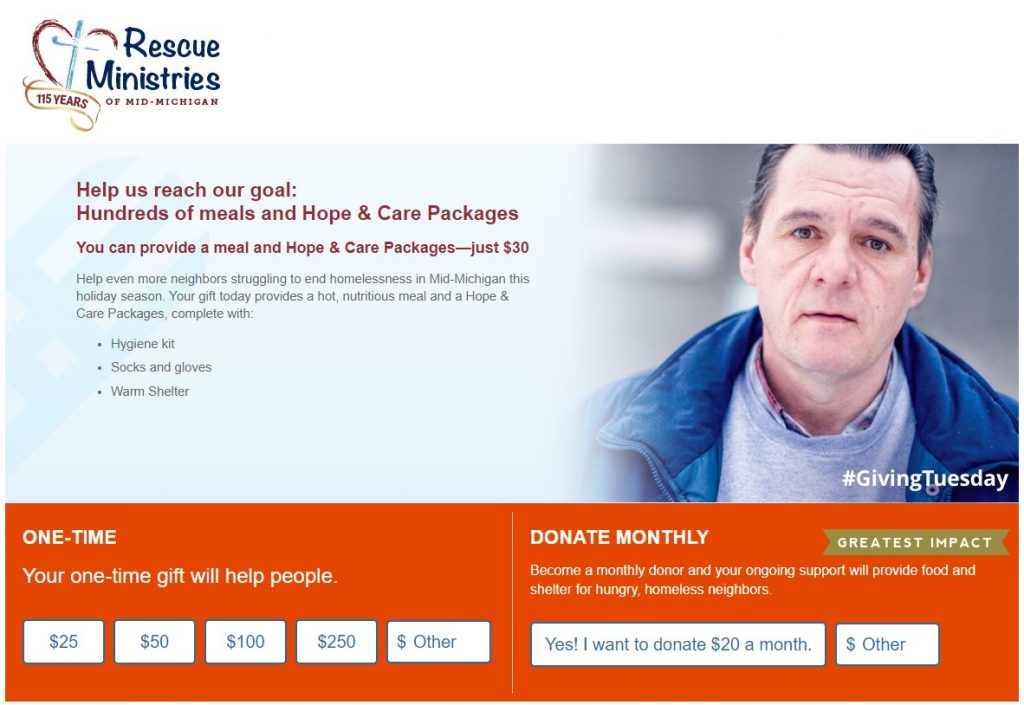 Another effective way to inspire donors to give on a recurring basis is to create a special group exclusively for recurring donors. Giving donors a sense of being in a group that's "in the know" or especially connected to your organization is really effective! Consider creating a special newsletter for your group of recurring donors or offering incentives like promo codes for events. Donors will love being part of a special community, and they'll appreciate the added value of special updates or incentives.

6. Try a peer-to-peer event
When we hear "peer-to-peer," lots of us envision 5ks or bicycle races. But peer-to-peer fundraising can be so much more than that! A peer-to-peer event doesn't have to culminate in a race or other event. Lots of nonprofits are getting creative and using peer-to-peer fundraising tools for Giving Tuesday. Try getting your board members, donors, and volunteers involved by asking them to raise money on your behalf this year. They can set up their own fundraising pages, share their stories with their friends and family, and raise money for your cause.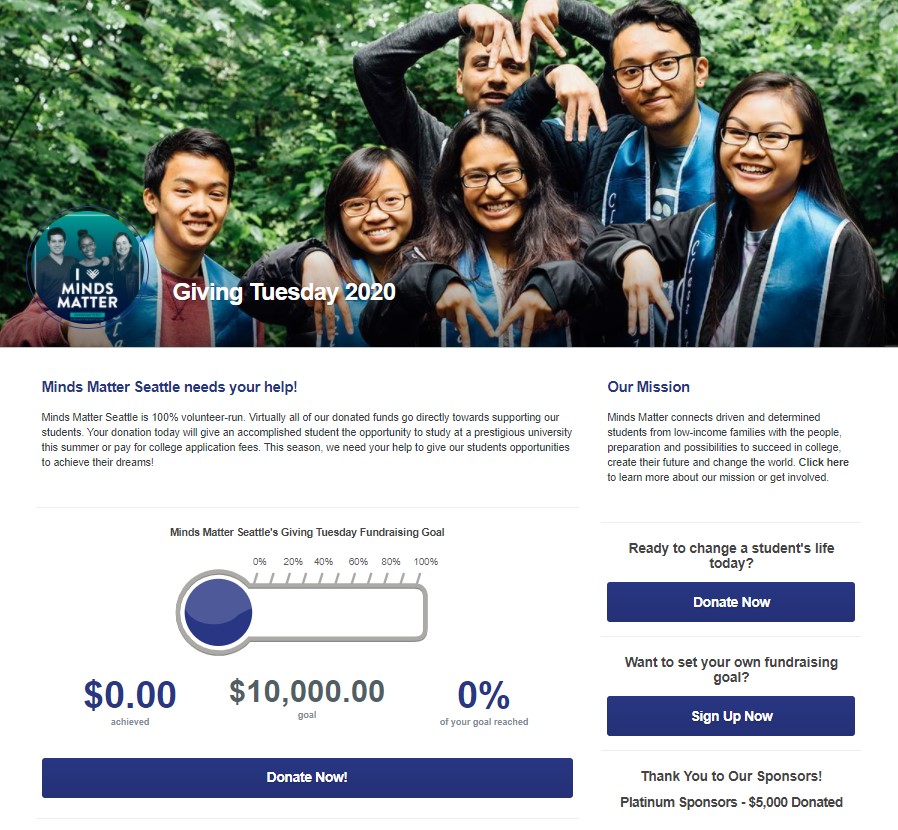 Planning and executing a peer-to-peer fundraising event takes a little extra creativity and resources. But, with the right participant fundraisers and some preparation, running a peer-to-peer event can be a great way to reach new donors this Giving Tuesday.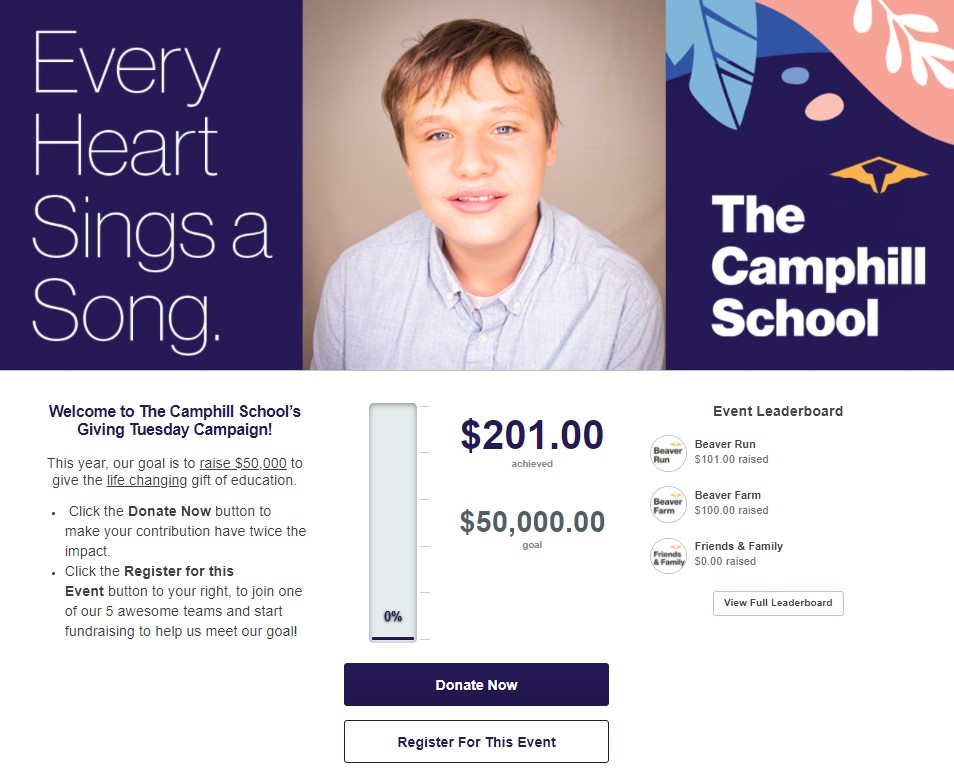 As with the campaign thermometer tip we mentioned above, it's a good idea to recruit some participants and process a few donations before Giving Tuesday. It shows other donors that their peers are already excited about your campaign and that they should get involved!
7. Spread a little joy to your donors
When people make a donation, the process often feels very transactional. They give you, the nonprofit, some money and then they wait for updates. Their interactions with the people they're supporting are limited.
That doesn't have to be the case! Get creative and give donors a way to interact with your clients and beneficiaries. Give them the opportunity to leave notes or photos for the people their money will support. Let them buy items or make in-kind donations that will meet specific needs. Look for ways to connect them on a very personal level to the people they want to support.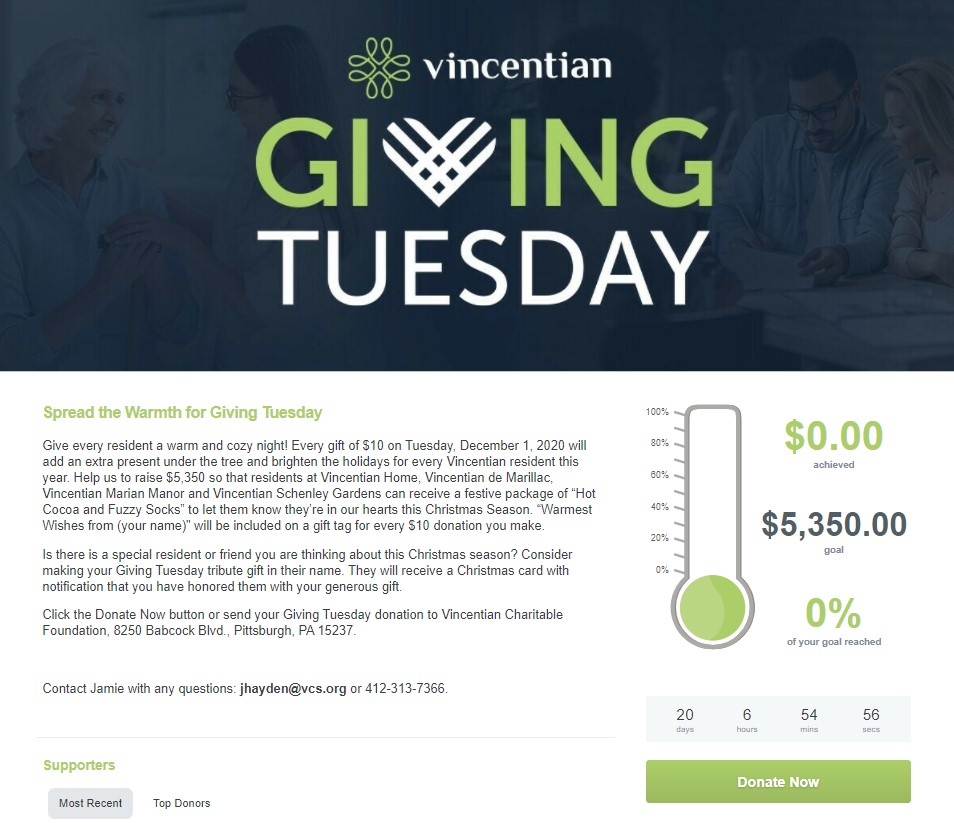 Alternatively, you could try letting donors "buy" something for your campaign. They could buy a brick for your building fund, which is a tried-and-true fundraising method. Or they could buy something a little less traditional. Give donors the opportunity to buy Christmas gifts, packages of food, or other items that go to your clients and beneficiaries. Or you could do something fun, like set up a challenge for donors to meet that has a fun outcome, like this "Pies for Progress" campaign.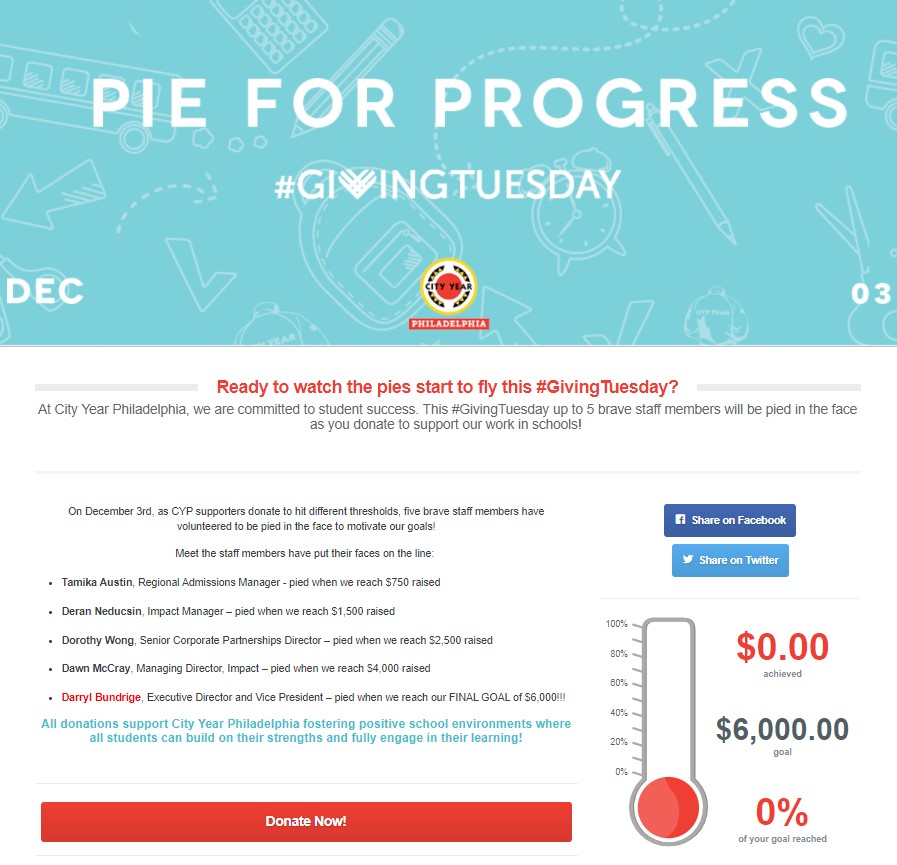 8. If possible, run a matching campaign
Everyone loves a good deal, and your donors are no exception. Try running a matching campaign and letting donors know that their gifts can count for double!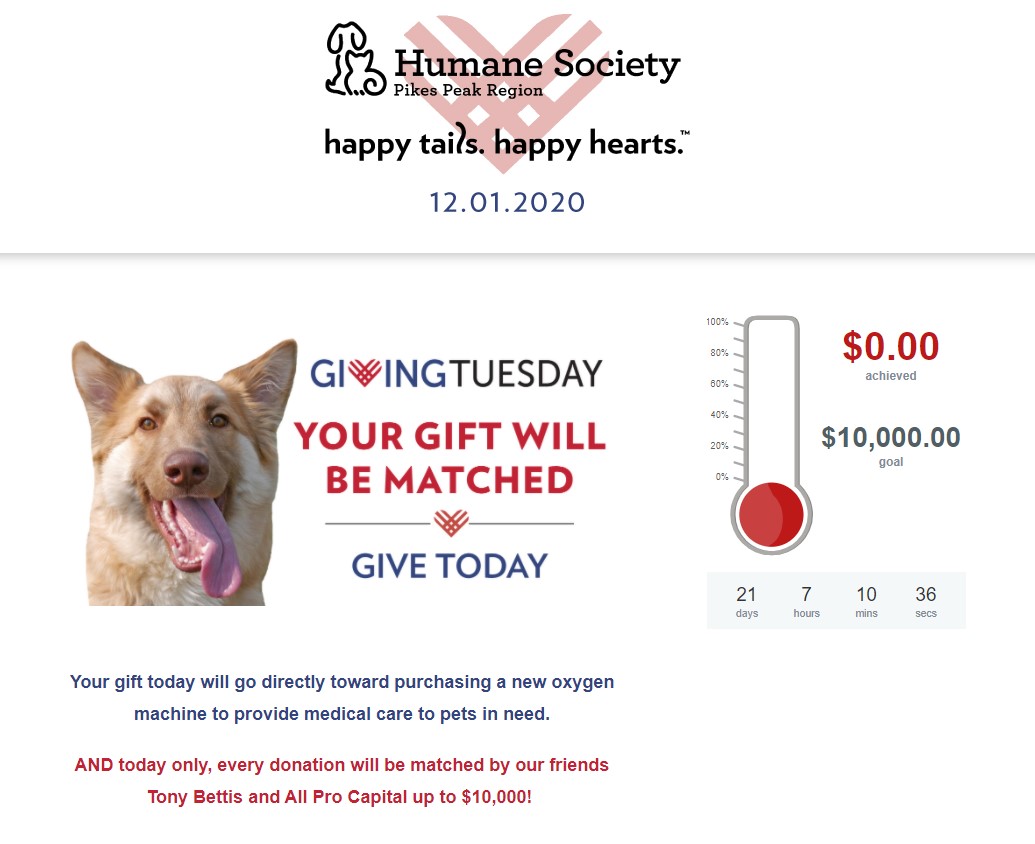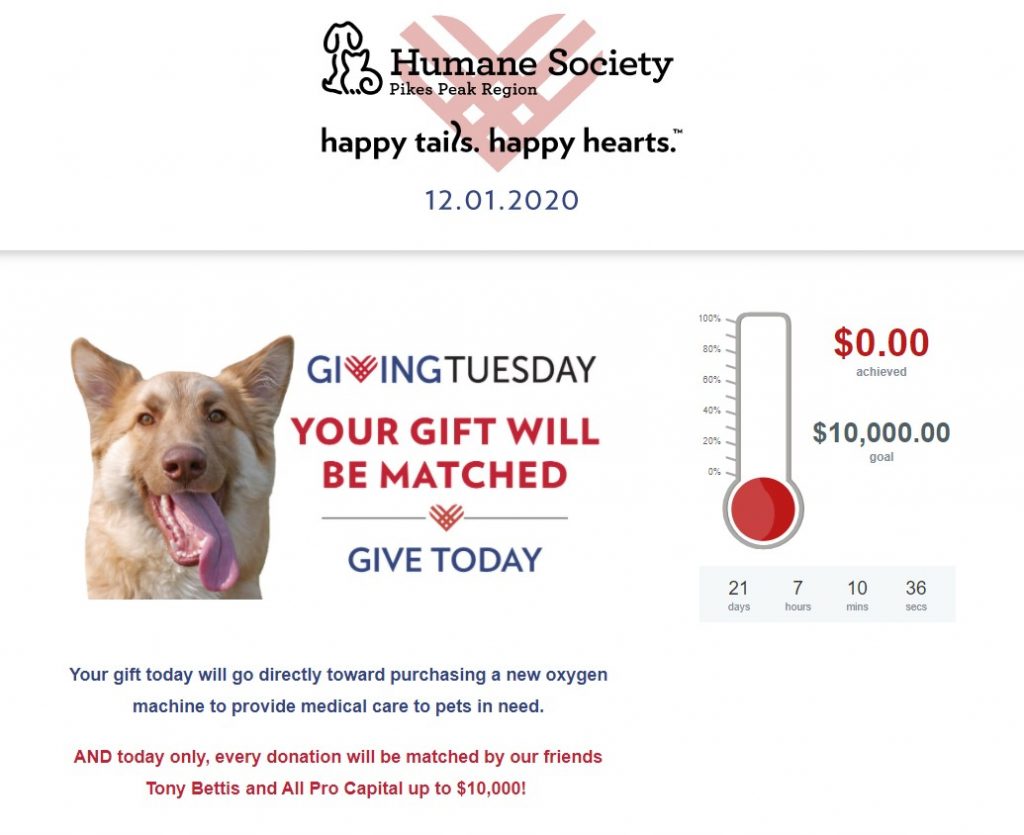 If you decide to try running a matching campaign, be sure to highlight the matching opportunity in your emails, on your social media channels, and on your donation form. If there are any specific requirements donors have to meet, tell them about them! Donors may be willing to give a little extra if they know their gift will help get you to your goal.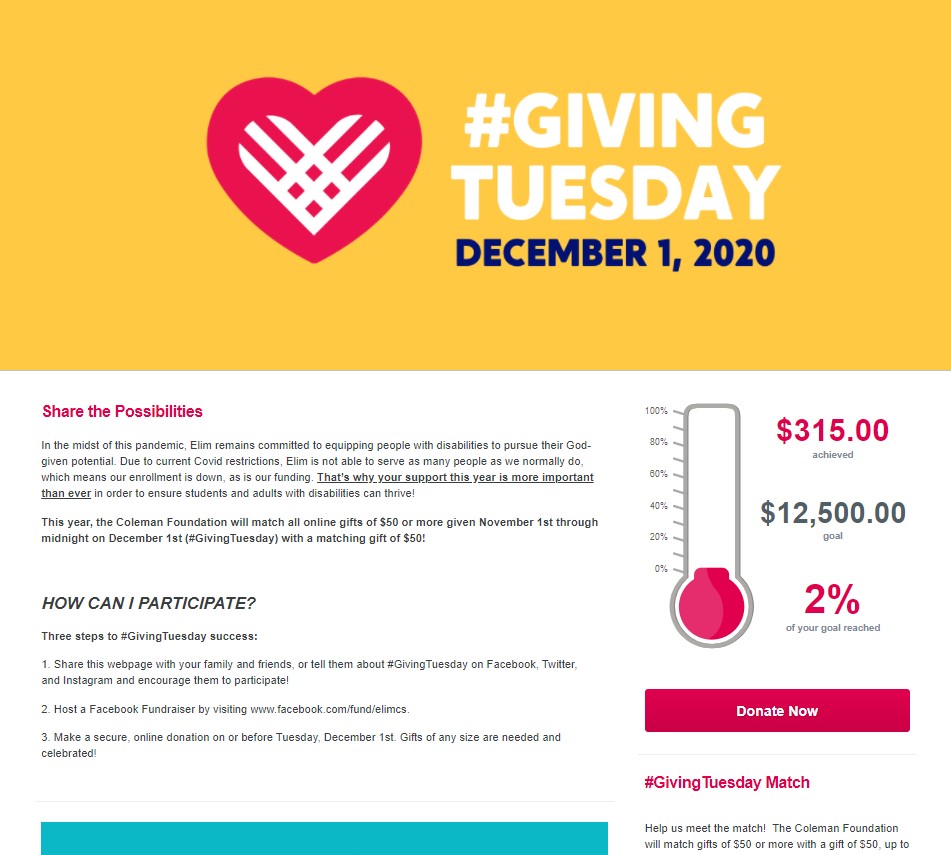 Conclusion
Giving Tuesday is one of the biggest fundraising days of the year. If you're participating this year, try stealing some of these ideas! Show donors their impact, make your campaign personal, and make the most of peer-to-peer fundraising and matching gift opportunities.
Looking for more Giving Tuesday resources? Check out the Giving Tuesday area of the Qgiv blog or download our Giving Tuesday guide!