Who They Are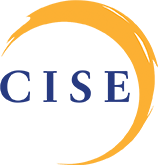 Catholic Inner-city Schools Education Fund (CISE) is a Cincinnati-based nonprofit organization that began to help keep vulnerable inner-city elementary schools open. Since then, the mission has evolved into a comprehensive solution aimed at alleviating poverty and fighting inequality through access to quality education. CISE accomplishes this through excellent academics, the formation of values for life, and a safe, structured, and supportive environment in which all are welcome.
What They Did
Catholic Inner-city Schools Education Fund hosted a successful fundraising event, then used their event page to thank those who contributed to their fundraiser.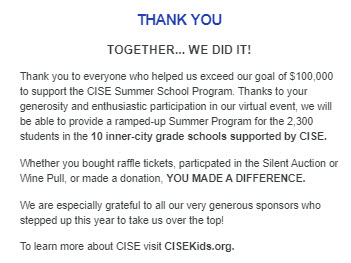 CISE recognized that their supporters want updates about how the event went, the total that was raised, and how their organization plans to use that funding. As part of their post-event communication plan, CISE updated their peer-to-peer event page thanking donors and providing an update rather than taking the page down after the event ended.
By leaving the page up for future viewing, even temporarily, they've created another channel for participants and supporters to be thanked and kept informed about their plans after the event.
What You Can Do
If you're hosting a fundraising event, rather than take your page down after the event ends, consider leaving it up for a couple weeks after the event. Update the messaging on the event page with a heartfelt message of thanks and an update on how much was raised and how you'll use that funding.
Your supporters give because they care about your mission. Let them know that their faith in your nonprofit's ability to get the job done isn't misplaced.
Instead, adding another channel for post-event follow-up helps ensure those interested in learning about the results of the event can access that information in a transparent way. By being up front about how you'll use their funds after the event, you'll build trust with your donors, which can only further endear them to your cause.
Do you want to get more great fundraising ideas delivered straight to your Inbox? Subscribe to our weekly blog digest.