Our friends at Furry Friends Adoption, Clinic & Ranch recently ran a super-successful telethon. This outstanding animal shelter in Jupiter, Florida saw amazing results with their unique approach to raising funds for their new shelter. With Giving Tuesday quickly approaching, you might want to consider using the telethon method to raise funds for your organization! By using a combination of social media marketing and Qgiv's Mobile Suite tools and taking advantage of matching gifts, you could make this Giving Tuesday a huge success!
Telethons: Old Concept, New Tools
Telethon fundraisers are nothing new. Jerry Lewis raised more than two billion dollars over the years using this fundraising format benefiting the Muscular Dystrophy Association. This long-running telethon raised crucial funds (and awareness of muscular dystrophy) from 1966 until 2010 without changing its format.
While telethons are nothing new, technology has enabled nonprofits to raise more money with this type of fundraising event. In the case of Furry Friends, they had volunteers manning phone lines but also empowered donors to contribute without calling by creating a text fundraising campaign tied to the Raise the Shelter telethon.
How Furry Friends Adoption, Clinic & Ranch Made It Work
To ensure that the text fundraising option would be effective, they shared a Pre-Telethon Text-to-Donate Instructional Video on their organization's Facebook Page providing step-by-step directions on how to give. This made giving easy for anyone with a smartphone.
Overall, the social media marketing strategy for the telethon event was very involved and required many posts across the duration of the event. Every post was well-crafted and intentionally written to add credibility and support to their cause.
Some posts incentivized giving by rewarding a donor, selected at random, with a prize. In the case of this video, Evo Italian Giveaway, a donor won a dinner for two from this well-known Italian restaurant.
Other notable posts were videos featuring Congressman Brian Mast and Jupiter, Florida's mayor, Todd Woodraska, expressing support for the Raise The Shelter Telethon.
Like the televised telethons done by Jerry Lewis, Furry Friends took their marketing to the next level by televising their telethon event with their local news. They even shared video of the telethon's news coverage on their Facebook Page.
There were also several image and text posts, as well as other videos, leading up to and ending their event, including this great donor thank-you video.
Social Posts from Raise The Shelter Telethon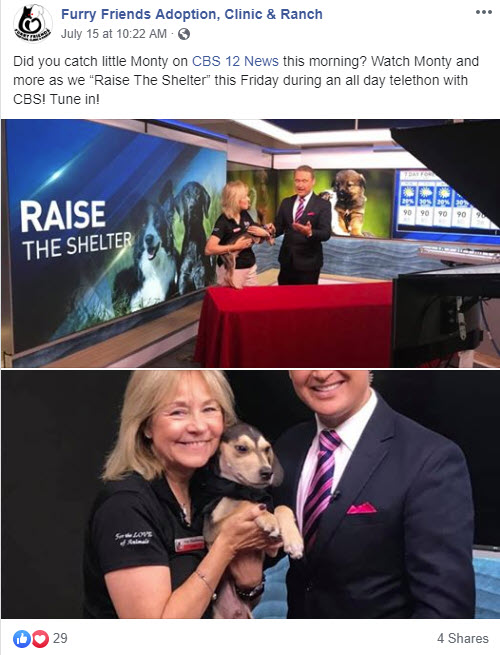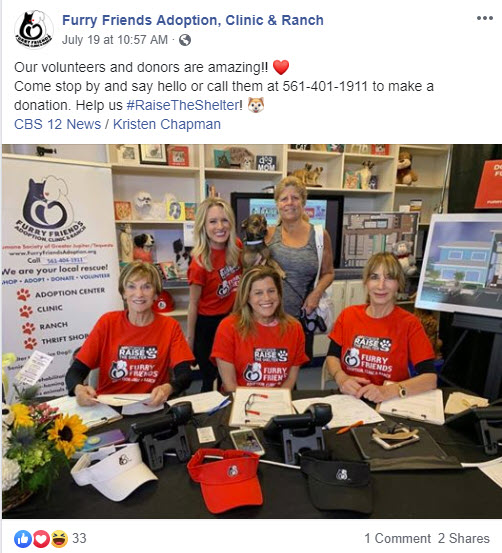 All this publicity led to a ton of donations pouring in during their telethon event. Thanks to a matching donation from a local donor, the organization exceeded their $220,000 goal.
Tips for Running Your Own Telethon
What actionable steps can your nonprofit take to emulate their success?
Consider hosting a Giving Tuesday telethon and use both telephones and text fundraising tools to accept donations for your telethon.
Don't miss matching gift opportunities: seek matching grants, ask top donors to match contributions, and remind donors to seek matching gifts from employers.
Lastly, market your telethon and get it some publicity. Post before, during, and after your event on social media and try to get the telethon covered by a local television or radio station.
Running a telethon takes careful planning, lots of preparation, and plenty of volunteer hours. With a little work, it can be a powerful way to connect with donors and raise money… especially if you combine it with your Giving Tuesday campaign.
Learn More about Qgiv's Mobile Tools
The folks at Furry Friends Adoption, Clinic & Ranch combined classic telethon techniques (including volunteers manning the phones) with more contemporary fundraising methods. Since smartphones are so prevalent, they enabled text giving for their mobile donors.
If you want to learn more about the text fundraising tools they used during their telethon, we can help! Click here to learn more about our mobile tools or request a personal demo of our fundraising tools.