Who they are:
The Dream Factory's mission is to make dreams come true for kids in Manitoba battling life-threatening illnesses. For children battling life-threatening illnesses, their dreams are what help lift their spirits and carry them to a place where things aren't so difficult.
The Dream Factory relies solely on the generous support of people and businesses in the community to continue bringing dreams to life. Since 1983, when they were founded as The Rainbow Society, they've helped to create cherished memories for nearly 800 families in Manitoba and worked to ensure every sick child in Manitoba can have their dream come true.
What they did:
To support their mission and raise essential funds, the Dream Factory embedded an easy-to-find donation form right on their website. When visitors arrive at the site, a large purple "Donate" button directs them to the form. That way, potential donors don't miss the opportunity to give.
Donate Button to Embedded Form
Because the donation form is embedded on the website, visitors don't have to leave the site to donate which streamlines the donation process. The branding and design of the form also match the rest of the site, creating cohesion and inspiring confidence in potential donors.
Impact Statements and Mission Information
The Dream Factory has also included mission information alongside the embedded form, which further encourages donors to give. They remind potential donors that their support matters, and they've highlighted key words and phrases, such as "YOU" and "We cannot do it without you." Including contact information and a "Send Us An Email" button also helps donors keep in touch and gives the Dream Factory a way to address questions donors may have.
Dedications and Form Settings
The first step of the donation form also includes options to dedicate the
gift and to contribute a little extra to cover processing fees. Additionally,
donors are given the option to turn their gift into a recurring donation.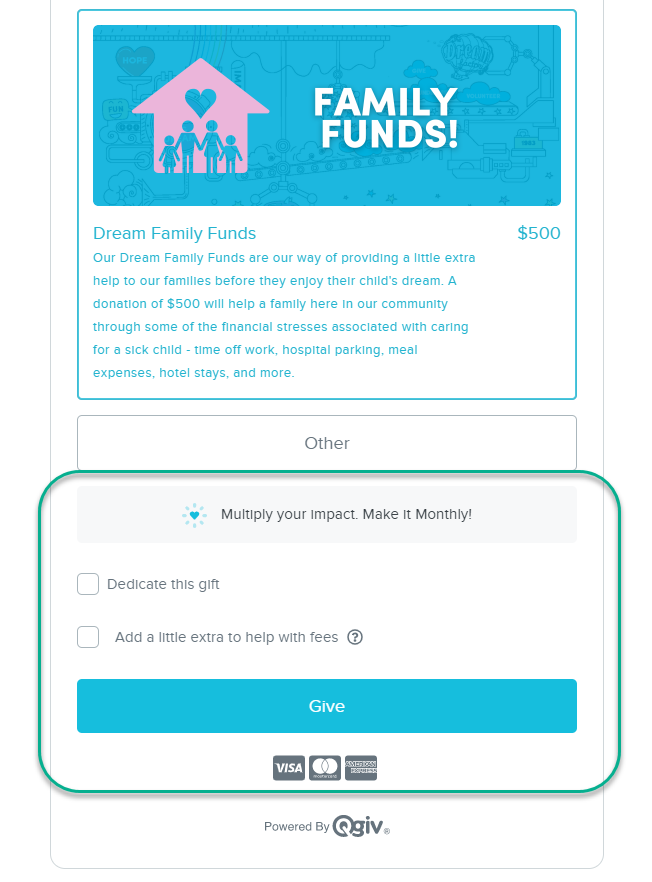 What you can do:
Keep It Simple
As the Dream Factory's embedded form demonstrates, it's important to make it simple for donors to give. They've made the donation form easy to find and simple to use. The donation amounts and impact statements on the first step of the multistep form describe the tangible impact that each gift will have, such as funding surf lessons or a princess makeover.
Powerful Impact Statements
Donors want to know what their gifts will accomplish, and these impact statements tell them exactly how they can help. The design of each donation amount image is also cute and inviting, which reflects the Dream Factory's mission of helping children.
When it comes to your organization, think through how you can add some visual interest to your form to delight donors that ties back to what you're raising money for.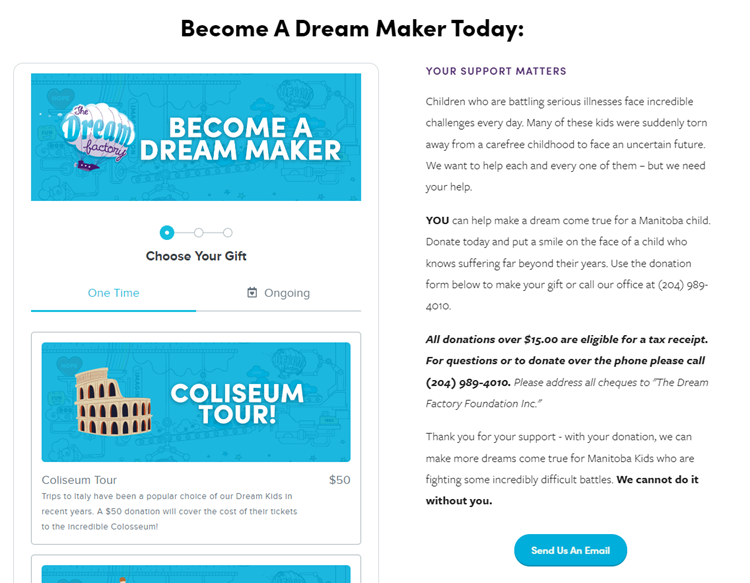 Keep Donors on Your Site
Remember, embedding your form on your website inspires confidence among prospective donors. You don't want to make donors search around your site in order to make a gift. Plus, keeping them on your site gives them more time to explore and get to know your mission!
Including contact information next to your embedded form like the Dream Factory did is another great idea so donors know who to contact if they have questions (or want to get more involved as a volunteer!). If you're currently unable to embed your donation form on your website, you can always use a landing page along with a custom domain as another option.
Design Tools
Another top tip to note is that canva.com is a great free site that can help you easily design images to use on your form or even on social media when promoting your campaign.
What's Next?
Not a Qgiv client but want to learn more about online donation forms? Request a demo today or give us a call at 888.855.9595.