Your event's been planned for weeks. You've promoted it everywhere, and it's fast approaching. But no one's registering to attend! What's going on? Before worrying about external factors like competing events on the community calendar, assess your event's registration form. Just like a poorly-designed donation form can hinder donations, a bad event registration form can seriously impact the number of registrants you get for an event. Use these five event registration form best practices to ensure your forms are effective at attracting registrants and guiding them through to sign-up completion.
One website for event info and registration
One mistake many nonprofits make is using a service to accept registrations for their event. Selling tickets via an event management website may sound like a great solution, but it can deter registrants. Why? The registration process takes place on a separate website. While sites like Event Brite take a lot of the work out of creating and selling tickets for an event, nonprofits may find fewer registrants willing to use a registration form hosted by another website.
Registrants could be worried about the website's security or about how these sites will use their personal information once they've registered. Others won't like being directed to another website when the process could have been completed on your site.
Additionally, hosting your registration form off of your site also deters registrations from making additional donations to your organization. Sites that are dedicated solely to event registrations aren't equipped to handle donations. These sites could seriously hinder your event fundraising! Instead, use services like Qgiv's peer-to-peer platform to easily accept event registrations (and additional donations) on your website!
Keep the form short and simple
The next tip is to remember the acronym K.I.S.S. (keep it short and simple). Your supporters don't want to slog through pages of unnecessary custom fields to sign up for your event. Some events require you to gather additional information, of course. But you probably don't need your guest's mother's maiden name either.
Limit your custom fields to only a handful of questions or prompts. Make it simple for participants to answer your custom questions and quickly move through the signup process. Getting bogged down in an unending questionnaire on the event registration form can deter would-be participants from completing the process.
Add branding to your event registration form
Next, include your branding on your event registration form. If you're like me, you've been tricked into clicking an ad or link that redirects you to another page before. You may have even entered personal information on a fraudulent website posing as a legitimate one. Scams and frustrating internet ads can make users suspicious of just about every site they visit.
Put your guests' minds at ease by adding your branding to your event registration form. If would-be participants follow a link from your Facebook page or a Google ad to your event website, they'll be looking for signs they're in the right place. Having your branding elements on the page can reassure your supporters that they're where they intended to go.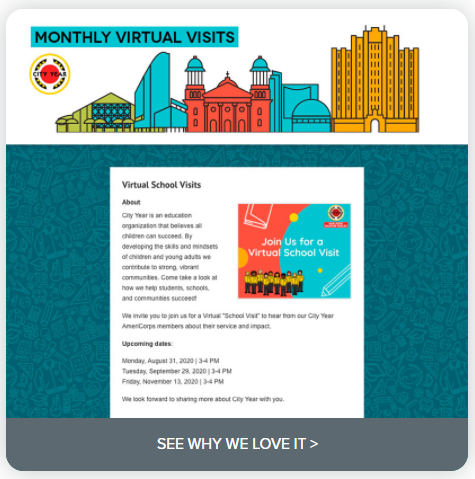 Giving participants a sense of security doesn't have to stop at adding your branding to the page. You earn bonus points by including security certificates on your checkout page. Including social icons linked to your social media pages can also encourage supporters to follow you on social media after they sign up.
Use a mobile-friendly event registration form
According to Statista, at least 50% of traffic to websites come from mobile devices. That's why it's important your nonprofit uses a mobile-friendly event registration form. Your supporters need to be able to sign up on any device they visit your website from. Not only that but signing up on that device should be easy.
In smartphones' infancy, users could visit websites via mobile phone browsers, but the results weren't pretty. Users had to constantly zoom in and out, swipe, and repeatedly press their touch screens to make selections or complete forms. The process took a long time and users were often left frustrated.
Now, most websites a user visits on their mobile phone respond to the device and fit their screens correctly and forms can be completed easily. If your event registration form isn't mobile-friendly, your users will wonder why your site is behind the times. They may even question the legitimacy and security of your site. Ensure this doesn't happen by building your event registration form as a responsive page that can adjust to whatever screen size is needed. Qgiv's peer-to-peer platform automatically makes your form mobile friendly.
Include images and info that excite donors
You've hyped up your event. Your supporters are excited to attend. They click your link to register, but they land on a sterile form. This can be a letdown for supporters– especially if they came to your site to learn more and get a group together to register. How can she use a boring event registration form to excite her friends and get them interested in the event?
Instead, generate excitement with your event registration form. Include videos, images, and information that shows supporters what your event is all about. You want would-be attendees to look forward to your event and share it with others. To accomplish this, share any videos or candid pictures you've taken at past events on your event page. Image galleries and embedded videos showing how fun your event is can get your registration form shared more frequently and drive more completed registrations.
Additionally, you need to include information about your event on your event home page. Include the basic answers to the Who, What, When, Where, and How questions your supporters will have. Don't just list the event details in a dry, matter-of-fact way. Dust off your creative writing cap to write an event description that tells donors this is an event they won't forget.
Conclusion
It's not enough to have an event registration form. Your form needs to effectively usher would-be attendees through the information gathering and sign up process. Convert more of your form visitors to followers by ensuring you adhere to these five event registration form best practices. Host your registration form on your website and incorporate your branding. Make sure your form is secure and mobile-friendly and that your attendees can confirm this when they visit. Additionally, keep the registration form short and simple by limiting the number of custom fields you use. Lastly, build excitement around your event to encourage registration and sharing by embedding an image gallery or videos of past events. Pair those images with descriptive language to assure would-be attendees your event will be awesome.