On Giving Tuesday last year over 5 million individual donations were made to causes across the globe, totaling over $551 million! The day continues to grow as a global philanthropic movement, so it's important for nonprofits who participate to know how to harness the day's momentum. To discuss how nonprofits can do this, we hosted a live X chat with Giving Tuesday and one of our nonprofit clients, City Year Philadelphia.
The chat resulted in over 200 tweets from nonprofit employees, industry thought leaders, and more. Don't worry—you don't need to dig through X to find the conversation. We've highlighted some of our favorite points from the discussion in this blog! Keep reading to see how different organizations, fundraisers, thought leaders, and even Qgiv staff responded to our questions.
1. Why should nonprofits participate in Giving Tuesday on December 1st?
Giving Tuesday is a great fundraising opportunity for nonprofits, but this year presents so many new and compelling reasons to join the movement. Below are some of our favorite responses to this question.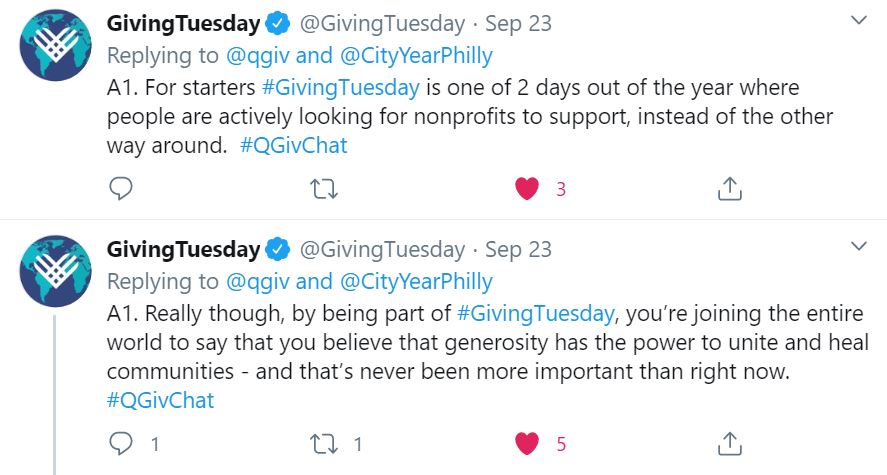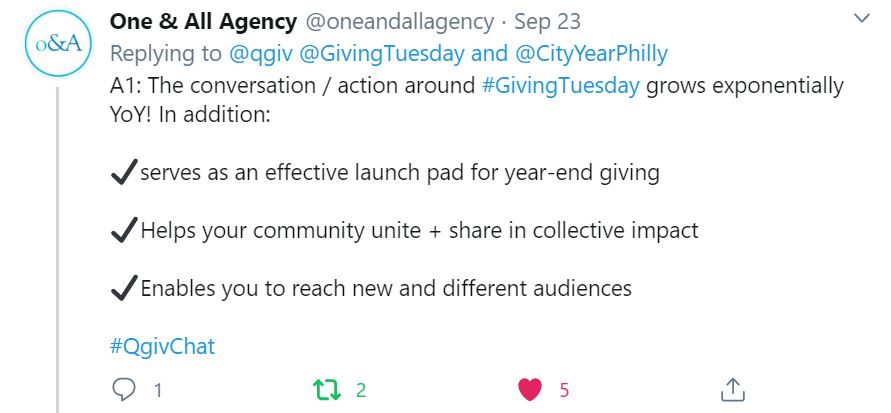 2. What can nonprofits and fundraisers be doing now to get ready for Giving Tuesday?
A successful Giving Tuesday campaign requires planning! From building your ambassador program to creating your outbound communication plan, every aspect of your Giving Tuesday campaign benefits from early preparation. Giving Tuesday provides a free planning workbook that you can use to get started.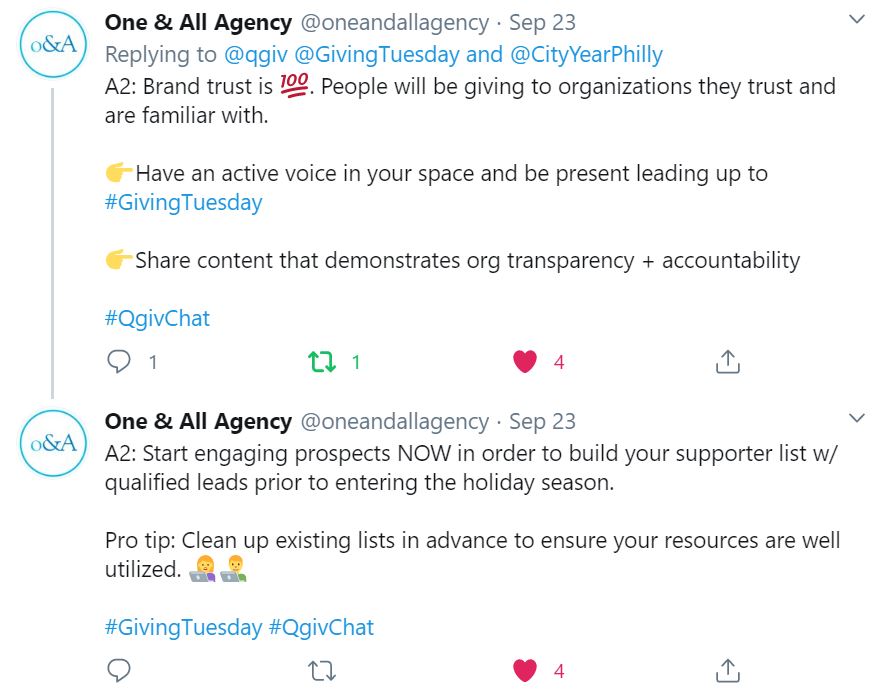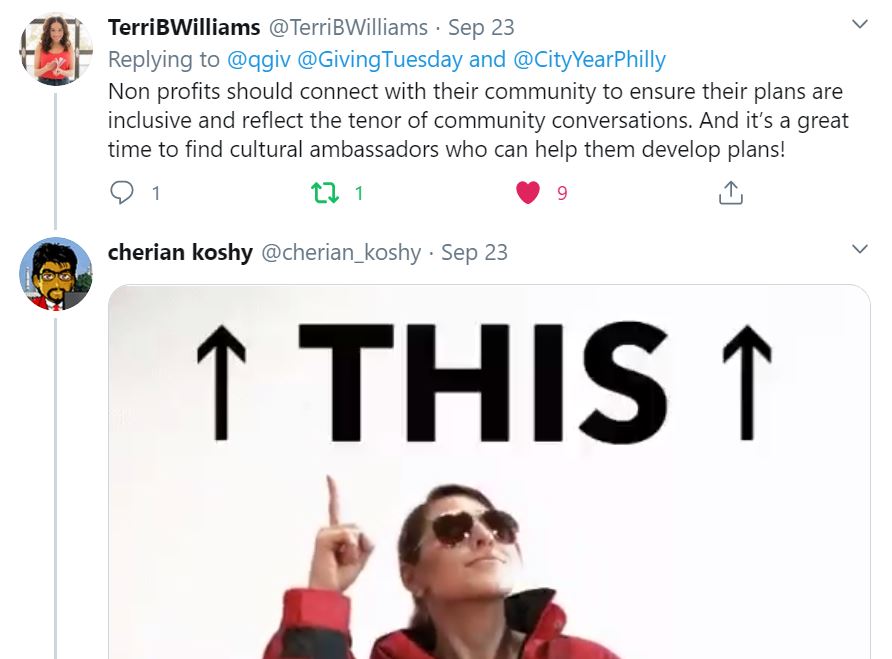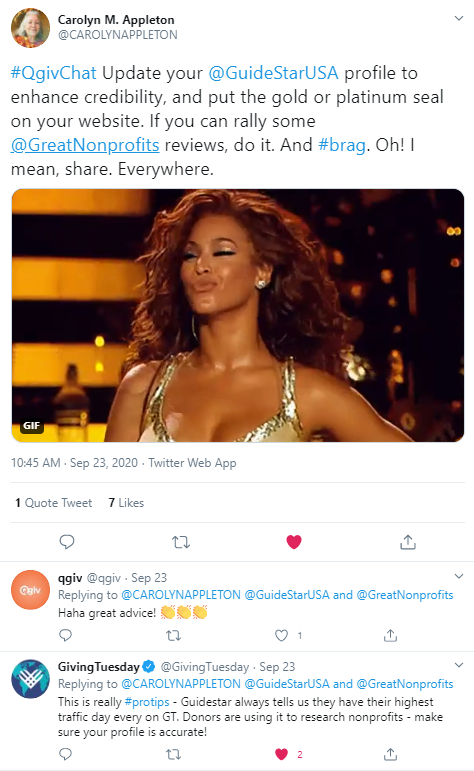 3. How do you anticipate COVID-19 and other events in 2020 will impact Giving Tuesday?
There's a lot that could be different this Giving Tuesday, so considering how your donors are feeling is important. Making fundraising asks is already an intimidating task, if you need some coaching on how to make the ask when times are tough check out our on-demand webinar with nonprofit founder, Rachel Muir, Fundraising in Uncertain Times.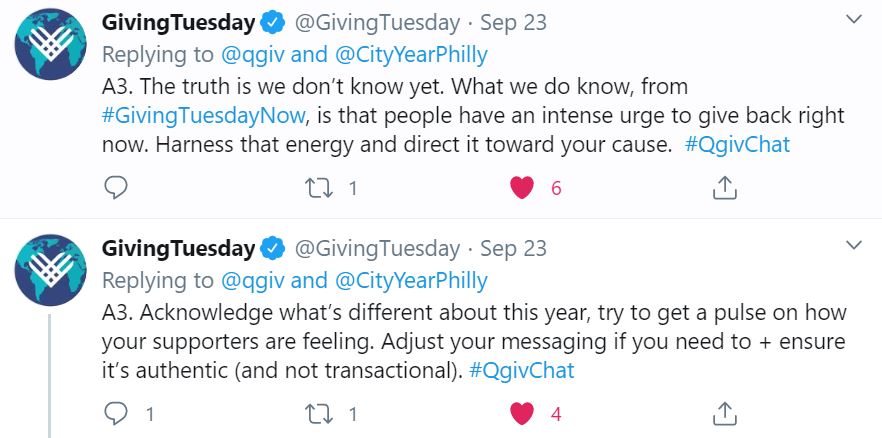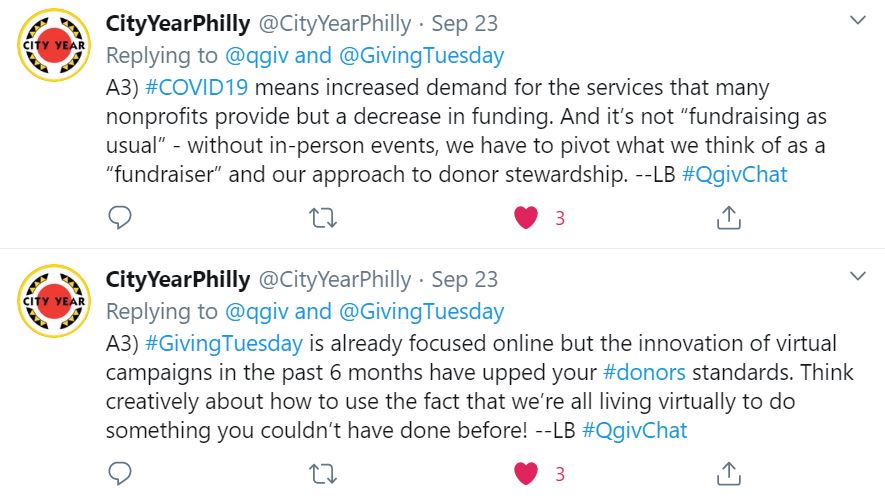 4. What are four must-have ingredients for fundraising success on Giving Tuesday?
Our answer to this question is an ambassador program, an online giving platform, planned outbound communication (including email, text, and social), and pre-collected content (including images and videos that illustrate need or donor impact). If you're worried about compiling what your nonprofit needs for a successful Giving Tuesday campaign download our free Giving Tuesday Ultimate Guide for tools to jumpstart your planning!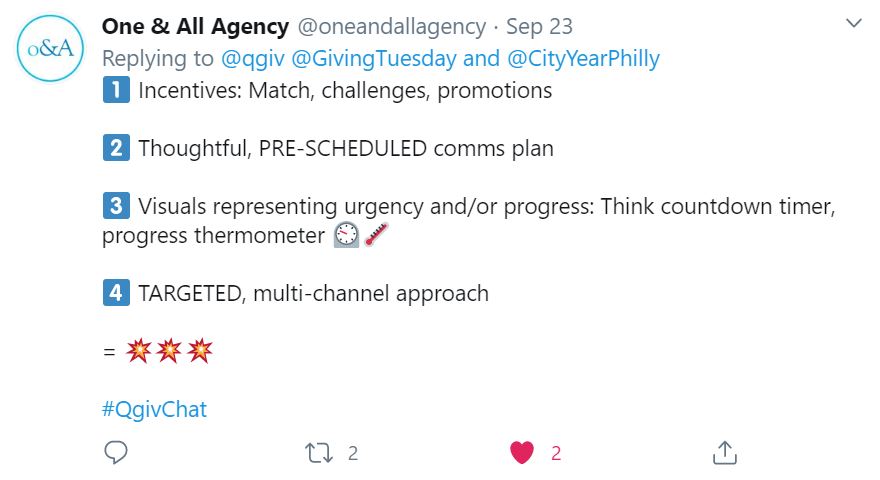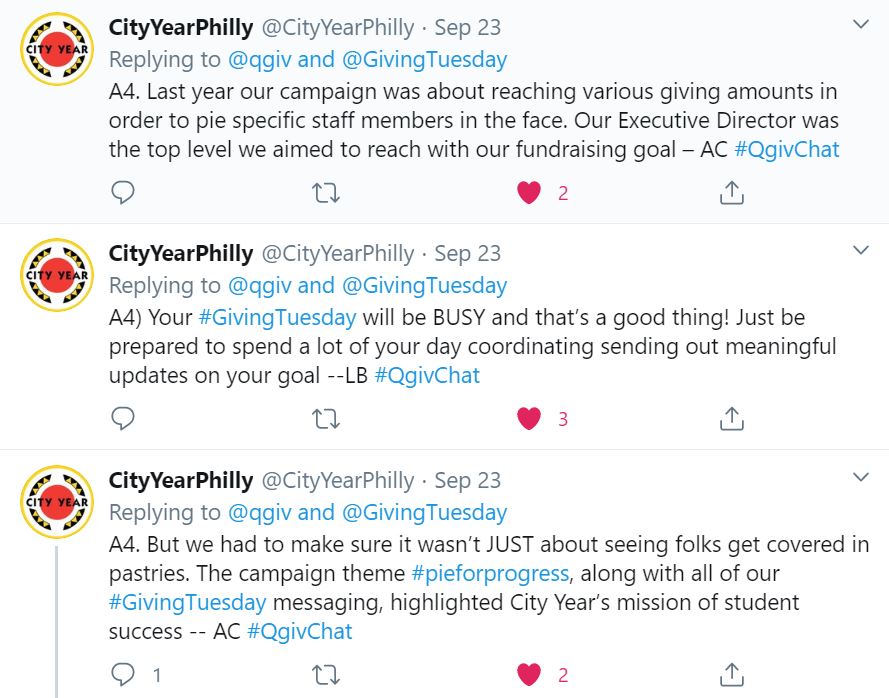 5. What can nonprofits do to get their message to stand out on Giving Tuesday?
Last year, buzz surrounding Giving Tuesday resulted in over 20 billion social media impressions! December 1st will be a busy day as nonprofits around the world try and rally support for their causes—so making sure your campaign stands out is important!
One way to get your message right into the hands of your supporters is through outbound texts (which have a 98% open rate!) and effective email marketing. Download our Giving Tuesday text templates and email templates to craft messages that make your cause stand out!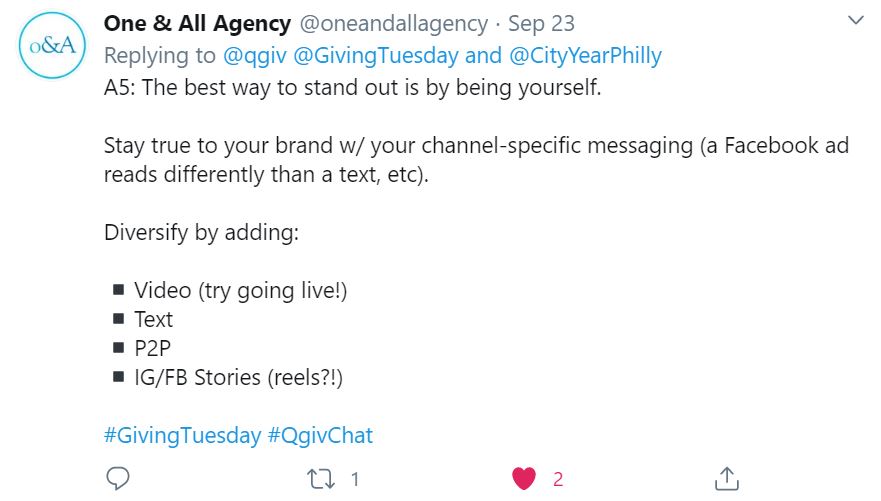 6. How can nonprofits craft a successful outbound communication plan for Giving Tuesday?
Communication is the key to receiving donations on Giving Tuesday. Different generations have preferences on how they wish to be communicated with, so check out our blog How to Connect with Each Generation of Donors this Giving Tuesday.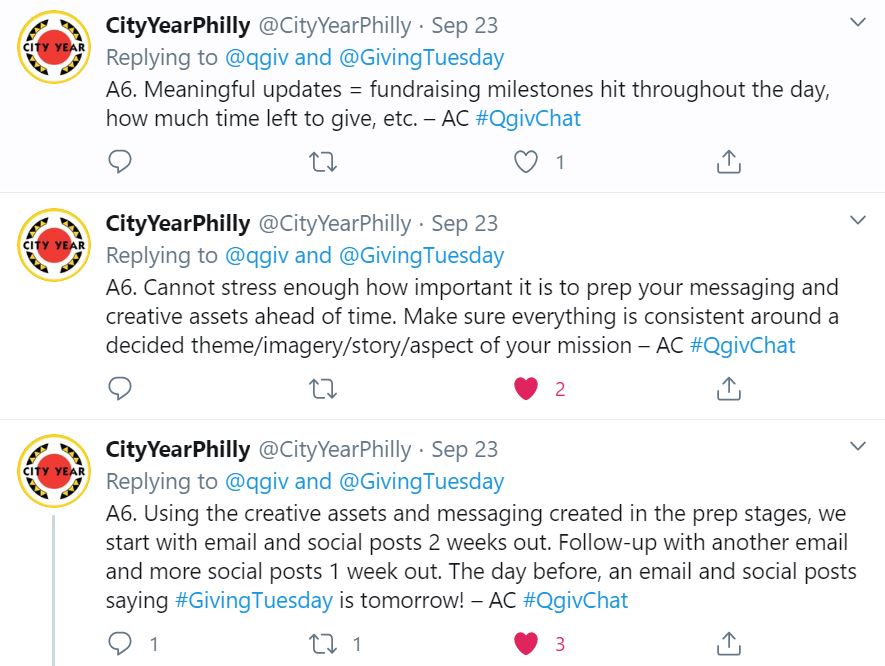 City Year Philadelphia even shared a few examples of creative assets they designed in advance for their 2019 Giving Tuesday campaign.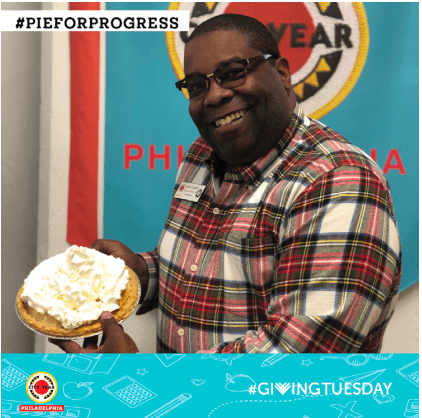 7. And last, but certainly not least, how can nonprofits retain their Giving Tuesday donors?
Your Giving Tuesday work doesn't end on December 2nd! Giving Tuesday donors require the same stewardship and retention efforts as other donors. To get started, host a thank-a-thon and tell your donors how much their support means to you.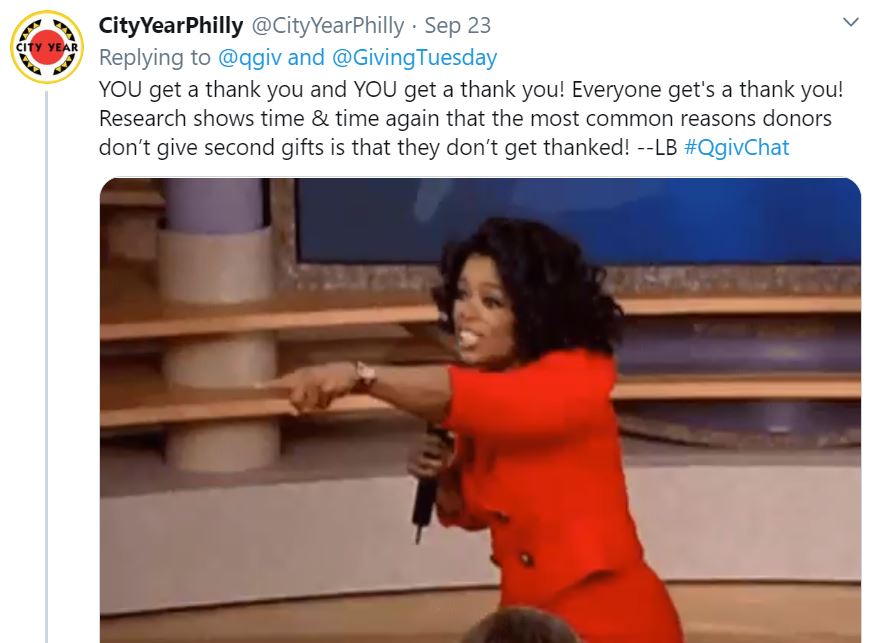 Conclusion
We're so appreciative of everyone who tuned in and offered their insight during our Giving Tuesday best practices X chat. If you'd like to see the whole discussion, search for #QgivChat on X to view all of the tweets that were part of the chat. And be sure to follow us on X as well so you can hop in for our next discussion!