Who they are

Go4TheGoal Foundation's unwavering mission is to improve the lives of children battling cancer by providing financial support, developing and implementing unique hospital programs, funding innovative research, and granting personal wishes. Through their first-hand experience with pediatric cancer and their medical background, Go4theGoal provides the best practices to patients, their families, and the hospitals and staff that care for them.
What they did
Go4TheGoal Foundation recruited multiple sports teams to group fundraise for pediatric cancer for their Lace Up 4 Pediatric Cancer event. Regardless of the sport played, teams were able to fundraise for the cause. The teams competed against each other in the digital space to raise the most for the cause in an exciting peer-to-peer event.
As the teams raised funds, they were rewarded for reaching certain milestones:
At $1,000 raised, teams were sent fifty standard shoelaces or 35 thinner laces
At $2,500, teams received wristbands or additional laces
At $5,000, Go4TheGoal Foundation sent sweatbands or headbands to the teams
Additionally, the team's top fundraiser received a t-shirt to commemorate their fundraising success.
Go4theGoal created a fundraising leaderboard to show the top ten group fundraising teams on the main page. Teams were able to set their own fundraising goals and fundraise to meet that goal.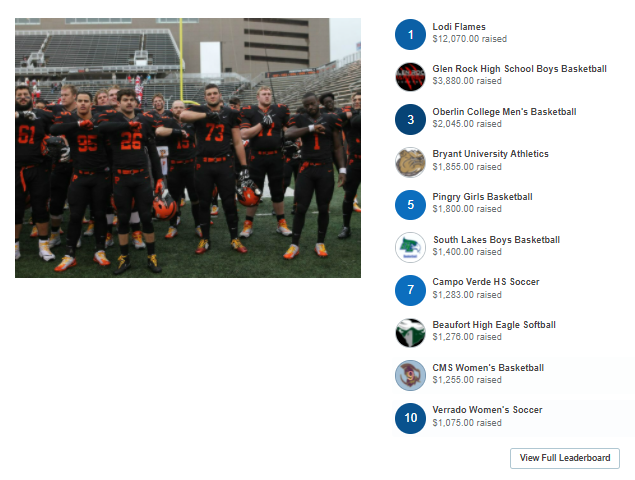 Thanks to their teamwork, the athletic teams raised more than $257,000 for Go4TheGoal's mission.
What you can do
Go4TheGoal Foundation relied on athletic teams to raise funds for their cause. Your nonprofit can act similarly. Recruit groups to fundraise on your nonprofit's behalf. These groups can be made up of your staff and volunteers or people outside of your nonprofit who want to help. They could even be local companies or departments within a single company!
In the case of Go4TheGoal Foundation, athletes were sought out and asked to fundraise on behalf of their nonprofit. You could recruit sports teams, bands, and civic organizations to raise funds for your nonprofit as well.
Want to host your own peer-to-peer fundraising, but aren't sure where to start? Request a demo now!