Healthcare nonprofits must take a lot of things into consideration when it comes to fundraising. How can you share patient stories in fundraising appeals without violating HIPAA laws? What's the best way to conduct tours with major donors in a busy hospital wing? How can your medical nonprofit incorporate healthy activities into your healthcare fundraising strategy? Luckily, your organization isn't the first to grapple with these questions. Many healthcare nonprofits have developed effective and engaging fundraising strategies; read on for tips to breathe new life into your healthcare fundraising strategy!
Build your fundraising event strategy around healthy activities
It's relatively safe to say that supporters who give to healthcare organizations care about their health. That means they're looking to your organization for healthy activities to take part in. So why not build your fundraising events strategy around a series of healthy events? One of our clients, Pulmonary Fibrosis Foundation, hosts several walks and 5K fundraising events throughout the year.
These are a few images from Pulmonary Fibrosis Foundation's 11th annual Garden State 5K event. You might be thinking, "but everyone does a 5K…" Why do you think so many medical nonprofits incorporate 5K races into their healthcare fundraising strategy? It's because they work!
The beauty of hosting your own walks and 5Ks is that there are tons of resources out there to make them easy, and participants love to take part. Pulmonary Fibrosis Foundation created a peer-to-peer event page and kept their page design simple. They included event photos, a brief paragraph or two about their event, and a few widgets to help fundraisers track their progress.
Participants at the 2019 Garden State 5K easily exceeded their fundraising goal while also getting much-needed exercise.
With COVID-19 currently putting a damper on in-person events, another advantage to a 5K race is participants can take part from the safety of their own homes while maintaining proper social distance. Using a free app like Strava gives participants a way to upload their 5K data to their fundraising pages – no chip timing necessary! For great virtual event ideas including tips on how to create a virtual 5K check out this blog post.
Design a donation form that inspires donors to give
Many nonprofits can tell stories with their donation forms to help you get to know those they help. Healthcare nonprofits need to take a different approach if getting patient permission is a challenge. That doesn't mean your online donation form can't inspire others to give.
Holton's Heroes uses unique (and completely adorable) illustrations of animals on their donation forms. The illustrations clue donors in to the fact their healthcare nonprofit caters to the needs of children. The form's color scheme is set up to match their brand colors. While they don't spell out who is helped by donations on their online donation form, the context clues give donors an idea.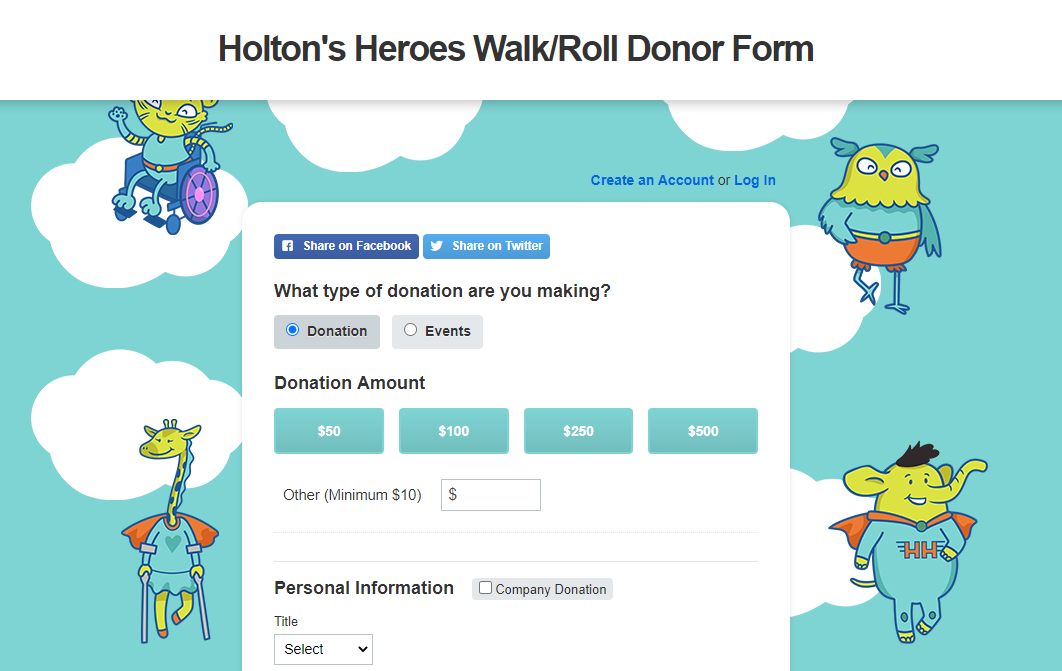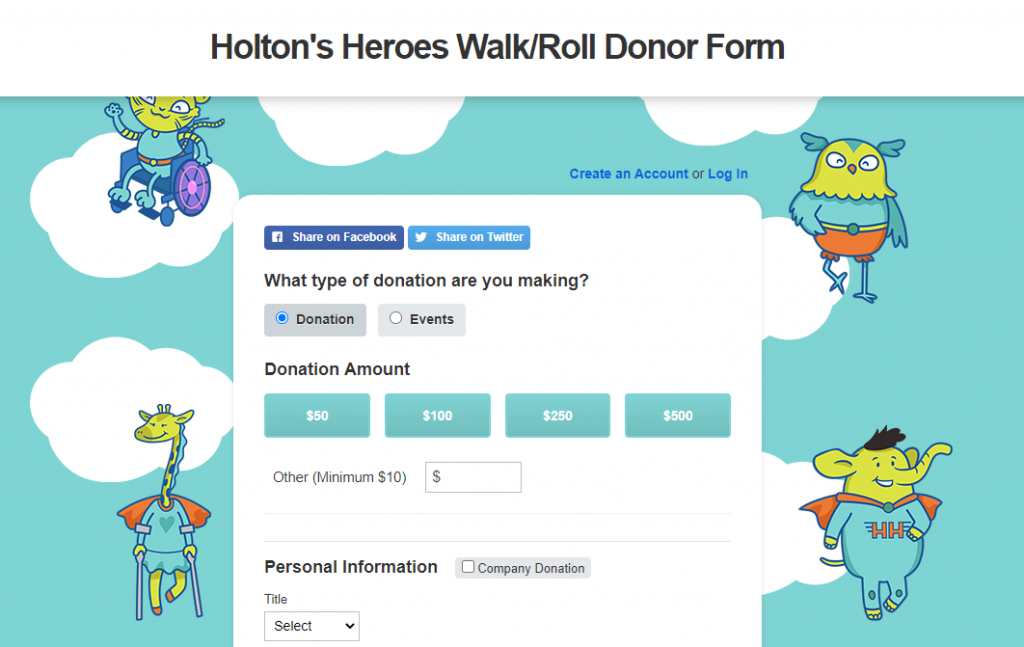 Through a well-crafted, branded online donation form, Holton's Heroes showed supporters what they do and kept them engaged.
Another route is to forego storytelling and instead share a short statement on why donors should give. This call to action is a key part of the Center for Healthcare Innovation's healthcare fundraising strategy. In three short sentences, the organization explained who they are, what they do, and why donors should give. They then incorporated their logo at the top of the donation form to introduce their branding in a simple but effective way.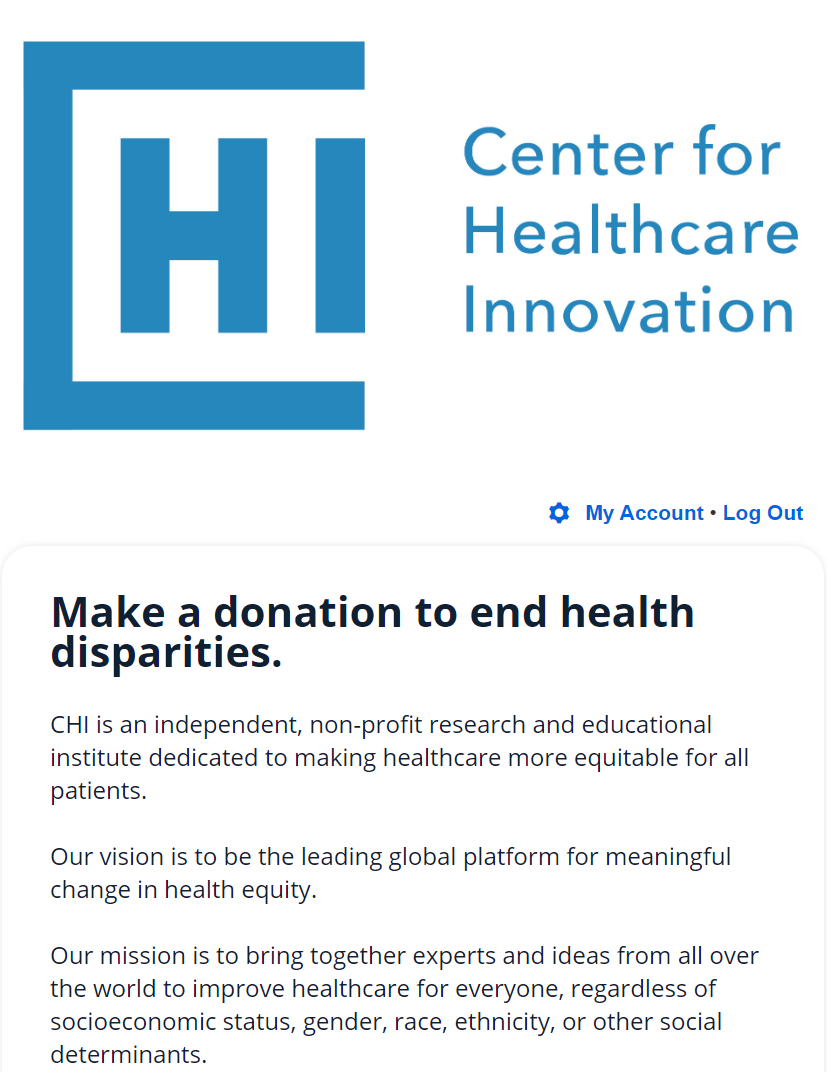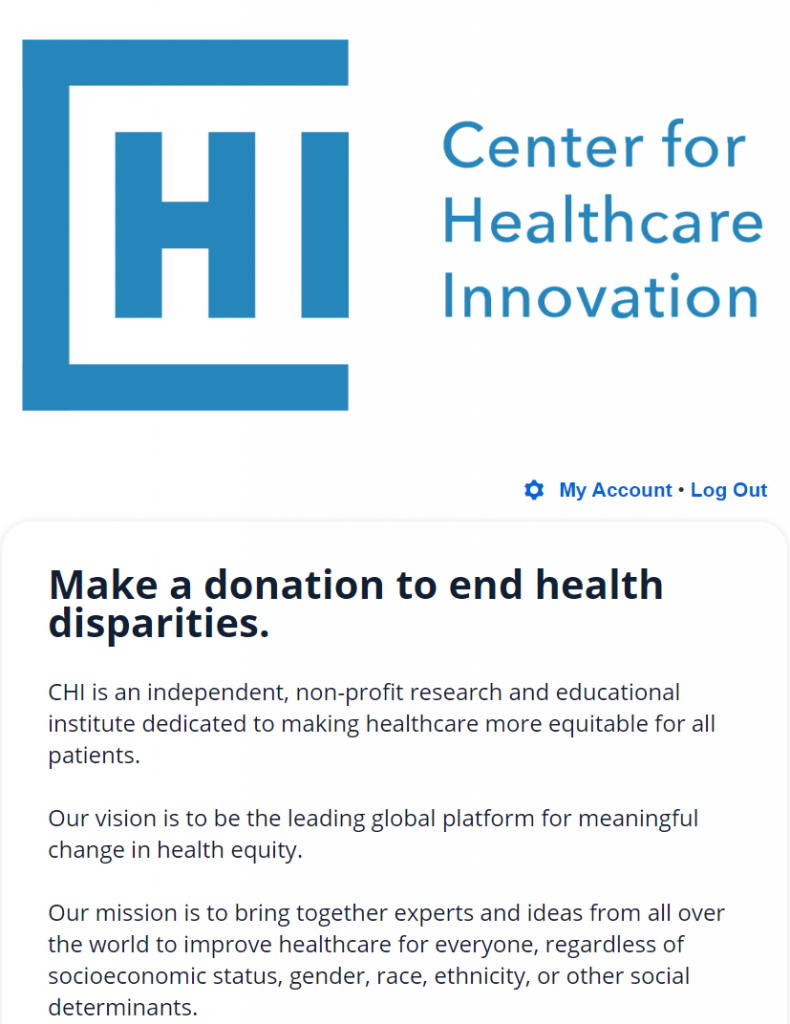 Incorporate text fundraising in your healthcare fundraising strategy
Text fundraising has a ton of potential to boost fundraising results. That's why large, international nonprofits like the Red Cross have made it part of their fundraising strategy. Therefore, your healthcare nonprofit should also use text fundraising for a wide variety of purposes. For instance, text fundraising can help your organization acquire funding for supplies needed in a crisis. You can also use text fundraising to collect donations to fund specific projects and programs. Launching a campaign is simple. First, create a keyword that donors can text to donate. Then, share that keyword with donors and accept the donations that come in. You can even go a step further by sending an outbound text to donors inviting them to give to your text fundraising campaign – just make sure they've opted in first!
Allegheny County Medical Society Foundation created a text fundraising campaign for crucial medical supplies, for instance. They set up their helpahero keyword to raise funds for N95 masks for healthcare workers responding to the coronavirus pandemic. When donors text this keyword, they're prompted to give at least $5.00 (the cost of one N95 mask) on a mobile-optimized donation form created specifically for this text fundraising campaign.
Allegheny County Medical Society Foundation recognized an urgent need at their organization and used text fundraising to address it. Text fundraising was the perfect tool to use for this urgent need because text fundraising campaigns are designed to instill a sense of urgency in donors. They point to an immediate need and ask donors to do their part to fulfill that need.
Encourage corporate philanthropy
Grants, sponsorships, in-kind gifts, gift matching programs, and corporate donations can be great complements to individual giving. Encourage corporate philanthropy as part of your healthcare fundraising strategy. Like appealing to individual donors, the ball starts in your court. You must find ways to connect with businesses and inspire them to support your cause.
Apply to grants and send sponsorship request letters for corporations that give to healthcare nonprofits. Form relationships with your suppliers and vendors too. A corporate partnership program can be a great avenue for long-lasting, profitable relationships between your organization and companies you work with. In addition, think about businesses that operate in a similar industry or share your clients. Form relationships with them. These relationships often start as referral programs then blossom into more over time. These businesses can make exceptional candidates for sponsorship requests, donation requests, and in-kind gifts. You can read more about corporate philanthropy programs here.
Conclusion
Healthcare nonprofits face unique challenges to fundraising. However, developing an effective healthcare fundraising strategy can be done. First, host healthy community events and encourage participants to fundraise on your behalf. Next, develop branded online donation forms that inspire donors to give even if you can't share your patients' stories. Then incorporate text fundraising into your fundraising strategy to accommodate emergency fundraising needs, fund specific programs or projects, and more. Lastly, use corporate philanthropy as a complement to individual donors. That means embracing grant and sponsorship opportunities, building relationships with businesses in your industry and local area, and also encouraging matching gifts.