The last three years have provided development professionals within the world of higher education a boatload of fundraising data to analyze. Online giving is on the rise, but fewer alumni are giving to their alma mater. Major gifts are on the rise, but government aid continues to decrease. And did I forget to mention the impact of a global pandemic? 2020 has thrown a wrench in what would normally be a predictable year as far as fundraising trends go. To make sense of it all, we've compiled some of the biggest higher ed fundraising trends—including a few strategies you can implement to make sure your university or college is keeping up with best practices!
1. The impact of COVID-19 on higher ed
COVID-19 has had an immense impact on the North American economy—65 million unemployment claims have been filed in America and nearly 1.1 million Canadians are unemployed. High unemployment rates and economic instability have resulted in a drop in student enrollment and heightened need for student financial aid. Canceled or sidelined athletic programs have resulted in a dip in alumni gifts. To top things off, 43% of higher ed fundraisers don't expect to meet their institution's fundraising goals this year. Despite the funding challenges COVID-19 has thrown at higher ed, now is not the time to stop asking for donations.
Strategy: Create funds to help students impacted by the virus. Now is the time to show real, human impact and showcase stories that your donors relate to.
Focus your fundraising on student need. Set up an emergency COVID-19 scholarship to help boost enrollment numbers and assist current students with their financial burdens.
Keep your donors updated on the impact of their donations so they know they've made a difference and are more inclined to give again in the future.
Use storytelling in your fundraising appeals so your audience can envision themselves solving the problem, or put themselves in the shoes of the student you describe. By creating a character who's overcoming conflict and working towards a goal, you've created a relatable story.
What should you avoid? Pursuing new capital campaigns in the wake of the pandemic. While a soaring number of college students face financial strain, multi-million-dollar capital campaign projects aren't what you should be fundraising for. Take Cornell University for example. They released a statement to their campus community declaring that all capital projects would be reevaluated to determine if they should proceed, and no new capital campaign projects would be initiated
2. Online giving trends
According to Blackbaud's 2019 Charitable Giving Report, online giving to higher education has increased 10.1% over the last three years. From 2018 to 2019, online giving increased 7%. Last year, colleges and universities raised 5.6% of their total philanthropic dollars online. With COVID-19 regulations and precautionary measures limiting in-person donor visits, online giving is on track to increase yet again in 2020.
Mobile giving is an important aspect of the online giving equation. The number of online donations made on mobile devices continues to increase year after year, as well! Since 2014, the number of gifts made via mobile has increased 34%.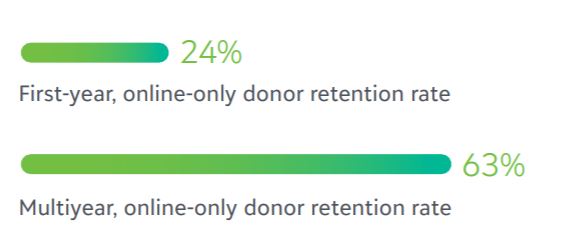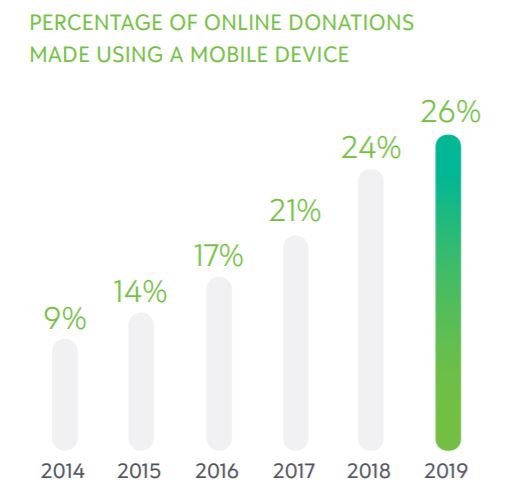 Strategy: Online giving is increasing, so make sure your college makes it easy for alumni and friends to give online.
All visitors to your website's homepage should be able to easily access your giving form. Having a "Donate" button on your homepage creates a direct path for your donors, and anyone interested in giving, to support your university. Your donors are used to simple checkout processes like Amazon's, so if they have to click through complex pages to find where to donate, they'll likely be confused.
Try a multi-step form to break up the donation process into easy-to-process chunks. The more complex a donation process appears to be, the more likely a donor will not go through and complete their donation.
Keep the length of your donation form and the amount of custom fields to a minimum to curb donor drop off.
Whatever changes you make to your donation form, make sure they're mobile friendly. Nothing is more confusing than a donation form that's not formatted for mobile!
3. Sustaining gifts and recurring donors continue to be a crucial source of sustainable funding
Donor retention matters! Why? Because your college will lose over half of its donors every year. Donor retention hovers around 45%, and first-time donors have an even lower retention rate of 24%
Focusing on donor retention will save your development team thousands when it comes to donor acquisition and prevent you from having to completely rebuild your donor pool after a few years. If you convince your first-time donors to make a second gift, you've dramatically increased the odds they'll be retained by your organization. The first-time donor retention rate hovers around 24%, while a recurring donor's retention rate can range from 63-90%, depending on how often the donor gives to your institution (Blackbaud 2019 Charitable Giving Report).
Strategy: Establish a donor retention program to increase your number of recurring donors.
DonorVoice identified seven things that drive donor commitment to an institution:
A donor perceives that the organization they give to produces outcomes
The donor knows what to expect with each interaction
The donor receives a timely thank you
The donor receives an opportunity to make their views known
The donor feels like they're part of an important cause
The donor feels like his or her involvement is appreciated
The donor receives information on who their giving is helping.
Your retention program should focus on each of these things. Reference Bloomerang's New Donor Cultivation Timeline below as the gold standard for creating a retention program!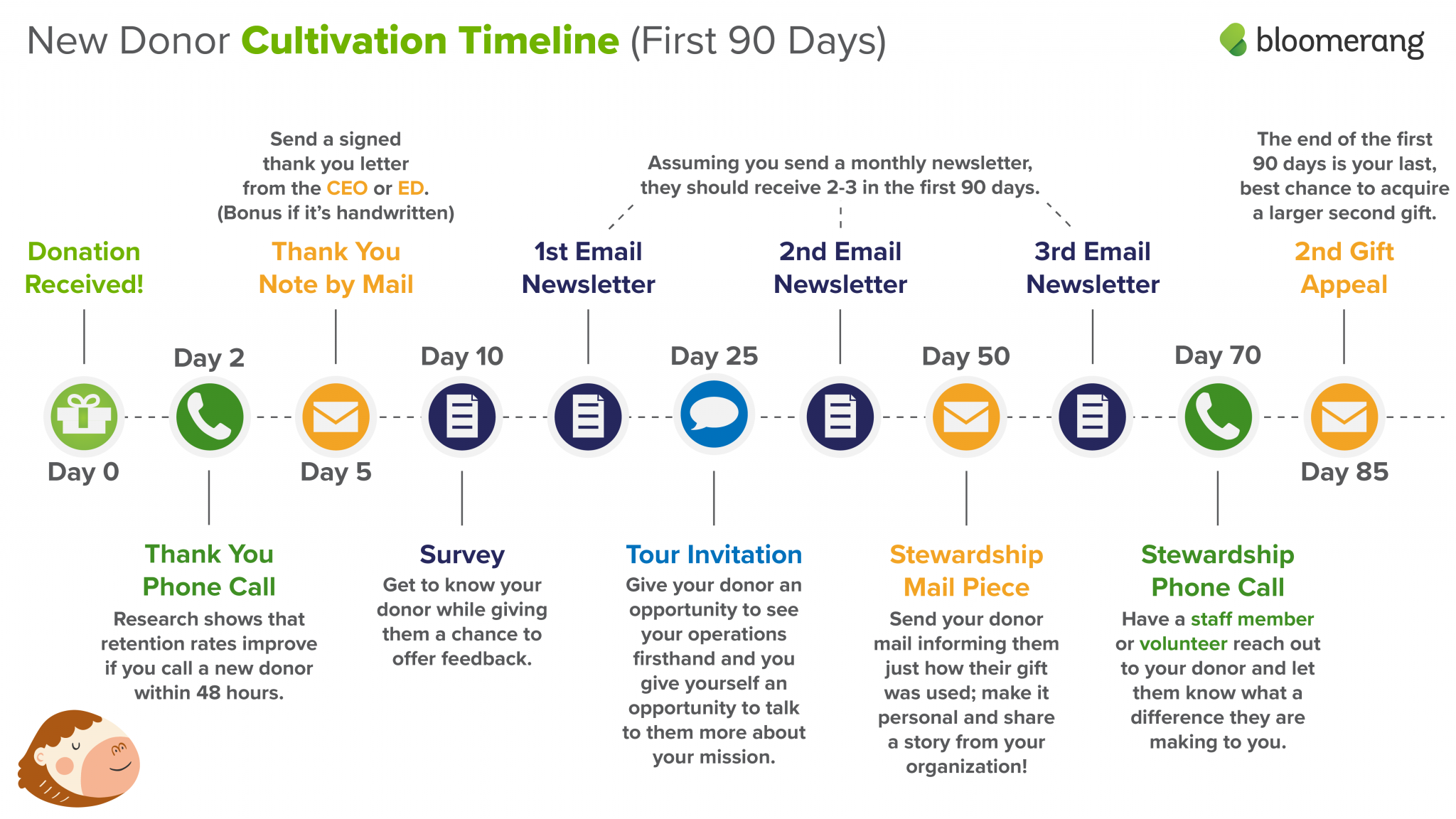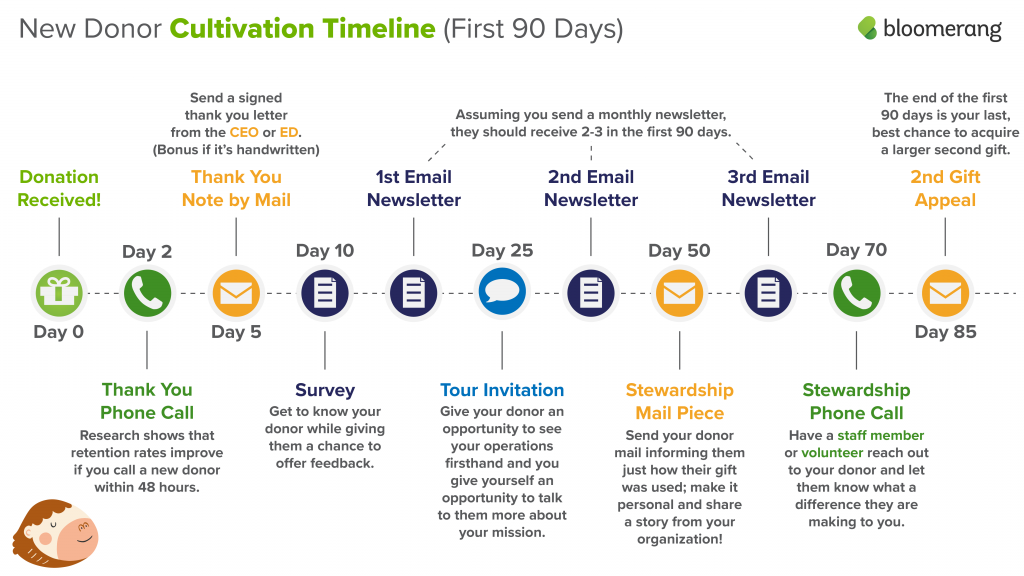 4. Alumni giving will always be a priority for higher ed
We know alumni giving percentages play a role in determining a college's ranking—that will always make alumni giving a priority for university advancement and development teams. The impact of COVID-19 on higher ed finances makes alumni giving even more important this year. Alumni donations are desperately needed.
Unfortunately, alumni giving percentages continue to decline among higher ed institutions. Only 5% of alumni from public universities donated to their alma maters, while 18% of private university alumni participated in giving. To change these downward trends, fundraising professionals need to pull out all the stops when it comes to communicating with donors—focus on showing gift impact and making tailored appeals to different alumni groups.
Strategy: Personalize your alumni communications and target different alumni groups based on age and interests.
Hanover Research's 2020 Donor Trends Report shows that personalization in alumni communications increases donation amount and frequency. They recommend personalizing your appeals based on alumni age (capacity to give), major, and interests or areas of involvement on campus. For example, asking for a $5 monthly gift from young alumni is a reasonable ask, but for Baby Boomers with a larger capacity to give you'll want to increase your ask amount. In addition to personalizing your outreach, make sure your alumni are the heroes of your fundraising appeals, not your institution! Work to create emotional connections and impactful stories rather than transactional appeals.
Conclusion
With the right fundraising strategies in place your institution can make this year (yes, 2020) one in which alumni giving and donations increase. For more resources to help you fundraise, check out the following: