Hosting an event is one of the greatest ways for nonprofits to celebrate their supporters while raising money for their cause. To make the most of your fundraising event, it's best to develop an event page that's effective at increasing the number of tickets your organization sells. Fundraising events are a perfect opportunity for your nonprofit to further build connections with your community.
What is the Junior Achievement Business Hall of Fame?
Junior Achievement USA is an organization with over 100 local Areas that empowers the next generation by providing lessons in financial literacy, work and career readiness, and entrepreneurship. To celebrate leaders for their positive impact on financial literacy in the community, Junior Achievement's local Areas often host an event called the Junior Achievement Business Hall of Fame. Usually, this event is held to celebrate individuals for gifting large donations or sponsorships to one of Junior Achievement's programs and businesses who've provided student leadership programs or internships.  
Each Junior Achievement Area hosts their Junior Achievement Business Hall of Fame event in their own unique way. Some host galas to honor their guests, some add an auction component to their event to increase their fundraising opportunities, and others arrange luncheons to celebrate the occasion. No matter what the event looks like, creating an effective fundraising event page can help you raise more money for your organization.
Why an impactful event registration page is important
Your event page is the first impression attendees have with your nonprofit's event, which could determine whether or not they attend at all. A well-designed page can help show the importance of celebrating the leaders who help your nonprofit, encouraging more people to sign up to attend. Increasing your ticket sales helps you raise awareness about the work you do for your community, which ultimately leads to more donations.
An effective event registration page can also help you collect the right information from attendees to further your connection with your supporters. While asking attendees about seating and contact information, include fields for attendees to sign up for volunteer opportunities or subscribe to your newsletter.
Check out these seven tips to enhance your event registration page:
1. Customize your event page
Your event page should be fully customizable to make it unique to both your event and the specific event you're hosting. Just like with donation forms, branding your event page helps your donors recognize your organization as the one they trust and want to lend their support to. Branding your Junior Achievement Business Hall of Fame registration page also lets your event attendees know that they're on the correct Junior Achievement Area's registration page instead of accidentally registering for another Area's event.
Customization also provides you with the ability to use an interesting header or graphics to show off your event. You could add a heading designed to match the event's aesthetic or add photos of your guests being inducted into the Business Hall of Fame and the work they've helped to support. Or you could add a picture of your event invitation to remind people on your event page of the general details of the event, such as the time, date, and location.
2. Use a fundraising thermometer
Fundraising thermometers are a great tool for both donation forms and event registration pages. Since events often double as fundraisers for nonprofits, showing how much your event has raised and displaying your organization's fundraising goal can help you raise more. Fundraising thermometers help create a sense of urgency in donors, compelling them to complete their donation or give more than originally planned. They also help your donors feel more accomplished as they watch your organization get closer and closer to your goal.
No matter the type of event your Area hosts for your Business Hall of Fame event, using a visual of the help your attendees provide your Area by donating keeps them motivated to continue their support for the work that you do, especially if your thermometer hits over 100 percent of your fundraising event goal like the 2021 Junior Achievement of Central Indiana Business Hall of Fame Awards Gala did. A fundraising thermometer also displays a way your supporters can show their love for the guests of honor if they are unable to attend the event in person.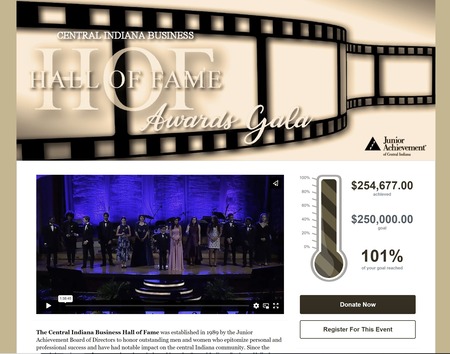 3. Promote your event sponsors
Your event sponsors are often crucial to your event's success. Events, especially large events, can be very draining on an organization's resources, and donations from individuals aren't always enough to cover all the costs. Sponsorships help you afford a nice venue, food, decorations, and possible auction items if you include an auction at your event. When you secure your sponsors, they often ask to be promoted at your event in return for their contribution. There are many ways to advertise your sponsors, but one way you can show off your sponsors to your supporters is to link to them directly on your event registration page.
Your number of sponsors may vary based on your Area, but no matter how many, you can put their logo with a link to them right on your event page or create a tab on your event page just for thanking your sponsors as Junior Achievement of Northern California did for their 2022 Business Hall of Fame. A separate page allows you to show each tier level of sponsors, as well as provide information on how to become a sponsor for your event while keeping event attendees on the registration page to finish the ticket purchase.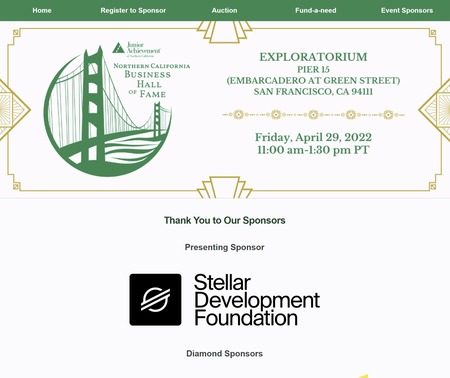 4. Include videos
With an online event registration page, you aren't as limited as you might be with a physical invitation. You can do a lot more than just use words and images because you're able to link to other pages, add videos, and integrate with other tools to automatically collect and track data from your event attendees, saving your organization time and resources by not having to input the information manually after your event. The addition of videos can also function as invites themselves, providing a personal touch to your invitations for your supporters.
The best part of using videos is that everything can be pre-recorded to advertise your event. It's easier to schedule a time for your busy board members to record a quick video invite thanking your supporters for everything they've done and requesting their presence to help celebrate your guests of honor. You can also include video testimonials from your Business Hall of Fame awardees on your event page to introduce them to your supporters before the day of the event.
5. Add social sharing buttons
Social media is key when advertising your fundraising event to your supporters. As your event opens registration, you can start advertising your event to your social media followers to encourage them to come and celebrate your inductees with you. Sharing your event registration page on social media is an easy way to raise awareness for your upcoming event. And you don't have to be the only one sharing your form with your followers.
Your attendees can promote your event for you directly from your fundraising event page if you add social sharing buttons. These buttons appear at the bottom of your registration form for your supporters to click and share to their profiles without ever leaving your form, meaning it doesn't take them away from completing their ticket purchase to your Business Hall of Fame event.
6. Provide seating options
You don't need to limit your supporters to just buying individual tickets. You can offer multiple seating options for your attendees to choose from, whether it's different levels of seating, like a VIP section, or options to purchase tickets for multiple attendees at once by buying them seats by the table. For example, the 2023 Colorado Business Hall of Fame hosted by Junior Achievement of Rocky Mountain offered event attendees six different ticket options for their supporters.
Depending on your platform, you will be able to use guest management tools to designate attendees' seats for the event with a layout of the venue's seating before your attendees arrive. Plus, guests can check in through a QR code, speeding up the process of getting them into the event.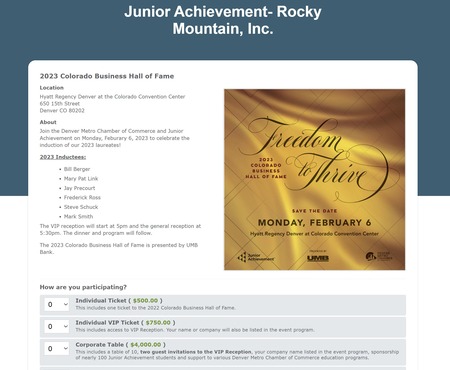 7. Embed maps to the event
When it comes to the day of your event, your guests may have a little trouble finding your venue and parking in the area. However, you can help fix this issue by embedding a map onto your event registration form. Providing your attendees with instructions for where to park and how to get to the venue takes some stress away when the big day arrives. This provides a more enjoyable event experience for guests, increasing the likelihood of them attending another event in the future.
Whether you embed an interactive map or an image of a map of the venue location, maps help your attendees by providing visual instructions rather than just written ones. Junior Achievement of Northern California Business Hall of Fame 2023 provided guests with a map of both the venue and parking locations, along with written parking instructions to guarantee an easy experience for guests.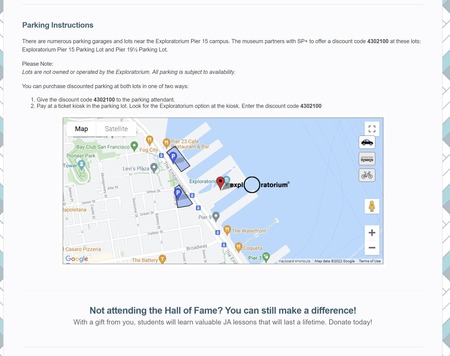 Final Thoughts
Celebrating your supporters is an important part of building a community surrounding your nonprofit. An impactful event registration page helps create a better event experience for your attendees, which can lead to more opportunities for your organization as a whole. Use these fundraising event page best practices to host your best event yet!