What a day! Thank you so much to everyone who joined us at the Lakeland Fundraising Lab on April 16th. With 120 registrants, this was our biggest Lab yet!
Nonprofit staff traveled from as far as Tallahassee (shout out to James Wylie of the Florida Kiwanis Foundation for making the 4 hour, 10 minute drive!) to connect with peers, learn about winning donor attention from Ian Adair, take a look at new and upcoming Qgiv features, take part in an interactive session on building better appeal letters, and participate in an info-packed panel discussion–all topped off with a super fun networking reception at the end of the day!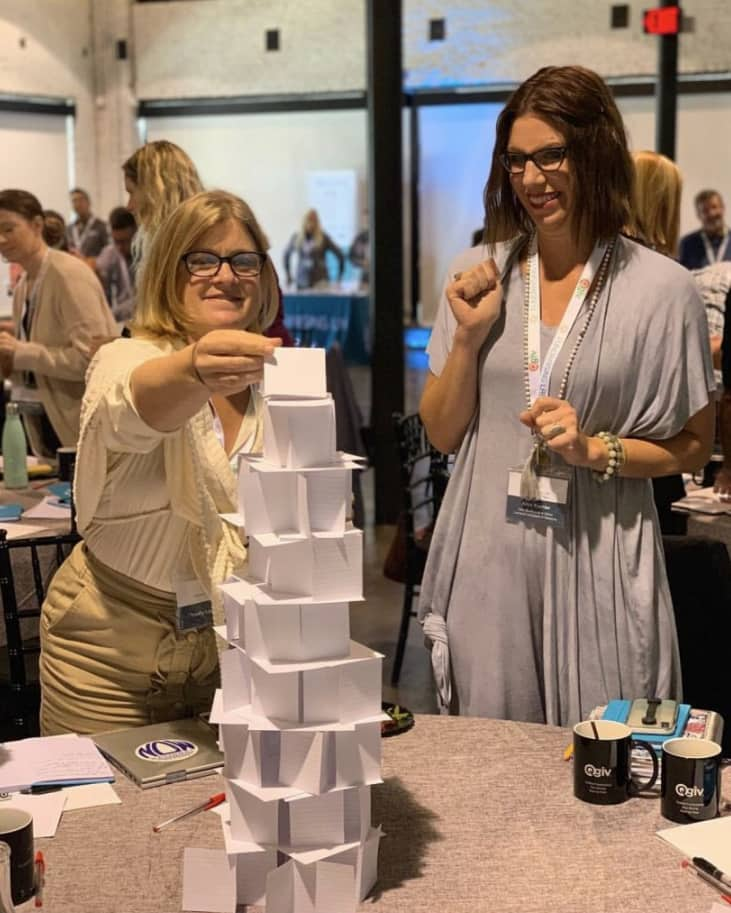 Session summaries
Winning Donor Attention is Now the Variable of Success in Fundraising
Fundraising expert Ian Adair explained the four strategies of Attention-Focused Fundraising, and how to produce content that builds relationships with potential donors while strengthening relationships with existing ones.
During his presentation, Ian highlighted the three biggest mistakes nonprofits make in communicating to their donors: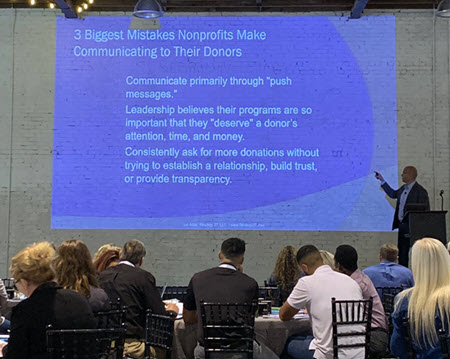 He emphasized that it's not all about your organization. Sending messages or content that frame your nonprofit as the hero rather than your donors won't do you much good!
To really get donors' attention in an information-overloaded world, Ian presented these four strategies:
Become a media company
Have a mobile strategy
Create attention-grabbing content
Create a community around that content
If you are creating quality content that is valuable to your donors and putting it on the devices and platforms they use most frequently, all while taking the time to create a community of engagement and trust around that content, your chances at success will skyrocket!
How to Build a Better Appeal
Sarah Sebastian, Director of Brand Communications at Qgiv, went step-by-step on how to craft a better appeal letter, from what people look at first in the letter to how to catch people's attention with the envelope!
How donors skim an appeal
Pictures

Choose powerful images
People are going to feel more connected to a picture of a person or animal looking happy and healthy than sad or sick

Salutation

Don't "Dear Friend" your donors
Try to use a salutation that matches the person's interest if you don't have their name. For example, use something like "Dear Animal Justice Warrior."

Johnson Box & Post Script

79-90% of readers look here first!
Great place to make an ask

Signature

Use someone besides the CEO to sign, like a volunteer or board member. If it is the CEO's signature, try to include a personal note.
Be creative with the signature! For example, if your appeal is for an animal shelter, have the signature be from an adoptable pet.

Body of the Appeal

Make it easy to scan
Make sure that it's donor-centered. It should contain more "you" language than org-centered language.
Read the letter out loud! This is a good way to ensure it flows and makes sense.
Small Yet Mighty: Tips & Tricks for Doing More with Less Panel Discussion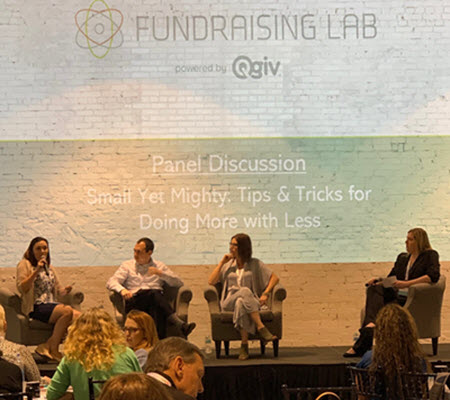 During this panel discussion, fundraising experts Dan Samuels of Second Harvest Food Bank of Central Florida, Alice Koehler of Lakeland Volunteers in Medicine, and Laura Schumacher of the Foundation for Seminole State College covered a variety of topics ranging from how to automate some important fundraising processes without compromising authenticity to how to thank and retain as many donors as possible without over-stretching resources.
In addition to these sessions, Fundraising Lab attendees were treated to a feature showcase  led by VP of Customer Experience, Jennifer Mansfield, highlighting how they can use Qgiv to supercharge their success and experienced a live, interactive demo of the FundHub Live feature that's part of the new Mobile Suite, They even saw a super-exclusive sneak peek at the upcoming Qgiv Auctions platform from our VP of Product, Chris Morata!
We're thrilled we were able to host a full-day event here in our hometown of Lakeland, FL.