I remember when I first started my career in nonprofit marketing. Back then, if we wanted to create a video to share with our supporters, it was a big deal. It couldn't be done without professional (and expensive) camera equipment —and a tech-savvy cameraperson and editor to boot—so we had to pick our video topics wisely. To say the least, there wasn't an easy way to shoot impromptu, professional-quality videos on the fly!
Now anyone can create and edit video from their phone … yet it still seems to be the final frontier in nonprofit marketing. Despite the fact 57% of people who watch a nonprofit video go on to make a donation, video still seems skill- and cost-prohibitive for strapped fundraising professionals.
However, Zenith Media predicts that the average viewer will watch 100 minutes of video a day in 2021. That means it's time for your nonprofit to get a piece of the pie. Today, we're going to go over 15 different types of videos your nonprofit can use to connect with their supporters, and reach new audiences with this super-shareable format!
15 Types of Nonprofit Videos to Help You Connect with Supporters
Say 'thanks!' Stand out from the crowd with a one-of-a-kind, personalized thank-you video. When hand-written notes are as personalized as most people get these days, a thank-you video can help your nonprofit stand out from the crowd while making your donors feel extra-appreciated.
Get animated. If no one at your nonprofit is comfortable being on camera, never fear! Animated videos are here to save the day, and you can create them from the comfort of your own office (no, seriously! We'll share some tools down below).
Take viewers on a journey. Otherwise known as the "Before and After" video, journey videos are a great way to show how donor dollars are making an impact. For example, if you work with an animal nonprofit and rescue stray animals off the street, you may sometimes take in animals in pretty awful shape. Taking the time to make a few quick videos that you can edit together once the animal has healed will do so much to show your donors just how much of a difference their donations are making in the lives of animals your organization helps. Check out this great example from Brother Wolf Animal Rescue!
Time to get festive. And no, we're not just talking about the major holidays, although everything from Christmas to Valentine's Day makes a great excuse for a themed video. There are tons of fun and random holidays nonprofits can take advantage of to create unique and interesting fundraising appeals. For example, a youth development organization might create a fundraising appeal around "Make Your Dreams Come True Day" (January 13th) and an environmental nonprofit might create a fundraising appeal video for Thrift Shop Day (August 17th) to highlight the importance of reducing the amount of waste that goes into our landfills. You might even use "World Storytelling Day" (March 20th) to tell the stories of those your organization has been able to help!
The big reveal. If your organization is hosting a silent auction, don't just throw your awesome auction items onto your event page and be done with them. Have some fun with it by creating teaser videos to create anticipation on social media, like Big Brothers Big Sisters of Southern Minnesota does every year on Facebook (and this year on YouTube, as well!).
The BIG announcement. Are you getting ready to announce your big annual gala? Your exciting Family Fun Day field day event? Your new, app-supported scavenger hunt? Then create a video to announce it on social media! Once your video is posted, you can include a screenshot of your video (with a link, of course) in your email announcement of the event, making your typical email announcement a little more engaging!
Go live. Livestreaming is not only the perfect way to showcase your program during a fundraising event, but it's also the perfect way to expand the reach of your biggest fundraisers. After all, many nonprofits found that they made more through their virtual fundraisers last year. Switching to a hybrid mode might be the perfect way to make your events more accessible going forward.
Keep it personal. Which do you think means more to your donors: a general thank-you video, or one that mentions them by name? Same goes with sponsorship videos. Make your donors and sponsors feel appreciated by creating personalized, one-of-a-kind videos that speak directly to your donors or sponsors and the impact their gift has had on your mission. If your donor wouldn't be put off by all the extra attention, you can even post these videos on social media for some public acknowledgement!
Let's hear from the audience. It's no secret that word-of-mouth marketing is one of the most effective forms of marketing … and user-generated content can be an extremely effective form of that. Instead of telling potential donors why they should support your cause, invite your existing donors to submit a video explaining why they chose to donate for a much more powerful appeal.
Show your skills. You can also use user-generated content as the primary basis for your fundraiser. For instance, if you're hosting a virtual talent show, you might ask all your participants to submit a video of their performance to your nonprofit. Then, your nonprofit uploads all the videos to your event page and voters make a nominal donation to vote for the person they think is the most talented!
Teach-in. Educational videos are one of the most important types of videos your organization can do. After all, this is a way to not just tell your donors how your organization makes an impact with their dollars, but it's the ideal way to show them the impact. Educational videos can be the difference between saying, "We strive to help children reach their full potential" and putting some facts and faces behind your mission statement.
Branding matters. Similarly, branding videos are a great way to show what sets you apart from organizations with a similar mission. For example, there are a lot of youth development programs out there. Why does yours stand out? Branding videos should communicate why donors should choose to bolster your organization with their funds instead of a another.
Show off. Product and service videos are common in the for-profit marketing world, but less common in the nonprofit world. And that's a shame! While your organization may not be aiming to become a Fortune 500 company, you're offering services (and yes, sometimes even products) that make a difference in your community. Make sure your donors and clients alike know what services are available, and your organization will have better luck fulfilling your mission.
Testimonials. Along a similar vein, don't just tell donors and potential clients that your organization can make a difference … let those you serve do the talking for you. Testimonials are a great way to communicate impact to donors, and assure potential clients that your organization has the tools needed to help them
Go behind-the-scenes. Nonprofit work is hard and definitely isn't always glamorous. However, most nonprofit staff can match their dedication only with their sense of fun, which leads to great opportunities for showing the world just what it takes to make a difference while having a blast. Don't be afraid to show your supporters the fun (along with the challenges) of nonprofit life!
These are just fifteen ideas to get you started. Now—because we don't want to give you the ideas without the tools to bring them to life—we'll share some great tools you can use to create the content you've been missing. These resources are great for a variety of skill levels. Even I can edit movies using iMovie and being a professional filmmaker is not in my future!
Tools for Livestreaming
Livestreaming was already well on its way to the mainstream before the COVID-19 pandemic hit, and it's not showing any signs of slowing down. The benefit of organizations of different sizes and budgets needing to become experts on livestreaming is that several of the easiest to use options are also the easiest on a nonprofit's budget.
For example, Facebook Live and YouTube Live benefit from being on platforms already familiar to your supporters. Plus, using either service is free. If you're holding a virtual event, you can even tell viewers how they can view your livestream on their smart TV straight from an app. This is slightly easier to set up with YouTube Live, but it is possible with both.
Twitch is another free social media platform your nonprofit can use to livestream videos. While it's not as well-known to the general public as YouTube or Facebook, it is more popular for livestreaming. In fact, Twitch represents over 90% of the market share for hours streamed. Facebook and YouTube represent 3.4% and 5.5% of the market share, respectively.
Finally, OBS is another free—but more robust—livestreaming tool. You'll get more control with this open-source software, but you'll also benefit from having the backing of those larger companies behind you. OBS is sponsored by Facebook, YouTube, and Twitch.
Tools for Editing Nonprofit Videos
When I first started making promotional videos (with no budget!), I was most intimidated by the process of editing them. I assumed making even the simplest videos required an in-depth process that would take time I didn't have to master. I'm so glad I was wrong!
Now I was never trying to win an Oscar, but I did want my videos to look professional. The first tool I picked up—iMovie—was perfect for an Apple user with no editing experience. I could stitch clips together, edit out scenes I didn't like, and even filter out small amounts of unwanted background noise.
As time went on, I discovered even more options, including:
Some are more robust, some work better on desktop, and some let your seamlessly switch between desktop and app-based editing. See which ones works best for you!
Tools for Creating Animated Videos
Animated videos are one of the easiest ways to make your content stand out from the crowd. This is simply because so few organizations use them! However, you can use tools like Biteable, Animaker, Moovly, or Renderforest to create eye-catching videos that'll make donors stop, watch, and share.
Tools to Get Your Videos Out There
While we obviously recommend that you share every video your organization creates on social media, there's more you can do. For example, have you thought about creating a testimonials section for the front page of your nonprofit website? Check out this great example from the Greater Pittsburgh Community Food Bank: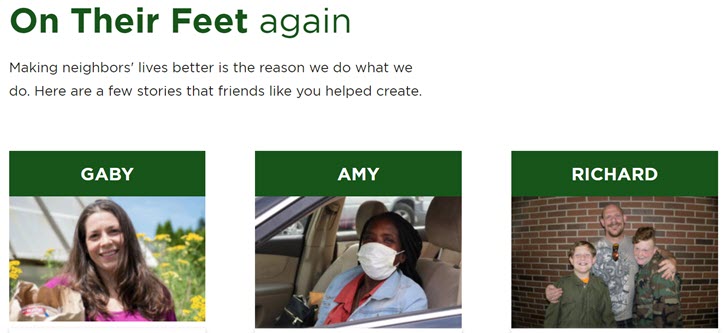 You can also embed your videos directly on your fundraising website. That's just what Georgetown Hospital Foundation did for the COVID-19 Response Fund:
This was not only a great, thoughtful way to express gratitude up front, but they also took time to share some COVID-19 safety tips since the pandemic was still new in March of 2020 (when this video was created).
Finally, get your peer-to-peer participants involved by creating short videos. They can post them on their own peer-to-peer fundraising pages. These videos should show why your participant is fundraising for your cause and it should show off their personality. Encourage fundraisers with special skills and talents to show them off in their fundraising videos. Uniqueness will only make their videos more engaging!
Final Thoughts
Video has become an indispensable tool in the marketer's toolbox … and that only makes it that much more important for nonprofits. We hope these tips will help you create better nonprofit videos (and tell better stories) for your supporters! You can also download this free nonprofit editorial calendar. It'll help you plan all your nonprofit content for the rest of 2021, including your videos!
Finally, check out our Navigating the Unknown report. This in-depth report of findings from our survey of nonprofits and donors can help you plan for the future with confidence!