Ronald McDonald House Charities of the Bluegrass used Qgiv to host a peer-to-peer fundraiser called Givers & Gamers. This virtual event replaced an in-person annual event that wasn't possible to host safely during the pandemic. Rather than miss a fundraising event, the team at RMHC Bluegrass quickly got to work setting up their virtual event with Qgiv's peer-to-peer fundraising tools.
Inspiration for Givers & Gamers
Ronald McDonald House Charities focuses on creating and supporting programs that improve the health and well-being of children and families. They knew their virtual event needed to appeal to young people and the young at heart. Inspired by Extra Life, a charitable organization that encourages fundraising by gamers who livestream their gameplay, RHMC Bluegrass built their event with a similar theme. However, their virtual event didn't solely focus on video games. Participants could choose to livestream playing any game they chose or sign up for a seat at a Dungeons & Dragons gaming session.
How Givers & Gamers worked
Registration
Registrants signed up to fundraise and chose how they'd participate. They could choose to join a Dungeons & Dragons session, join a livestream to play Jack Box games, or play independently and choose their own game. Registrants didn't pay a fee to participate in this fundraiser.
Participant fundraising
Streamers reached out to friends and family and asked them to give to support their fundraiser. Fundraising participants were provided with a wealth of fundraising resources on the event's FAQ page.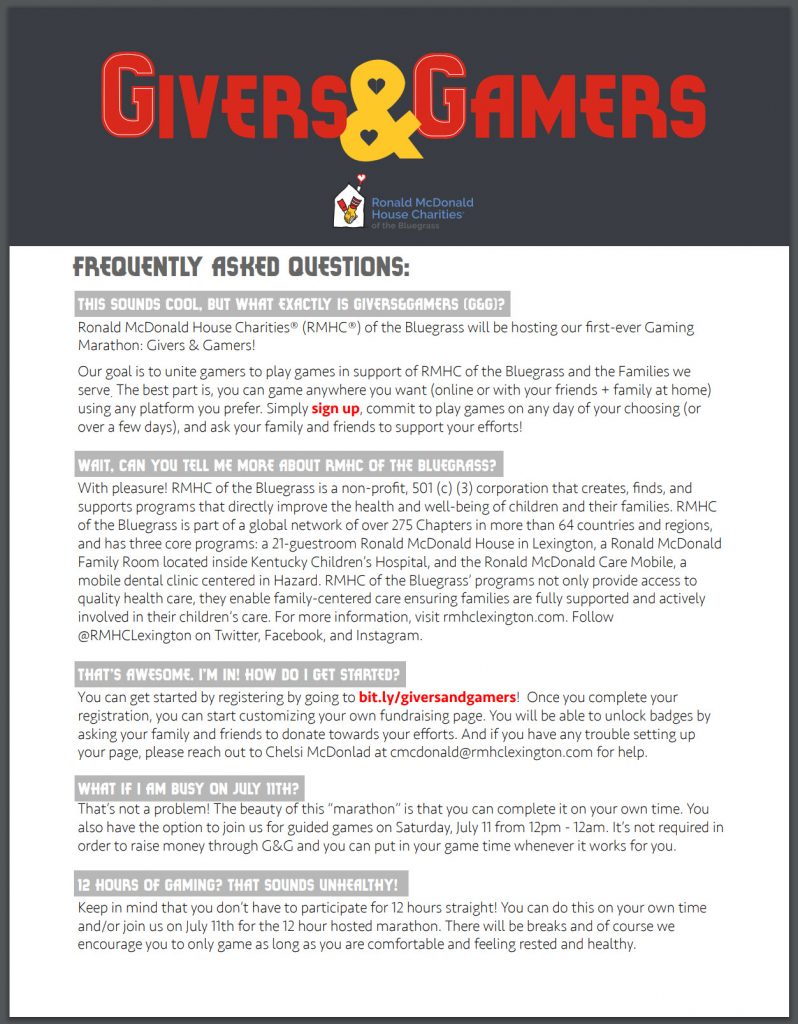 These fundraising tips, paired with the ability to connect with their social circle online, made the reach of each participant's fundraising efforts much wider than an in-person solicitation.
Virtual event technology
Livestreaming added entertainment value for those who tuned in to watch the festivities. Donors watched participants play games. Then, via a link to that participant's donation form, donors could support the participants who asked them to give to their campaign.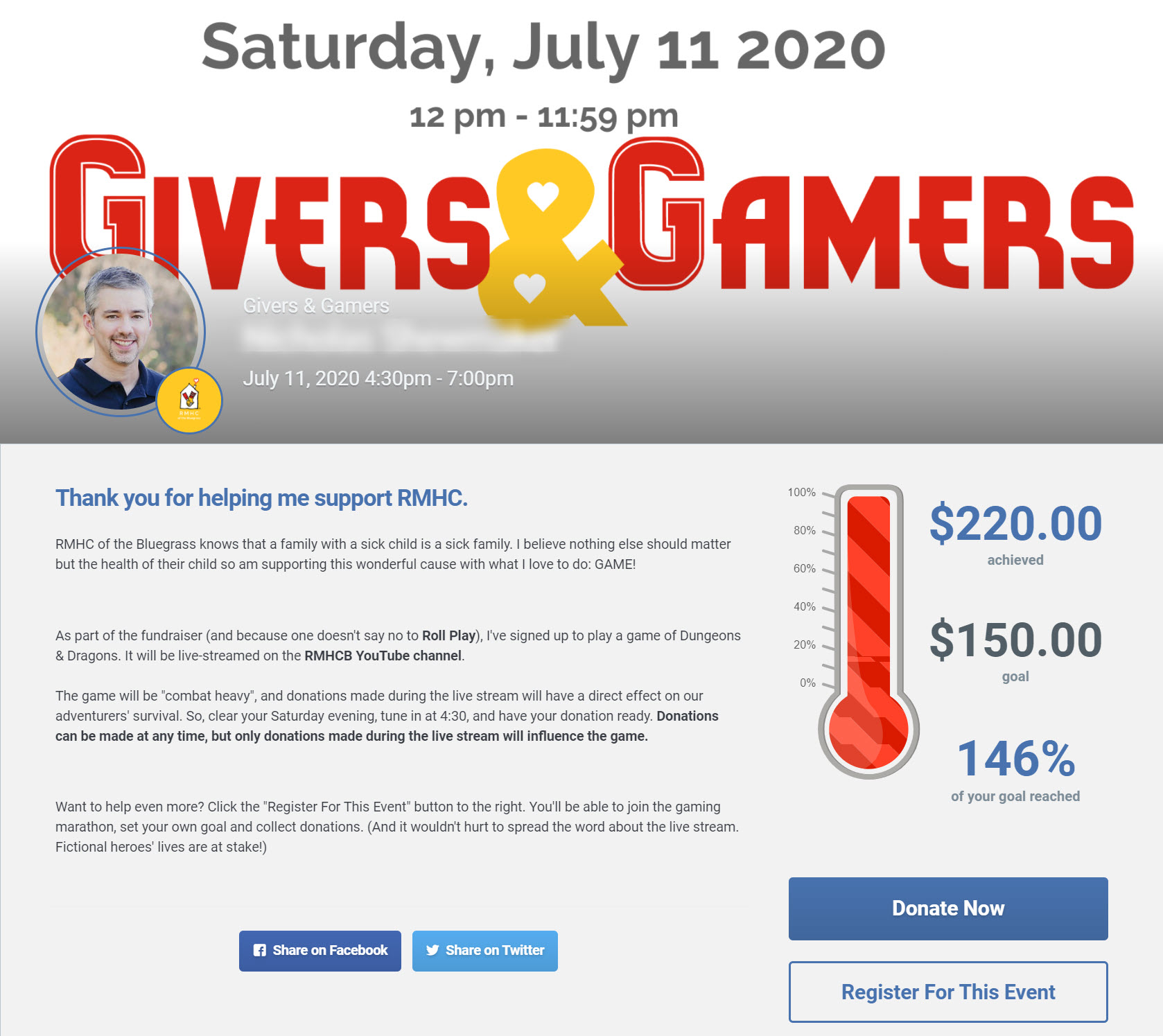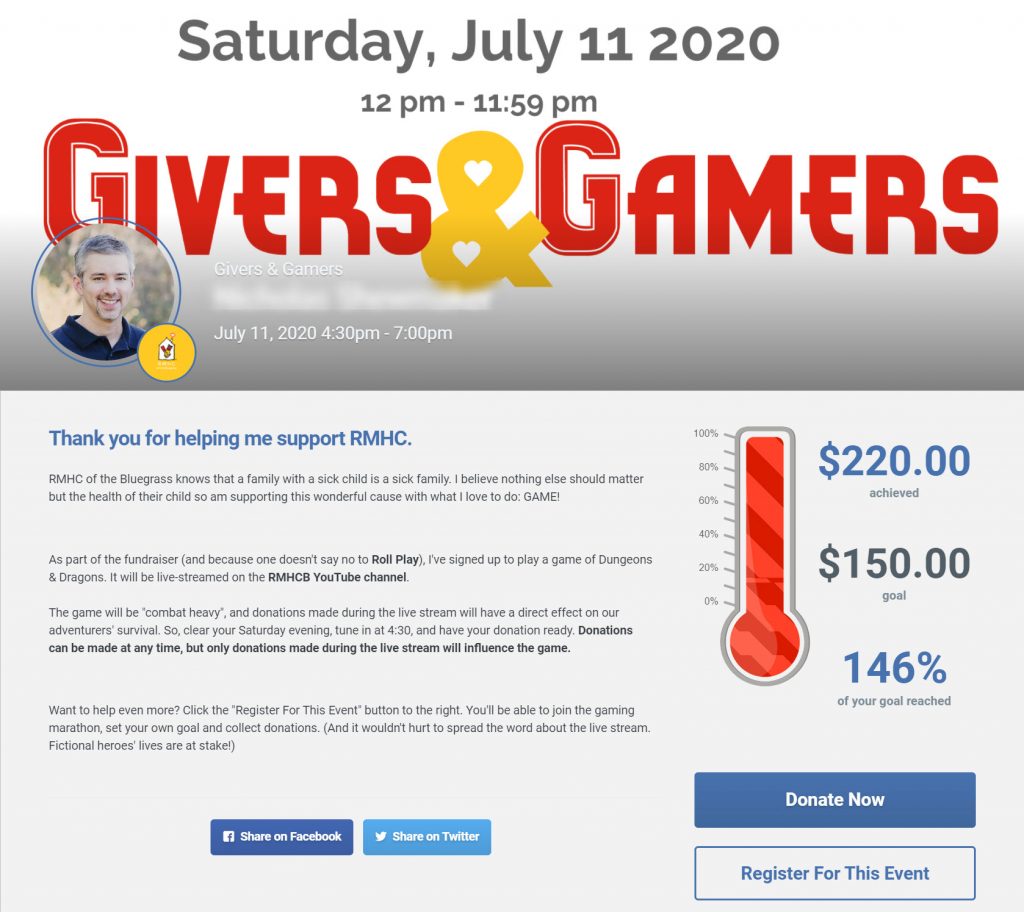 Despite this being a virtual event, the technology used to fundraise was a help rather than a hindrance. Because participants were able to attract viewers and ask viewers to give live during gameplay, it was simple to drive donors to participant fundraising pages. Livestreaming empowered solo fundraisers who chose to game alone.
For less tech savvy participants, RMHC Bluegrass controlled technology for livestreaming the JackBox and Dungeons & Dragons sessions. Participants didn't have to worry about controlling the livestream. Instead, they could focus on gameplay and asking their friends and family to give to their donation page.
Livestreaming was free for streamers and the nonprofit while boosting the visibility of their event.
Givers & Gamers event results
RMHC Bluegrass set a fundraising goal of $5,000 for the event. They were able to exceed their fundraising goal by an additional $1,125. Their participants helped them raise 122% of their fundraising goal. There was no registration fee to take part, so fundraisers and their participants were the driving force behind the event's fundraising success!
Additionally, the event attracted 29 unique participants and 131 donors—great turnout for a virtual event planned in only six weeks! These results are even more impressive considering the nonprofit hadn't hosted an event like this before.
Givers & Gamers encouraged gamers to give. That made this event ideal for Ronald McDonald House Charities of the Bluegrass because it encouraged gamers to give. Each participant made a huge difference in continuing the programs provided by RMHC Bluegrass.
Surprisingly, the top fundraiser for Givers & Gamers wasn't a fundraising professional. It was a teenager using his love of gaming to support a cause that was important to him. He and his mother worked hard and played hard to raise more than $1,600 for Ronald McDonald House Charities.
Conclusion
Ronald McDonald House Charities of the Bluegrass scored some major innovation points for their Givers & Gamers virtual event. They embraced livestreaming and hosted an event that exceeded their expectations while only giving themselves six weeks to replace a canceled in-person event. They made it easy for all registrants to take part in the event. The result of their efforts was the ability to exceed their fundraising goal by an additional 22%.