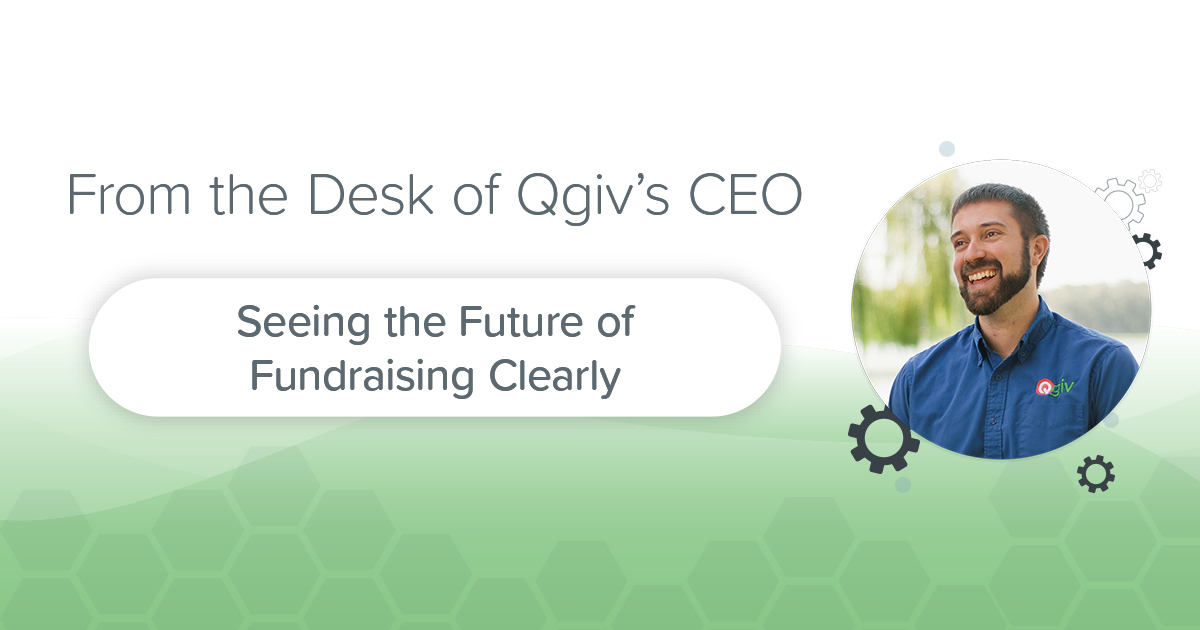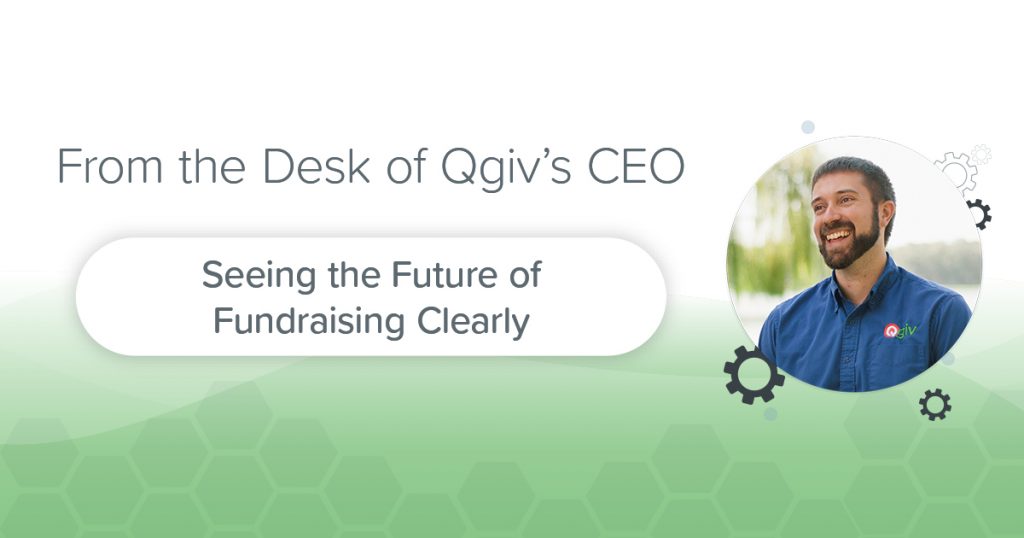 Earlier this month I had the opportunity to sit down with our CEO and Co-Founder, Todd Baylis, to talk about the future of fundraising. He has been steering Qgiv's course for the last 12 years through the emergence of Giving Tuesday, multiple product launches, and numerous fundraising trends.
As I walk to his office for our meeting, I joke that the meeting room in his office must be known as the "fundraising inner sanctum." In reality, Todd's door is always open and members of our team can frequently be seen there asking questions and receiving feedback. Our company culture values transparency; it's something that's practiced at every level—even the top.
As I sit down in the meeting room, Todd grabs an Expo marker and begins drawing a fundraising software model. Despite the faint lines (do dry erase markers ever truly work?) I begin to see the outline of everything Qgiv offers take shape as I ask my leading question,
How do we know what the future of fundraising will look like?
"To understand where we're going—and the future of fundraising in general—we've got to look at fundraising and fundraising software as it is now," Todd begins. "There are three buckets of giving. One-time gifts, sustaining gifts, and major gifts. Someone who makes a one-time gift is generally giving a smaller amount and responding to an emotional appeal. Sustaining gifts are gifts given on a recurring basis by someone who identifies with an organization and their mission. The interactions between organizations and donors within the one-time and sustaining gift buckets comprise the online giving market."
"The issue that we see in the fundraising world is giving software that is either too broad or too deep. A software solution may only address one aspect of giving or event management, and do that one thing well, leaving a nonprofit to seek other solutions for their different forms of fundraising. On the other hand, software might try and cover numerous aspects of fundraising. They may do everything, but it may not cover as deep of use cases as the customer ultimately wants or needs."
"The way we win is to go wide and deep and make sure everything integrates back into a nonprofit's CRM. That's the ideal fundraising solution."
Todd takes a step back, puts the cap back on the failing dry erase marker, and we look at the whiteboard together as he says, "This is where the market is headed. Nonprofits need fundraising software and a CRM that effectively communicate with each another."
The need for a synchronized fundraising solution that can facilitate one-time and sustaining gifts makes up Todd's framework and focus for discussing the future. My next question for him (based on my own experience as a fundraiser) is,
How can nonprofits get their donors and board members adopt new technology in 2020?
"Donor experience. New technology should always improve the donor experience and make one-time giving and sustaining giving easy. Allowing donors to give whenever they want, however they want."
The biggest challenge fundraisers will face in 2020?
"Data portability…meaning whatever information you receive from a donor when they give should seamlessly go back into your CRM. When these systems don't communicate with each other (your CRM and fundraising software) you have a lack of insight into your donors. If you don't have insight into the giving patterns of your donors, you won't be sure how to cultivate a relationship with them."
"Since nonprofits receive most of their funding from the major gifts bucket, anything that can cause issues in the cultivation process can impact potential major donors. For example, an ask that's too small or a misspelling of a major donor's name—both issues that can occur when your CRM and fundraising software don't have reliable data portability. The systems don't communicate well with one another, and that's a need we're working on solving by partnering and integrating with industry-leading CRMs."
At this point the whiteboard is covered in arrows connecting different giving buckets and a rectangular CRM to a shape that represents fundraising software. It looks like a work of fundraising genius. As Todd grabs his "Best Dad" coffee mug, it becomes clear to me that as complex as the future of fundraising might be, it's still rooted in a simple and relatable principle: to help others.
"The future of fundraising will always be connected to helping organizations fill their three buckets of giving and continue to make a difference in their communities by doing so."
Curious how Qgiv can integrate with your CRM and help your nonprofit in 2020? Request a demo today!