Silent auctions are a great way for nonprofits to raise funds for their missions. However, it's easy to leave money on the table if you don't know how to make the most of your silent auction fundraiser. We put together these silent auction rules to help you bid farewell to disappointing auction experiences and welcome success!
1. Secure Auction Items Early
Securing auction items early is a huge part of making sure you have everything needed to attract bidders to your auction. Allow yourself plenty of time to obtain in-kind donations for your auction. Your auction items will drive bids and ensure your event's success. By acquiring items early you can make sure your auction items align with your guests' interests.
The Fond du Lac Historical Society understood the importance of obtaining auction items early. For their Festival of Trees silent auction event, they collected used artificial Christmas trees well ahead of the event. They then had different organizations in the area decorate them before they went up for sale.
The trees all had different themes, and those themes appealed to the guests who attended the event. This vintage Christmas tree was even bought outright for $1,000! We're going to go out on a limb here and assume the purchaser is a big fan of vintage Christmas ornaments.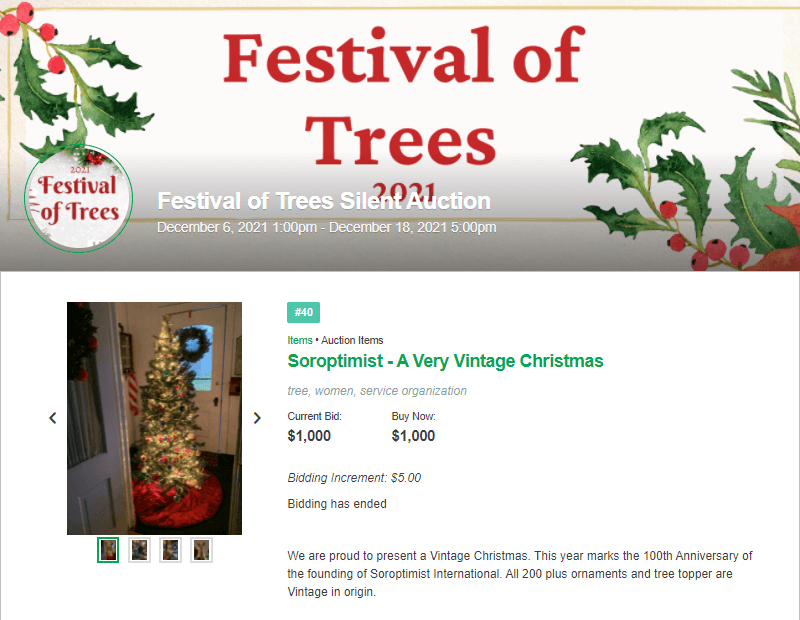 2. Recruit volunteers to work the event
The next rule is to get your volunteers ready to work the event. Your volunteers can take a "just okay" auction and elevate it to an evening your guests won't soon forget. For example, you can create a concierge experience for bidders who need extra help by asking volunteers to place bids on behalf of donors.
Volunteers are another aspect of your auction you'll want to get figured out early. Relying on staff alone to run your auction can result in long lines and means longer set up and tear down time. Spare yourself the headache and instead get a dedicated group of volunteers to help. Get enough volunteers so you're sure that check-in, checkout, and bidding will run smoothly.
3. Create an event theme that excites your supporters
When you run an auction event, it helps to have an event theme supporters can rally behind. Your theme can relate to your nonprofit or you could choose a fun party theme and build your auction around it.
The goal with your theme is to make it memorable. Think on these questions when coming up with a theme:
How can the theme set your auction apart from other events and activities your guests will be invited to?
What will resonate with your guests?
What's something you can offer that they won't be able to experience elsewhere?
With the answers to these questions, you'll be able to come up with a winning theme to elevate your silent auction event.
FHN Foundation Gala Galactic was an out-of-this-world silent auction event that had an outer space theme—and it was virtual! Their Gala Galactic auction item baskets inspired by stars and galaxies and this stunning event header image got guests excited about the festivities.
4. Add auction item security
You don't want auction items to walk off before or during your event, so this tip is essential: set up security practices for handling auction items ahead of the event. Then, get your staff and volunteers up to speed on security measures.
Different people will need access to your auction items before your auction, so it's important to know who has access and why. A check-in sheet to get into the auction item storage room is imperative to create a chain of custody for auction items.
During your event, you'll want to assign volunteers to help monitor items at the auction table to make sure they don't go missing. For more costly auction items, it helps to not even bring them to the event. Instead, offer pictures of these items and keep them secured safely offsite. That way, everything stays safe and you can arrange delivery or pickup of these items after the event.
5. Stage your auction items during the event
How you present your auction items makes a big difference in attracting bids. A haphazard auction item table won't attract as many bids if what's up for auction is unclear or looks messy.
Instead, pay attention to how items are grouped and how they're displayed. You may want to make auction baskets that look good and have a theme to make organizing your auction offers easy. Remember that just because individual items were donated doesn't mean you can't combine items into a cohesive auction basket with a higher value.
6. Make it easy to bid
The sixth of the silent auction rules is all about ease of use. Your bidders want to have a good time at your auction, not stress over how bidding is going. That's why you should make it as easy as possible to bid. Instead of paper bid sheets, you can streamline the bidding process with an auction app or web-based bidding platform.
With an auction bidding app or the ability to place bids online from the event website, you make it easier for bidders to check on their bids from wherever they're participating. It helps to have a platform that empowers bidders to set maximum bids and bid automatically up to that set amount. This frees up your auction guests to mingle, have a drink, and even participate in other fundraising activities during your event rather than be glued to a paper bidding sheet all night to ensure they win.
Qgiv's auction platform offers both app-based and web-based bidding.
7. Offer other ways to support your nonprofit
As we alluded to in the previous tip, sometimes your guests won't be bidding on items. In fact, not everyone at your auction will bid on your items or win an auction item. They're there to support you. Rather than just celebrating that they paid the registration fee and came to attend the event, create additional opportunities to give or support your nonprofit. Some great ideas for making additional money during your silent auction event are:
Wine pulls
And inviting guests to sign up to become volunteers
Animal Friends Alliance sold t-shirts at their February Fix Fest silent auction with many of the shirt sizes selling out. That means there was a way guests could contribute even if they didn't win a silent auction item. The shirt sales helped them reach 107% of their $27,500 fundraising goal.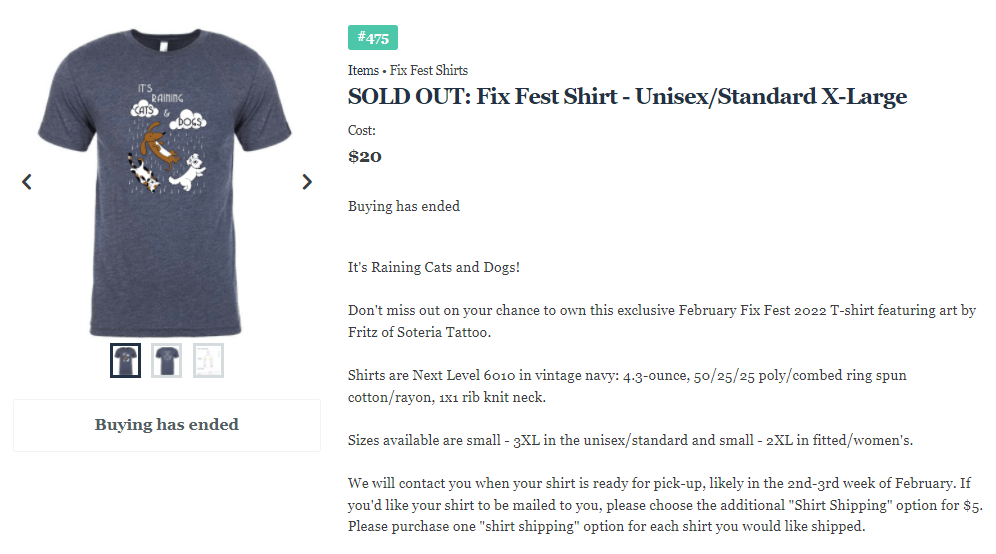 8. Show progress toward your fundraising goal
The eighth of the silent auction rules is a great way to increase giving and drive bids higher is by showing your progress toward a fundraising goal. Whether your goal is large or small, having a visual will inspire people to give more in order to ensure you're fully funded by the end of your event.
You may be curious how a fundraising thermometer will help you raise more. You can find out more about why using a fundraising thermometer works here.
9. Send post-event communications
The last of our silent auction rules is all about what you should be doing after your event ends. How do you keep new supporters who came out to bid during your auction? How do you turn a bidder into a long-term supporter? The answer is post-event communications!
When events end, keep in touch with your supporters. Send them a post-event survey to get feedback on your event. Then, share the results of your fundraiser. Let them know how much was raised and how you intend to use those funds in order to make a difference. In your post-event communications, you want to frame your attendees as the heroes. They're the ones who made your event a success and they make the work you do possible. Staying in touch after an event ends is a great way to turn a one-time bidder into a long-term supporter.
Conclusion
With these nine silent auction rules, your nonprofit should be able to host profitable silent auction fundraisers with ease. Through a combination of high quality items, a well-trained group of volunteers and staff, and some silent auction best practices you can make a silent auction event that your supporters won't soon forget.
Need more tips for auction fundraising success? Download your free copy of the Qgiv Auction Planner for resources you can use to host more successful silent auctions.