Peer-to-peer event season is upon us and we're so excited to see so many organizations' unique events! Many nonprofits take advantage of P2P fundraising and for good reason: people are much more likely to give if they know the person asking. Get your donors excited about your cause by hosting a P2P event that's sure to resonate with them.
Honestly, so many of our customers do an incredible job with their peer-to-peer events. We wish we could show you ALL of them, but for the sake of time, we've compiled a few of our favorites. Check out why they work and potentially gain inspiration for your next event!
Before we get into what this event is, let's take a moment to appreciate this fundraising goal success!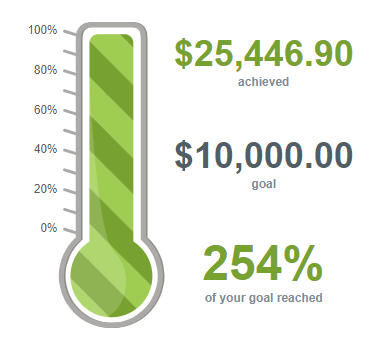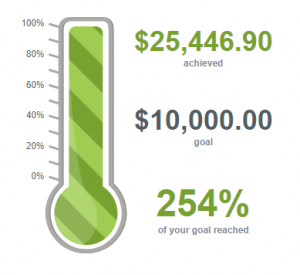 254%! Seeing organizations that max out their original fundraising goal makes our hearts explode with joy.
Why we love it: Besides the incredible fundraising goal that was met, we love seeing those fundraising thermometers. The name of the event gives potential attendees a clear idea that it's a food-based event and the event page is great in that it's straight to the point with high-quality images. High-quality images make such a difference on your form. If it appears professional, you're likely to gain lots of traction. All proceeds from this event go towards assisting those with Pulmonary Fibrosis and continued medical research to find a cure.
Why we love it: Purple Plunge is a nonprofit cancer charity that hosts a chillingly successful event each year. Supporters sign up to jump into Lake Zurich in freezing temperatures to increase awareness and support to cancer survivors in their community. They take full advantage of what Qgiv has to offer on their form from embedding a thermometer, to making use of the P2P store selling branded hoodies, sweatshirts, and an adorable Purple Plunge penguin pop socket. Check out that leaderboard, too! From teams, individuals, and donors, it's fun and inspiring to see the funds rolling in in real time.
Including videos and photos from past plunges is a smart way to show newcomers what to expect as well.
Why we love it: Qgiv recently had the opportunity to attend and volunteer at VISTE's 14th annual indoor golf-themed peer-to-peer event. Not only is it a LOT of fun, but the idea is unique. A play on words, VISTEBall offers games, a silent auction, and dinner/drinks. All proceeds from the event go towards helping volunteers continue providing the highest level of service to our aging population.

Around the venue, you'll see touching testimonials that are brilliantly a part of most games. It's clever branding that reaffirms attendees why they're at the event in the first place.
Why we love it: Animals, obviously! All jokes aside (but no, seriously, it's an event with lots of adorable animals) we can see that they're set up early and well prepared. Paws on Palafox isn't until April and they have their event page live months ahead of time giving the opportunity to meet their fundraising goal and then some! Animal lovers gather each year with their furry friends for a 3K that benefits the Pensacola Humane Society's Barbara Grice Memorial Low Cost Spay and Neuter Clinic. Each pup is offered a bandana and there's even an after party once the 3K is completed.
The videos at the bottom of their event page are high-quality and leave an impact on those that visit the form. Side note: if this beautiful explanation of their logo doesn't tug at your heart, I'm not sure what will.

Why we love it: If you're a Disney fanatic like I am, this speaks for itself. Disney is a worldwide sensation, so it's no wonder this P2P event is a hit.  The Disney Princess Half Marathon proceeds went towards the Nemours Foundation — an organization dedicated to improving the health of children at a national and international level. We're aware not every organization is large enough to fund a P2P event such as this one. But, take this as an idea to team up with local companies for your next event. Take your peer-to-peer event to the next level with sponsors that might help bring in registrations.
Pro tip: Nemours offers a disclaimer on their form that's important to take note of if you're hosting an event with a major company like Disney so that brand standards aren't violated.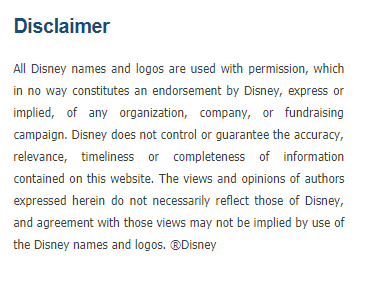 Why we love it: What's absolutely vital to take away from this form are the tabs at the top. If you're a first-timer to this event, this form leaves you with zero confusion or questions. They provide day-of info WITH parking instructions. We've seen time and time again the frustrations of P2P participants who weren't provided with proper instructions. Don't leave a bad taste in their mouth by not making the event a seamless experience from start to finish. The Run for Hope 5K supports The Faine House. The Faine House assists in the growth of young men and women formerly in foster care with support in 5 essential areas of life.
Included on the form is this well-crafted picture. Depicting a 5K, it also lists the 5 essential areas of life covered in the program with statistics supporting their mission.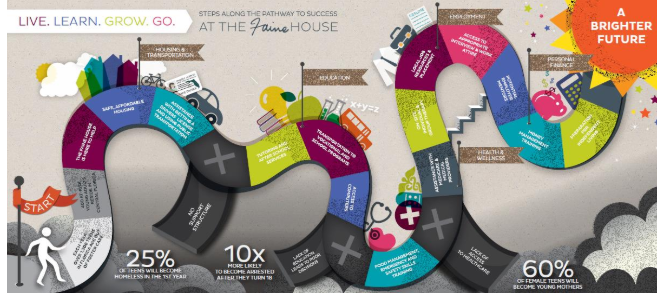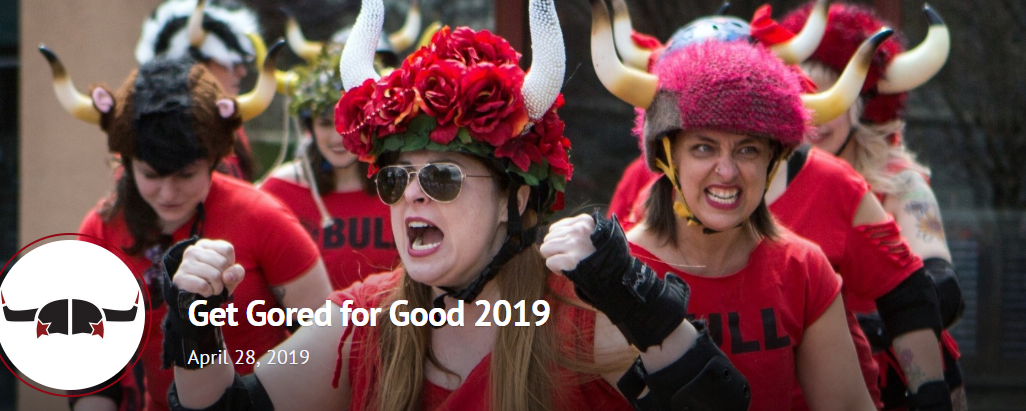 Why we love it: Besides this obviously awesome cover photo, this event is a neat twist on a traditional 5K. Inspired by the "Running of the Bulls" in Spain, the women of the Providence Roller Derby run down participants as they make their way through the obstacle course. Also offered on this event form is an in-depth FAQ page that we recommend for everyone.
Get Gored for Good supports hunger and homelessness in the Rhode Island area with all proceeds going towards the Amos House.