Many animal shelters are in a tough spot during the COVID-19 outbreak. Stray animals still need a place to go; the animals in your shelter still need food, medical care, and new homes; and volunteer animal foster parents still need support from your organization. Fundraising, for animal shelters, is of even greater importance these days. Times may seem bleak, but there are steps your organization can take to operate safely and smoothly in these difficult times.
Post a call for fosters
Having a full shelter can mean stretching your resources very thin when families are reluctant to bring home a new furry family member. It's often in the best interest of the animals in your care for them to await adoption in the care of a dedicated foster home. Placing an adoptable pet with a foster family can decrease expenses. This means animal shelters can focus on fundraising while cutting costs. During the outbreak, many people are understandably on the fence about adopting a new pet. Instead of holding every animal at your shelter, post a call for volunteers to foster some of your available animals. In-person volunteering may be discouraged in your area. If it is, engage your volunteers by asking them to become fosters.
Write a foster appeal
The first step in asking for fosters for your pets is to create a foster appeal. Here's a great example from SPCA of Florida.


This is a win-win for your organization. Not only are you able to get some of your adoptable animals out of the shelter, you're creating an opportunity to engage existing volunteers as well as find new fosters you can rely on. Be sure to put the call for fosters on your website and make it highly visible. You can also accomplish this by adding an image to your website with a call to action explaining why fosters are desperately needed. Add navigation on your website to a sign-up form tied to the email of the person who manages your foster volunteer relationships.
Curbside pickup of foster pets
When new fosters come to pick up their pet, make it clear what their responsibilities are and provide them with any resources they need. Try to stagger foster pet pickup times to keep your risk of exposure low. You may even want to offer a foster pet curbside pickup program where you bring the animals out to the foster family's vehicle. This helps keep your staff and volunteers safe.
Let your supporters know what you need
The need for supplies at your shelter will likely increase as fewer families will be traveling to your facility to adopt a new pet. If you've closed your doors to the public to limit contact with visitors, you may not be getting your normal amount of supplies donated to your shelter. Don't be afraid of letting your supporters know you need help! Like your call for fosters, you should add information to your website and donation forms explaining what your needs are and how supporters can help.
Asking for monetary donations
Let your supporters know you still need funds. Animal shelters need to be actively fundraising to meet the needs of their adoptable animals.
Donation Forms
Create and embed a coronavirus-specific donation form on your website. You can ask for funds to purchase supplies or even offset adoption fee costs to entice people on the fence about adopting a new pet to take the leap during the outbreak.
The Humane Society of the Pikes Peak Region did a great job creating a donation form linking to their community relief fund. They made this special donation form more noticeable with a pop-up that appears when you land on their website.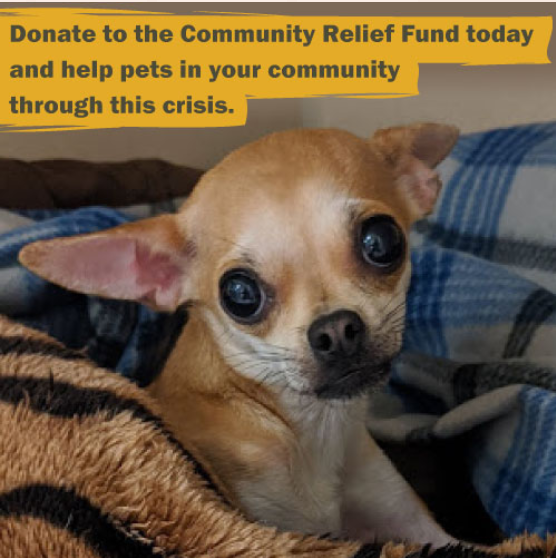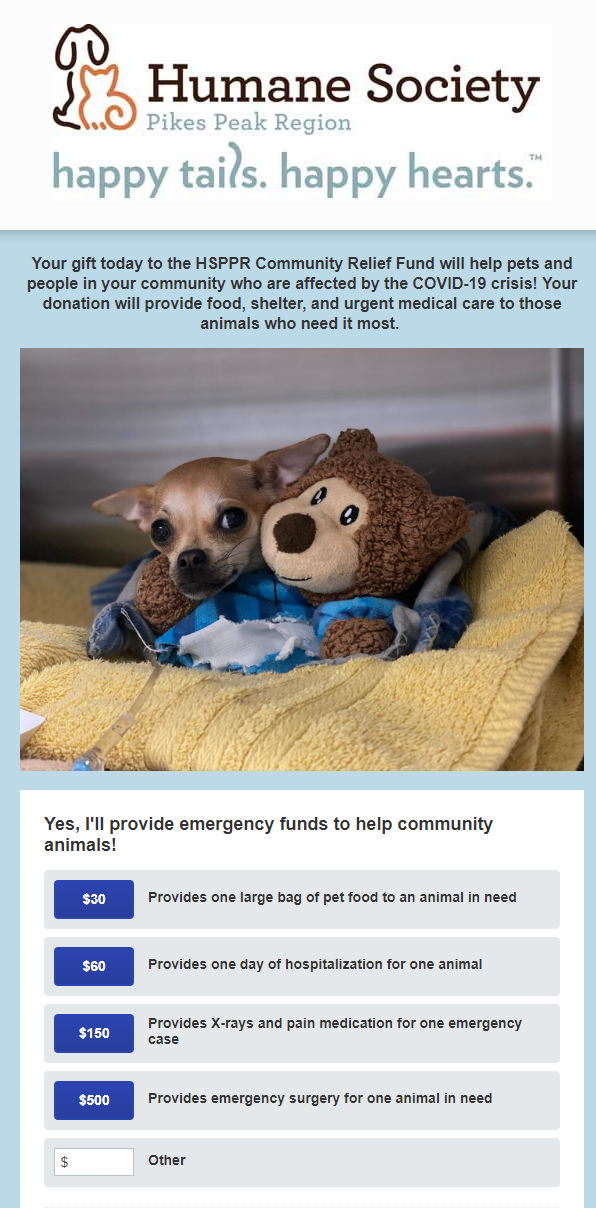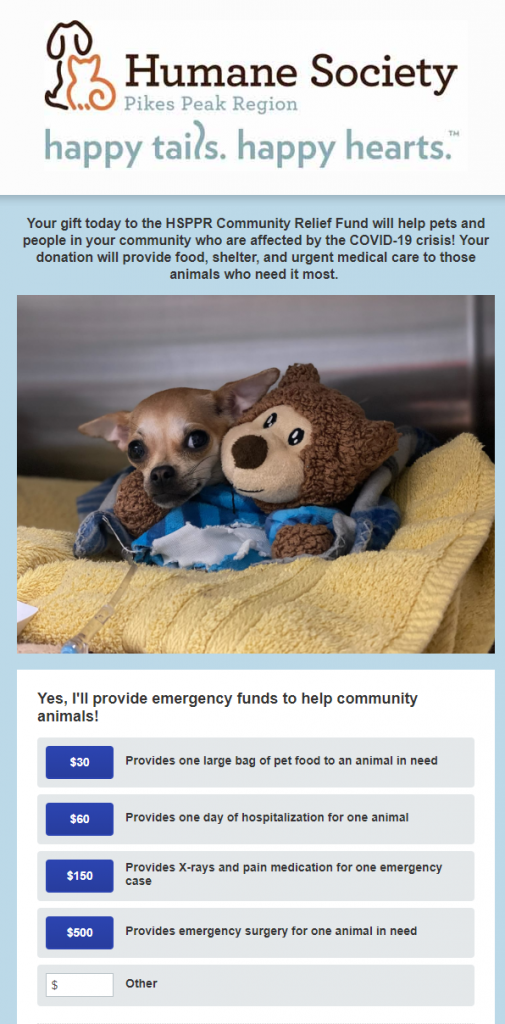 Virtual fundraising events
If you were planning to host a fundraising event during this time, consider transitioning to a virtual event. This doesn't work for every type of event, but you can easily host a virtual 5K or walk-a-thon. You could even live stream a talent show on Facebook Live while asking for donations.
Your virtual event page doesn't have to be all that different from a normal peer-to-peer event webpage. Check out this great example from SPCA Florida. They transitioned their annual walk-a-thon into a virtual event.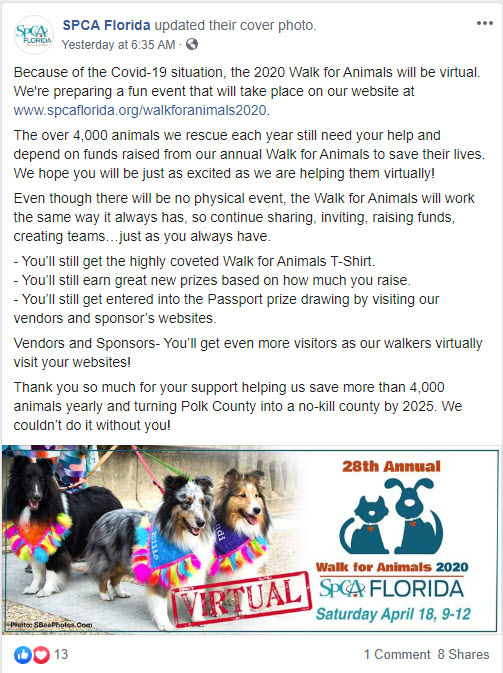 Asking for supplies
If you use Qgiv's peer-to-peer platform, consider creating a storefront page to host a virtual supply drive. Here's a great example of a virtual supply drive hosted by Second Harvest Food Bank of Northwest North Carolina.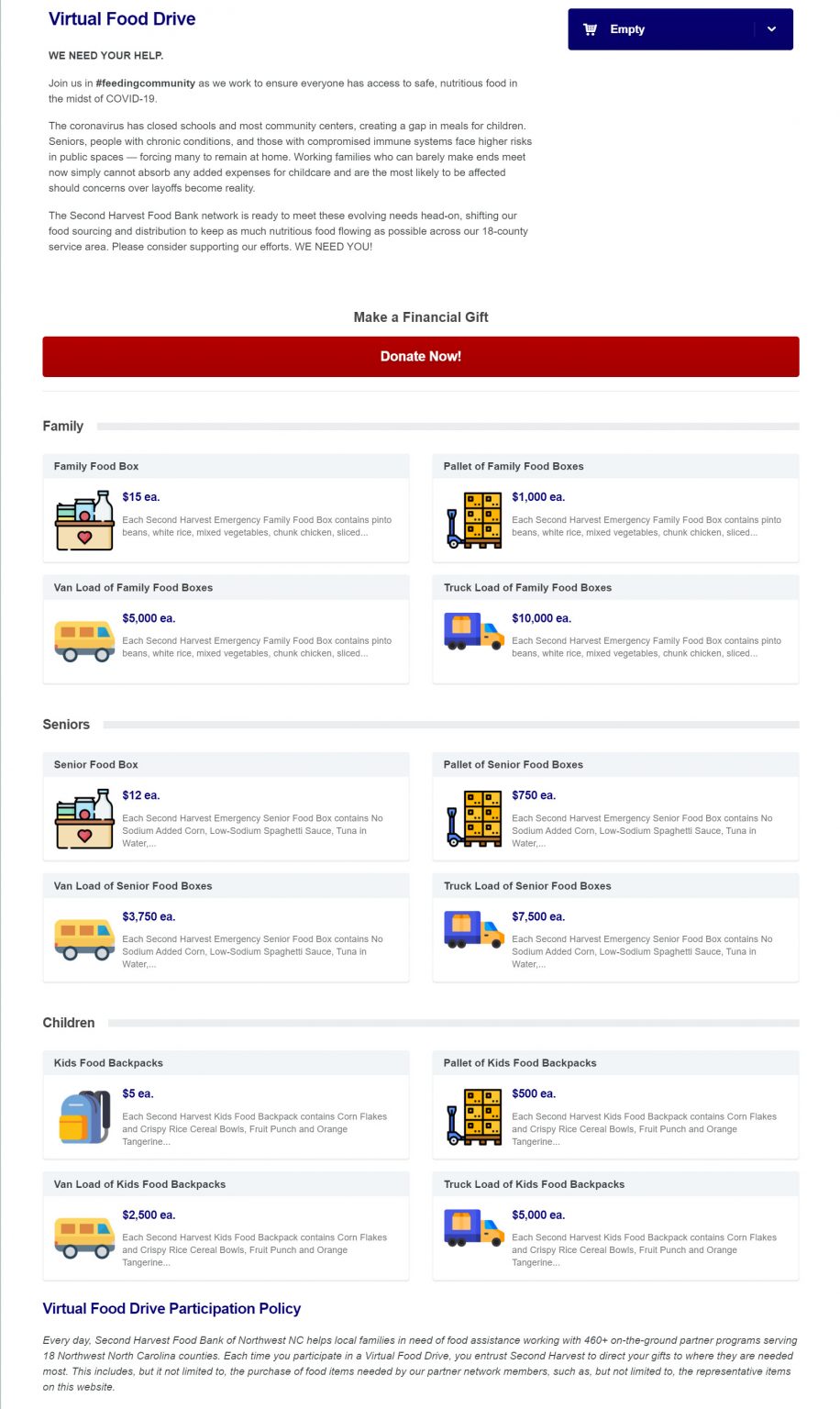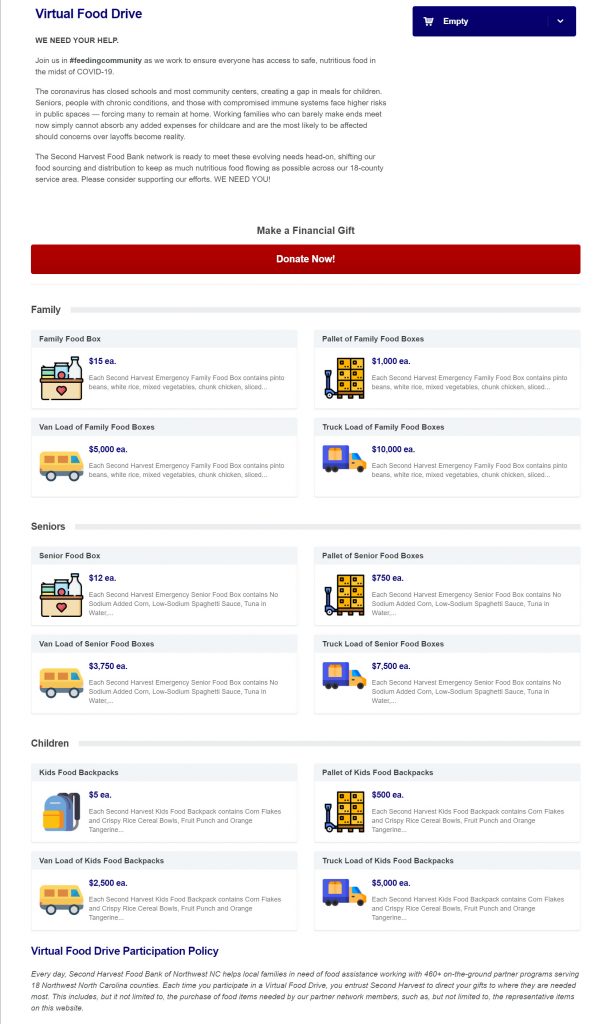 Similarly, Pet Alliance of Greater Orlando created a donation form for their virtual supply drive. They then advertised this fundraising campaign on their social media account.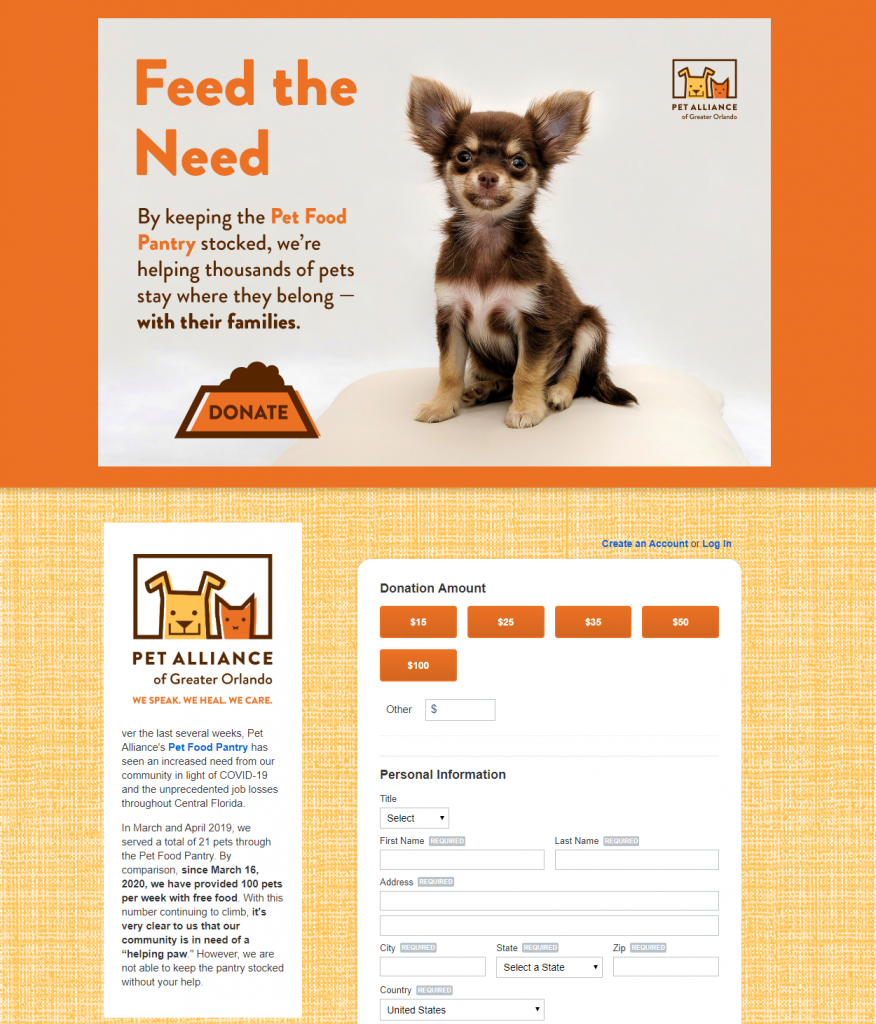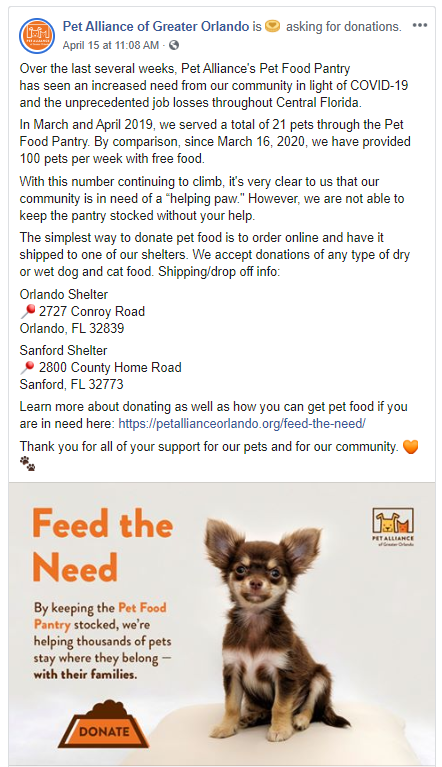 Another option for a virtual supply drive is putting together an Amazon wish list and sharing it far and wide. Get it up on your website, send out an email campaign, and post your wish list on your social media accounts. Luckily, Amazon is prioritizing items they classify as essential and shipping them out quickly. Pet food and other pet supplies are essential items and should get delivered right away.
Advice for urgent supply needs
If you're in immediate need of supplies, offer contactless supply donation drop off. Set up a large donation box outside your shelter door. Be sure to include a list of needed supplies on or near the donation box and make sure the box itself is clearly marked for supply donations. If you have a list of supporters who regularly donate supplies, let them know that this contactless supply donation option is being implemented temporarily. It may encourage them to pick up a bag of pet food or other supplies when they venture out on a store run for that ever-elusive pack of toilet paper.
If you do implement a contactless supply drive in addition to the virtual supply drive, be sure to mention on the website that you're accepting drop off supply donations at your location. Local supporters may have the supplies you need on hand right now. Now, you won't have to wait for the supplies you ordered to be shipped.
Getting the physical supplies you need can be a serious help cutting down the amount of fundraising animal shelters need to do right now.
Asking for volunteers
If you are limiting contact with the public at your facility, you may need more volunteers to help care for every animal at your shelter. If you're still processing adoptions, volunteers could also be asked to deliver adopted pets to their new families so adopters don't have to travel to your shelter. Not only does volunteering with your organization provide many individuals with something to do during the quarantine, it helps your organization to continue to operate (albeit in a limited capacity) and get animals adopted.
Share resources for families affected by COVID-19
The coronavirus outbreak is causing many families to experience financial strain. From layoffs from work to increased spending on groceries to keep their kids fed while they're home missing school lunches, the pandemic is causing many people to struggle financially. Not only that, but the uncertainty can be incredibly scary for people. Let your supporters know that help is out there by sharing links to organizations who offer low-cost services for families hit hard by the coronavirus crisis.
Sharing these resources does more than help your supporters. If a family is considering surrendering a pet because they can't afford their expenses, the right resources can keep that pet out of your shelter and with their loving family. For an example of how to share these local resources on your website, look to the Humane Society. They keep a list of resources on their website year-round for families having trouble affording their pets. They've even added resources specific to the COVID-19 outbreak. Humane Society Pikes Peak Region put together a handy PDF guide on creating a disaster preparedness plan for pets. By sharing these resources with pet owners you keep pets from being surrendered to your shelter during the outbreak. This keeps more families together and is less strain on your resources.
Spread messages of joy and hope
Most importantly, you want to be a light in the darkness for those struggling. Sharing resources and being there for your community is really important right now. You can be a source of hope, entertainment, and support in these crucial times.
Humane Society Pikes Peak Region recently started creating a series of videos to entertain children stuck inside during the quarantine. In the videos a staff member reads a children's book about an animal. The video is complete with character voices, sound effects, and funny faces. Their only goal with the videos are to create joyful moments for their audience. You can spread joy as well. Post cute videos or pictures of adoptable pets in your shelter. Get creative. Speak from the heart. You can be a reassuring, calming presence for people who need it right now.
Conclusion
Things may seem out of control and unpredictable right now. However, animal shelters fundraising during this time can make it work. There are several steps your animal shelter can take to keep raising funds and operating safely and smoothly during this difficult time. Continue fundraising and asking for supplies if you need them. Your supporters won't want to see animals in your care go without. If you can, rally around your volunteers. Ask them to foster pets or deliver adopted animals to their new homes. Share resources to curb the number of animal surrenders happening. Most importantly, spread joy where you can because we're all in this together.