Hosting a bowling fundraiser has been an effective way for nonprofits to raise money while offering family-friendly entertainment to their supporters. National nonprofits like Junior Achievement and Big Brother Big Sisters have been hosting bowl-a-thons for years to fund their crucial programs. But it's not enough to lace up your rental shoes and pick a lane! To make a bowling fundraiser profitable, follow these best practices.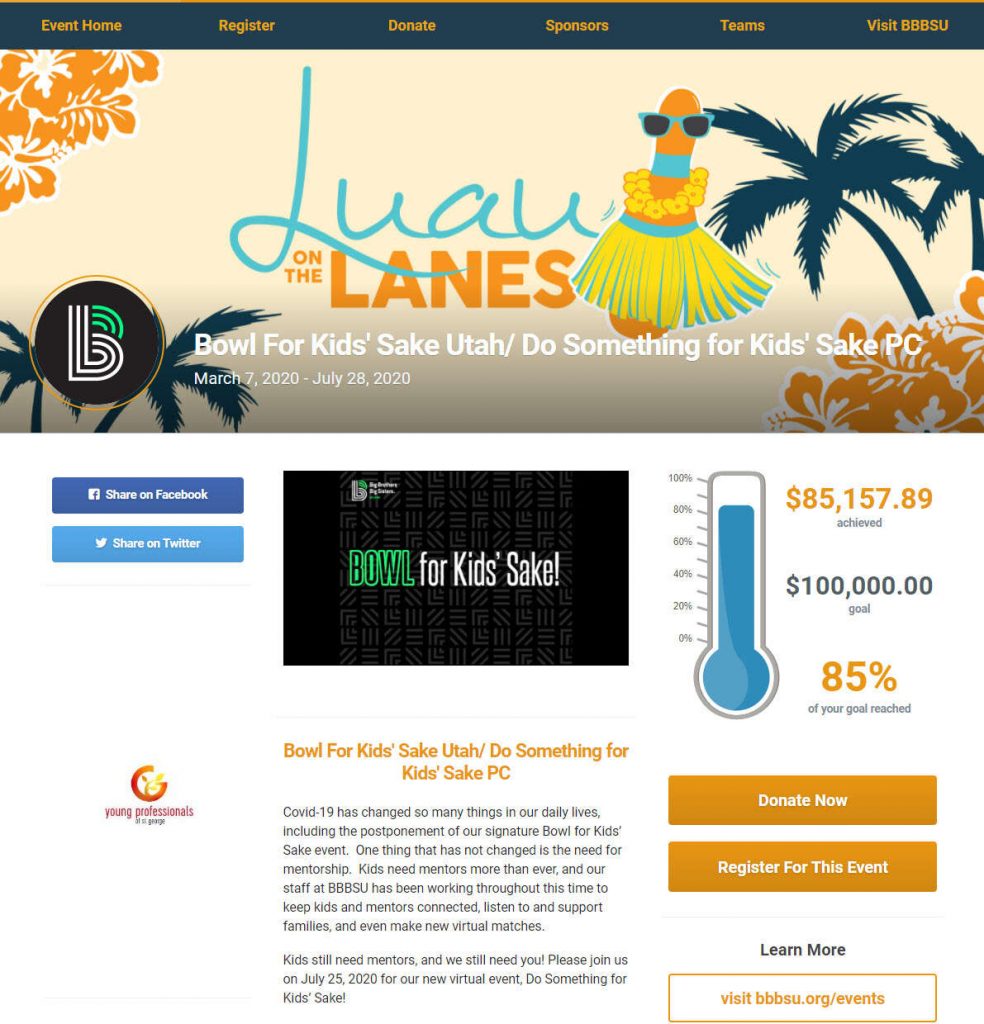 1. Give yourself time to plan
A great bowling event isn't built in a day. Give yourself time to secure the venue, book entertainment, arrange catering, and come up with sub-events for your bowling fundraiser.
Start planning a month or two before the event to nail down all the details.
To help you stay organized, we've come up with a few items you should address while planning your bowling event:
Secure the venue
Arrange for food (prepared by the venue or catered)
Book entertainment and/or event speakers
Order decorations
Get set up with a peer-to-peer platform and create your event page
Prepare your guest list
Implement sub-events taking part during your fundraiser
Plan for virtual elements (how can virtual participants take part in all the in-person fun?)
Decide staff assignments and train staff in their roles
Additionally, it helps to have your event invites, sponsorship letters, and thank-you letters written well ahead of time so you can send your event communications out quickly to delight your supporters.
2. Create an event committee
To succeed at hosting your own bowl-a-thon fundraiser, it helps to have an event committee. An event committee is a group of people that can take on different responsibilities when it comes to organizing your event. Your committee can include a mixture of staff and volunteers (including members of your board). The key is to bring diverse ideas and personalities to the event planning process so that you can create an event your entire community can enjoy.
3. Set fundraising goals
Even if it's your first time hosting a bowl-a-thon event, you don't want to go into it without a fundraising goal in mind. A fundraising goal will help inspire your bowlers to reach fundraising milestones and fully fund your project or initiative. Without a fundraising goal, your bowlers have nothing to reach for or aspire to. Not to mention, it could lead others to believe that your organization doesn't need funding if you don't share a goal. Instead, prominently display your fundraising goal in the form of a fundraising thermometer and reference the goal at different milestones and during your event to let your bowlers know how close they are to completing the goal.
4. Find event sponsors and vendors
To help you reach your fundraising goal for your event and make it more successful you need to find event sponsors and vendors. Your sponsors can help fund your bowl-a-thon so you can bring more entertainment to the table without it impacting your event budget. This is a great way to keep your overhead costs low so you can concentrate on hosting a profitable bowl-a-thon fundraiser instead.
5. Make the bowling fundraiser accessible to virtual guests
Hybrid events make it possible for people to participate in your event without being there in person. Maximize the potential of your bowling fundraiser by incorporating virtual elements for participants who can't attend in person.
How?
Livestream the event for virtual attendees
Create an event page on social media and interact with participants before and during the event. Include a link to the livestream on this event page.
If the event is catered, arrange for a meal kit for virtual participants and deliver kits or arrange for them to be picked up before the event.
Encourage virtual participants to bowl at home and share video and pictures of themselves having fun.

Virtual attendees can participate via Wii Bowling or other console bowling game
Or via one of many free bowling apps they can download on their smartphone or tablet

Involve virtual attendees in sub-events when possible.

If you're hosting a raffle, sell digital tickets to your virtual guests.
Hosting a virtual silent auction is another great way to keep virtual attendees engaged and entertained

Ask virtual attendees to get involved with fundraising efforts too. Then, keep virtual fundraisers motivated with an email campaign.
Including virtual elements opens up your event to a greater audience. Your participants are not limited to your geographical area with a hybrid bowling fundraiser.
6. Build enticing sub-events for in-person bowlers
Bowling is fun. But bowling with a chance to win cool prizes at your bowling fundraiser is even better! We discussed a couple sub-event ideas that are great for including virtual participants, but you can also include exclusive sub-events for in-person attendees to keep them engaged and giving during the event.
In addition to silent auctions and raffles, create bowling activities and encourage participants to pay to play:
Spare Change Challenge – Donors win a prize if they're able to pick up a difficult spare, but they must pay to play.

This sub-event idea requires a dedicated lane that sets pins in a unique way. Consult with bowling alley staff to determine if this is possible with their equipment.
You may also be able to set up this game using a toy bowling set to save yourself from devoting a lane to this game.

Two-Handed Bowling Competition – Donors compete to see who can get the highest score in a single frame by bowling two-handed.
The key is to get creative and come up with unique ideas that your in-person guests enjoy and your virtual attendees will love to watch! Video from these sub-events can also make great promotional tools for marketing your future bowling events, too!
Registration fees can be a good source of income from your bowling fundraiser event, but you're leaving money on the table if you don't incorporate fun sub-events into your fundraiser. Liven up the lanes and give your supporters a great experience with unique activities they can take part in on top of the bowling event.
7. Market your event
Next, you need to market your bowl-a-thon event to drum up more interest in the fundraiser. It helps to take a multichannel marketing approach to marketing your event. That means reaching out on several different marketing channels in order to reach your target audience. You can combine social media, paid search ads, emails, and direct mail appeals to get people excited about your bowl-a-thon fundraiser. You might even want to post flyers at the bowling alley that's hosting your event so their regulars can take part in your bowling fundraiser too.
8. Thank your participants
Lastly, if you truly want your bowl-a-thon event to be successful you need to thank your participants. The folks who show up to support your nonprofit are the ones driving your success. From their individual donations to peer-to-peer fundraising, they're doing everything in their power to help fund the crucial programs that you provide. If you want your attendees to walk away from your event feeling good about taking part, you need to thank them. Thanking your donors and sharing updates on what you accomplished with their donated funds after the event is the key to keeping your donors happy and coming back for your next bowl-a-thon.
Conclusion
Bowling fundraisers can be a great way for your nonprofit to raise funds for your cause. Creating and implementing a great event plan, adding virtual event elements to make your fundraiser a hybrid event, and creating engaging sub-events can make your bowling fundraiser profitable for you while keeping participants coming back year after year.
Need other ways to get the most out of your peer-to-peer events? Watch this webinar for five Qgiv peer-to-peer tools that help nonprofits raise more money.