Who they are

The Child Care Council of Westchester is a 501c3 not-for-profit organization that champions the healthy development of children, families, and their community by promoting quality early care and education. 
They accomplish this mission by:
Serving as a one-stop shop for childcare resources, referrals, and information for parents and employers
Helping childcare providers implement quality improvement strategies, give the best possible care, grow their businesses, and meet their legal obligations
Actively advocating for policies and resources that improve the quality, affordability, and accessibility of care
What they did
The Child Care Council of Westchester used a Qgiv peer-to-peer event page to raise funds for Giving Tuesday. Not only did this give them an eye-catching landing page for their fundraiser, it encouraged their supporters to fundraise on their behalf.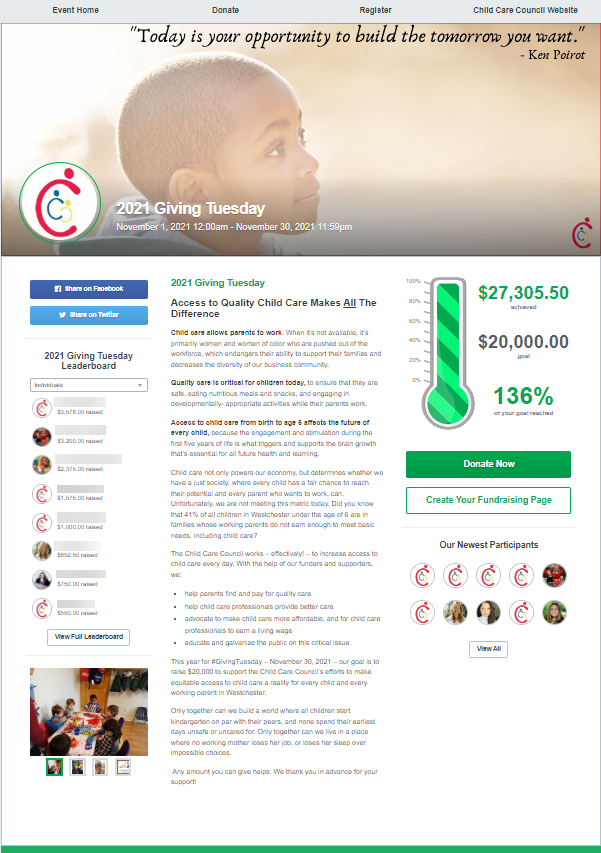 Their supporters registered for the peer-to-peer event so that they could personally help Child Care Council of Westchester's mission by reaching out to family and friends and asking for donations to support their cause.
To recognize their donors, Child Care Council of Westchester included a fundraising leaderboard to showcase their top fundraisers. This encouraged friendly competition among supporters so that they could make it onto the leaderboard.
The top fundraiser raised more than $3,500 for their cause. Overall, the nonprofit was able to surpass their fundraising goal, raising $27,305.50. That was 136% of their fundraising goal!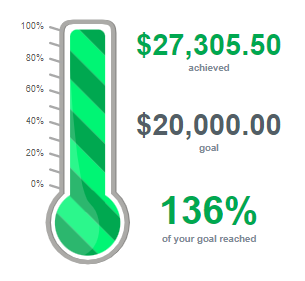 Their fundraising was so successful in 2021 that they've already created a new peer-to-peer donation page for Giving Tuesday 2022.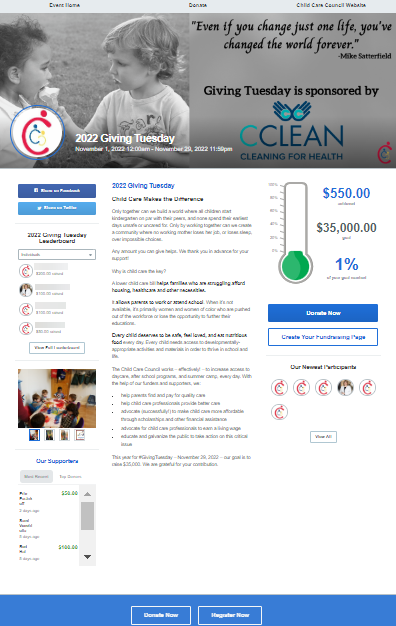 What you can do
Turn your next Giving Tuesday fundraiser into a peer-to-peer fundraising event. Encourage your supporters to raise funds on your behalf so that you're casting a wider net for donations. Include a fundraising leaderboard to give your top donors public recognition for their efforts. Include a fundraising thermometer with a set fundraising goal so you and your supporters can track your progress toward your goal. 
You can make it free to register to fundraise for your nonprofit or charge a small fee as a donation to your organization to sign up. Either way, support your supporters' fundraising efforts once they've signed up. You could even incentivize fundraising by offering branded merchandise when supporters have reached a certain amount in donations.
The nice thing about a peer-to-peer event page is that donors can give without registering. Direct your donors to give on your Giving Tuesday peer-to-peer event page. They can choose to give in support of someone fundraising on your behalf or to support the event itself. Either way, you want to encourage both registrations and donations to take part in your Giving Tuesday fundraiser.