A polar plunge fundraising event asks your supporters to raise funds for your cause before completing a feat that isn't for the cold-hearted (get it?). Read on to learn more about what a polar plunge fundraiser is and how you can successfully host your own polar plunge fundraiser.
What is the polar plunge?
A polar plunge event is a fundraiser in which participants raise money for a cause by promising to jump into a body of water in winter or early spring when temperatures are still cold.
Want to make your polar plunge fundraiser a hybrid event? Get tips from our Hybrid Event Planner.
How to host a polar plunge fundraiser
Secure a location
What do you need to look for? A cold body of water with plenty of space around it for setting up an event. Great options include lakes and outdoor swimming pools. These bodies of water should be on public land that's open to the public for swimming. If private land is your only option nearby, you'll need permission from the landowner.
Even if on public land, there is likely a permitting process you'll need to go through to secure use of the body of water for your polar plunge event. Complete the required paperwork early to ensure your spot is saved for your fundraiser.
One important piece of advice is to be thorough regarding your choice of body of water. Don't just settle for the first frozen lake you set your sights on. Give some careful consideration to the safety and accessibility of your prospective venue.
Risk mitigation is important with this type of event to avoid shock from the cold or other injuries that may be incurred from stepping into a cold body of water. Be sure to put a plan in place to limit accidents and decrease response times in the case an emergency response is needed.
Accessibility is another important factor. You don't want to limit your event because of a lack of accessibility for those with disabilities. Give people living with disabilities the ability to take part by taking your venue into consideration. Is there ramp access to the water? What about no-slip surfaces? Could reasonable accommodations be made to empower more people to take part? If yes, then you've found a great venue for hosting your polar plunge fundraiser.
Recruit sponsors
Once you've secured a location it's time to make some cold, hard cash to make your event a success. One of the best ways you can accomplish this is through sponsorships. Sponsors will provide funds you can use to make your event more attractive to attendees.
Start with those who have sponsored your events in the past. These businesses are more likely to sponsor your event considering they've supported you before. They care about your mission and want your nonprofit to succeed.
Next, reach out to businesses near your event location and ask them to be sponsors. Explain that this can give them a lot of visibility, especially with them being in such close proximity to your event venue.
When you've got your sponsors recruited, ask them to participate in fundraising. Staff members at these businesses could raise significant funds for your cause, especially if the businesses they work for incentivize their fundraising. One great way to incentivize fundraising is by creating a fundraising goal that, once reached, results in their boss having to take the polar plunge.
Recruit participants and encourage them to fundraise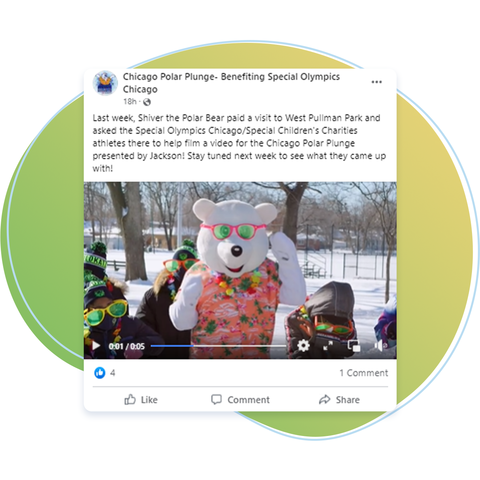 Aside from your sponsors fundraising, it's important to get your supporters fundraising for your polar plunge event too. Look for fundraisers in your donor database to start. Reach out to your past supporters to let them know about your fundraising event and ask them to get involved by fundraising and agreeing to take part in the polar plunge. You don't have to stop at just your donors either. Recruit staff members and volunteers to take part in the polar plunge.
Once you've recruited the contacts you already know, you need to promote your event to people who don't know your organization. Reach out to local news outlets, leave flyers at sponsors' businesses, and get on social media to promote your event locally. The goal here is to reach new potential participants and convince them to take part in fundraising for the polar plunge.
The day of the event
So far we've covered things you need to do leading up to the event, so now here are some tips for the day of your polar plunge event.
First, you'll need to set up a warming station for those who have taken part in the polar plunge and need to warm up. You don't want to risk people getting sick or experiencing frost bite from hanging around in wet clothes. The warming area should have a safe, private place for participants to change into dry clothes while they warm back up.
The size and capacity of your warming station determines how many participants can take part in the polar plunge at a single time. You want to make sure they can go straight from the water to warmth, so limit the number of plungers who can jump and send groups in as groups leave the warming station.
Talk to participants when they're in the warming station to interview them about what the experience was like and why they supported your event. This is great content you can use to promote the event in the future as well as gauge how likely participants are to continue to support your cause after the event. Be sure to take lots of pictures to further support future polar plunge events that you host.
After the event
When your event ends it's important to reach out to everyone who came and offer them your heartfelt thanks for supporting your nonprofit. Send thank-you emails to both your participants and your audience to let them know how much you appreciate them coming out to your polar plunge fundraiser. To keep in touch beyond the thank-you, consider sending a post-event survey to gather feedback about the event that you can use to further improve the event next year.
Closing
With these tips in mind you should be able to host your own polar plunge fundraiser. From recruiting sponsors to taking the plunge, we've included helpful information you'll need to make this fundraiser successful for your nonprofit organization. Ready to add even more unique fundraising events a try? Check out the ideas in our Big Book of Hybrid and Virtual Events.
Need a peer-to-peer fundraising platform for your polar plunge fundraiser? Dive in to Qgiv's peer-to-peer platform.